Self-Guided Adventure
Japanese Hotsprings Honeymoon
11 Nights: from US$6149 per person (twin share)
Trip Code: HSCS
Japan's hot spring bathing culture and scenic countryside make it a wonderfully romantic setting for a honeymoon. You'll be staying in ryokan inns with private hot spring baths that you can enjoy together. Read more >
The pinnacle of this honeymoon is a stay in the wonderful hot spring resort of Kinosaki Onsen. A little town full of traditional buildings and canals filled with koi carp, Kinosaki is home to seven bathhouses, all of which make use of the area's natural thermal springs. Your ryokan will give you yukata robes and geta sandals so you can clip-clop between bathhouses, a wonderful way to absorb traditional Japanese culture!
Your Kinosaki ryokan room will have a private hot spring bath for you to enjoy as a couple, as will your accommodation in Hakone. As the gateway to the Fuji-Hakone National Park, Hakone offers views of Mount Fuji, excellent museums, and plenty of options to sit back, relax, and enjoy the scenery.
Of course, alongside these traditional retreats we've included modern boutique hotel stays in the must-see cities of Tokyo. Kyoto, and Osaka. In Tokyo we've included a day with a guide who can help you get the lay of the land and you'll feel confident about exploring on your own in no time. In Kyoto you'll both have the opportunity to try on an exquisite kimono will taking a private tea ceremony in an elegant teahouse.
Customize your trip: As with all our trips, this itinerary is completely customizable. Fancy splashing out a 5* stay in the capital? How about a memorable dinner at a Michelin-starred restaurant, or a cocktail-themed food tour? Do you love the outdoors and want to go on an unforgettable hike together through Kamikochi National Park? We can do all those and more, so do get in touch and we can start planning your perfect honeymoon together.
What's included
11 nights' accommodation (three nights Japanese-style)

Breakfast every day, two lunches and three evening meals

All transport between destinations

Private car airport transfers

Hakone Free Pass for transport in the Hakone region

Manaca transport card with 2,500 yen credit for city transport

Private guides in Tokyo & Kyoto

Private Kyoto tea ceremony with kimono rental

Private evening guided walk of Gion district in Kyoto

Cooking class in Tokyo

Pocket WiFi device

Your personalised InsideJapan Info-Pack
What's NOT included:
International flights

Local transport (buses, subways, taxis) at any destination unless otherwise specified

Any entrance fees including those for shrines, temples and museums

Baggage handling and luggage forwarding
Trip Highlights
Stay in boutique hotels & top quality ryokan

Learn about Japanese cuisine in a cooking class

Enjoy private hot spring baths in Hakone & Kinosaki Onsen

Explore atmospheric Gion with a geisha guide
Explore Tokyo with a private guide

Take a private tea ceremony wearing an elegant kimono

Indulge in Osaka's street food
For more information email us: [email protected] or call: + 44 117 244 3380
What, where, when and how...
Japanese Hotsprings Honeymoon - 12 Days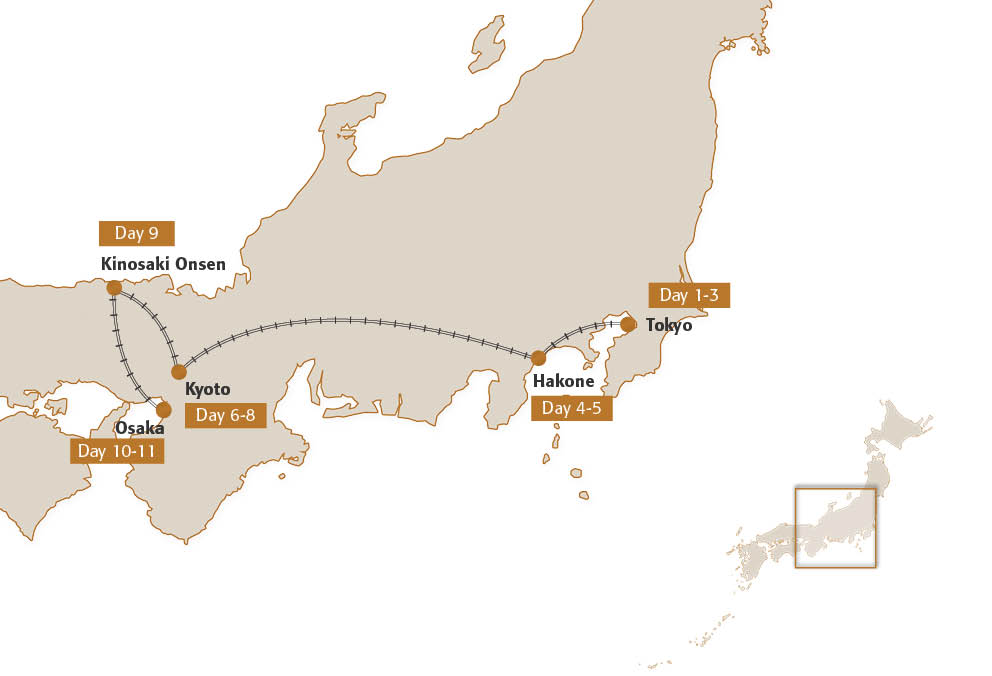 Japanese Hotsprings Honeymoon - 12 Days - Day by Day
Japanese Hotsprings Honeymoon - 12 Days - Accommodation
Japanese Hotsprings Honeymoon - 12 Days - Experiences
Day 1-3

Welcome to Japan! Your honeymoon begins in style as you are taken by private car from Tokyo Narita Airport to your hotel in historic Asakusa.

On your first full day in the capital you'll have the services of a private guide who will show you the very best Tokyo has to offer. Meiji Shrine is a great place to start, with a beautiful forest setting and a Shinto wedding held here nearly every day! For a romantic turn, take a trip to the historic Asakusa quarter and hop on a boat for a trip down the Sumida River.
On your second full day you'll have a free day to continue exploring Tokyo independently. We recommend a trip to the top of the Skytree, the newest addition to Tokyo's skyline, which may even reward you with views of Mount Fuji. In the early evening one of our Insider staff will meet and accompany you to an izakaya (Japanese-style pub) for dinner and drinks. Our Insider will be able to introduce you to Japanese dining etiquette and help you sample some fantastic Japanese dishes!

Overnight: Gate Hotel Kaminarimon

Day 4-5

Swap high-rises for hotsprings in Hakone.

After taking the aptly named 'Romantic Car' Limited Express train from Tokyo to Hakone, you'll have two full day to enjoy all that Hakone has to offer.
If you're an art fan, the Open Air Museum is a must-visit, with dozens of striking outdoor sculptures set against the backdrop of the mountains. If you're simply there to enjoy the views, there's a whole host of transport to take you around the area: cable cars, mountain trains, and even a boat ride across the lake. And if all you want to do is relax, you can try out the baths at the Yunessun hot spring complex or enjoy the pools in privacy at your gorgeous ryokan inn. Breakfast and dinner is included on both nights.

Overnight: Ginyu

Day 6-8

Kyoto is the cultural heart of Japan and here you'll be staying in a wonderful boutique hotel on the edge of the Gion district.

After ridiing the Shinkansen bullet train west to Kyoto, in the early evening we'll arrange a private guided walk through Gion, where with a bit of luck you'll spot a geisha hurrying between teahouse appointments.
On your first full day in Kyoto you'll join a local guide for a half-day tour to see the top sights and get some tips for the rest of your stay. In the afternoon, you'll have the chance to try on a gorgeous kimono while taking a private tea ceremony in an elegant teahouse. To round off the day, we can arrange a restaurant reservation for you at one of our favourite restaurants which service the best tempura in the city.
The following day will be at leisure, either to continue exploring the city, like the atmospheric bamboo groves of Arashiyama, or to go out on a day trip to nearby Nara. The choice is yours.

Overnight: Mume

Day 9

Stroll the traditional streets of Kinosaki Onsen in your yukata robe.

After three days of sightseeing, you'll probably be ready for a bit more R&R! Next up is Kinosaki Onsen, a postcard-perfect hot spring town on the Japan Sea Coast, just a two-hour train ride north of Kyoto.
The town is famous for its hot spring baths, and there are seven public baths spread across the town for anyone to try. Our favourite thing about Kinosaki Onsen is how everyone dons their yukata robes and wooden geta sandals to stroll around town; if you're visiting during the spring, rows of cherry blossom trees line the central canal, offering the perfect backdrop for some commemorative photos.
We have chosen the best ryokan inn in town for you on your honeymoon. At this incredible historic property your traditional room will have its own private open-air hot spring bath. Bliss! Dinner will be a full kaiseki course meal featuring local and seasonal ingredients.

Overnight: Nishimuraya Honkan

Day 10-12

Indulge in Osaka's street food culture.

To round off your trip, you'll spend the last two nights in Osaka, one of the coolest cities in the country. Osaka is known for its food; armed with your complimentary Info-Pack you'll have tons of recommendations of where to get the best takoyaki octopus dumplings, savoury okonomiyaki pancakes, and kushikatsu fried skewers. But if you want a bit more guidance, we can arrange a private street food tour with one of our favourite local guides. On your final day, we'll arrange a private car to whisk you in comfort to the airport. We hope you've enjoyed your honeymoon in Japan!

Overnight: Royal Park Iconic Osaka Midosuji
View all days
Day 1-3

Welcome to Japan! Your honeymoon begins in style as you are taken by private car from Tokyo Narita Airport to your hotel in historic Asakusa.

On your first full day in the capital you'll have the services of a private guide who will show you the very best Tokyo has to offer. Meiji Shrine is a great place to start, with a beautiful forest setting and a Shinto wedding held here nearly every day! For a romantic turn, take a trip to the historic Asakusa quarter and hop on a boat for a trip down the Sumida River.
On your second full day you'll have a free day to continue exploring Tokyo independently. We recommend a trip to the top of the Skytree, the newest addition to Tokyo's skyline, which may even reward you with views of Mount Fuji. In the early evening one of our Insider staff will meet and accompany you to an izakaya (Japanese-style pub) for dinner and drinks. Our Insider will be able to introduce you to Japanese dining etiquette and help you sample some fantastic Japanese dishes!

Overnight: Gate Hotel Kaminarimon

Day 4-5

Swap high-rises for hotsprings in Hakone.

After taking the aptly named 'Romantic Car' Limited Express train from Tokyo to Hakone, you'll have two full day to enjoy all that Hakone has to offer.
If you're an art fan, the Open Air Museum is a must-visit, with dozens of striking outdoor sculptures set against the backdrop of the mountains. If you're simply there to enjoy the views, there's a whole host of transport to take you around the area: cable cars, mountain trains, and even a boat ride across the lake. And if all you want to do is relax, you can try out the baths at the Yunessun hot spring complex or enjoy the pools in privacy at your gorgeous ryokan inn. Breakfast and dinner is included on both nights.

Overnight: Ginyu

Day 6-8

Kyoto is the cultural heart of Japan and here you'll be staying in a wonderful boutique hotel on the edge of the Gion district.

After ridiing the Shinkansen bullet train west to Kyoto, in the early evening we'll arrange a private guided walk through Gion, where with a bit of luck you'll spot a geisha hurrying between teahouse appointments.
On your first full day in Kyoto you'll join a local guide for a half-day tour to see the top sights and get some tips for the rest of your stay. In the afternoon, you'll have the chance to try on a gorgeous kimono while taking a private tea ceremony in an elegant teahouse. To round off the day, we can arrange a restaurant reservation for you at one of our favourite restaurants which service the best tempura in the city.
The following day will be at leisure, either to continue exploring the city, like the atmospheric bamboo groves of Arashiyama, or to go out on a day trip to nearby Nara. The choice is yours.

Overnight: Mume

Day 9

Stroll the traditional streets of Kinosaki Onsen in your yukata robe.

After three days of sightseeing, you'll probably be ready for a bit more R&R! Next up is Kinosaki Onsen, a postcard-perfect hot spring town on the Japan Sea Coast, just a two-hour train ride north of Kyoto.
The town is famous for its hot spring baths, and there are seven public baths spread across the town for anyone to try. Our favourite thing about Kinosaki Onsen is how everyone dons their yukata robes and wooden geta sandals to stroll around town; if you're visiting during the spring, rows of cherry blossom trees line the central canal, offering the perfect backdrop for some commemorative photos.
We have chosen the best ryokan inn in town for you on your honeymoon. At this incredible historic property your traditional room will have its own private open-air hot spring bath. Bliss! Dinner will be a full kaiseki course meal featuring local and seasonal ingredients.

Overnight: Nishimuraya Honkan

Day 10-12

Indulge in Osaka's street food culture.

To round off your trip, you'll spend the last two nights in Osaka, one of the coolest cities in the country. Osaka is known for its food; armed with your complimentary Info-Pack you'll have tons of recommendations of where to get the best takoyaki octopus dumplings, savoury okonomiyaki pancakes, and kushikatsu fried skewers. But if you want a bit more guidance, we can arrange a private street food tour with one of our favourite local guides. On your final day, we'll arrange a private car to whisk you in comfort to the airport. We hope you've enjoyed your honeymoon in Japan!

Overnight: Royal Park Iconic Osaka Midosuji
Close all days
Other trips you may like
Tokyo
Yudanaka
Matsumoto
Takayama
Kyoto
Tokyo

Savour Japan's wintery delights in this carefully curated seasonal itinerary

11 nights: from US$5044 pp (twin share) Read more >

Iiyama
Togarinozawa Onsen

Lace up your hiking boots for a three-day hike along the Sekida Mountain's Shin-Etsu Trail.

3 nights: from US$1040 pp (twin share) Read more >

Tokyo
Hakone
Kyoto
Miyajima
Osaka
Takayama
Tokyo

A superior two-week itinerary taking in Japan's most iconic sights, with four-star accommodation and a programme of cultural experiences included.

14 nights: from US$6916 pp (twin share) Read more >