Like this post? Help us by sharing it!
Charlea leads group tours across Japan, helping our customers get beneath the surface in destinations all over the country. Here, she gives her insight into one of our favourite experiences: trying on a kimono in the cultural capital of Kyoto.
Going to Kyoto can be a deep diving course into Japanese culture, so why not put on the wet suit (or for the purposes of this metaphor, your kimono) and jump right in.
Like most countries, Japan has its own traditional garb. Called kimono for both men and women, it can be used for everyday or formal wear – depending on the style and quality. In Kyoto you'll probably see a few tourists in rented kimono of various levels of formality, dipping their toes into Japanese traditional culture and getting into the fun of being in Japan's most traditional city. Putting on a kimono and diving into the local culture will not only deepen your own enjoyment, but will also bring pleasure to locals and passersby, who enjoy the novelty of seeing tourists dressed up to the nines almost as much as the tourists enjoy it themselves!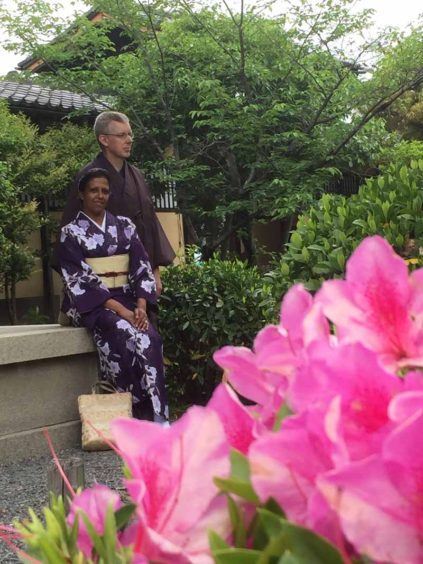 Donning Japanese formal wear has other benefits as well. A cornucopia of Kyoto businesses offer discounts to those dressed up for the day out, and some sites, including Nijo Castle, offer free admission to those taking part in the cultural dive.
Learning about what goes into wearing such a seemingly simple outfit is fascinating. For women, the process begins with a white underlayer; this is more or less to protect the expensive silk outer layer you see. After putting on the top and skirt underlayer, the outer robe is fitted and pinned in place, while the obi, or belt, is tied in place. Once the obi is tied and the pins are removed, it's only this holding you all together. The obi is then further decorated with ropes and sometimes beautiful ornaments before you're ready to go! Men have a similar process of dressing, but instead of one piece they have trousers and a jacket over the undergarments and typically a much simpler and thinner obi.
After dressing, you have until 6pm to go off and enjoy the city in true Japanese style. The only warning to give is this: be prepared to be the photo attraction wherever you go! The Japanese appreciate visitors who are obviously enjoying all that traditional Japanese culture has to offer, so you're sure to make plenty of new friends. Today, like the little mermaid, you get to be part of the Japanese world!
Inside Japan Tours can arrange a kimono-wearing opportunity on any group tour or tailored trip. Just get in touch with one of our experts to find out more!
Like this post? Help us by sharing it!