Self Guided Adventure
Secrets of Shikoku
14 Nights: from US$4279 per person (twin share)
Trip Code: SOSS
A world apart from the crowded pavements and neon-spangled skyscrapers of the big cities; Shikoku boasts stunning natural beauty, from hidden valleys and untouched rivers to mountains and jagged coastlines. Over two weeks, this itinerary will allow you to discover some of the secrets of Shikoku. Read more >
Your adventure starts in traditional Kyoto and ends in vibrant Osaka, taking you on a fascinating journey from Japan's former Imperial capital of over a thousand years to its fun-loving, laid-back neighbour. These cities will really showcase the variety that can be found in Japan's metropolitan centres!
Leaving Kyoto you will step off the well-worn tourist trail to follow the pilgrimage route up to Shikoku's most famous shrine, Konpira-san, and across the Iya Valley's vine bridges. Next, secluded Ekawasaki offers the opportunity to explore the Shimanto-gawa River, where you will really experience hidden Japan.
In Kochi you can take a whale-watching cruise and explore the city's hilltop samurai castle, one of Japan's few remaining original castles. For the quintessential Japanese bathing experience you'll head to Matsuyama, home to Japan's oldest onsen bathhouse, dating from 1894 and still frequented by the country's most prestigious guests - including the Imperial Family!
A day trip to the island of Naoshima on the Seto Inland Sea is also sure to be a highlight of your trip. Here you'll discover the large collection of contemporary art housed in the renowned Benesse House and Chichu Museums, as well as in the open air amid the island's stunning natural scenery.
We always aim to include a range of evening meals to make your trip a culinary treat of locally sourced, traditional specialities. Speaking of food - we have also included an udon noodle-making class, which is a great way for you to find out more about Japanese cuisine!
What's included
14 nights' accommodation

Breakfast each morning, five evening meals and two lunches

Airport transfers

Transport between destinations

Canoe trip down the Shimanto-gawa River

Noodle-making class

Whale-watching in Kochi

Ferry tickets for Naoshima day trip

Your personalised InsideJapan Info-Pack
What's NOT included:
International flights

Local transport (buses, taxis, subways) at any destination unless otherwise specified

Any entrance fees unless otherwise specified

Baggage handling and luggage forwarding
Trip Highlights
Take a whale-watching boat trip

Soak in Dogo Onsen's hot spring baths

Discover the vine bridges of the Iya Valley
Visit samurai castles in Kochi and Matsuyama

Try your hand at udon noodle-making
For more information email us: [email protected] or call: 303 952 0379
What, where, when and how...
Secrets of Shikoku - 15 Days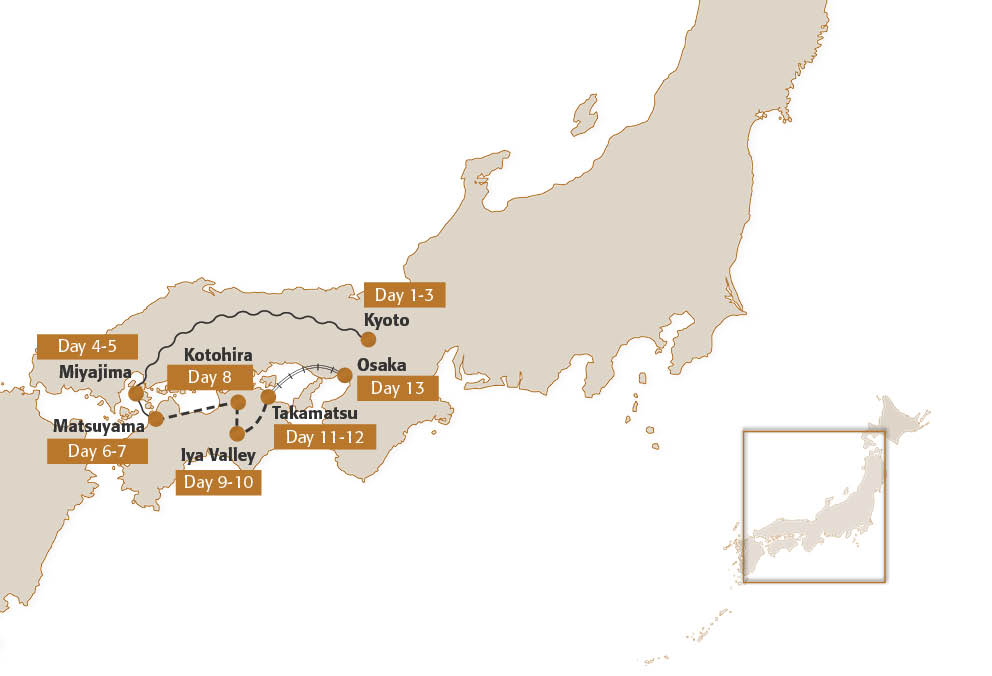 Secrets of Shikoku - 15 Days - Day by Day
Secrets of Shikoku - 15 Days - Accommodation
Secrets of Shikoku - 15 Days - Experiences
Day 1-3

Tour the secret gardens and temples of Kyoto, Japan's Imperial capital for over a thousand years.

You will begin your adventure in Japan at Kansai International Airport, located on a man-made island outside Osaka. From here you will transfer by private taxi to Kyoto. The itinerary for the rest of the day is up to you – your personalised Info-Pack will include all sorts of ideas for how to spend your free time here, from the Golden Pavillion at Kinkaku-ji Temple to the traditional shopping streets of the Higashiyama quarter.
Having hopefully overcome your jetlag, you will spend your first full day in Kyoto with an expert private guide who will take you on a tour of some of the hidden gardens and ancient temples of this beautiful city. Stepping away from the main tourist sights will really allow you to enjoy Kyoto's gardens and to tour the city in relative tranquillity. You will be visiting a variety of garden styles, including dry stone gardens, stroll gardens, and gardens that use the "borrowed scenery" technique.
Day three of your itinerary will be free for you to continue exploring Kyoto at your own pace. We suggest that you wander through the bamboo groves in Arashiyama or browse the eclectic offerings at the central Nishiki market.
If you fancy getting out of the city, you could take a train to Todai-ji temple in nearby Nara, home to the world's largest bronze Buddha statue. Alternatively, you could walk through the hundreds of vermillion tori gates at Fushimi Inari shrine – as featured in the film Memoirs of a Geisha.

Overnight: Granvia

Day 4

Cross the impressive Seto-Ohashi Bridge to begin your adventures in Shikoku, starting with Takamatsu's fabulous Ritsurin Gardens.

Today you will travel to the island of Shikoku to start your adventures in rural Japan. Taking the train across the magnificent Seto-Ohashi Bridge you will arrive in Takamatsu, a town with a long history as an important domestic port. The city's top attraction is Ritsurin Koen, one of Japan's finest landscape gardens, but there are also plentiful shopping arcades to peruse and an interesting local Folkcraft Museum.
For dinner tonight you might like to try sanuki udon noodles – served chilled with a dipping sauce or in a hot broth with toppings.

Overnight: JR Clement Hotel

Day 5

Catch a ferry to Naoshima Island, world-renowned for its top-notch museums and unique approach to art.

Today you will have the chance to take a day trip to Naoshima Island. With sandy beaches and a laid-back atmosphere, Naoshima might easily be just another pretty but forgotten island on the Seto Inland Sea, scraping a living from fishing. That is, if it wasn't for the art.
Naoshima is home to a large collection of contemporary art galleries, exhibits and installations, the sum of which is a tour de force of architectural expression integrating art and the natural environment. This unique art project has secured a global reputation for Naoshima, and we will include return ferry tickets for the trip and details of the island's principal sights in your Info-Pack. After your day on Naoshima you will return to Takamatsu for the evening.

Overnight: JR Clement Hotel

Day 6

Visit Kotohira, home to Shikoku's most famous pilgrimage destination: Konpira-san Shrine.

The next stop on your itinerary is Kotohira, home to Shikoku's most popular pilgrimage destination: Konpira-san Shrine. The shrine's main hall stands at the top of almost 800 steps, making for a challenging but rewarding ascent!
Kotohira also plays host to the Kanamaru-za, Japan's oldest surviving complete kabuki playhouse, built in 1835. Although a popular destination for Japanese visitors, Kotohira is very much off the beaten track for overseas tourists, and the town retains a very sleepy, rural atmosphere.
This afternoon you will take part in an udon noodle-making class, during which you'll learn some special local cooking methods. The lesson lasts around 40-50 minutes and you'll be able to eat you noodles afterwards!

Overnight: Sakura-no-Sho

Day 7

Visit an original medieval castle and soak in the waters of Japan's oldest bathhouse in Matsuyama.

Today you will head west to Matsuyama, famous for its medieval castle and for Dogo Onsen, the oldest hot spring bathhouse in Japan. It's so old that it's even mentioned in the oldest book of Japanese classical history, the Nihon Shoki.
The top of the main hot spring building is decorated with the legendary white heron, and a large drum is beaten at 6.30am every morning to announce the opening of the baths. Once you've had a soak at the onsen, be sure to catch a ride on the Botchan Train – a diesel-fuelled replica of the steam locomotives that used to serve Matsuyama in the nineteenth century.

Overnight: Dogo Yamanote Hotel

Day 8-9

Discover the charms of rural Japan as you relax at a traditional minshuku inn and canoe down the Shimanto-gawa River in Ekawasaki.

From Matsuyama you will continue south to Ekawasaki in the very heart of rural Kochi prefecture. After a three-hour train journey you will arrive at your family-run minshuku near the impressive Shimanto-gawa River. With a traditional irori fire at the entrance and fresh local food served for dinner, you will feel truly at home as you relax here this evening.
Fully refreshed, you have a free day to explore the area, wander down the river valley or simply put your feet up with a good book. Later you'll return to your minshuku inn for another delicious Japanese-style dinner.

Overnight: Ryokan Konpira

Day 10-11

Enjoy the fresh food markets and go whale spotting in Tosa Bay during your two-night stay in Kochi.

This morning you will leave Ekawasaki and take the train east to Kochi, a small coastal city with a certain exotic flavour located on the Kagami-gawa River delta, at the head of Urado Bay on Shikoku's southern coast.
The markets here are a must for any food lover, whilst the samurai castle dominates the centre of the town. Don't forget to try katsuo no tataki, Kochi's most famous dish, comprised of tuna held over a fire and served spring onions, ginger and garlic.
On your second day in Kochi you might choose to visit Tosa Bay, where from April to October you can take a whale-watching boat trip. Though Japan is more famous for its hunting and killing of whales, in recent years there has been a growing interest in recreational whale watching and a drive to preserve these magnificent creatures and educate the public about marine wildlife issues.
The rest of the day will be free for you to continue exploring Kochi, armed with your personalised Info-Pack.

Overnight: Nikko Asahi Royal Hotel Kochi

Day 12

Test the vine bridges and take a cruise on the river as you enjoy the untouched natural beauty of the Iya Valley region.

Your next stop will be the Iya Valley, an area made up of narrow river gorges and steep mountain peaks, covered in thick vegetation and located deep in the heart of Shikoku.
The isolated location and inhospitable terrain of the Iya region made it a favourite hideaway for defeated clans and exiled political dissidents in days gone by, but today the area is easily accessible to cars and trains. Despite this, you will find the Iya Valley largely unspoilt and full of undisturbed natural scenery.
Activities in the Iya area include boat trips along the river, crossing the famous vine bridges, and some interesting museums.

Overnight: Kazuraya Hotel

Day 13

Learn about the Awa Odori dance festival and stay at a traditional shukubo Buddhist temple lodging in Tokushima.

For your last day on Shikoku you will travel to Tokushima, the location of the Awa Odori dance festival in August. Amateur and veteran dancers travel from all over Japan to take part in this unusual spectacle. Visit the festival museum here or take the ropeway up to Mount Bizan for stunning views.
You will spend tonight a little way outside the city at a shukubo Buddhist temple lodging located at temple number 19 on the island's 88-temple pilgrimage circuit. Whilst quite basic as accommodation goes, this will be a unique experience. If you would rather stay at a hotel in central Tokushima, just let us know!

Overnight: Tatsue-ji Temple

Day 14-15

Cross the Inland Sea to celebrate your final night in style amongst the bars and restaurants of Osaka.

Leaving Shikoku Island behind, today you will journey back across the Inland Sea to vibrant Osaka – a dramatic contrast to your adventures in rural Japan! Osaka is Japan's second city and an extremely exciting and lively place to be.
Osakans are known throughout Japan for their fun-loving attitude, and the vast number of restaurants, bars and entertainment venues here really attests to that reputation! Also known for its excellent cuisine, this is perfect for a big final evening and some hearty local food.
Sadly your adventures in Japan must come to an end, and on your final morning you will take the rapid train from central Osaka to Kansai Airport in plenty of time for your departure flight. Have a safe journey home.

Overnight: Swissôtel Nankai Osaka
View all days
Day 1-3

Tour the secret gardens and temples of Kyoto, Japan's Imperial capital for over a thousand years.

You will begin your adventure in Japan at Kansai International Airport, located on a man-made island outside Osaka. From here you will transfer by private taxi to Kyoto. The itinerary for the rest of the day is up to you – your personalised Info-Pack will include all sorts of ideas for how to spend your free time here, from the Golden Pavillion at Kinkaku-ji Temple to the traditional shopping streets of the Higashiyama quarter.
Having hopefully overcome your jetlag, you will spend your first full day in Kyoto with an expert private guide who will take you on a tour of some of the hidden gardens and ancient temples of this beautiful city. Stepping away from the main tourist sights will really allow you to enjoy Kyoto's gardens and to tour the city in relative tranquillity. You will be visiting a variety of garden styles, including dry stone gardens, stroll gardens, and gardens that use the "borrowed scenery" technique.
Day three of your itinerary will be free for you to continue exploring Kyoto at your own pace. We suggest that you wander through the bamboo groves in Arashiyama or browse the eclectic offerings at the central Nishiki market.
If you fancy getting out of the city, you could take a train to Todai-ji temple in nearby Nara, home to the world's largest bronze Buddha statue. Alternatively, you could walk through the hundreds of vermillion tori gates at Fushimi Inari shrine – as featured in the film Memoirs of a Geisha.

Overnight: Granvia

Day 4

Cross the impressive Seto-Ohashi Bridge to begin your adventures in Shikoku, starting with Takamatsu's fabulous Ritsurin Gardens.

Today you will travel to the island of Shikoku to start your adventures in rural Japan. Taking the train across the magnificent Seto-Ohashi Bridge you will arrive in Takamatsu, a town with a long history as an important domestic port. The city's top attraction is Ritsurin Koen, one of Japan's finest landscape gardens, but there are also plentiful shopping arcades to peruse and an interesting local Folkcraft Museum.
For dinner tonight you might like to try sanuki udon noodles – served chilled with a dipping sauce or in a hot broth with toppings.

Overnight: JR Clement Hotel

Day 5

Catch a ferry to Naoshima Island, world-renowned for its top-notch museums and unique approach to art.

Today you will have the chance to take a day trip to Naoshima Island. With sandy beaches and a laid-back atmosphere, Naoshima might easily be just another pretty but forgotten island on the Seto Inland Sea, scraping a living from fishing. That is, if it wasn't for the art.
Naoshima is home to a large collection of contemporary art galleries, exhibits and installations, the sum of which is a tour de force of architectural expression integrating art and the natural environment. This unique art project has secured a global reputation for Naoshima, and we will include return ferry tickets for the trip and details of the island's principal sights in your Info-Pack. After your day on Naoshima you will return to Takamatsu for the evening.

Overnight: JR Clement Hotel

Day 6

Visit Kotohira, home to Shikoku's most famous pilgrimage destination: Konpira-san Shrine.

The next stop on your itinerary is Kotohira, home to Shikoku's most popular pilgrimage destination: Konpira-san Shrine. The shrine's main hall stands at the top of almost 800 steps, making for a challenging but rewarding ascent!
Kotohira also plays host to the Kanamaru-za, Japan's oldest surviving complete kabuki playhouse, built in 1835. Although a popular destination for Japanese visitors, Kotohira is very much off the beaten track for overseas tourists, and the town retains a very sleepy, rural atmosphere.
This afternoon you will take part in an udon noodle-making class, during which you'll learn some special local cooking methods. The lesson lasts around 40-50 minutes and you'll be able to eat you noodles afterwards!

Overnight: Sakura-no-Sho

Day 7

Visit an original medieval castle and soak in the waters of Japan's oldest bathhouse in Matsuyama.

Today you will head west to Matsuyama, famous for its medieval castle and for Dogo Onsen, the oldest hot spring bathhouse in Japan. It's so old that it's even mentioned in the oldest book of Japanese classical history, the Nihon Shoki.
The top of the main hot spring building is decorated with the legendary white heron, and a large drum is beaten at 6.30am every morning to announce the opening of the baths. Once you've had a soak at the onsen, be sure to catch a ride on the Botchan Train – a diesel-fuelled replica of the steam locomotives that used to serve Matsuyama in the nineteenth century.

Overnight: Dogo Yamanote Hotel

Day 8-9

Discover the charms of rural Japan as you relax at a traditional minshuku inn and canoe down the Shimanto-gawa River in Ekawasaki.

From Matsuyama you will continue south to Ekawasaki in the very heart of rural Kochi prefecture. After a three-hour train journey you will arrive at your family-run minshuku near the impressive Shimanto-gawa River. With a traditional irori fire at the entrance and fresh local food served for dinner, you will feel truly at home as you relax here this evening.
Fully refreshed, you have a free day to explore the area, wander down the river valley or simply put your feet up with a good book. Later you'll return to your minshuku inn for another delicious Japanese-style dinner.

Overnight: Ryokan Konpira

Day 10-11

Enjoy the fresh food markets and go whale spotting in Tosa Bay during your two-night stay in Kochi.

This morning you will leave Ekawasaki and take the train east to Kochi, a small coastal city with a certain exotic flavour located on the Kagami-gawa River delta, at the head of Urado Bay on Shikoku's southern coast.
The markets here are a must for any food lover, whilst the samurai castle dominates the centre of the town. Don't forget to try katsuo no tataki, Kochi's most famous dish, comprised of tuna held over a fire and served spring onions, ginger and garlic.
On your second day in Kochi you might choose to visit Tosa Bay, where from April to October you can take a whale-watching boat trip. Though Japan is more famous for its hunting and killing of whales, in recent years there has been a growing interest in recreational whale watching and a drive to preserve these magnificent creatures and educate the public about marine wildlife issues.
The rest of the day will be free for you to continue exploring Kochi, armed with your personalised Info-Pack.

Overnight: Nikko Asahi Royal Hotel Kochi

Day 12

Test the vine bridges and take a cruise on the river as you enjoy the untouched natural beauty of the Iya Valley region.

Your next stop will be the Iya Valley, an area made up of narrow river gorges and steep mountain peaks, covered in thick vegetation and located deep in the heart of Shikoku.
The isolated location and inhospitable terrain of the Iya region made it a favourite hideaway for defeated clans and exiled political dissidents in days gone by, but today the area is easily accessible to cars and trains. Despite this, you will find the Iya Valley largely unspoilt and full of undisturbed natural scenery.
Activities in the Iya area include boat trips along the river, crossing the famous vine bridges, and some interesting museums.

Overnight: Kazuraya Hotel

Day 13

Learn about the Awa Odori dance festival and stay at a traditional shukubo Buddhist temple lodging in Tokushima.

For your last day on Shikoku you will travel to Tokushima, the location of the Awa Odori dance festival in August. Amateur and veteran dancers travel from all over Japan to take part in this unusual spectacle. Visit the festival museum here or take the ropeway up to Mount Bizan for stunning views.
You will spend tonight a little way outside the city at a shukubo Buddhist temple lodging located at temple number 19 on the island's 88-temple pilgrimage circuit. Whilst quite basic as accommodation goes, this will be a unique experience. If you would rather stay at a hotel in central Tokushima, just let us know!

Overnight: Tatsue-ji Temple

Day 14-15

Cross the Inland Sea to celebrate your final night in style amongst the bars and restaurants of Osaka.

Leaving Shikoku Island behind, today you will journey back across the Inland Sea to vibrant Osaka – a dramatic contrast to your adventures in rural Japan! Osaka is Japan's second city and an extremely exciting and lively place to be.
Osakans are known throughout Japan for their fun-loving attitude, and the vast number of restaurants, bars and entertainment venues here really attests to that reputation! Also known for its excellent cuisine, this is perfect for a big final evening and some hearty local food.
Sadly your adventures in Japan must come to an end, and on your final morning you will take the rapid train from central Osaka to Kansai Airport in plenty of time for your departure flight. Have a safe journey home.

Overnight: Swissôtel Nankai Osaka
Close all days
Other trips you may like
Tokyo
Hakone
Kyoto
Taketomi
Tokyo

A luxury honeymoon combining iconic cities, stunning countryside and relaxing subtropical beaches

14 nights: from US$13405 pp (twin share) Read more >

Tokyo
Nikko
Kyoto
Mount Koya
Himeji
Hiroshima
Kanazawa
Shirakawago
Tokyo

Discover Japan's most important monuments on this superior 17-night trip, including the temples of Nikko, Hiroshima's Peace Park, and Himeji Castle.

17 nights: from US$6709 pp (twin share) Read more >

Yunomine Onsen
Koguchi
Nachi

Add this advanced hiking module to a longer trip and discover the ancient pilgrimage trails of the Kumano Kodo.

3 nights: from US$796 pp (twin share) Read more >