Okayama
Located on the eastern seaboard half way between Osaka and Hiroshima, Okayama is like many other Japanese cities; an unattractive collection of concrete structures and no town planning. But here you will find a stunning garden, beautiful ceramics, and delicious peaches.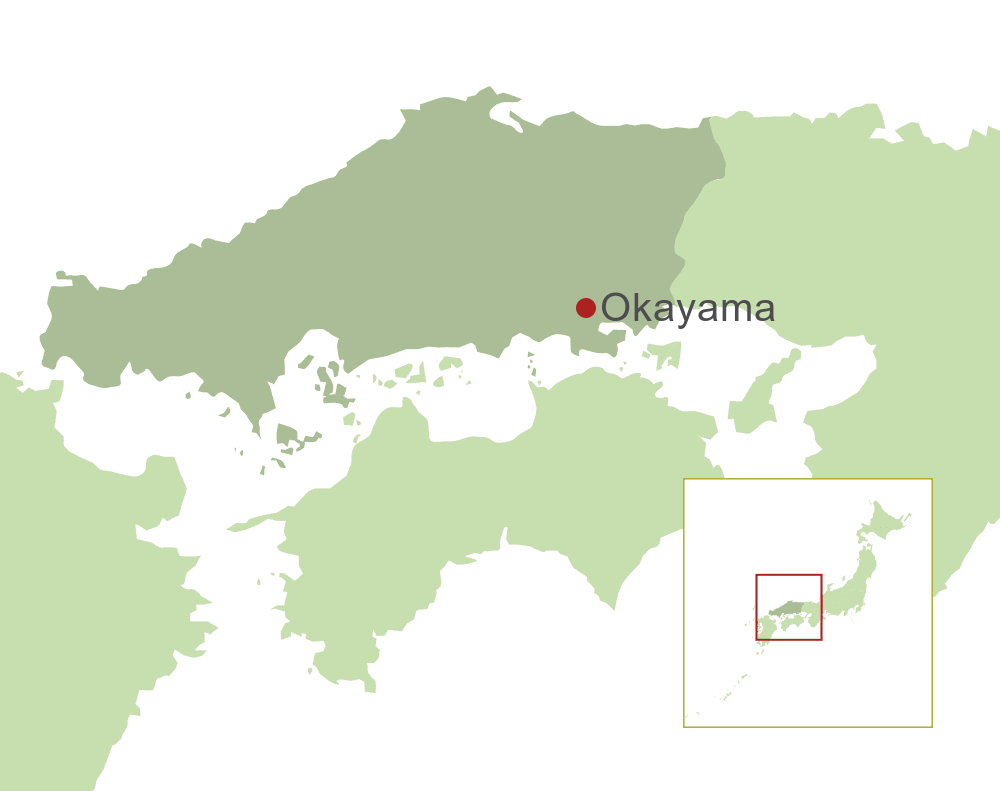 "Okayama was the place where I first fell in love with Japan, more than 15 years ago. Its famous stroll garden is the main attraction, but fresh off the plane I was fascinated by all that I saw in the city; a great introduction to urban Japanese life"
Harry Sargant, Marketing & Agents Manager
Okayama holds a special place in the hearts of Japanese people as it is believed to be home to the popular fable Momotaro. The story goes that a woman washing her clothes in the river saw a big peach floating downstream and took it home to her husband. To their surprise, a little boy popped out of the peach. They decided to call him Momotaro, or Peach Boy. They brought him up as their own and when he grew big and strong he defeated the Ogres that terrorised the town. As a result of being linked to this fable there are many references to Momotaro around the city, with the main street named after him, various statues dotted around and lots of peaches.
One of the main attractions of Okayama is Korakuen Garden, situated on an island in the Asahi River and ranked in the top three of Japan's Great Gardens. The garden was started in 1686 under the instruction of Lord Tsunamasa and took fourteen years to complete. The garden has its own crane aviary, rice field and tea crops, and is scattered with tea houses for visitors to relax and enjoy the scenery.
Other attractions include Okayama Castle (nicknamed Cormorant Castle because of its unique black walls), Okayama Prefectural Museum of Art, Hayashibara Museum of Art and Okayama Orient Museum.
For one day a year Okayama falls into complete chaos as a result of the notorious Naked Man Festival. Held on the third Saturday of February during the coldest time of the year, thousands of bare male bodies clad in only their fundoshi loincloths rush around the Saidai-ji Temple and fight for the sacred wooden sticks known as shingi. In order to receive good fortune for the coming year, a participant must possess one of the shingi and fight their way out of the temple grounds.
Experiences in Okayama
Okayama offers a wealth of exciting experiences that will help you get beneath the surface of Japan's fascinating culture. See below for a few of our favourites
Weather in Okayama
The Climate Guide for Okayama, Japan is perfect for planning your holiday. Monthly weather averages give the best indication of what the weather is usually like for every month of the year including figures for temperature, rainfall and sunshine.
Jan
Feb
Mar
Apr
May
Jun
Jul
Aug
Sep
Oct
Nov
Dec
Max Daytime Temperature (°C)
7
8
11
18
22
26
30
31
26
21
15
10
Min Night-time Temperature (°C)
-1
-1
1
7
12
17
21
22
18
11
6
1
Hours of Sunshine (Daily)
5
5
5
6
7
5
6
7
5
5
5
5
Hours of Daylight (Daily)
10
11
12
13
14
14
14
13
12
11
10
10
Heat and Humidity Discomfort
None
None
None
None
None
Low
High
High
Low
None
None
None
Days with some Rainfall
20
19
19
15
15
17
18
14
17
14
14
17
Monthly Rainfall (mm)
36
55
92
109
138
216
199
107
194
87
51
24
UV Index (Maximum)
3
4
6
8
9
10
11
10
8
6
3
2