Hagi
Hagi is a small seaside treasure tucked away in the north of Yamaguchi Prefecture on the Japan Sea coast. The quiet white walled streets in the old castle town, gardens dotted with Natsumikan orange trees, tranquil Kikugahama beach and picturesque surroundings give Hagi a relaxed pace of life.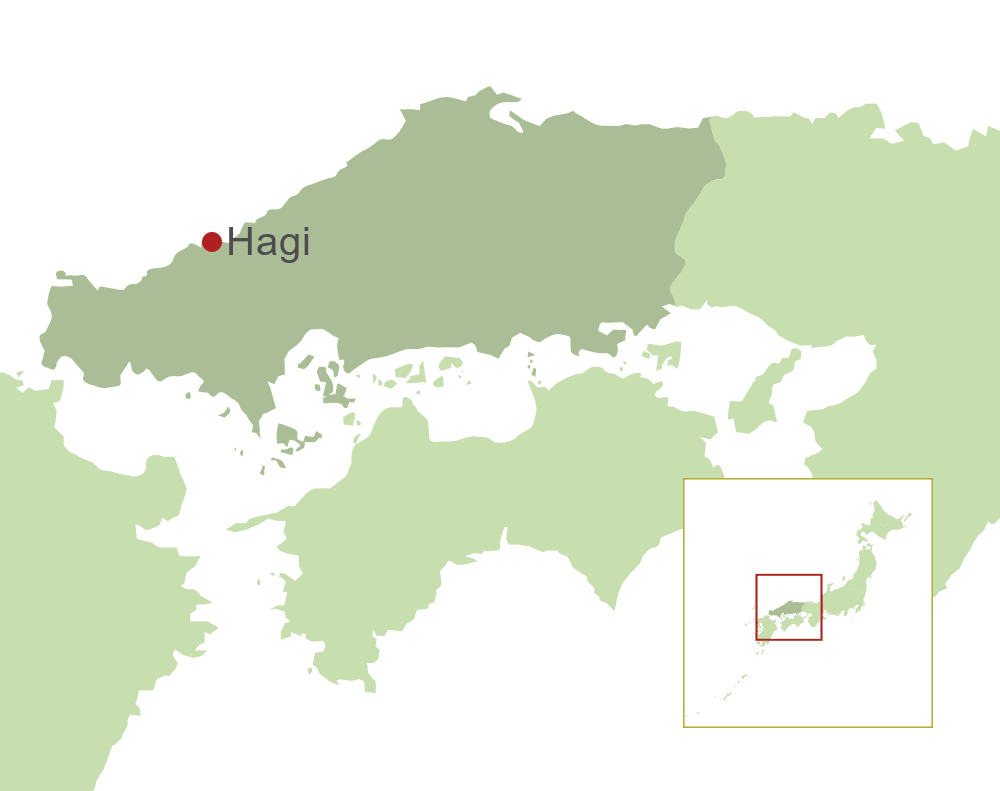 "Hagi is a beautiful seaside town with a rich samurai history. I first visited in 2005 and loved it so much I stayed for three years!"
Matthew Spiller, Agents Manager and former resident of Hagi
Perhaps surprisingly this modest city played a major role in the Meiji Restoration, bringing Japan from the feudal to the modern era. This historical significance of Hagi is proudly resonated through its streets and people.
The streets and buildings of the Jokamachi (old castle town) have changed so little since the Edo period and Meiji restoration that they can still be navigated using the original Edo maps. Many of the old buildings are open to the public, allowing you to retrace the steps of the Samurai who helped bring about modern Japan, the most significant being a group of men known as the Choshu Five. Although Japan's borders were closed at the time, these five men were chosen to be sent to study at University College London in 1863 in order to adopt the ways of Western powers. These five men returned to Japan and went on to take important roles such as Japan's first Prime Minister and the ?Father of Japanese Railways'.
Unfortunately, the castle built by the Mori clan at the base of Mt. Shizuki is now a ruin but the walls, carp filled moat and park still possess part of its former glory. The city is also home to many impressive shrines and temples and Japan's second best pottery, Hagi-yaki. For a small city, the amount of history and treasures hidden around every corner is surprising and it is bewildering why the city doesn't feature more in more guidebooks and tours but you get the feeling that Hagi is content with quietly boasting of its past so that it can hold on to it.
Recommended Accommodation in Hagi
The following are our favourites from among the western-style hotels and Japanese-style inns of Hagi.

Weather in Hagi
The Climate Guide for Hagi, Japan is perfect for planning your holiday. Monthly weather averages give the best indication of what the weather is usually like for every month of the year including figures for temperature, rainfall and sunshine.
Jan
Feb
Mar
Apr
May
Jun
Jul
Aug
Sep
Oct
Nov
Dec
Max Daytime Temperature (°C)
7
8
11
17
21
24
28
29
26
21
15
10
Min Night-time Temperature (°C)
0
0
3
8
12
17
21
22
18
12
7
2
Hours of Sunshine (Daily)
3
3
5
6
6
5
6
6
5
5
4
3
Hours of Daylight (Daily)
10
11
12
13
14
14
14
13
12
11
10
10
Heat and Humidity Discomfort
None
None
None
None
None
None
Moderate
High
Low
None
None
None
Days with some Rainfall
23
21
20
16
15
17
18
16
18
14
17
20
Monthly Rainfall (mm)
84
91
141
163
174
288
291
182
195
96
77
62
UV Index (Maximum)
3
4
6
8
9
10
11
10
8
6
4
3