Hakodate
Situated in the far south-west corner of Hokkaido island, Hakodate is the laidback gateway to the far north of Japan. As one of the first ports in Japan to open up to foreign traders, the city has a unique notable influence from overseas and a distinctive blend of Japanese and Western architecture.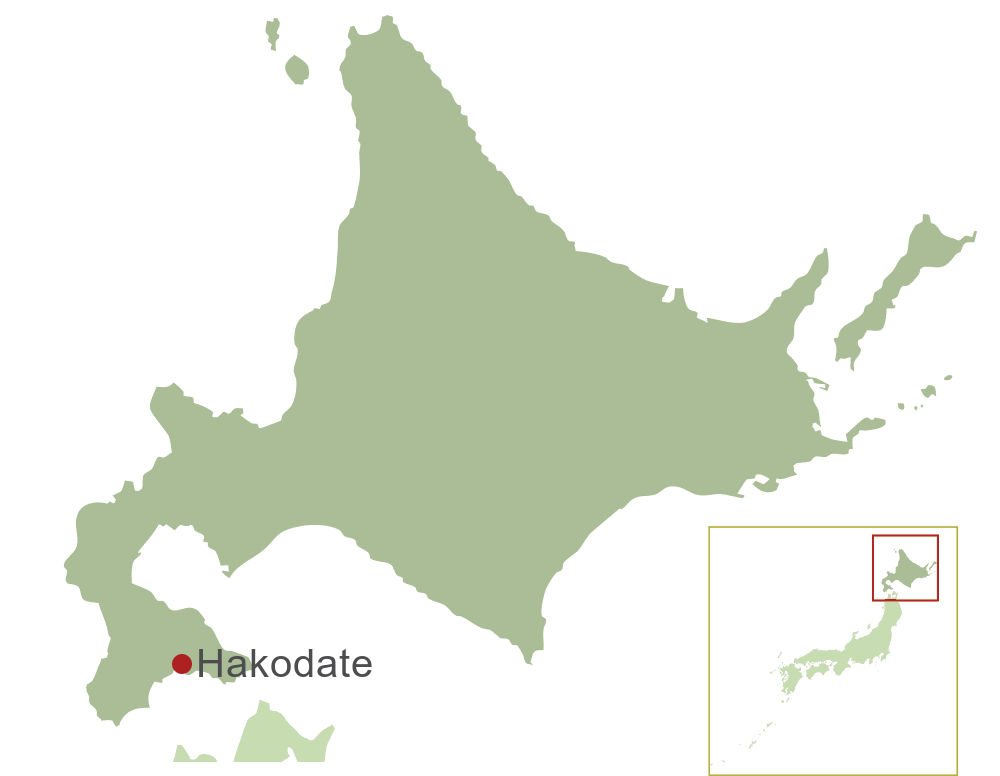 "Not just one of the official three best night views in Japan – this is one of best night views in the world!"
Rachel Rykala, Expert Travel Consultant and former resident of Hokkaido
Even today, the foreign population's former residential district and a Western style fort are among its main tourist attractions. Nowadays you can reach the city by the Seikan Tunnel, currently the world's longest railway tunnel at a total length of 33.49 miles (53.85 km), enabling you to reach the city overland in a mere 6.5 hours from Tokyo.
Hakodate is best known for its spectacular views over the city from Mount Hakodate in clear weather. From the top of the mountain, you can see the city linked to the mainland by a narrow corridor with ocean either side; the shimmering night-time lights fanning out providing an impressive vista.
The city is also known for its vibrant and active morning seafood market, held at the bay area near the railway station, where more than 360 stalls packed tightly together attract shoppers with freshly caught squid, scallops, salmon eggs, Atka mackerel, and many other kinds of fresh fish and shellfish. As a consequence, Hakodate is the place to find deliciously fresh and abundant seafood. Particularly known for its squid, its signature dish is Hakodate shio ramen (not to be confused with shioyuu ramen), a version of the ubiquitous noodle dish prepared with squid ink stock instead of the usual pork.
From here you can wander to Motomachi, the historical district, which maintains a congenial blend of Japanese and Western cultures and as such is a popular destination with Japanese and foreign visitors alike. Home to the Old Public Hall of Hakodate Ward, an important cultural property, the old British Consulate with its tea lounge and Haristo Sei-kyokai, a Russian Orthodox church, it provides an interesting insight to the city's past.

Recommended Accommodation in Hakodate
The following are our favourites from among the western-style hotels and Japanese-style inns of Hakodate.

Experiences in Hakodate
Hakodate offers a wealth of exciting experiences that will help you get beneath the surface of Japan's fascinating culture. See below for a few of our favourites
Weather in Hakodate
The Climate Guide for Hakodate, Japan is perfect for planning your holiday. Monthly weather averages give the best indication of what the weather is usually like for every month of the year including figures for temperature, rainfall and sunshine.
Jan
Feb
Mar
Apr
May
Jun
Jul
Aug
Sep
Oct
Nov
Dec
Max Daytime Temperature (°C)
-1
0
4
10
15
19
23
25
21
16
8
2
Min Night-time Temperature (°C)
-7
-7
-4
2
6
11
16
18
13
7
1
-4
Hours of Sunshine (Daily)
3
3
5
6
7
6
5
5
5
5
3
2
Hours of Daylight (Daily)
10
11
12
13
14
15
15
14
12
11
10
9
Heat and Humidity Discomfort
None
None
None
None
None
None
None
Low
None
None
None
None
Days with some Rainfall
29
25
25
17
18
17
18
18
18
19
23
28
Monthly Rainfall (mm)
81
65
65
79
82
84
126
158
178
111
109
88
UV Index (Maximum)
1
2
3
5
7
8
9
8
6
4
2
1
Featured trips including Hakodate
Tokyo
Utoro
Lake Kussharo
Mount Asahi
Biei
Sapporo
Hakodate
Tokyo

This summery itinerary highlights some of the best natural scenery, hikes, and wildlife in Hokkaido, combined with a city stay in Sapporo.

14 nights: from US$5109 pp (twin share) Read more >