Mount Asahi
Mount Asahi (AKA Asahi-dake) is the tallest mountain in Hokkaido and forms part of the Daisetsuzan National Park - a beautiful area of mountainous wilderness renowned for its excellent hiking, spectacular scenery and superb winter sports conditions.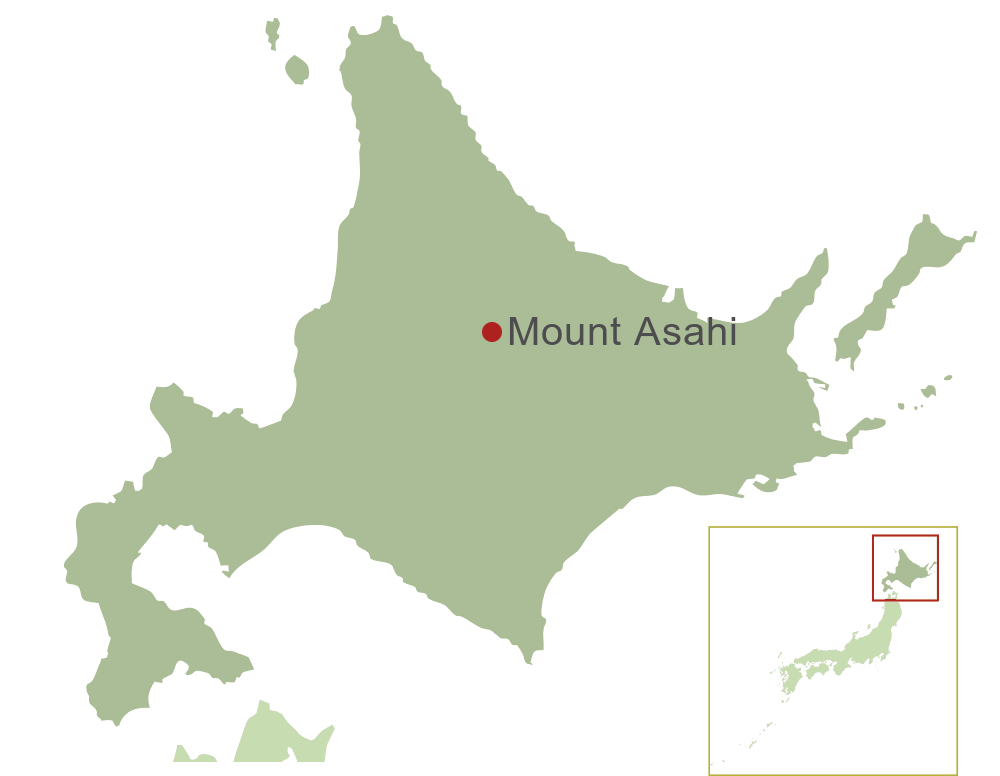 "The highest peak in Hokkaido, Asahidake makes for a great day of climbing and rewards you with fabulous views across the national park. Just watch out for the local population of black bears!"
Alastair Donnelly, Director
The village of Asahidake Onsen only comprises a few lodges and pensions as well as a tourist information office and visitor centre. There are many hiking opportunities in the Asahidake area in summer.
The Daisetsu Mountain Range, the largest chain of mountains in Japan (in terms of total area) Mt. Daisetsu is the general name given to a group of several 2,000m-class mountains located almost in the very centre of Hokkaido which span out for nearly 50 km - the highest peak being Mt. Asahidake (2,290m). With a total area of 230,000 ha, Mt. Daisetsu comprises Japan's largest mountain terrain in terms of area.
The Daisetsu Mountain Range also features the largest amount of nature in Japan. As the Daisetsu Mountain Range is situated at a more northern latitude than Honshu, its alpine environment is similar to the 3,000m-class mountains found on the main island, and its plant groups are well known for their diversity and scale - resembling an enormous outdoor garden sprawling with flowers. The Ainu, the indigenous people of Hokkaido, admired its beauty so much they named it kamuimintara, meaning "the garden of the gods."
From spring tidings to crimson foliage, the seasonal beauty enchants all who visit here. Spring arrives in the Mt. Asahidake region in June. Around this time, rare alpine flora species begin to appear on the hillsides and forests of Erman's birch become ever more verdant with each passing day. In early July, all of the alpine plants found here rival each other to express their natural beauty and the vast mountain area is covered in a fantasia of colours. By August, signs of autumn begin to approach. And from September through October, fall's crescendo reaches its peak as the entire area is tinted in red and orange hues. View a spectrum of colours found in Mother Nature from your ropeway window vantage point.
Experiences in Mount Asahi
Mount Asahi offers a wealth of exciting experiences that will help you get beneath the surface of Japan's fascinating culture. See below for a few of our favourites
Weather in Mount Asahi
The Climate Guide for Mount Asahi, Japan is perfect for planning your holiday. Monthly weather averages give the best indication of what the weather is usually like for every month of the year including figures for temperature, rainfall and sunshine.
Jan
Feb
Mar
Apr
May
Jun
Jul
Aug
Sep
Oct
Nov
Dec
Max Daytime Temperature (°C)
-6
-6
-2
6
12
16
20
22
18
12
3
-3
Min Night-time Temperature (°C)
-15
-15
-10
-3
2
7
11
13
8
2
-5
-11
Hours of Sunshine (Daily)
4
5
6
6
6
5
5
4
5
5
4
3
Hours of Daylight (Daily)
9
10
12
13
15
15
15
14
12
11
10
9
Heat and Humidity Discomfort
None
None
None
None
None
None
None
None
None
None
None
None
Days with some Rainfall
27
24
24
18
20
19
20
20
18
20
23
27
Monthly Rainfall (mm)
62
46
55
66
81
85
117
148
138
110
100
76
UV Index (Maximum)
1
2
3
5
6
7
8
8
6
3
2
1
Featured trips including Mount Asahi
Tokyo
Utoro
Lake Kussharo
Mount Asahi
Biei
Sapporo
Hakodate
Tokyo

This summery itinerary highlights some of the best natural scenery, hikes, and wildlife in Hokkaido, combined with a city stay in Sapporo.

14 nights: from US$5109 pp (twin share) Read more >