Asahikawa
Asahikawa is Hokkaido's second-largest city and sits in the middle of Japan's northern island. Home to 350 thousand people, this is a very pleasant little city set against the stunning background of the mountains and forests of Daisetsu-zan National Park.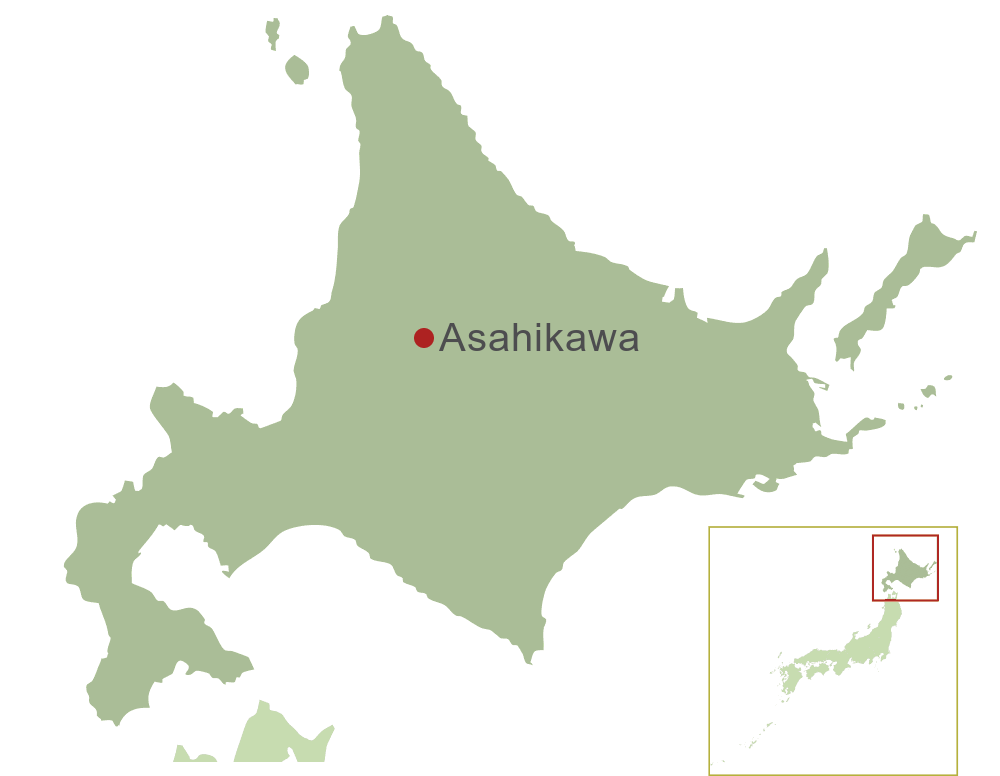 "The wide open streets have plenty of life during the day and night. The food and sake taste fantastic. Mountains and volcanoes sit on the city door-step. Asahikawa has an almost endless array of options all year round."
James Mundy, PR Manager
Though not known as a tourist destination, the city of Asahikawa has plenty to offer the visitor to Hokkaido. It is best known for its excellent zoo, which attracts hundreds of thousands of visitors per year thanks to its more "Western" approach to zoo-keeping. The enclosures here are larger and more animal-friendly than is usually found in Asian zoos, meaning that it is actually well worth a visit if you're in the area.
Asahikawa is also well placed as a base to explore Daisetsuzan National Park, which with an area of 2,267.64 square kilometres (875.54 square miles) of unspoiled wilderness is the largest national park in Japan. The name Daisetsuzan means "great snowy mountains" - an apt moniker for a park which contains 16 peaks over 2,000 metres (6,600 feet), the highest of which is Mount Asahidake, at 2,290 metres (7,510 feet). If you are of an active bent, this is a hiker's paradise and contains some of the most spectacularly rugged scenery in all of Japan!
Another great place to visit from Asahikawa is Furano, small town that is well-known in Japan for its beautiful lavender and flower fields in spring and summer. In the winter, meanwhile, it is transformed into a popular skiing resort.
Asahikawa is famous for its crafts and especially renowned for its wood craft and yukara-ori traditional dyeing and weaving, examples of which can be seen in galleries and museums around the city. The city itself has a lively entertainment area with plenty of noodle shops and izakaya restaurants, where you can try the local speciality of Asahikawa ramen: a dish consisting of noodles in a soy sauce broth. This is also the home of Otokoyama sake - which is one of Japan's most famous and delicious brands. You may like to try a drop in one of the local izakaya or visit the distillery itself to sample the various sake products for free!
Asahikawa has the coldest recorded temperature in Japanese history, at -41 C (-41.8 F), which gives you some clue as the quality of the winter sports available in the area! As well as the nearby resort of Furano the city has its own smaller resort, called Kamui. Meanwhile, in the spring and summer the surrounding countryside is beautiful with the nearby rolling hills of Biei complemented by the surrounding mountains and volcano.
Weather in Asahikawa
The Climate Guide for Asahikawa, Japan is perfect for planning your holiday. Monthly weather averages give the best indication of what the weather is usually like for every month of the year including figures for temperature, rainfall and sunshine.
Jan
Feb
Mar
Apr
May
Jun
Jul
Aug
Sep
Oct
Nov
Dec
Max Daytime Temperature (°C)
-4
-3
1
9
15
19
23
24
20
13
5
-1
Min Night-time Temperature (°C)
-13
-13
-8
-1
4
9
14
15
10
4
-3
-8
Hours of Sunshine (Daily)
3
4
5
6
6
6
5
5
5
5
3
2
Hours of Daylight (Daily)
9
10
12
13
15
15
15
14
12
11
10
9
Heat and Humidity Discomfort
None
None
None
None
None
None
None
None
None
None
None
None
Days with some Rainfall
29
26
26
18
19
17
18
18
18
21
25
29
Monthly Rainfall (mm)
79
55
56
61
71
72
103
144
139
121
117
101
UV Index (Maximum)
1
2
3
5
6
7
8
8
6
3
1
1