Self-Guided Adventure
Secrets of Shikoku
13 Nights: from US$3822 per person (twin share)
Trip Code: SOSC
Our Secrets of Shikoku itinerary traverses the valleys and mountains of beautiful rural Shikoku, including time on the art island of Naoshima, as well as stays in historic Kyoto and super-modern Osaka. Read more >
A visit to Shikoku offers a wonderful chance to see a side of Japan rarely experienced by travellers, most of whom stick to the well-worn and well-loved sites of Japan's main island.
In Kotohira you'll follow the pilgrims skywards as you climb the steep steps of Konpira-san, Shikoku's most famous shrine. In Matsuyama you'll soak in the hot spring waters of historic Dogo Onsen, Japan's oldest bathhouse. Further inland you'll head into the Iya Valley, where hidden gorges and traditional vine bridges await exploration, followed by a stay in a charming mountainside village that feels like stepping back in time.
Your itinerary will also include a day trip to the unique Naoshima on the Seto Inland Sea. This tiny island has developed a global reputation thanks to its large collection of contemporary art galleries, exhibits and outdoor installations; a tour de force of architectural expression integrating art and the natural environment.
Stays at traditional Japanese-style inns will provide contrast with Western-style hotels, giving you some fantastic opportunities to meet Japanese people whilst making sure that your trip provides a benefit to the local community.
Transport: This itinerary is best enjoyed with a rental car, so that you can visit some of the more remote regions of Shikoku such as the Iya Valley's idyllic Ochiai village. If you don't feel confident about driving, we can either arrange private cars at an additional cost or recommend public transport, although please note that local train and bus services, while reliable, are often infrequent in this countryside region! Just let us know how you'd like to travel and we'll tailor the trip to fit your requirements.
Driving in Japan: Please note that to drive in Japan you will need to obtain an International Driving Permit (IDP) before you leave your home country.
What's included
13 nights' accommodation (seven nights Japanese-style)

Breakfast on 11 mornings, and seven evening meals

Airport transfers

Transport between destinations unless otherwise specified

Eight-hour private guide service in Kyoto

Ferry tickets for Naoshima day trip

Tickets for the Chichu Art Museum on naoshima

Four days' car rental

Pocket WiFi device

Your personalised InsideJapan Info-Pack
What's NOT included:
International flights

Petrol (gas) for car rental

Local transport (local taxis, subways, buses) at any destination

Any entrance fees (including those for shrines, temples and museums)

Baggage handling and luggage forwarding
Trip Highlights
Stay at a traditional ryokan on Miyajima Island

Live like a local in a remote mountain village

Climb to Kotohira's mountaintop temple
Soak in the waters of Japan's oldest bathhouse

Traverse the vine bridges of the Iya Valley

Visit one of Japan's most beautiful landscape gardens
For more information email us: [email protected] or call: + 44 117 244 3380
What, where, when and how...
Secrets of Shikoku - 14 Days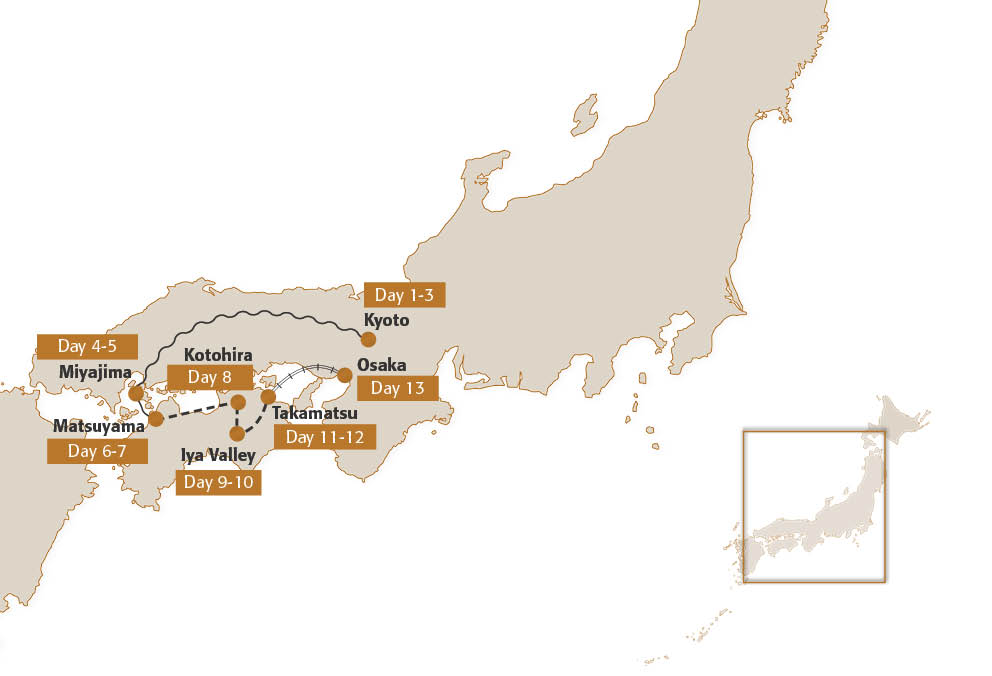 Secrets of Shikoku - 14 Days - Day by Day
Secrets of Shikoku - 14 Days - Accommodation
Secrets of Shikoku - 14 Days - Experiences
Day 1-3

Explore Kyoto's UNESCO World Heritage Sites with an expert local guide and take an optional day trip to Nara or Uji.

Welcome to Japan! Your adventure begins at the futuristic Kansai International Airport, a man-made floating island in Osaka Bay. We will a shared shuttle transfer, which will take you to your hotel in Kyoto for you to settle in to Japanese life.
The rest of your first afternoon will be free for you to start exploring the plethora of sights in this ancient city, armed with your tailored Info-Pack full of suggestions. Try to spot a geisha in Gion, count the rocks at Ryoan-ji Temple or admire the 1,001 kannon statues at Sanjusangendo Temple.
On your first full day in Kyoto you will have eight hours to explore the city with a private local guide. Home to many of Japan's finest temples, shrines and gardens – including a whopping 17 UNESCO World Heritage Sites – Kyoto is the undisputed cultural heart of Japan. The itinerary for the day is not fixed in advance, and your guide will help you plan a day filled with Kyoto's famous sights and hidden gems.
Day three of your itinerary will be free for you to either continue exploring Kyoto or to take a day trip out of the city. You might like to take a traditional boat ride down the Hozugawa River to the bamboo groves of the Arashiyama district in northwest Kyoto, or perhaps take a break from the temples and shrines by checking out the ultra-modern Kyoto Station building.
Alternatively, you could make a day trip to nearby Nara to see the famous Great Buddha statue or visit Uji to admire Byodoin Temple – as featured on the 10 yen coin.

Overnight: Intergate Kyoto Shijo Shinmachi

Day 4-5

Hop on the bullet train to Hiroshima and stop-off to explore the Peace Memorial Park, before taking the ferry to sacred Miyajima "Shrine Island".

Today you will travel on the world famous Shinkansen bullet train from Kyoto to the city of Hiroshima which has risen pheonix-like from the flames of World War Two. The fantastic Peace Memorial Park including a wonderful museum pays homage to the events of 6th August 1945 and is well worth a morning's exploration.
After that, it's a short hop on a ferry across to Miyajima Island. Here you'll stay in a wonderful ryokan inn run by a very hospitable family - a real InsideJapan Tours favourite! The included evening meals are exquisite and are sure to feature local, seasonal specialities including the island's famous oysters. There's lots to do on your free day on Miyajima Island; take the cable car to the top of Mount Misen for views across the Seto Inland Sea, explore the temples including a five-storey pagoda, and gaze at the famous red shrine gate out in the water. At low tide you can walk right up to the gate for a closer look.

Overnight: Yamaichi Bekkan

Day 6-7

It's time to take the ferry over to Matsuyama on Shikoku Island. Here you can soak in the waters of Japan's oldest bathhouse.

From Miyajima it's a short hop back across to Hiroshima and then a longer, scenic ferry ride across the Seto Inland Sea to Shikoku. Your first stop is the pleasant town of Matsuyama, famous for its excellent original castle and for Dogo Onsen: Japan's oldest hot spring bathhouse. This really is the perfect time for an introduction to the Japanese pastime of hot spring bathing!
Be sure to catch a ride on the restored Botchan Ressha, a diesel-powered replica of the old steam trains that used to run in Matsuyama in the nineteenth century.
Dinner will be included on both nights at your modern ryokan inn.

Overnight: Chaharu Hanare Dogo Yumekura

Day 8

Start your self-drive adventure with your first stop: Kotohira, home of Shikoku's most famous shrine.

This morning you'll pick up your rental car for a four-day exploration from western to eastern Shikoku. Your destination today is the charming town of Kotohira, home to Shikoku's most famous shrine, Konpira-san, which sits on a hillside overlooking the town. This afternoon you may choose to take on the challenge of climbing the 800 steps to the inner sanctum of the shrine. The effort is well worth it, as you will be rewarded with fantastic views from the top and friendly encouragement from the Japanese visitors making the climb with you!
Tonight you will have an included Japanese-style meal at your riverside ryokan inn.

Overnight: Kotobuki Ryokan

Day 9-10

Explore one of Japan's most isolated regions as you make your way into the Iya Valley by rental car.

Now for the real adventure as you tackle the dramatic, twisting roads that'll lead you through the mysterious valleys and forested hills of central Shikoku. The Iya Valley is one of Japan's most isolated regions, with steep hills and plunging valleys that were used as hidden retreats for warring clans and political dissidents in days gone by.
Today the area is accessible but largely undeveloped, characterised by vast valleys dotted with sleepy villages and tiny hamlets. To get the real 'Secrets of Shikoku' experience you will be staying in the most charming village in the region: Ochiai, situated on a mountainside. Until recently it suffered the fate of many small rural villages, with an ageing population as the younger generations moved to the cities. However, after renovating a number of the traditional farmhouses in the village, they've been able to encourage tourism to the village and help support the local economy.
One of the farmhouses will be your home for the next two nights, and comes with its own small kitchen, simple but comfortable bedding, and breathtaking views of the valley. The locals here grow all of their own produce, and we will arrange a dinner brought to you by some of the residents. It really feels like you've stepped back in time.
The second day will be yours at leisure, either to truly kick back and relax in your farmhouse or with further exploration by rental car.

Overnight: Tougenkyou-Iya Traditional Farmhouses

Day 11-12

Travel along the northern coast of Shikoku to reach Takamatsu, home to the beautiful Ritsurin Gardens.

Your final day of driving will bring you to Takamatsu, home to Ritsurin Gardens – some of the best landscape gardens in Japan.
You may also like to visit one of the several interesting museums in Takamatsu, including the Sanuki Folkcraft Museum and a sculpture garden designed by Isamu Noguchi. The plateau of Yashima, an ancient battle ground with views of the Inland Sea, and nearby Shikoku-Mura, a collection of traditional houses displaying Shikoku architecture, are also of interest.
On the second day you'll have a day trip over to Naoshima "Art Island" with its world-class galleries, open-air installations and unusual exhibitions set against beautiful island scenery. We will provide tickets for the return ferry to Naoshima today so you can make a day trip there from Takamatsu.

Overnight: JR Clement Hotel

Day 13-14

Bid farewell to Shikoku and journey by train to the bright lights of Osaka.

Today you'll swap rural villages for ultra-modern Osaka, the largest city in the Kansai region. Osaka is famous throughout Japan for its hearty food and drink and its enthusiastic party spirit – so what better way to celebrate the end of your trip in style than by letting your hair down and joining the locals for some good food, good drinks, and a guaranteed good time?
Unfortunately, after a final night of fun the time has come to say sayonara to Japan. On your last morning you will make the short transfer back to Kansai International Airport for your flight home. In just two short weeks you will have seen a side of Japan that few foreigners and even many Japanese have never experienced!

Overnight: Cross Hotel Osaka
View all days
Day 1-3

Explore Kyoto's UNESCO World Heritage Sites with an expert local guide and take an optional day trip to Nara or Uji.

Welcome to Japan! Your adventure begins at the futuristic Kansai International Airport, a man-made floating island in Osaka Bay. We will a shared shuttle transfer, which will take you to your hotel in Kyoto for you to settle in to Japanese life.
The rest of your first afternoon will be free for you to start exploring the plethora of sights in this ancient city, armed with your tailored Info-Pack full of suggestions. Try to spot a geisha in Gion, count the rocks at Ryoan-ji Temple or admire the 1,001 kannon statues at Sanjusangendo Temple.
On your first full day in Kyoto you will have eight hours to explore the city with a private local guide. Home to many of Japan's finest temples, shrines and gardens – including a whopping 17 UNESCO World Heritage Sites – Kyoto is the undisputed cultural heart of Japan. The itinerary for the day is not fixed in advance, and your guide will help you plan a day filled with Kyoto's famous sights and hidden gems.
Day three of your itinerary will be free for you to either continue exploring Kyoto or to take a day trip out of the city. You might like to take a traditional boat ride down the Hozugawa River to the bamboo groves of the Arashiyama district in northwest Kyoto, or perhaps take a break from the temples and shrines by checking out the ultra-modern Kyoto Station building.
Alternatively, you could make a day trip to nearby Nara to see the famous Great Buddha statue or visit Uji to admire Byodoin Temple – as featured on the 10 yen coin.

Overnight: Intergate Kyoto Shijo Shinmachi

Day 4-5

Hop on the bullet train to Hiroshima and stop-off to explore the Peace Memorial Park, before taking the ferry to sacred Miyajima "Shrine Island".

Today you will travel on the world famous Shinkansen bullet train from Kyoto to the city of Hiroshima which has risen pheonix-like from the flames of World War Two. The fantastic Peace Memorial Park including a wonderful museum pays homage to the events of 6th August 1945 and is well worth a morning's exploration.
After that, it's a short hop on a ferry across to Miyajima Island. Here you'll stay in a wonderful ryokan inn run by a very hospitable family - a real InsideJapan Tours favourite! The included evening meals are exquisite and are sure to feature local, seasonal specialities including the island's famous oysters. There's lots to do on your free day on Miyajima Island; take the cable car to the top of Mount Misen for views across the Seto Inland Sea, explore the temples including a five-storey pagoda, and gaze at the famous red shrine gate out in the water. At low tide you can walk right up to the gate for a closer look.

Overnight: Yamaichi Bekkan

Day 6-7

It's time to take the ferry over to Matsuyama on Shikoku Island. Here you can soak in the waters of Japan's oldest bathhouse.

From Miyajima it's a short hop back across to Hiroshima and then a longer, scenic ferry ride across the Seto Inland Sea to Shikoku. Your first stop is the pleasant town of Matsuyama, famous for its excellent original castle and for Dogo Onsen: Japan's oldest hot spring bathhouse. This really is the perfect time for an introduction to the Japanese pastime of hot spring bathing!
Be sure to catch a ride on the restored Botchan Ressha, a diesel-powered replica of the old steam trains that used to run in Matsuyama in the nineteenth century.
Dinner will be included on both nights at your modern ryokan inn.

Overnight: Chaharu Hanare Dogo Yumekura

Day 8

Start your self-drive adventure with your first stop: Kotohira, home of Shikoku's most famous shrine.

This morning you'll pick up your rental car for a four-day exploration from western to eastern Shikoku. Your destination today is the charming town of Kotohira, home to Shikoku's most famous shrine, Konpira-san, which sits on a hillside overlooking the town. This afternoon you may choose to take on the challenge of climbing the 800 steps to the inner sanctum of the shrine. The effort is well worth it, as you will be rewarded with fantastic views from the top and friendly encouragement from the Japanese visitors making the climb with you!
Tonight you will have an included Japanese-style meal at your riverside ryokan inn.

Overnight: Kotobuki Ryokan

Day 9-10

Explore one of Japan's most isolated regions as you make your way into the Iya Valley by rental car.

Now for the real adventure as you tackle the dramatic, twisting roads that'll lead you through the mysterious valleys and forested hills of central Shikoku. The Iya Valley is one of Japan's most isolated regions, with steep hills and plunging valleys that were used as hidden retreats for warring clans and political dissidents in days gone by.
Today the area is accessible but largely undeveloped, characterised by vast valleys dotted with sleepy villages and tiny hamlets. To get the real 'Secrets of Shikoku' experience you will be staying in the most charming village in the region: Ochiai, situated on a mountainside. Until recently it suffered the fate of many small rural villages, with an ageing population as the younger generations moved to the cities. However, after renovating a number of the traditional farmhouses in the village, they've been able to encourage tourism to the village and help support the local economy.
One of the farmhouses will be your home for the next two nights, and comes with its own small kitchen, simple but comfortable bedding, and breathtaking views of the valley. The locals here grow all of their own produce, and we will arrange a dinner brought to you by some of the residents. It really feels like you've stepped back in time.
The second day will be yours at leisure, either to truly kick back and relax in your farmhouse or with further exploration by rental car.

Overnight: Tougenkyou-Iya Traditional Farmhouses

Day 11-12

Travel along the northern coast of Shikoku to reach Takamatsu, home to the beautiful Ritsurin Gardens.

Your final day of driving will bring you to Takamatsu, home to Ritsurin Gardens – some of the best landscape gardens in Japan.
You may also like to visit one of the several interesting museums in Takamatsu, including the Sanuki Folkcraft Museum and a sculpture garden designed by Isamu Noguchi. The plateau of Yashima, an ancient battle ground with views of the Inland Sea, and nearby Shikoku-Mura, a collection of traditional houses displaying Shikoku architecture, are also of interest.
On the second day you'll have a day trip over to Naoshima "Art Island" with its world-class galleries, open-air installations and unusual exhibitions set against beautiful island scenery. We will provide tickets for the return ferry to Naoshima today so you can make a day trip there from Takamatsu.

Overnight: JR Clement Hotel

Day 13-14

Bid farewell to Shikoku and journey by train to the bright lights of Osaka.

Today you'll swap rural villages for ultra-modern Osaka, the largest city in the Kansai region. Osaka is famous throughout Japan for its hearty food and drink and its enthusiastic party spirit – so what better way to celebrate the end of your trip in style than by letting your hair down and joining the locals for some good food, good drinks, and a guaranteed good time?
Unfortunately, after a final night of fun the time has come to say sayonara to Japan. On your last morning you will make the short transfer back to Kansai International Airport for your flight home. In just two short weeks you will have seen a side of Japan that few foreigners and even many Japanese have never experienced!

Overnight: Cross Hotel Osaka
Close all days
Other trips you may like
Nagasaki
Kagoshima
Yakushima
Kirishima National Park
Kumamoto
Kurokawa Onsen
Fukuoka

Discover the impressive landscapes and vibrant cities of Kyushu on this journey from the forests of Yakushima to Kurokawa Onsen's hot springs

13 nights: from US$5252 pp (twin share) Read more >

Tokyo
Hakone
Kyoto
Miyajima
Osaka
Takayama
Tokyo

A deluxe two-week itinerary introducing Japan's most iconic sights with the best in luxury accommodation and fine dining included.

14 nights: from US$13845 pp (twin share) Read more >

Tokyo
Hakone
Kyoto
Taketomi
Tokyo

A luxury honeymoon combining iconic cities, stunning countryside and relaxing subtropical beaches

14 nights: from US$16315 pp (twin share) Read more >