Self Guided Adventure
Secrets of Shikoku
14 Nights: from US$2727 per person (twin share)
Trip Code: SOSC
Our Secrets of Shikoku itinerary circumnavigates the valleys and mountains of beautiful rural Shikoku, including time on the art island of Naoshima as well as stays in historic Kyoto and super-modern Osaka. Read more >
A visit to Shikoku offers a wonderful chance to see a side of Japan rarely experienced by travellers, most of whom stick to the well-worn and well-loved sites of Japan's main island.
In Kotohira you'll follow the pilgrims skywards as you climb the steep steps of Konpira-san, Shikoku's most famous shrine. In Matsuyama you'll soak in the hot spring waters of historic Dogo Onsen, Japan's oldest bathhouse.
From your base in Ekawasaki you can explore the Shimanto-gawa, Japan's last free-flowing river, and feel truly at the heart of rural Japan. Further inland you'll head into the Iya Valley, where hidden gorges and traditional vine bridges await exploration.
Shikoku is home to some wonderful original samurai castles, meaning that the days of the feudal warlords never feel too far away. You'll have the chance to see wildlife too: whale-watching boats run regularly from Kochi during May to October and provide an uplifting counter-sentiment to Japan's usual whale-related headlines.
Your itinerary will also include a day trip to the unique Naoshima on the Seto Inland Sea. This tiny island has developed a global reputation thanks to its large collection of contemporary art galleries, exhibits and outdoor installations; a tour de force of architectural expression integrating art and the natural environment.
Stays at traditional Japanese-style inns will provide contrast with Western-style hotels, giving you some fantastic opportunities to meet Japanese people whilst making sure that your trip provides a benefit to the local community.
What's included
14 nights' accommodation

Breakfast each morning, five evening meals and one lunch

Airport transfers

Transport between destinations unless otherwise specified

Eight-hour private guide service in Kyoto

Canoe trip down the Shimanto-gawa River

Noodle-making class

Ferry tickets for Naoshima day trip

Your personalised InsideJapan Info-Pack
What's NOT included:
International flights

Local transport (local taxis, subways, buses) at any destination

Any entrance fees (including those for shrines, temples and museums)

Baggage handling and luggage forwarding
Trip Highlights
Stay at a shukubo Buddhist temple lodging

Soak in the waters of Japan's oldest bathhouse in Matsuyama

Climb to Kotohira's mountaintop temple
Try your hand at udon noodle-making

Traverse the vine bridges of the Iya Valley
For more information email us: [email protected] or call: 303 952 0379
What, where, when and how...
Secrets of Shikoku - 15 Days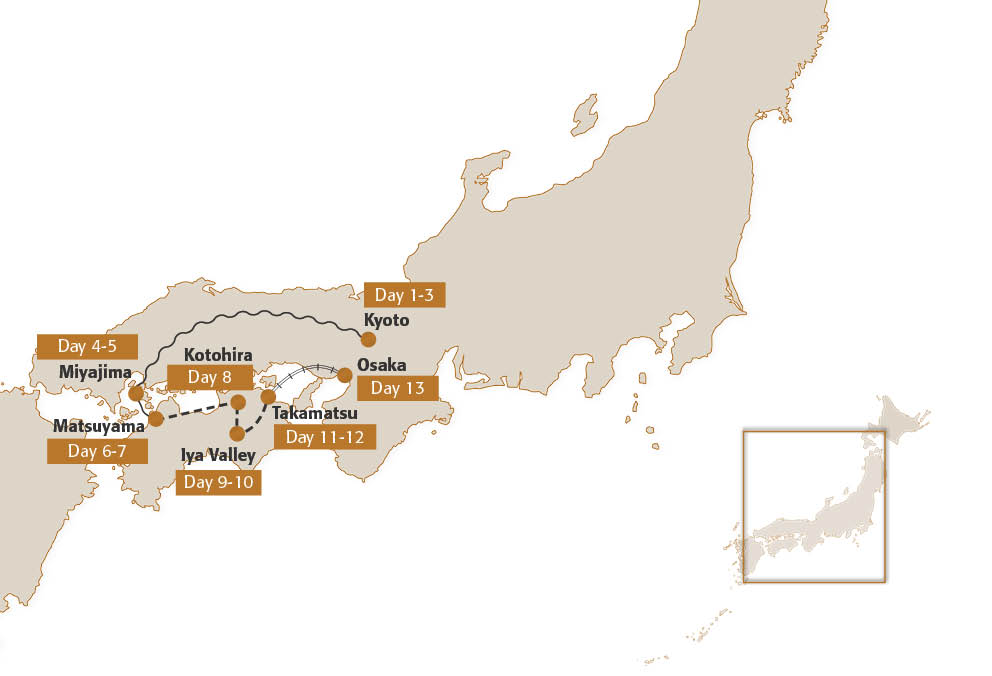 Secrets of Shikoku - 15 Days - Day by Day
Secrets of Shikoku - 15 Days - Accommodation
Secrets of Shikoku - 15 Days - Experiences
Day 1-3

Explore Kyoto's UNESCO World Heritage Sites with an expert local guide and take an optional day trip to Nara or Uji.

Welcome to Japan! Your adventure begins at the futuristic Kansai International Airport, a man-made floating island in Osaka Bay. We will provide tickets for a shared taxi transfer, which will take you to your hotel in Kyoto for you to settle in to Japanese life.
The rest of your first afternoon will be free for you to start exploring the plethora of sights in this ancient city, armed with your tailored Info-Pack full of suggestions. Try to spot a geisha in Gion, count the rocks at Ryoan-ji Temple or admire the 1,001 kannon statues at Sanjusangendo Temple.
On your first full day in Kyoto you will have eight hours to explore the city with a private local guide. Home to many of Japan's finest temples, shrines and gardens – including a whopping 17 UNESCO World Heritage Sites – Kyoto is the undisputed cultural heart of Japan. The itinerary for the day is not fixed in advance, and your guide will help you plan a day filled with Kyoto's famous sights and hidden gems.
Day three of your itinerary will be free for you to either continue exploring Kyoto or to take a day trip out of the city. You might like to take a traditional boat ride down the Hozugawa River to the bamboo groves of the Arashiyama district in northwest Kyoto, or perhaps take a break from the temples and shrines by checking out the ultra-modern Kyoto Station building.
Alternatively, you could make a day trip to nearby Nara to see the famous Great Buddha statue or visit Uji to admire Byodoin Temple – as featured on the 10 yen coin.

Overnight: Vista Premio Kyoto

Day 4

Cross the magnificent Seto-Ohashi Bridge to Shikoku, where you'll begin your stay with a visit to the beautiful Ritsurin Gardens.

Travel by train across the huge, double-decker Seto-Ohashi Bridge to Shikoku Island today to begin your adventures in rural Japan. Your first stop will be Takamatsu, home to Ritsurin Gardens – some of the best landscape gardens in Japan.
You may also like to visit one of the several interesting museums in Takamatsu, including the Sanuki Folkcraft Museum and a sculpture garden designed by Isamu Noguchi. The plateau of Yashima, an ancient battle ground with views of the Inland Sea, and nearby Shikoku-Mura, a collection of traditional houses displaying Shikoku architecture, are also of interest.

Overnight: Dormy Inn Takamatsu

Day 5

Visit Naoshima "Art Island" with its world-class galleries, open-air installations and unusual exhibitions set against beautiful island scenery.

Today you will catch the ferry to Naoshima, a tiny island in the Seto Inland Sea renowned for its art exhibitions. Benesse House Museum, designed by the famous Japanese architect Tadao Ando, is the main draw and boasts works by Andy Warhol, David Hockney, Bruce Nauman and Jasper Jones. This beautiful island also has a host of outdoor art installations to discover as well as some incredible natural scenery. Hire a bike to cycle around the sights or spend an afternoon at the Chichu Art Museum.

Overnight: Dormy Inn Takamatsu

Day 6

Head to Kotohira, home to Shikoku's most famous shrine and one of Japan's oldest surviving kabuki theatres.

Today you will head to the charming town of Kotohira, home of Shikoku's most famous shrine, Konpira-san, which sits on a hillside overlooking the town.
This afternoon you may choose to take on the challenge of climbing the 800 steps to the inner sanctum of the shrine. The effort is well worth it, as you will be rewarded with fantastic views from the top and friendly encouragement from the Japanese visitors making the climb with you!
Today you will also take part in an udon noodle-making class to learn how to cook Kotohira's local speciality. Other sights include the Kanamaru-za kabuki theatre (one of Japan's oldest), and a sake museum. Tonight you will have an included Japanese-style meal at your riverside ryokan inn.

Overnight: Kotobuki Ryokan

Day 7

Soak in the waters of Japan's oldest bathhouse before catching a ride on the Botchan Train in Matsuyama.

Today you will travel west along the northern coast of Shikoku to the pleasant town of Matsuyama, famous for its excellent original castle and for Dogo Onsen: Japan's oldest hot spring bathhouse. This really is the perfect time for an introduction to the Japanese pastime of hot spring bathing!
Be sure to catch a ride on the restored Botchan Ressha, a diesel-powered replica of the old steam trains that used to run in Matsuyama in the nineteenth century.

Overnight: Dogo Patio Hotel

Day 8-9

Find yourself deep in rural Shikoku as you relax at a traditional minshuku inn by the Shimanto-gawa River.

Today you'll find yourself deep in rural Shikoku as you make your way to Ekawasaki for a peaceful two-night stay by the Shimanto-gawa – Japan's last free-flowing river. Your accommodation here will be at a simple, family-run minshuku inn – a great place to meet people, enjoy some delicious home-cooked food and support the local economy.
On your second day in Ekawasaki you could decide to take a day trip to Uwajima (70 minutes) - the town's sights include a formal stroll garden, a museum highlighting Uwajima's historical importance as home to the 16th Century Date clan, and an eye-opening fertility shrine, with attached sex museum!

Overnight: Ryokan Konpira

Day 10-11

Time for a taste of the exotic as you visit the colourful markets of palm tree-lined Kochi, the perfect location for a spot of whale watching.

Today you'll travel along the beautiful southern coast of Shikoku to Kochi, a city with a relaxed atmosphere and a certain sense of the exotic – with its lively street markets and palm tree-lined streets. This is the capital of the most rural prefecture in Japan.
Nearby, on Mount Godaisan sits Chikuren-ji Temple, one of the 88 temples that form the Shikoku Pilgrimage route. Just to the south of the city lies Katsurahama Beach, a sweeping stretch of sand anchored between pine tree forests and rock coastal scenery.
Today you will have a full day to explore Kochi. Between April and October, you could get up early to join a whale-watching boat trip. Food lovers will enjoy exploring Kochi's market on a Sunday, where local farmers and fisherman will be out displaying their produce come rain or shine.
Alternatively, try the Hirome market where you can take in the atmosphere whilst sitting along the communal wooden tables with the locals eating and drinking into the night.

Overnight: Richmond Hotel Kochi

Day 12

Explore one of Japan's most isolated regions as you make your way into the Iya Valley.

After your stay in Kochi you'll leave the coast behind and head west into the mysterious valleys and forested hills of central Shikoku. The Iya Valley is one of Japan's most isolated regions, with steep hills and plunging valleys that were used as hidden retreats for warring clans and political dissidents in days gone by.
Today the area is accessible but largely undeveloped, characterised by vast valleys dotted with sleepy villages and tiny hamlets. Your accommodation will be at a family-run minshuku inn in the heart of the mountains – a great base for walks and relaxation with a Japanese-style dinner included.

Overnight: Ku Nel Asob

Day 13

Sample traditional vegetarian shojin ryori cuisine as you spend a night at an authentic shukubo Buddhist temple lodging outside Tokushima.

Visit the Awa Odori dance centre and take in the views from Mount Bizan in Tokushima City before taking a short local train ride out to Tatsue-ji in the countryside nearby.
Here you will be staying in an authentic shukubo temple lodging. Tatsue-ji Temple is number 19 on the famous 88-temple pilgrimage circuit of Shikoku, so you will have the chance to meet henro pilgrims making their way around the circuit, visiting every temple along the way.

Overnight: Tatsue-ji Temple

Day 14-15

Return to Honshu for an exciting final night in the buzzing metropolis of Osaka, Tokyo's fun-loving cousin.

Today you will bid farewell to Shikoku and travel by bus back to Honshu, Japan's main island. Here you'll swap rural villages for ultra-modern Osaka, the largest city in the Kansai region.
Osaka is famous throughout Japan for its hearty food and drink and its enthusiastic party spirit – so what better way to celebrate the end of your trip in style than by letting your hair down and joining the locals for some good food, good drinks, and a guaranteed good time?
Unfortunately, after a final night of fun the time has come to say sayonara to Japan. On your last morning you will make the short transfer back to Kansai International Airport for your flight home. In just two short weeks you will have seen a side of Japan that few foreigners and even many Japanese have never experienced!

Overnight: Cross Hotel Osaka
View all days
Day 1-3

Explore Kyoto's UNESCO World Heritage Sites with an expert local guide and take an optional day trip to Nara or Uji.

Welcome to Japan! Your adventure begins at the futuristic Kansai International Airport, a man-made floating island in Osaka Bay. We will provide tickets for a shared taxi transfer, which will take you to your hotel in Kyoto for you to settle in to Japanese life.
The rest of your first afternoon will be free for you to start exploring the plethora of sights in this ancient city, armed with your tailored Info-Pack full of suggestions. Try to spot a geisha in Gion, count the rocks at Ryoan-ji Temple or admire the 1,001 kannon statues at Sanjusangendo Temple.
On your first full day in Kyoto you will have eight hours to explore the city with a private local guide. Home to many of Japan's finest temples, shrines and gardens – including a whopping 17 UNESCO World Heritage Sites – Kyoto is the undisputed cultural heart of Japan. The itinerary for the day is not fixed in advance, and your guide will help you plan a day filled with Kyoto's famous sights and hidden gems.
Day three of your itinerary will be free for you to either continue exploring Kyoto or to take a day trip out of the city. You might like to take a traditional boat ride down the Hozugawa River to the bamboo groves of the Arashiyama district in northwest Kyoto, or perhaps take a break from the temples and shrines by checking out the ultra-modern Kyoto Station building.
Alternatively, you could make a day trip to nearby Nara to see the famous Great Buddha statue or visit Uji to admire Byodoin Temple – as featured on the 10 yen coin.

Overnight: Vista Premio Kyoto

Day 4

Cross the magnificent Seto-Ohashi Bridge to Shikoku, where you'll begin your stay with a visit to the beautiful Ritsurin Gardens.

Travel by train across the huge, double-decker Seto-Ohashi Bridge to Shikoku Island today to begin your adventures in rural Japan. Your first stop will be Takamatsu, home to Ritsurin Gardens – some of the best landscape gardens in Japan.
You may also like to visit one of the several interesting museums in Takamatsu, including the Sanuki Folkcraft Museum and a sculpture garden designed by Isamu Noguchi. The plateau of Yashima, an ancient battle ground with views of the Inland Sea, and nearby Shikoku-Mura, a collection of traditional houses displaying Shikoku architecture, are also of interest.

Overnight: Dormy Inn Takamatsu

Day 5

Visit Naoshima "Art Island" with its world-class galleries, open-air installations and unusual exhibitions set against beautiful island scenery.

Today you will catch the ferry to Naoshima, a tiny island in the Seto Inland Sea renowned for its art exhibitions. Benesse House Museum, designed by the famous Japanese architect Tadao Ando, is the main draw and boasts works by Andy Warhol, David Hockney, Bruce Nauman and Jasper Jones. This beautiful island also has a host of outdoor art installations to discover as well as some incredible natural scenery. Hire a bike to cycle around the sights or spend an afternoon at the Chichu Art Museum.

Overnight: Dormy Inn Takamatsu

Day 6

Head to Kotohira, home to Shikoku's most famous shrine and one of Japan's oldest surviving kabuki theatres.

Today you will head to the charming town of Kotohira, home of Shikoku's most famous shrine, Konpira-san, which sits on a hillside overlooking the town.
This afternoon you may choose to take on the challenge of climbing the 800 steps to the inner sanctum of the shrine. The effort is well worth it, as you will be rewarded with fantastic views from the top and friendly encouragement from the Japanese visitors making the climb with you!
Today you will also take part in an udon noodle-making class to learn how to cook Kotohira's local speciality. Other sights include the Kanamaru-za kabuki theatre (one of Japan's oldest), and a sake museum. Tonight you will have an included Japanese-style meal at your riverside ryokan inn.

Overnight: Kotobuki Ryokan

Day 7

Soak in the waters of Japan's oldest bathhouse before catching a ride on the Botchan Train in Matsuyama.

Today you will travel west along the northern coast of Shikoku to the pleasant town of Matsuyama, famous for its excellent original castle and for Dogo Onsen: Japan's oldest hot spring bathhouse. This really is the perfect time for an introduction to the Japanese pastime of hot spring bathing!
Be sure to catch a ride on the restored Botchan Ressha, a diesel-powered replica of the old steam trains that used to run in Matsuyama in the nineteenth century.

Overnight: Dogo Patio Hotel

Day 8-9

Find yourself deep in rural Shikoku as you relax at a traditional minshuku inn by the Shimanto-gawa River.

Today you'll find yourself deep in rural Shikoku as you make your way to Ekawasaki for a peaceful two-night stay by the Shimanto-gawa – Japan's last free-flowing river. Your accommodation here will be at a simple, family-run minshuku inn – a great place to meet people, enjoy some delicious home-cooked food and support the local economy.
On your second day in Ekawasaki you could decide to take a day trip to Uwajima (70 minutes) - the town's sights include a formal stroll garden, a museum highlighting Uwajima's historical importance as home to the 16th Century Date clan, and an eye-opening fertility shrine, with attached sex museum!

Overnight: Ryokan Konpira

Day 10-11

Time for a taste of the exotic as you visit the colourful markets of palm tree-lined Kochi, the perfect location for a spot of whale watching.

Today you'll travel along the beautiful southern coast of Shikoku to Kochi, a city with a relaxed atmosphere and a certain sense of the exotic – with its lively street markets and palm tree-lined streets. This is the capital of the most rural prefecture in Japan.
Nearby, on Mount Godaisan sits Chikuren-ji Temple, one of the 88 temples that form the Shikoku Pilgrimage route. Just to the south of the city lies Katsurahama Beach, a sweeping stretch of sand anchored between pine tree forests and rock coastal scenery.
Today you will have a full day to explore Kochi. Between April and October, you could get up early to join a whale-watching boat trip. Food lovers will enjoy exploring Kochi's market on a Sunday, where local farmers and fisherman will be out displaying their produce come rain or shine.
Alternatively, try the Hirome market where you can take in the atmosphere whilst sitting along the communal wooden tables with the locals eating and drinking into the night.

Overnight: Richmond Hotel Kochi

Day 12

Explore one of Japan's most isolated regions as you make your way into the Iya Valley.

After your stay in Kochi you'll leave the coast behind and head west into the mysterious valleys and forested hills of central Shikoku. The Iya Valley is one of Japan's most isolated regions, with steep hills and plunging valleys that were used as hidden retreats for warring clans and political dissidents in days gone by.
Today the area is accessible but largely undeveloped, characterised by vast valleys dotted with sleepy villages and tiny hamlets. Your accommodation will be at a family-run minshuku inn in the heart of the mountains – a great base for walks and relaxation with a Japanese-style dinner included.

Overnight: Ku Nel Asob

Day 13

Sample traditional vegetarian shojin ryori cuisine as you spend a night at an authentic shukubo Buddhist temple lodging outside Tokushima.

Visit the Awa Odori dance centre and take in the views from Mount Bizan in Tokushima City before taking a short local train ride out to Tatsue-ji in the countryside nearby.
Here you will be staying in an authentic shukubo temple lodging. Tatsue-ji Temple is number 19 on the famous 88-temple pilgrimage circuit of Shikoku, so you will have the chance to meet henro pilgrims making their way around the circuit, visiting every temple along the way.

Overnight: Tatsue-ji Temple

Day 14-15

Return to Honshu for an exciting final night in the buzzing metropolis of Osaka, Tokyo's fun-loving cousin.

Today you will bid farewell to Shikoku and travel by bus back to Honshu, Japan's main island. Here you'll swap rural villages for ultra-modern Osaka, the largest city in the Kansai region.
Osaka is famous throughout Japan for its hearty food and drink and its enthusiastic party spirit – so what better way to celebrate the end of your trip in style than by letting your hair down and joining the locals for some good food, good drinks, and a guaranteed good time?
Unfortunately, after a final night of fun the time has come to say sayonara to Japan. On your last morning you will make the short transfer back to Kansai International Airport for your flight home. In just two short weeks you will have seen a side of Japan that few foreigners and even many Japanese have never experienced!

Overnight: Cross Hotel Osaka
Close all days
Other trips you may like
From ultra-modern Tokyo to the ancient capital of Kyoto via the hot springs of Hakone, this is a classic first-timer's trip to Japan.

9 nights: from US$2416 pp (twin share) Read more >

Tokyo
Hakone
Nagoya
Kyoto
Matsue
Naoshima
Tokyo

This deluxe itinerary introduces the best of Japan's arts scene, with five-star accommodation, exclusive experiences and top-class cuisine included.

15 nights: from US$11664 pp (twin share) Read more >

Extend your stay in Japan with our five-night Tohoku add-on and experience one of Japan's least-explored regions.

5 nights: from US$999 pp (twin share) Read more >