Matsuyama
The town of Matsuyama dominates the northwestern corner of Shikoku Island, the smallest of Japan's four main islands. The city is home to an impressive original castle and one of Japan's oldest and most venerated bathhouses.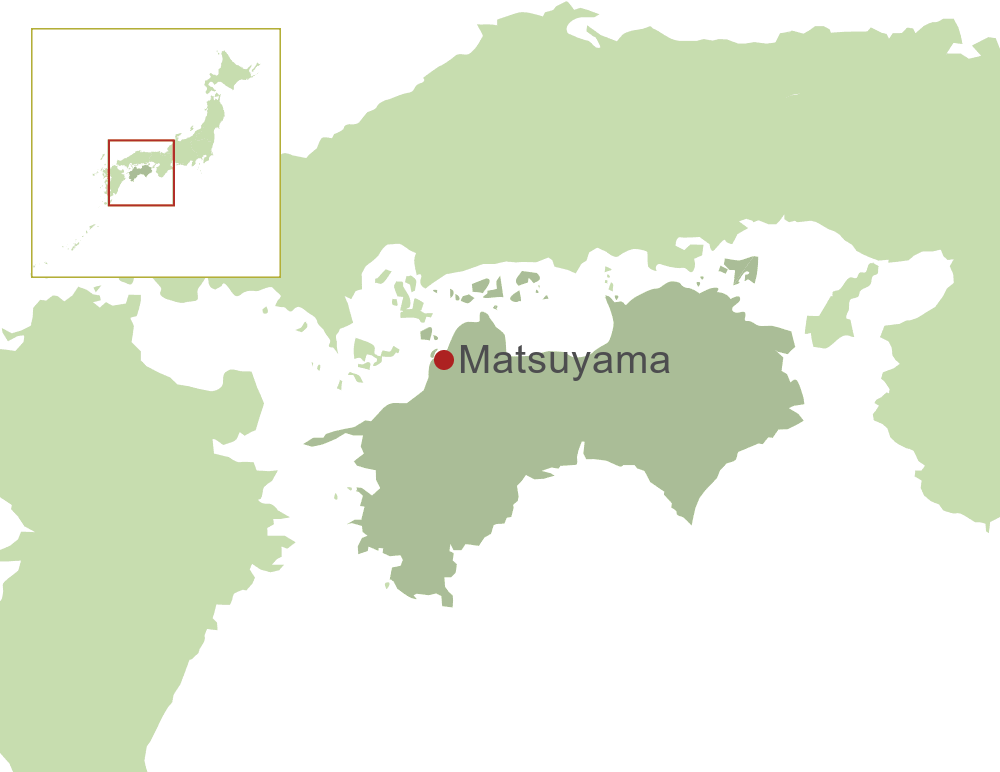 "Try something flavoured with Matsuyama oranges, for which the city is famous. They make their way into all kinds of products sold in the traditional shopping district - from juices and ice cream to hand cream."
Ben, Expert Travel Consultant
Matsuyama Castle is one of the few remaining original castles in Japan and occupies an imposing position atop Katsuyama Hill. The castle was constructed by the infamous samurai lord Yoshiaki Katoh from 1602 to 1627. However, by the time the castle was completed, Katoh had moved to the most northern reaches of Japan and the structure fell into the hands of the prominent Katsudaira family. The castle keep originally had five storeys, but destruction by fire led to the building of the three-storey tower that overlooks the city today.
The castle can be reached either on foot or by cable car, and the slopes of the hill are home to a beautiful landscape garden (Ninomaru Gardens) and numerous cherry trees. After having scaled Katsuyama Hill and admired the castle, what better way to relax than with a long soak in a hot spring bath? Matusyama's bathhouse, Dogo Onsen, is one of the oldest in Japan and provides the city's other major tourist attraction.
Housed in a beautiful wooden building at the heart of the city, Dogo Onsen has a variety of different baths (including special baths reserved for the Imperial Family alone), and is thought to have provided the inspiration for Hayao Miyazaki's animated classic, Spirited Away. Here, guests can don a traditional yukata bathrobe and engage in one of Japan's most beloved cultural pastimes.
Unbeknownst to most international tourists, Matsuyama is famous in Japan for its strong literary tradition. Many notable writers have visited or lived in the area, the most prominent of whom is Natsume Soseki - who wrote his masterpiece, Botchan, in the tranquil surroundings of the Honkan bathhouse at Dogo Onsen.
Recommended Accommodation in Matsuyama
The following are our favourites from among the western-style hotels and Japanese-style inns of Matsuyama.

Experiences in Matsuyama
Matsuyama offers a wealth of exciting experiences that will help you get beneath the surface of Japan's fascinating culture. See below for a few of our favourites
Weather in Matsuyama
The Climate Guide for Matsuyama, Japan is perfect for planning your holiday. Monthly weather averages give the best indication of what the weather is usually like for every month of the year including figures for temperature, rainfall and sunshine.
Jan
Feb
Mar
Apr
May
Jun
Jul
Aug
Sep
Oct
Nov
Dec
Max Daytime Temperature (°C)
8
9
12
18
22
25
29
30
26
22
16
11
Min Night-time Temperature (°C)
0
1
3
8
13
17
22
22
19
13
7
2
Hours of Sunshine (Daily)
4
5
6
6
6
5
6
7
5
6
5
4
Hours of Daylight (Daily)
10
11
12
13
14
14
14
13
12
11
10
10
Heat and Humidity Discomfort
None
None
None
None
None
Low
High
High
Low
None
None
None
Days with some Rainfall
18
17
17
15
15
18
18
16
17
13
12
15
Monthly Rainfall (mm)
50
67
114
140
157
266
211
150
185
102
70
38
UV Index (Maximum)
3
4
6
8
9
10
11
10
8
6
4
3
Featured trips including Matsuyama
Kyoto
Mount Koya
Tokushima
Takamatsu
Kotohira
Matsuyama
Hiroshima
Kyoto

Discover the road less travelled

12 nights: US$5187 Read more >

Kyoto
Miyajima
Matsuyama
Kotohira
Iya Valley
Takamatsu
Osaka

Explore the rural heartlands of Japan whilst helping to sustain unique aspects of Japanese culture and tradition on this classic two-week trip.

13 nights: from US$3822 pp (twin share) Read more >

Kyoto
Miyajima
Matsuyama
Kotohira
Iya Valley
Takamatsu
Osaka

This superior two-week itinerary introduces the little-visited, rural island of Shikoku - with a range of in-depth cultural experiences included.

13 nights: from US$5499 pp (twin share) Read more >