Self Guided Adventure
Gastronomic Adventure
13 Nights: from US$3820 per person (twin share)
Trip Code: GADC
This 13-night trip will give you a whistle-stop tour of all the best food and culture hotspots across Japan. From the buzz and bustle of Tokyo and Osaka, to rural mountain towns, to historical Kyoto and the serenity of Mount Koya – this trip is a cultural and culinary journey. Read more >
Travelling and food go hand-in-hand and Japan is very much the place for a cultural and gastronomic adventure. From top class restaurants to backstreet noodle bars, Japan's kitchens have something for every palate - and its cities are sure to slake the hungriest culture vulture's appetite for impressive sights and new experiences.
With tens of thousands of restaurants and more Michelin stars than Paris, Tokyo is a foodie's dream and the perfect place to start your trip. An evening in an izakaya (traditional Japanese pub) drinking and eating side-by-side with the city's salarymen is a great introduction to Tokyo social life.
The adventure continues as you make your way to the mountains of Nagano, home to the castle town of Matsumoto where the imposing "Black Crow" castle sits amid the towering peaks. This area is renowned for its soba noodles, made by hand using fresh spring water and buckwheat.
Leaving Matsumoto you'll take a bus journey through the mountains to the craft town of Takayama, where you'll stay at a traditional guesthouse and sample the local specialities: hoba-miso and Hida beef.
The stunning Kenrokuen gardens and old teahouse districts of Kanazawa are the precursor to complete cultural enlightenment in Kyoto: home to the secretive world of the geisha and literally thousands of shrines and temples.
In atmospheric Mount Koya you'll have the opportunity to join in morning meditation with the monks and try traditional shojin ryori at a Buddhist temple lodging before visiting the haunting Okunoin mausoleum. It's said that the founder of Shingon Buddhism, Kobo Daishi, has been sitting in meditation here for more than 1,150 years.
The serenity of Koya will be stark contrast to your next destination, Osaka - often referred to as the "Kitchen of Japan". Known for a range of food specialities and for its straight-talking, down-to-earth inhabitants, a street food tour will be a real treat before you return to the hubbub of Tokyo's Shinjuku district for your last night in Japan.
What's included
13 nights' accommodation (three nights Japanese style)

Transport between all destinations in Japan

Airport transfers

Manaca transport card with 2,500 yen credit for city transport

Breakfast every day, four dinners and two lunches

Sushi breakfast at Tskuji fish market

Dinner and drinks with an InsideJapan tour leader at a Tokyo izakaya
Soba noodle-making class
Kaiseki dinner in Takayama

Eight-hour private guide service in Kyoto and Tokyo

Private cookery lesson in Japanese home

Your personalised InsideJapan Tours Info-Pack
What's NOT included:
International flights

Local transport (subways, buses, taxis) unless otherwise specified

Entrance fees unless otherwise specified

Baggage handling and luggage forwarding
Trip Highlights
Eat out at an izakaya with an InsideJapan tour leader

Have a sushi breakfast at Tsukiji Fish Market

Learn to make soba noodles and try Japanese home cooking
Take a street food tour of Osaka

Discover Buddhist shojin ryori at Mount Koya
Experience a delicious kaiseki dinner
For more information email us: [email protected] or call: 303 952 0379
What, where, when and how...
Gastronomic Adventure - 14 Days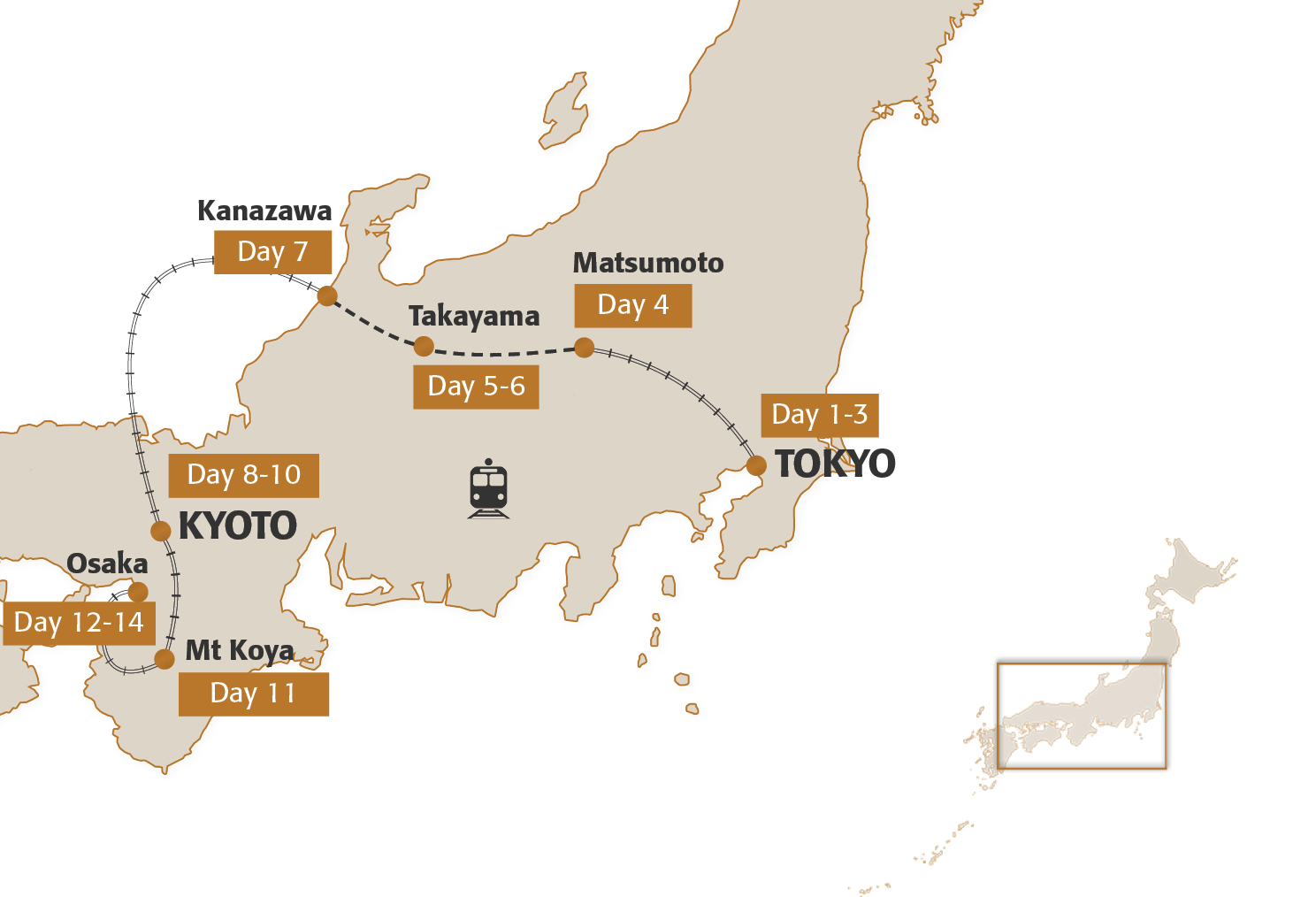 Gastronomic Adventure - 14 Days - Day by Day
Gastronomic Adventure - 14 Days - Accommodation
Gastronomic Adventure - 14 Days - Experiences
Day 1-3

Discover the many faces of Japan's phenomenal capital city: from the top of the world's tallest tower to the sushi bars of the world's largest fish market.

In Tokyo you will be staying in the Shiodome district, close to ultra-modern Odaiba and the peaceful oasis of the Hamarikyu Gardens and only a short train ride away from the more traditional Asakusa district.

This evening, one of our Tokyo-based tour leaders will be taking you out to a typical, Japanese-style izakaya restaurant for some great food, a few drinks and an introduction to Japanese cuisine and dining etiquette! As these restaurants are usually quite daunting to enter without a local, this will really be a fantastic experience to have on your first night.

The following morning you will be met at your hotel by a private local tour guide who will show you the city using Tokyo's fantastic public transport network. The itinerary is completely flexible so if you have any specific ideas for the day please let us know and we will pass this on to the guide in advance.

Some highlights might include scrambling across Shibuya's famous scramble crossing, taking a trip up the Skytree for fabulous views of the city, or wandering through Akihabara "electric town".

Your hotel is also close to Omoide Yokocho – or "Yakitori Alley" – a salaryman favourite lined with numerous tiny shops selling all sorts of delicious dishes!

Day three in Tokyo begins with a sushi breakfast at Tokyo's Tsukiji Fish Market – the biggest fish market in the world. Tsukiji is an incredible sight and here you'll enjoy the best melt-in-your mouth sushi you will ever taste!

The rest of the day will be free for you to explore the city, and your Info-Pack will be full of great suggestions. We will also include some recommendations for possible day trips, such as a visit to the great stone Buddha at sleepy Kamakura or a hike around Mount Takao.

Overnight: Villa Fontaine Shiodome

Day 4

Try your hand at making soba noodles in the shadow of Matsumoto's

Leaving the capital behind, you will take the express train into the mountains to the castle town of Matsumoto in Nagano Prefecture. Here the most impressive sight is the "Black Crow" castle, one of the very few original castles still standing in Japan.

The town's speciality is soba noodles, made with fresh spring water and buckwheat. Near the castle is the 130-year-old Takagi noodle shop, where you will have a short lesson in how to make soba for yourself.

After enjoying your handmade noodles for lunch, you may like to try one of the towns other specialities – basashi (raw horse) – for dinner!

Overnight: Marunouchi Hotel

Day 5-6

Wander through the morning markets of an alpine town, sip some local sake and admire Takayama's famous elaborate festival floats.

After breakfast in Matsumoto, you will make your way to the bus station in preparation for your journey through the Japanese Alps to the craft town of Takayama.

For hundreds of years this town was completely cut off by snow during the winter months, and consequently has developed many of its own food specialities – or meibutsu. A stay at the family-run, traditional guesthouse here will introduce you to many of the local meibutsu, such as tskuemono (pickled vegetables), hoba-miso (miso, onions and shitake mushrooms grilled on a leaf over charcoal), Takayama beef steak, and much more.

Your second day in Takayama will be free for you to explore the area, so we recommend wandering the old wooden buildings of the Sannomachi part of town, where you'll have the chance to sample the other speciality of Takayama – sake.

Don't miss the morning markets with their farmers selling local produce and various crafts – such as the local sarubobo good luck charms.

Later, be sure to head out to the Hida Folk Village to admire the steeply-thatched gassho-zukuri buildings or visit the Takayama Float Museum to find out about the town's magnificent spring and autumn festivals.

Overnight: Sumiyoshi Ryokan

Day 7

Discover a World Heritage Site hidden in the mountains before being transported to a bygone era as you visit Kanazawa's samurai quarter and teahouse districts.

Today you'll continue by bus to the town of Kanazawa at the edge of the Japanese Alps, with a short stop in Shirakawa-go (a UNESCO World Heritage Site known for its quaint thatched farmhouses) along the way.

Kanazawa was once the industrial powerhouse of Japan's western coast, but today it is a small city known primarily for its old Nagamachi samurai quarter and its traditional teahouse districts.

Both historical areas are replete with traditional buildings evocative of a bygone era, whilst Kenroku-en garden is recognised as one of the most beautiful landscape gardens in all of Japan.

In terms of culinary offerings Kanazawa is renowned for its seafood and vegetables, but you may prefer to just pick up a bento lunchbox and enjoy the garden. Check out your personalised Info-Pack for lots of ideas.

Overnight: Trusty Kanazawa Korinbo

Day 8-10

Have a lesson in Japanese home cooking, sample the delicacies of Sanjo-kai market, test the defences of Nijo Castle and wander through the gates at Fushimi Inari Shrine as you discover the "City of Ten Thousand Temples".

The express train will take you back through the mountains today to Kyoto. This city was the Imperial capital of Japan for more than 1,000 years and remains the beating cultural heart of the country to this day.

Here you will have the afternoon free to explore the city – we suggest a visit Ginkaku-ji Temple, a stroll through Nishiki market or a wander through the hundreds of vermillion torii gates at Fushimi Inari shrine.

For dinner tonight we suggest visiting Tempura Endo Yasaka, one of Kyoto's most celebrated restaurants. The restaurant is famous for its tempura dishes: lightly battered vegetables and seafood served piping hot with dipping sauce, salt or grated radish. (Please note that while we will make the Endo Yasaka reservation, you will need to pay on the day for this meal.)

The next morning you will be met by a private local guide who will give you a full day tour of the city. Starting at your hotel, the itinerary will be completely flexible depending on your preferences. The guide will have lots of fantastic suggestions, including a mixture of well-known highlights and lesser-known recommendations.

You might like to visit Sanjo-kai market, a half-mile stretch of almost 200 stalls selling local goods and produce where you can learn about Kyoto cuisine and sample some of the wares. After the market, nearby Nijo Castle with its "nightingale" floors makes an excellent stop.

On your third day in Kyoto you are in for a real treat as you will be taken to a Japanese home for a private cookery lesson. You will be met by an assistant and taken by taxi to a house in Kyoto where an English-speaking instructor will show you how to cook some simple Japanese dishes (usually sushi and tempura, or teriyaki chicken).

This is a private class and offers a great chance to learn more about the regional specialities of Japan – not to mention get a glimpse inside a regular Japanese home! In the afternoon you are free to explore some more of the endless sights that Kyoto has to offer, armed with your Info-Pack and map.

Overnight: Sunroute Kyoto

Day 11

For a taste of vegetarian Buddhist fare, stay at a shukubo temple lodging in atmospheric Mount Koya, where the monk Kobo Daishi has been sitting in meditation for over a millennium.

Today you will take the train to the Kii Peninsula in nearby Wakayama Prefecture before taking the funicular railway to Mount Koya for the next leg of your adventure.

Sacred Mount Koya is the spiritual home of Shingon Buddhism, which was introduced to Japan by Kobo Daishi in 805. This secluded temple town is home to more than 50 temples and shukubo temple lodgings.

Staying at a Koya shukubo is a unique Japanese experience, and for dinner you'll have the chance to try traditional temple fare, a type of vegetarian cuisine known as shojin ryori.

Later you will have plenty of time to walk around the eerily beautiful Okunoin mausoleum, with its thousands of tombstones amongst giant Japanese cedar trees. For best effect, visit at dusk or early in the morning.

Overnight: Fudoin Shukubo

Day 12

Come back to earth with an evening street food tour of

There could be no greater contrast to the serenity of Mount Koya than Osaka. After participating in your temple's morning prayers, you will make your way to Japan's third-largest city – known for its outgoing inhabitants and its great food!

Here, row upon row of restaurants are just on your doorstep, and your evening will be spent taking a street food tour with our resident Osaka guide. This will include the food paradise of Dotonbori with its iconic neon "Glico running man" and giant moving crab!

You will also be able to take in the view from the waters on a short boat cruise down the river, keeping well filled-up with kushikatsu (skewered vegetables and meat dishes), takoyaki (the famous octopus balls) and a variety of delights at a traditional izakaya. Tonight is all about the Osaka philosophy of kuiadore – eat, drink and enjoy life!

Overnight: Cross Hotel Osaka

Day 13-14

Return to Tokyo for an extravagant food finale in the capital's Shinjuku district.

Shooting back to the capital on the super-fast bullet train, you will be staying in the lively Shinjuku district for your food finale.

Here you'll find countless small restaurants, izakaya, karaoke boxes, pachinko gambling parlours, arcades, bars – and plenty of neon. If you need peace and quiet, just make your way to the nearby Shinjuku Park Gardens, visit the controversial Yasukuni Shrine or head to the top of the Metropolitan government building for panoramic views of the city.

Sadly your adventures in Japan must come to an end, and after one last night in Tokyo you will taken by limousine bus straight from your hotel to Narita Airport – hopefully looking back at the city with fond memories, a full stomach, and a hunger for more!

Overnight: Sunroute Plaza Shinjuku
View all days
Day 1-3

Discover the many faces of Japan's phenomenal capital city: from the top of the world's tallest tower to the sushi bars of the world's largest fish market.

In Tokyo you will be staying in the Shiodome district, close to ultra-modern Odaiba and the peaceful oasis of the Hamarikyu Gardens and only a short train ride away from the more traditional Asakusa district.

This evening, one of our Tokyo-based tour leaders will be taking you out to a typical, Japanese-style izakaya restaurant for some great food, a few drinks and an introduction to Japanese cuisine and dining etiquette! As these restaurants are usually quite daunting to enter without a local, this will really be a fantastic experience to have on your first night.

The following morning you will be met at your hotel by a private local tour guide who will show you the city using Tokyo's fantastic public transport network. The itinerary is completely flexible so if you have any specific ideas for the day please let us know and we will pass this on to the guide in advance.

Some highlights might include scrambling across Shibuya's famous scramble crossing, taking a trip up the Skytree for fabulous views of the city, or wandering through Akihabara "electric town".

Your hotel is also close to Omoide Yokocho – or "Yakitori Alley" – a salaryman favourite lined with numerous tiny shops selling all sorts of delicious dishes!

Day three in Tokyo begins with a sushi breakfast at Tokyo's Tsukiji Fish Market – the biggest fish market in the world. Tsukiji is an incredible sight and here you'll enjoy the best melt-in-your mouth sushi you will ever taste!

The rest of the day will be free for you to explore the city, and your Info-Pack will be full of great suggestions. We will also include some recommendations for possible day trips, such as a visit to the great stone Buddha at sleepy Kamakura or a hike around Mount Takao.

Overnight: Villa Fontaine Shiodome

Day 4

Try your hand at making soba noodles in the shadow of Matsumoto's

Leaving the capital behind, you will take the express train into the mountains to the castle town of Matsumoto in Nagano Prefecture. Here the most impressive sight is the "Black Crow" castle, one of the very few original castles still standing in Japan.

The town's speciality is soba noodles, made with fresh spring water and buckwheat. Near the castle is the 130-year-old Takagi noodle shop, where you will have a short lesson in how to make soba for yourself.

After enjoying your handmade noodles for lunch, you may like to try one of the towns other specialities – basashi (raw horse) – for dinner!

Overnight: Marunouchi Hotel

Day 5-6

Wander through the morning markets of an alpine town, sip some local sake and admire Takayama's famous elaborate festival floats.

After breakfast in Matsumoto, you will make your way to the bus station in preparation for your journey through the Japanese Alps to the craft town of Takayama.

For hundreds of years this town was completely cut off by snow during the winter months, and consequently has developed many of its own food specialities – or meibutsu. A stay at the family-run, traditional guesthouse here will introduce you to many of the local meibutsu, such as tskuemono (pickled vegetables), hoba-miso (miso, onions and shitake mushrooms grilled on a leaf over charcoal), Takayama beef steak, and much more.

Your second day in Takayama will be free for you to explore the area, so we recommend wandering the old wooden buildings of the Sannomachi part of town, where you'll have the chance to sample the other speciality of Takayama – sake.

Don't miss the morning markets with their farmers selling local produce and various crafts – such as the local sarubobo good luck charms.

Later, be sure to head out to the Hida Folk Village to admire the steeply-thatched gassho-zukuri buildings or visit the Takayama Float Museum to find out about the town's magnificent spring and autumn festivals.

Overnight: Sumiyoshi Ryokan

Day 7

Discover a World Heritage Site hidden in the mountains before being transported to a bygone era as you visit Kanazawa's samurai quarter and teahouse districts.

Today you'll continue by bus to the town of Kanazawa at the edge of the Japanese Alps, with a short stop in Shirakawa-go (a UNESCO World Heritage Site known for its quaint thatched farmhouses) along the way.

Kanazawa was once the industrial powerhouse of Japan's western coast, but today it is a small city known primarily for its old Nagamachi samurai quarter and its traditional teahouse districts.

Both historical areas are replete with traditional buildings evocative of a bygone era, whilst Kenroku-en garden is recognised as one of the most beautiful landscape gardens in all of Japan.

In terms of culinary offerings Kanazawa is renowned for its seafood and vegetables, but you may prefer to just pick up a bento lunchbox and enjoy the garden. Check out your personalised Info-Pack for lots of ideas.

Overnight: Trusty Kanazawa Korinbo

Day 8-10

Have a lesson in Japanese home cooking, sample the delicacies of Sanjo-kai market, test the defences of Nijo Castle and wander through the gates at Fushimi Inari Shrine as you discover the "City of Ten Thousand Temples".

The express train will take you back through the mountains today to Kyoto. This city was the Imperial capital of Japan for more than 1,000 years and remains the beating cultural heart of the country to this day.

Here you will have the afternoon free to explore the city – we suggest a visit Ginkaku-ji Temple, a stroll through Nishiki market or a wander through the hundreds of vermillion torii gates at Fushimi Inari shrine.

For dinner tonight we suggest visiting Tempura Endo Yasaka, one of Kyoto's most celebrated restaurants. The restaurant is famous for its tempura dishes: lightly battered vegetables and seafood served piping hot with dipping sauce, salt or grated radish. (Please note that while we will make the Endo Yasaka reservation, you will need to pay on the day for this meal.)

The next morning you will be met by a private local guide who will give you a full day tour of the city. Starting at your hotel, the itinerary will be completely flexible depending on your preferences. The guide will have lots of fantastic suggestions, including a mixture of well-known highlights and lesser-known recommendations.

You might like to visit Sanjo-kai market, a half-mile stretch of almost 200 stalls selling local goods and produce where you can learn about Kyoto cuisine and sample some of the wares. After the market, nearby Nijo Castle with its "nightingale" floors makes an excellent stop.

On your third day in Kyoto you are in for a real treat as you will be taken to a Japanese home for a private cookery lesson. You will be met by an assistant and taken by taxi to a house in Kyoto where an English-speaking instructor will show you how to cook some simple Japanese dishes (usually sushi and tempura, or teriyaki chicken).

This is a private class and offers a great chance to learn more about the regional specialities of Japan – not to mention get a glimpse inside a regular Japanese home! In the afternoon you are free to explore some more of the endless sights that Kyoto has to offer, armed with your Info-Pack and map.

Overnight: Sunroute Kyoto

Day 11

For a taste of vegetarian Buddhist fare, stay at a shukubo temple lodging in atmospheric Mount Koya, where the monk Kobo Daishi has been sitting in meditation for over a millennium.

Today you will take the train to the Kii Peninsula in nearby Wakayama Prefecture before taking the funicular railway to Mount Koya for the next leg of your adventure.

Sacred Mount Koya is the spiritual home of Shingon Buddhism, which was introduced to Japan by Kobo Daishi in 805. This secluded temple town is home to more than 50 temples and shukubo temple lodgings.

Staying at a Koya shukubo is a unique Japanese experience, and for dinner you'll have the chance to try traditional temple fare, a type of vegetarian cuisine known as shojin ryori.

Later you will have plenty of time to walk around the eerily beautiful Okunoin mausoleum, with its thousands of tombstones amongst giant Japanese cedar trees. For best effect, visit at dusk or early in the morning.

Overnight: Fudoin Shukubo

Day 12

Come back to earth with an evening street food tour of

There could be no greater contrast to the serenity of Mount Koya than Osaka. After participating in your temple's morning prayers, you will make your way to Japan's third-largest city – known for its outgoing inhabitants and its great food!

Here, row upon row of restaurants are just on your doorstep, and your evening will be spent taking a street food tour with our resident Osaka guide. This will include the food paradise of Dotonbori with its iconic neon "Glico running man" and giant moving crab!

You will also be able to take in the view from the waters on a short boat cruise down the river, keeping well filled-up with kushikatsu (skewered vegetables and meat dishes), takoyaki (the famous octopus balls) and a variety of delights at a traditional izakaya. Tonight is all about the Osaka philosophy of kuiadore – eat, drink and enjoy life!

Overnight: Cross Hotel Osaka

Day 13-14

Return to Tokyo for an extravagant food finale in the capital's Shinjuku district.

Shooting back to the capital on the super-fast bullet train, you will be staying in the lively Shinjuku district for your food finale.

Here you'll find countless small restaurants, izakaya, karaoke boxes, pachinko gambling parlours, arcades, bars – and plenty of neon. If you need peace and quiet, just make your way to the nearby Shinjuku Park Gardens, visit the controversial Yasukuni Shrine or head to the top of the Metropolitan government building for panoramic views of the city.

Sadly your adventures in Japan must come to an end, and after one last night in Tokyo you will taken by limousine bus straight from your hotel to Narita Airport – hopefully looking back at the city with fond memories, a full stomach, and a hunger for more!

Overnight: Sunroute Plaza Shinjuku
Close all days
Other trips you may like
Tokyo
Hakone
Tsumago
Kyoto
Mount Koya
Osaka

This itinerary proves that a Japanese honeymoon doesn't have to break the bank.

12 nights: from US$1957 pp (twin share) Read more >

This superior 9 night itinerary introduces the best of Japan's iconic sights - from the skyscrapers of Tokyo to the ancient temples of Kyoto.

9 nights: from US$4387 pp (twin share) Read more >

Kawayu Onsen
Yunomine Onsen
Kii-Katsuura

This walking module presents a taster of what the Kumano Kodo has to offer at a gentle pace designed to make this amazing region accessible to all.

3 nights: from US$1093 pp (twin share) Read more >