Self-Guided Adventure
Okinawa Island Hopping
10 Nights: from US$6617 per person (twin share)
Trip Code: JIHS
With white sandy beaches, clear blue seas, dense jungle, rare wildlife and warm, laid-back inhabitants – this really is an island paradise. This itinerary gives you the chance to explore Okinawa's wealth of natural beauty and unique culture by hopping between the islands Read more >
Lying 1,600 km (994 mi) from Osaka and only 270 km (168 mi) from Taiwan, it is sometimes quite hard to believe that Okinawa is actually part of Japan!
The white, sandy beaches, teeming coral reef, inland jungle and forested mountains make this a beautiful destination and prove that Japan isn't all neon, skyscrapers and all-night karaoke booths.
Wherever you head in the Okinawa Islands you will find your surroundings rich in Ryukyuan culture, whose survival through both Japanese invasion and American occupation is testament to its strength and resilience.
The first stop on this itinerary will be Ishigaki Island, the gateway to the Yaeyama island chain - where world-class snorkelling and diving opportunities abound. From here, a short ferry will bring you to Taketomi for an exclusive stay in the red-tiled cottages of this island retreat.
The dense forests of Iriomote will be your next port of call, where a day of kayaking through mangroves and trekking to the top of the waterfalls will introduce you to the outstanding natural beauty of Japan's southernmost group of islands, before returning to Tokyo for a final night.
Trip length: This itinerary can easily be adapted: you can fly from several of Japan's regional airports to Okinawa, making it easy to add on a beach stay to a standard Golden Route trip that ends in Osaka or Kyoto, or you can fly down after exploring Kyushu, Okinawa's closest neighbour. If you only have a few days to spend relaxing in the sun, it's not a problem; we can easily shorten the itinerary to suit.
Accommodation: Do bear in mind that we can tailor the grade of accommodation to fit your budget - get in touch if you want to know more.
Weather: A final thing to note is the weather. Like much of Japan, Okinawa isn't a stranger to typhoons which would put a dampener on your holiday. We can help you plan your trip to make the most of the blue skies and sunshine.
What's included
10 nights' accommodation

Your personalised InsideJapan Info-Pack

Breakfast every day and two lunches

All transport between destinations

Airport transfers by private car (including for domestic flights)

Full day of kayaking and trekking on Iriomote Island

Manaca transport card with 2,500 yen credit for city transport

Eight-hour private guide service in Tokyo including entrance fees and lunch

Four days car hire on Ishigaki

Pocket WiFi device
What's NOT included:
International flights

Petrol (gas) for car hire

Local transport (buses, subways, taxis) at any destination unless otherwise specified

Any entrance fees including those for shrines, temples and museums unless otherwise specified

Baggage handling and luggage forwarding
Trip Highlights
Hop between three of Okinawa's most beautiful islands

Lounge on the beach at Kabira Bay

Try authentic Ryukyu cuisine
Relax in your own villa on Taketomi

Trek and kayak through the forests of Iriomote

Discover Tokyo with a private guide
For more information email us: [email protected] or call: + 44 117 244 3380
What, where, when and how...
Okinawa Island Hopping - 11 Days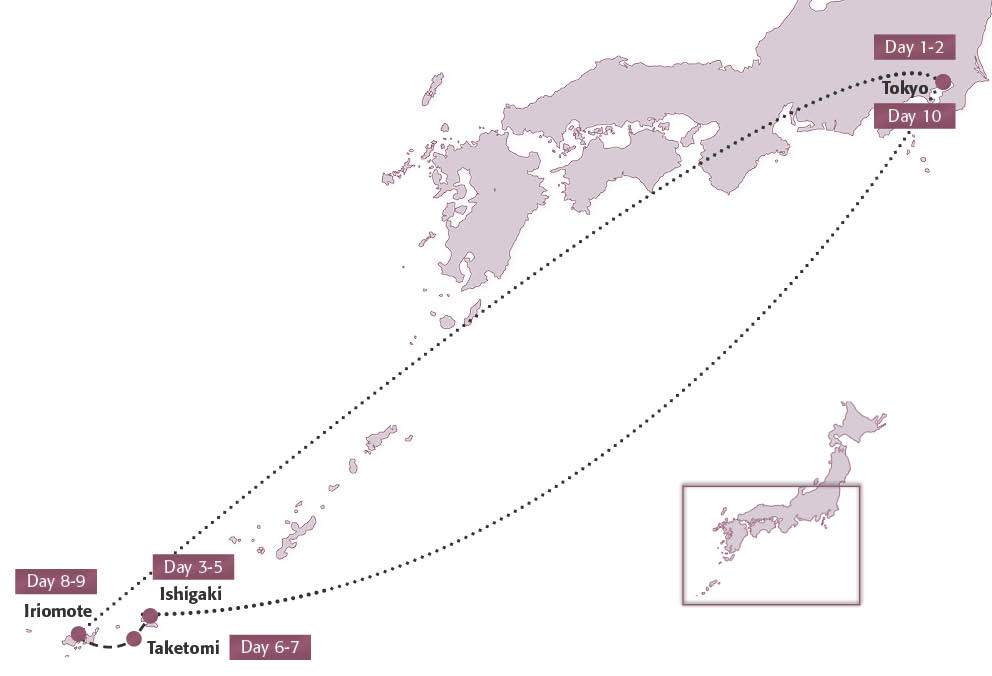 Destinations
Okinawa Island Hopping - 11 Days - Day by Day
Okinawa Island Hopping - 11 Days - Accommodation
Okinawa Island Hopping - 11 Days - Experiences
Day 1-2

Start your trip in style as you explore the historical markets, towering skyscrapers and top-class restaurants of Tokyo.

Welcome to Japan! Your adventure will begin with a two-night stay in the historical district of Asakusa, where the atmosphere of pre-war Tokyo survives in the bustling streets surrounding Senso-ji Temple.

The rest of today will be free for you to explore the local area or take a train to Shibuya or Akihabara. Tokyo has so much to offer that just wandering the streets is a fascinating experience!

After you've had a chance to recover from your flight, your next day will be spent on a tour of the city with a private guide. The itinerary for today is completely up to you, so discuss with the guide which sights and experiences you would like to include.

There are countless possibilities: watch the crowds pour over Shibuya crossing, take the trip to the top of the 634m Skytree, or catch a glimpse of a Shinto wedding at Meiji shrine.

Overnight: Gate Hotel Kaminarimon

Day 3-5

Fly south to Ishigaki, the subtropical jewel in Japan's crown.

Today you will be taken by private car to Haneda airport for your flight to Ishigaki Island in the Yaeyama island chain. A taxi will pick you up on arrival to take you to your cottage on the island's northern peninsula, where you can either spend the rest of the day relaxing at your accommodation or take a dip in the sea.

Ishigaki is home to some of Japan's most beautiful beaches, a truly amazing array of marine life including sea turtles and Manta rays, some very impressive limestone caves and plenty of hiking opportunities in the densely forested mountains. Don't leave without snorkelling or diving amongst the stunning coral reefs! (we can arrange lessons for you)

The next two days will be free for you to investigate Ishigaki Island. Your personalised Info-Pack will include lots of fantastic suggestions for the day. We have included a car rental in this example itinerary so that you can easily get around the island and visit the best beaches.

Overnight: Fusaki Resort Village

Day 6-7

Relax at an exclusive retreat on the tiny island of Taketomi.

Your next stop will be the tiny island of Taketomi, just twenty minutes by ferry from Ishigaki Island. Transport here is usual by rental bike but don't worry, the Hoshinoya has its own shuttle service so you can travel in comfort.

Be sure to check out the star-shaped sand on Taketomi's pristine beaches and enjoy the night sky at your exclusive island retreat.

Overnight: Hoshinoya Taketomi

Day 8-9

Kayak through mangroves and trek to the top of a waterfall whilst keeping an eye out for wildcats on Iriomote Island.

Today you will catch the ferry back to Ishigaki and from there head to neighbouring Iriomote. Despite being the largest of the Yaeyama Islands, Iriomote is the least populated with only 2,000 inhabitants.

The island is 90% covered in jungle, has just a single main road, and boats a rich diversity of flora and fauna including the Iriomote cat, an extremely rare (and rarely seen) mountain cat thought to be extinct until 1967.

Today you may spend the afternoon relaxing on the beach, go snorkelling at Hoshizuna beach or visit the botanical gardens on Yubu Island.

For your next day on Iriomote we will arrange a guided trek and kayak that will take you through mangroves and jungle to the top of the spectacular Pinaisara waterfall, where you can admire the views, swim in the pools at the bottom and enjoy a well-deserved lunch.

Your hotel on Iriomote is working towards becoming one of the premier ecotourism hotels in the country and they can arrange various nature tours to explain the unique biodiversity of the island.

Overnight: Hoshino Resort Iriomote

Day 10-11

Retrace your steps to Tokyo for a final night amongst the clamour of the Shinjuku district.

This morning you will leave Okinawa behind and take a ferry back to Ishigaki before flying directly to Tokyo. A private car will pick you up at Tokyo's Haneda airport and take you to your hotel in Shinjuku.

With soaring skyscrapers to the west of the station and endless neon lights to the east, Shinjuku is a thriving business hub and one of the city's premier entertainment areas. Nothing could be more of a contrast to the peace and quiet of Iriomote but we're sure that you'll enjoy the change in pace and have a great final night in Japan!

As your adventures in Japan come to an end you will be met at your hotel by a private driver and head to the airport for your departure. Have a safe flight home.

Overnight: Century Southern Tower
View all days
Day 1-2

Start your trip in style as you explore the historical markets, towering skyscrapers and top-class restaurants of Tokyo.

Welcome to Japan! Your adventure will begin with a two-night stay in the historical district of Asakusa, where the atmosphere of pre-war Tokyo survives in the bustling streets surrounding Senso-ji Temple.

The rest of today will be free for you to explore the local area or take a train to Shibuya or Akihabara. Tokyo has so much to offer that just wandering the streets is a fascinating experience!

After you've had a chance to recover from your flight, your next day will be spent on a tour of the city with a private guide. The itinerary for today is completely up to you, so discuss with the guide which sights and experiences you would like to include.

There are countless possibilities: watch the crowds pour over Shibuya crossing, take the trip to the top of the 634m Skytree, or catch a glimpse of a Shinto wedding at Meiji shrine.

Overnight: Gate Hotel Kaminarimon

Day 3-5

Fly south to Ishigaki, the subtropical jewel in Japan's crown.

Today you will be taken by private car to Haneda airport for your flight to Ishigaki Island in the Yaeyama island chain. A taxi will pick you up on arrival to take you to your cottage on the island's northern peninsula, where you can either spend the rest of the day relaxing at your accommodation or take a dip in the sea.

Ishigaki is home to some of Japan's most beautiful beaches, a truly amazing array of marine life including sea turtles and Manta rays, some very impressive limestone caves and plenty of hiking opportunities in the densely forested mountains. Don't leave without snorkelling or diving amongst the stunning coral reefs! (we can arrange lessons for you)

The next two days will be free for you to investigate Ishigaki Island. Your personalised Info-Pack will include lots of fantastic suggestions for the day. We have included a car rental in this example itinerary so that you can easily get around the island and visit the best beaches.

Overnight: Fusaki Resort Village

Day 6-7

Relax at an exclusive retreat on the tiny island of Taketomi.

Your next stop will be the tiny island of Taketomi, just twenty minutes by ferry from Ishigaki Island. Transport here is usual by rental bike but don't worry, the Hoshinoya has its own shuttle service so you can travel in comfort.

Be sure to check out the star-shaped sand on Taketomi's pristine beaches and enjoy the night sky at your exclusive island retreat.

Overnight: Hoshinoya Taketomi

Day 8-9

Kayak through mangroves and trek to the top of a waterfall whilst keeping an eye out for wildcats on Iriomote Island.

Today you will catch the ferry back to Ishigaki and from there head to neighbouring Iriomote. Despite being the largest of the Yaeyama Islands, Iriomote is the least populated with only 2,000 inhabitants.

The island is 90% covered in jungle, has just a single main road, and boats a rich diversity of flora and fauna including the Iriomote cat, an extremely rare (and rarely seen) mountain cat thought to be extinct until 1967.

Today you may spend the afternoon relaxing on the beach, go snorkelling at Hoshizuna beach or visit the botanical gardens on Yubu Island.

For your next day on Iriomote we will arrange a guided trek and kayak that will take you through mangroves and jungle to the top of the spectacular Pinaisara waterfall, where you can admire the views, swim in the pools at the bottom and enjoy a well-deserved lunch.

Your hotel on Iriomote is working towards becoming one of the premier ecotourism hotels in the country and they can arrange various nature tours to explain the unique biodiversity of the island.

Overnight: Hoshino Resort Iriomote

Day 10-11

Retrace your steps to Tokyo for a final night amongst the clamour of the Shinjuku district.

This morning you will leave Okinawa behind and take a ferry back to Ishigaki before flying directly to Tokyo. A private car will pick you up at Tokyo's Haneda airport and take you to your hotel in Shinjuku.

With soaring skyscrapers to the west of the station and endless neon lights to the east, Shinjuku is a thriving business hub and one of the city's premier entertainment areas. Nothing could be more of a contrast to the peace and quiet of Iriomote but we're sure that you'll enjoy the change in pace and have a great final night in Japan!

As your adventures in Japan come to an end you will be met at your hotel by a private driver and head to the airport for your departure. Have a safe flight home.

Overnight: Century Southern Tower
Close all days
Other trips you may like
Tokyo
Fukuoka
Yufuin
Kirishima National Park
Kagoshima
Hiroshima
Kyoto
Tokyo

Mix traditional elegance and modern style, vast cities and sweeping countryside on this luxurious rail journey through Japan.

13 nights: from US$18226 pp (twin share) Read more >

Tokyo
Nikko
Kyoto
Mount Koya
Himeji
Hiroshima
Kanazawa
Tokyo

Discover Japan's most important monuments on this superior 17-night trip, including the temples of Nikko, Hiroshima's Peace Park, and Himeji Castle.

17 nights: from US$7566 pp (twin share) Read more >

Tokyo
Hakone
Kyoto
Kinosaki Onsen
Osaka

Japan's hot spring bathing culture and scenic countryside make it a wonderfully romantic setting for a honeymoon.

11 nights: from US$6149 pp (twin share) Read more >