Ishigaki
Home to beautiful secluded beaches, extensive limestone caves, forested mountains with great vistas, fantastic scuba diving and one of Japan's top three views at Kabira Bay, Ishigaki is definitely a place worth visiting.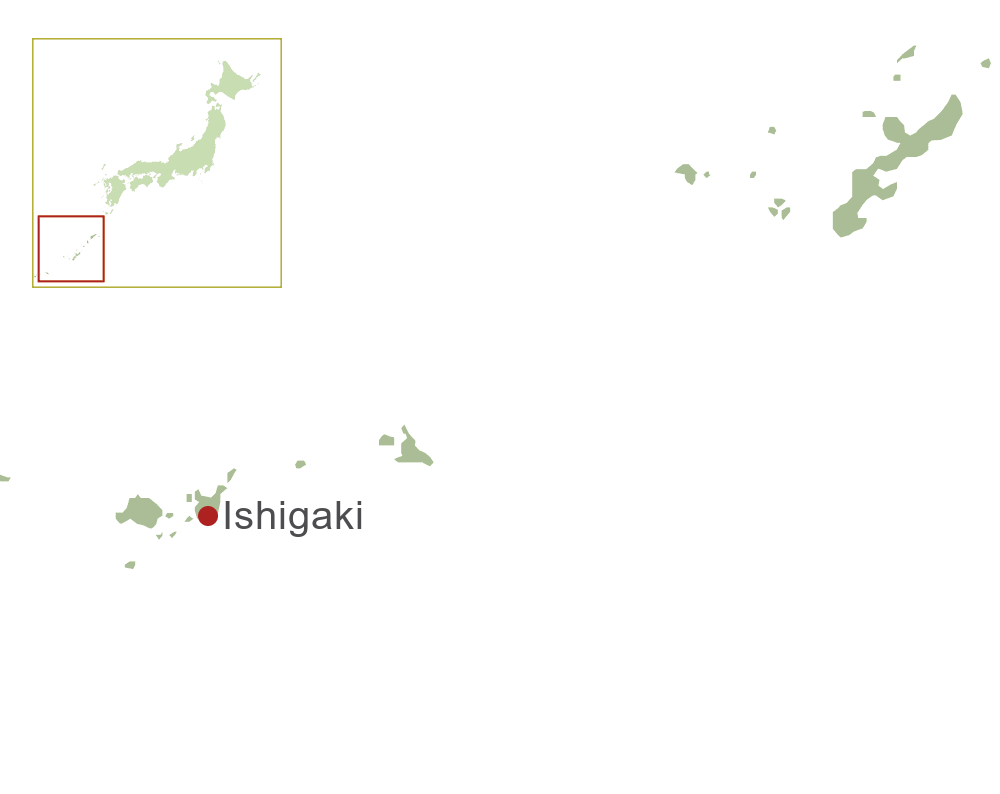 "Ishigaki strikes a great balance between laid back island life and modern convenience. As the most developed of the Yaeyama Island chain it makes an ideal base from which to explore the surrounding archipelago."
Mark Johnson, Expert Travel Consultant
Sub tropical Ishigaki Jima is set in the Yaeyama Island chain 450km south west of the main Okinawa Island, 1950km from Tokyo and only 270km from Taiwan. The white sand beaches, coral reefs, and jungle-covered mountains give Ishigaki a very different atmosphere to the rest of Japan and make for a beautiful destination with its own unique culture.
While the temperature rarely drops below 20 degrees Celsius throughout the year, Ishigaki's beautiful palm tree beaches boast world class snorkelling and diving. The crystal clear waters of Shiraho flanked by coral reefs is just one of the many spots offering an array of colourful marine life, including the stunning Manta Ray that visit the waters regularly. Take a glass-bottomed boat ride across the deep clear waters of Kabira bay, marvel at the chunky white coral on Yonehara beach , or watch the stars come out over the aptly named Sunset beach.
The Island has some great trekking opportunities whether it is around Mount Omoto-dake or through the inland jungle. From Ishigaki, you're perfectly placed to visit some of the smaller surrounding islands that make up the Yaeyama chain - perhaps most notably Iriomote Island. This national park is covered by virtually untouched tropical jungle and is home to the very rare and illusive Iriomote Lynx. One of the best ways to see the island is by Kayak up the Nakama River lined by mangroves and tropical forest.
Ishigaki is a beautiful Japanese destination very different from the mainland Japan, a tropical paradise away from the neon of Tokyo with a culture as rich as that found in Kyoto and a perfect place to relax.
Recommended Accommodation in Ishigaki
The following are our favourites from among the western-style hotels and Japanese-style inns of Ishigaki.
Experiences in Ishigaki
Ishigaki offers a wealth of exciting experiences that will help you get beneath the surface of Japan's fascinating culture. See below for a few of our favourites
Weather in Ishigaki
The Climate Guide for Ishigaki, Japan is perfect for planning your holiday. Monthly weather averages give the best indication of what the weather is usually like for every month of the year including figures for temperature, rainfall and sunshine.
Jan
Feb
Mar
Apr
May
Jun
Jul
Aug
Sep
Oct
Nov
Dec
Max Daytime Temperature (°C)
21
21
23
25
27
30
31
31
30
28
25
22
Min Night-time Temperature (°C)
15
15
17
20
22
25
26
26
25
23
20
17
Hours of Sunshine (Daily)
3
3
3
5
5
6
8
7
6
5
3
3
Hours of Daylight (Daily)
11
11
12
13
13
14
14
13
12
12
11
11
Heat and Humidity Discomfort
None
None
None
Low
Moderate
High
Very High
Very High
High
Moderate
Low
None
Days with some Rainfall
18
17
17
15
18
18
16
18
17
16
17
18
Monthly Rainfall (mm)
131
132
141
134
209
204
171
251
221
171
151
126
UV Index (Maximum)
7
9
11
11+
11+
11+
11+
11+
11
9
7
6
Featured trips including Ishigaki
Tokyo
Ishigaki
Taketomi
Iriomote
Tokyo

This 10-night superior island-hopping itinerary introduces Japan's subtropical side in style, with superb accommodation and fine dining included.

10 nights: from US$6617 pp (twin share) Read more >