Okinawa Island
Okinawa is the head of the island chain of the same name, and is situated nearly 700km south of "mainland" Japan. Fascinatingly, Okinawa was once the centre of the Ryukyu Kingdom: an independent kingdom that only officially became part of Japan at the end of the 19th Century.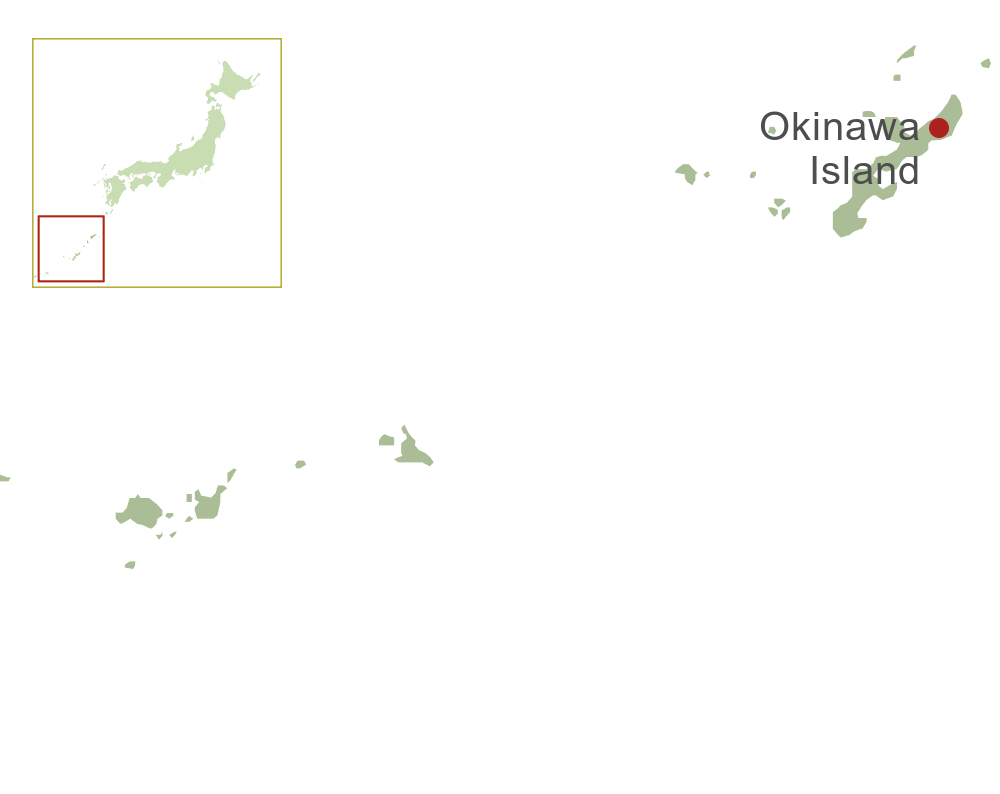 The mercury rarely drops below a balmy 20°C on Okinawa Island even in winter, and in the long summer months the temperature generally averages around the late 20s and early 30s. This unique climate fosters landscapes and wildlife that are not to be found anywhere else in Japan, providing Okinawa with its greatest attractions.
It is not only the climate and natural surroundings that mark Okinawa out as worlds apart from mainland Japan. Although conquered by the Satsuma clan in the 17th century, the Okinawan islands did not officially become a Japanese Prefecture until 1879. Until then the islands were a part of the Ryukyus, a thriving independent kingdom that played a key role in trade in Asia from the 14th century onwards. This unique history means that the islands have developed a rich and distinctive culture influenced by China and South-east Asia as well as by mainland Japan.
Okinawa Island also has a significant military history and continuing presence dating from the US invasion in WWII. The south of the island is home to no less than three notable war museums: the former Japanese Navy Underground Headquarters, The Himeyuri Peace Museum and War Memorial, and the Okinawa Prefectural Peace Museum.
Today, traditional Ryukyuan culture is alive and well, and its differences from that of mainland Japan are joyfully celebrated in every aspect of life on the islands. From the peculiarities of Okinawa-ben (Okinawan language) to distinctive island cuisine; from traditional Eisa dancing and sanshin-playing to pottery and glass-making; and from Chinese-influenced traditional architecture to the more recent markers of American military presence; you will find Okinawa unlike any other place in Japan. Don't miss the chance to sample some traditional Okinawan cuisine during your stay, and perhaps a shot of the famous local liquor, awamori!
Recommended Accommodation in Okinawa Island
The following are our favourites from among the western-style hotels and Japanese-style inns of Okinawa Island.

Weather in Okinawa Island
The Climate Guide for Okinawa Island, Japan is perfect for planning your holiday. Monthly weather averages give the best indication of what the weather is usually like for every month of the year including figures for temperature, rainfall and sunshine.
Jan
Feb
Mar
Apr
May
Jun
Jul
Aug
Sep
Oct
Nov
Dec
Max Daytime Temperature (°C)
19
19
21
24
26
29
31
31
30
27
24
21
Min Night-time Temperature (°C)
13
13
15
18
20
24
26
25
24
21
18
15
Hours of Sunshine (Daily)
3
3
4
5
5
6
8
7
7
6
4
3
Hours of Daylight (Daily)
11
11
12
13
13
14
14
13
12
12
11
10
Heat and Humidity Discomfort
None
None
None
None
Low
High
Very High
Very High
High
Moderate
None
None
Days with some Rainfall
21
19
20
17
19
19
19
21
19
19
19
20
Monthly Rainfall (mm)
115
130
142
161
209
233
208
222
229
174
152
114
UV Index (Maximum)
6
8
10
11
11+
11+
11+
11+
10
8
6
5