Self-Guided Adventure
Japan Arts Trail
14 Nights: from US$6240 per person (twin share)
Trip Code: JARTS
Explore the buzzing capital Tokyo, take a scenic walk around Naoshima's art house projects, relax in the gardens of Matsue's Adachi Museum and discover exquisite textile art at the foothills of Mount Fuji on this superb arts trail across Japan. Read more >
Starting and finishing in Tokyo, you will have ample opportunity to explore the capital's art scene - from traditional ukiyo-e woodblock prints in Ueno Park's National Museum to contemporary art in the galleries scattered throughout the backstreets and skyscrapers of the city.
Between city stays you'll head up into the mountains for two nights at a stylish modern ryokan inn on the shores of Lake Kawaguchiko with spectacular views of Mount Fuji.
After a one-night stay in the castle city of Matsumoto which has several excellent art museums, you'll travel southwest to Kyoto, Japan's cultural capital, where temples, shrines and gardens hide between modern homes and shopping streets. With 17 UNESCO World Heritage Sites and a guided evening tour of the atmospheric Gion geisha district, you won't be short of activities here!
Beyond Kyoto you'll pay a visit to Matsue, a sleepy castle town and home to the multi-award-winning garden at the Adachi Art Museum. You'll also stay at the world-renowned Benesse House on the island of Naoshima, where you'll find works by some of the world's finest modern artists at the exhibitions and galleries dotted throughout the island.
If you'd like to try out some of Japan's traditional art and craft techniques, such as calligraphy, indigo dyeing, silk painting or kintsugi, where you repair broken pottery with gold lacquer, let us know and we can make arrangements for you.
Setouchi Art Triennale: every three years, the tiny islands around the Seto Inland Sea ("Setouchi" in Japanese) host a huge art festival spanning several months through the year, and Naoshima is just one of the many islands involved. The next festival will take place in 2022. It does get crowded so accommodation can be difficult to secure last-minute; be sure to get in touch with us early if you'd like to visit during the art festival!
What's included
14 nights' accommodation (four nights Japanese style)

Breakfast each morning, four evening meals and two lunches

Airport transfers by private car

Transport between destinations

Manaca transport card with 2,500 yen credit for local transport

First class (green) 14-day Japan Rail Pass

Evening walking tour of Kyoto's Gion geisha district

Eight-hour private guide service in Tokyo and Kyoto including lunch and entrance fees

Tickets to the Chichu Art Museum on Naoshima

Pocket WiFi device

Your personalised InsideJapan Info-Pack
What's NOT included:
International flights

Local transport (taxis, subways, buses) unless otherwise specified

Any entrance fees unless otherwise specified

Baggage handling and luggage forwarding
Trip Highlights
Visit world-renowned art galleries in Tokyo

Stay on Naoshima Island

Marvel at the kimono art of Itchiku Kubota near Mount Fuji
Go geisha-spotting in Gion

Learn about traditional ukiyo-e woodblock prints

Visit Matsue's Adachi Museum
For more information email us: [email protected] or call: + 44 117 244 3380
What, where, when and how...
Japan Arts Trail - 15 Days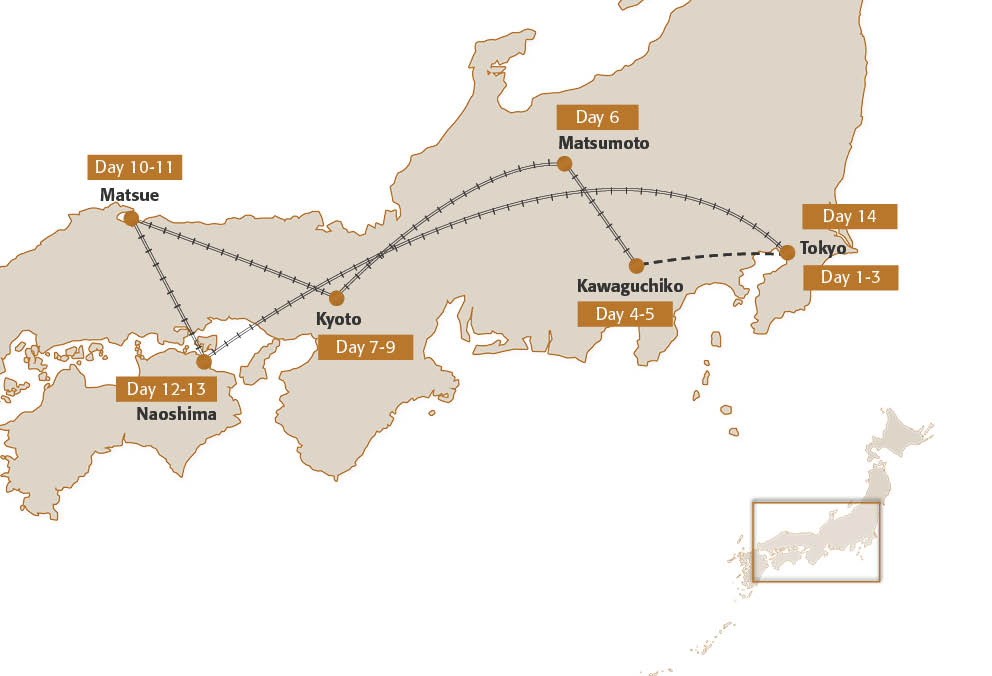 Japan Arts Trail - 15 Days - Day by Day
Japan Arts Trail - 15 Days - Accommodation
Day 1-3

Take a tour of Tokyo and discover the city's vibrant arts scene, from kabuki performances and traditional woodblock prints to cutting-edge contemporary art at the top of a Roppongi skyscraper.

After arriving in Japan, you have the rest of the day to start exploring the capital from your base in the Shiodome district.

A short hop on the subway will take you to Ueno, home of a number of museums set in a large park. The National Museum has a significant collection of ukiyo-e woodblock prints that will take you through the ages of Japanese art.

Closer to your hotel, you might like to stroll around Hamarikyu Gardens or walk to Ginza, where you can do a spot of shopping or watch a kabuki performance at the Kabuki-za Theatre. For your first full day in Tokyo you will have a private local guide at your disposal. This will be a fantastic introduction to Tokyo and a chance to see both the classic sights and some of the lesser-known features of the city that you would be unlikely to find by yourself.

Your next day in Tokyo will be a chance for some independent exploration, it's up to you whether you stay within the city bounds or take a day trip to one of the many great destinations nearby.

Nikko is home to some of Japan's most elaborate religious architecture in a beautiful woodland setting, whilst Kamakura has some lovely temples and gardens and one of Japan's largest Buddha statues.

Alternatively, Mount Takao offers some great walking opportunities and stunning views. Details of how to make all of these trips and more will be included in your Info-Pack.

Overnight: Park Hotel Tokyo

Day 4-5

Spend two nights at the foot of Mount Fuji.

Today you'll travel west to Lake Kawaguchiko at the base of Mount Fuji. We think it offers the best views of the mountain of anywhere in the Fuji-Five Lakes region, which you can enjoy from the comfort of your room. If you'd like a treat and want to upgrade to a room with your own open-air hot spring bath with complimentary Fuji views, let us know!

In addition to enjoying the spectacular natural scenery, we highly recommend paying a visit to the best art museum in the area: the Itchiku Kubota museum. Itchiku Kubota was a textile artist who was renowned for creating exquisite artwork from silk kimono, and his unfinished piece de resistance, 'Symphony of Light', in which 80 individually designed kimono form an image of Mount Fuji, is not to be missed.

Breakfast and dinner will be included both days at your accommodation, which is a gorgeous modern ryokan inn.

Overnight: Kozantei Ubuya

Day 6

Visit the striking Black Crow Castle and Ukiyo-e museum of Matsumoto

From Kawaguchiko you'll take two trains to reach Matsumoto, home to 'the black crow castle' one of the most famous original castles in Japan. Matsumoto has two excellent art museums: if you'd like to see more of the traditional ukiyo-e woodblock prints, you can visit the Ukiyo-e museum which houses over 100,000 prints, although only a carefully curated selection is on display at any time. Fans of modern art will be sure to enjoy the Matsumoto City Museum of Art, which has a Yayoi Kusama sculpture just outside.

Overnight: Buena Vista Hotel

Day 7-9

Speed west to Kyoto to discover Japan's ancient capital city.

This morning you will take the train further west to Kyoto, a city without which no arts itinerary would be complete.

Whilst at first glance you could be forgiven for thinking that this is just another modern city, you only need to take a few steps from your hotel to discover Kyoto's wealth of temples, gardens and shrines seemingly hidden behind every corner.

Make time to visit the artisan workshops, kimono shows, small galleries and the National Museum of Modern Art before being taken on a private evening walking tour of Gion – Kyoto's geisha district. This tour is a fantastic way for you to get an inside look at one of Japan's best known (and least understood) traditional professions.

On your second day in Kyoto you will have the services of an expert local guide for a full-day tour of the city. As well as visiting the famous highlights, you will discover some favourite haunts known only to the locals. For lunch, your guide will take you to sample Kyoto's local cuisine – an art form in its own right!

The elaborate designs, patterns and colours of Japanese textiles have made them world famous, and you'll have a whole day at leisure to visit the Nishijin textile district to learn more if you wish. Alternatively, if you'd like to spend the day visiting Nara, Osaka, or even Hiroshima on a day trip, we can give you directions and suggestions for how to spend the day.

Overnight: Celestine Kyoto Gion

Day 10-11

Climb to the top of a samurai castle, visit one of Japan's most celebrated gardens and wander the Adachi Museum of Art in the "City of Water".

Today will take you to Matsue, a charming city with an impressive samurai castle at its centre. You will make the four-hour journey in first class comfort, perhaps making a stop at Okayama to visit Korakuen, one of Japan's three most celebrated gardens.

This afternoon will be free for you to explore Matsue, the "City of Water". We suggest a twilight cruise on Lake Shinji and a soak in some one of the many local hot springs on your arrival this afternoon. Dinner will be included at your Japanese-style inn on both nights of your stay in the city.

After recharging your batteries at your ryokan you'll have a full day to discover Matsue. We recommend making a visit to the wonderful Adachi Museum of Art in Yasugi, a short train ride from the city.

Featuring 1,300 modern Japanese masterpieces including the work of Yokoyama Taikan, the Museum is also home to an award-winning garden and makes a lovely day out.

Overnight: Minamikan

Day 12-13

Explore Naoshima, where artworks are not confined to galleries and museums but are part of the scenery and everyday life of the island.

The island of Naoshima is a highlight of the Japan Arts Trail. Despite being just a tiny island in Japan's Inland Sea, over the past decade Naoshima has developed a world-class reputation for its pioneering approach to art.

Throughout your time on the island you will discover a variety of art exhibitions and galleries, including the illustrious Benesse House, where you will be staying in one of museum's wonderful guest rooms.

Spend the afternoon exploring the works inside or stroll down to the beach, where you'll find a number of outdoor sculptures including Yayoi Kusama's famous "Yellow Pumpkin".

After a night at Benesse House you will have a full day to take in the rest of the island's abundant artistic offerings. The unusual Art House Projects in Honmura village or the Chichu Museum (home to some of Monet's Water Lilies and the ethereal works of James Turrell) are exceptional.



Overnight: Benesse House

Day 14-15

Return to Tokyo for one last night.

Today you will take the Shinkansen bullet train back to the capital for a striking contrast to peaceful Naoshima!

For your final night in Japan you will be staying in one of Tokyo's premier entertainment and shopping districts: Yurakucho. Squeeze in a final gallery visit or do some last-minute shopping before spending your last evening in one of the thousands of world-class restaurants and bars right on your doorstep.

On your final morning in Japan, a driver will pick you up at your hotel and take you by private car to the airport in plenty of time for your flight home.

Overnight: Gate Hotel Tokyo
View all days
Day 1-3

Take a tour of Tokyo and discover the city's vibrant arts scene, from kabuki performances and traditional woodblock prints to cutting-edge contemporary art at the top of a Roppongi skyscraper.

After arriving in Japan, you have the rest of the day to start exploring the capital from your base in the Shiodome district.

A short hop on the subway will take you to Ueno, home of a number of museums set in a large park. The National Museum has a significant collection of ukiyo-e woodblock prints that will take you through the ages of Japanese art.

Closer to your hotel, you might like to stroll around Hamarikyu Gardens or walk to Ginza, where you can do a spot of shopping or watch a kabuki performance at the Kabuki-za Theatre. For your first full day in Tokyo you will have a private local guide at your disposal. This will be a fantastic introduction to Tokyo and a chance to see both the classic sights and some of the lesser-known features of the city that you would be unlikely to find by yourself.

Your next day in Tokyo will be a chance for some independent exploration, it's up to you whether you stay within the city bounds or take a day trip to one of the many great destinations nearby.

Nikko is home to some of Japan's most elaborate religious architecture in a beautiful woodland setting, whilst Kamakura has some lovely temples and gardens and one of Japan's largest Buddha statues.

Alternatively, Mount Takao offers some great walking opportunities and stunning views. Details of how to make all of these trips and more will be included in your Info-Pack.

Overnight: Park Hotel Tokyo

Day 4-5

Spend two nights at the foot of Mount Fuji.

Today you'll travel west to Lake Kawaguchiko at the base of Mount Fuji. We think it offers the best views of the mountain of anywhere in the Fuji-Five Lakes region, which you can enjoy from the comfort of your room. If you'd like a treat and want to upgrade to a room with your own open-air hot spring bath with complimentary Fuji views, let us know!

In addition to enjoying the spectacular natural scenery, we highly recommend paying a visit to the best art museum in the area: the Itchiku Kubota museum. Itchiku Kubota was a textile artist who was renowned for creating exquisite artwork from silk kimono, and his unfinished piece de resistance, 'Symphony of Light', in which 80 individually designed kimono form an image of Mount Fuji, is not to be missed.

Breakfast and dinner will be included both days at your accommodation, which is a gorgeous modern ryokan inn.

Overnight: Kozantei Ubuya

Day 6

Visit the striking Black Crow Castle and Ukiyo-e museum of Matsumoto

From Kawaguchiko you'll take two trains to reach Matsumoto, home to 'the black crow castle' one of the most famous original castles in Japan. Matsumoto has two excellent art museums: if you'd like to see more of the traditional ukiyo-e woodblock prints, you can visit the Ukiyo-e museum which houses over 100,000 prints, although only a carefully curated selection is on display at any time. Fans of modern art will be sure to enjoy the Matsumoto City Museum of Art, which has a Yayoi Kusama sculpture just outside.

Overnight: Buena Vista Hotel

Day 7-9

Speed west to Kyoto to discover Japan's ancient capital city.

This morning you will take the train further west to Kyoto, a city without which no arts itinerary would be complete.

Whilst at first glance you could be forgiven for thinking that this is just another modern city, you only need to take a few steps from your hotel to discover Kyoto's wealth of temples, gardens and shrines seemingly hidden behind every corner.

Make time to visit the artisan workshops, kimono shows, small galleries and the National Museum of Modern Art before being taken on a private evening walking tour of Gion – Kyoto's geisha district. This tour is a fantastic way for you to get an inside look at one of Japan's best known (and least understood) traditional professions.

On your second day in Kyoto you will have the services of an expert local guide for a full-day tour of the city. As well as visiting the famous highlights, you will discover some favourite haunts known only to the locals. For lunch, your guide will take you to sample Kyoto's local cuisine – an art form in its own right!

The elaborate designs, patterns and colours of Japanese textiles have made them world famous, and you'll have a whole day at leisure to visit the Nishijin textile district to learn more if you wish. Alternatively, if you'd like to spend the day visiting Nara, Osaka, or even Hiroshima on a day trip, we can give you directions and suggestions for how to spend the day.

Overnight: Celestine Kyoto Gion

Day 10-11

Climb to the top of a samurai castle, visit one of Japan's most celebrated gardens and wander the Adachi Museum of Art in the "City of Water".

Today will take you to Matsue, a charming city with an impressive samurai castle at its centre. You will make the four-hour journey in first class comfort, perhaps making a stop at Okayama to visit Korakuen, one of Japan's three most celebrated gardens.

This afternoon will be free for you to explore Matsue, the "City of Water". We suggest a twilight cruise on Lake Shinji and a soak in some one of the many local hot springs on your arrival this afternoon. Dinner will be included at your Japanese-style inn on both nights of your stay in the city.

After recharging your batteries at your ryokan you'll have a full day to discover Matsue. We recommend making a visit to the wonderful Adachi Museum of Art in Yasugi, a short train ride from the city.

Featuring 1,300 modern Japanese masterpieces including the work of Yokoyama Taikan, the Museum is also home to an award-winning garden and makes a lovely day out.

Overnight: Minamikan

Day 12-13

Explore Naoshima, where artworks are not confined to galleries and museums but are part of the scenery and everyday life of the island.

The island of Naoshima is a highlight of the Japan Arts Trail. Despite being just a tiny island in Japan's Inland Sea, over the past decade Naoshima has developed a world-class reputation for its pioneering approach to art.

Throughout your time on the island you will discover a variety of art exhibitions and galleries, including the illustrious Benesse House, where you will be staying in one of museum's wonderful guest rooms.

Spend the afternoon exploring the works inside or stroll down to the beach, where you'll find a number of outdoor sculptures including Yayoi Kusama's famous "Yellow Pumpkin".

After a night at Benesse House you will have a full day to take in the rest of the island's abundant artistic offerings. The unusual Art House Projects in Honmura village or the Chichu Museum (home to some of Monet's Water Lilies and the ethereal works of James Turrell) are exceptional.



Overnight: Benesse House

Day 14-15

Return to Tokyo for one last night.

Today you will take the Shinkansen bullet train back to the capital for a striking contrast to peaceful Naoshima!

For your final night in Japan you will be staying in one of Tokyo's premier entertainment and shopping districts: Yurakucho. Squeeze in a final gallery visit or do some last-minute shopping before spending your last evening in one of the thousands of world-class restaurants and bars right on your doorstep.

On your final morning in Japan, a driver will pick you up at your hotel and take you by private car to the airport in plenty of time for your flight home.

Overnight: Gate Hotel Tokyo
Close all days
Other trips you may like
Tokyo
Kyoto
Mount Koya
Kawayu Onsen
Yunomine Onsen
Kii-Katsuura
Ise
Tokyo

Follow in the footsteps of Japanese royalty as you tread the pilgrimage paths of the Kumano Kodo, with superior accommodation and cuisine included.

14 nights: from US$7735 pp (twin share) Read more >

Tokyo
Mount Fuji
Kyoto
Nara
Osaka
Tokyo

Welcome to one of the most wheelchair-friendly countries in the world. Explore Tokyo, Kyoto, Osaka and more on this exciting 10-night adventure.

10 nights: from US$5434 pp (call us to discuss to requirements) Read more >

Kawayu Onsen
Yunomine Onsen
Kii-Katsuura

This walking module presents a taster of what the Kumano Kodo has to offer at a gentle pace designed to make this amazing region accessible to all.

3 nights: from US$1287 pp (twin share) Read more >