Self-Guided Adventure
Japan Arts Trail
15 Nights: from US$7322 per person (twin share)
Trip Code: JARTS
Explore the buzzing cities of Tokyo and Nagoya, take a scenic walk around Naoshima's art house projects, relax in the gardens of Matsue's Adachi Museum and discover open-air sculptures in the Fuji-Hakone National Park on this superb arts trail across Japan. Read more >
Starting and finishing in Tokyo, you will have ample opportunity to explore the capital's art scene - from traditional ukiyo-e woodblock prints in Ueno Park's National Museum to contemporary art in the galleries scattered throughout the backstreets and skyscrapers of the city.
Between city stays you'll head up into the mountains for two nights at a traditional ryokan inn in the scenic hot spring town of Hakone.
You'll spend some time in Nagoya, home of some of the finest historical and modern art in Japan, and ride the bullet train west to Kyoto, Japan's cultural capital, where temples, shrines and gardens hide between modern homes and shopping streets.
With 17 UNESCO World Heritage Sites and a roketsu cloth dyeing experience on your second day, you won't be short of activities here!
Beyond Kyoto you'll pay a visit to Matsue, a sleepy castle town and home to the multi-award-winning garden at the Adachi Art Museum. You'll also stay at the world-renowned Benesse House on the island of Naoshima, where you'll find works by some of the world's finest modern artists at the exhibitions and galleries dotted throughout the island.
What's included
15 nights' accommodation (four nights Japanese style)

Breakfast each morning, four evening meals and two lunches

Airport transfers by private car

Transport between destinations

Manaca transport card with 2,500 yen credit for local transport

First class (green) 14-day Japan Rail Pass

Hakone Free Pass

Evening walking tour of Kyoto's Gion geisha district

Eight-hour private guide service in Tokyo and Kyoto including lunch and entrance fees

Roketsu cloth-dyeing experience

Pocket WiFi device

Your personalised InsideJapan Info-Pack
What's NOT included:
International flights

Local transport (taxis, subways, buses) unless otherwise specified

Any entrance fees unless otherwise specified

Baggage handling and luggage forwarding
Trip Highlights
Visit world-renowned art galleries in Tokyo and Nagoya

Stay on Naoshima Island

Take part in a roketsu cloth-dyeing experience
Go geisha-spotting in Gion

Explore Hakone's open-air sculpture park

Visit Matsue's Adachi Museum
For more information email us: [email protected] or call: + 44 117 244 3380
What, where, when and how...
Japan Arts Trail - 16 Days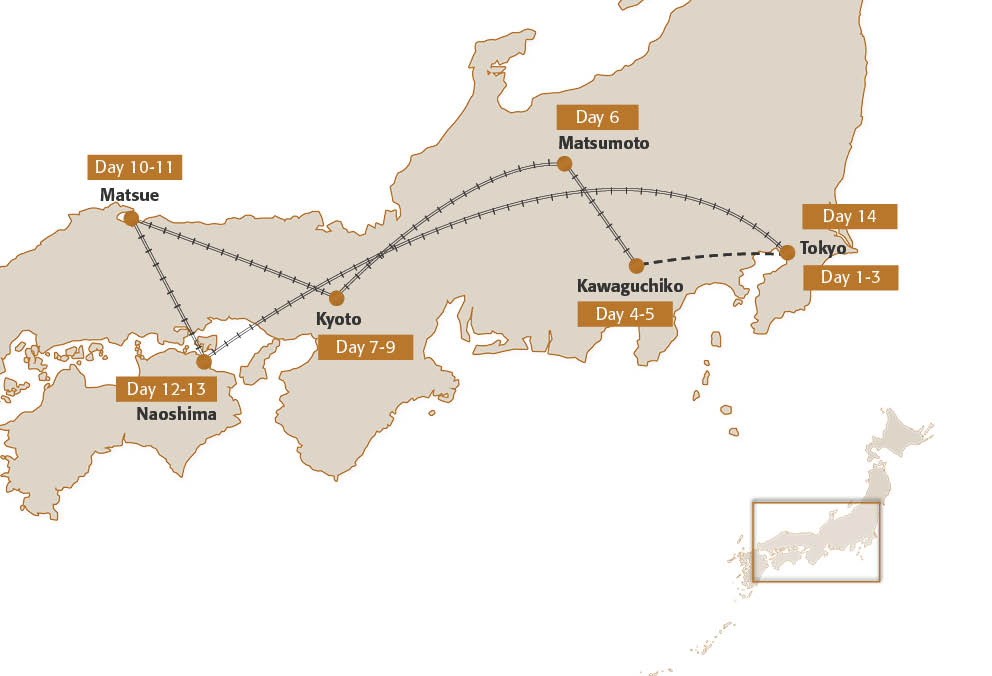 Japan Arts Trail - 16 Days - Day by Day
Japan Arts Trail - 16 Days - Accommodation
Day 1-3

Take a tour of Tokyo and discover the city's vibrant arts scene, from kabuki performances and traditional woodblock prints to cutting-edge contemporary art at the top of a Roppongi skyscraper.

After arriving in Japan, you have the rest of the day to start exploring the capital from your base in the Shiodome district.

A short hop on the subway will take you to Ueno, home of a number of interesting museums set in a large park. The National Museum has a significant collection of ukiyo-e woodblock prints that will take you through the ages of Japanese art.

Closer to your hotel, you might like to stroll around Hamarikyu Gardens or walk to Ginza, where you can do a spot of shopping or watch a kabuki performance at the Kabuki-za Theatre. For your first full day in Tokyo you will have a private local guide at your disposal. This will be a fantastic introduction to Tokyo and a chance to see both the classic sights and some of the lesser-known features of the city that you would be unlikely to find by yourself.

Your next day in Tokyo will be a chance for some independent exploration, it's up to you whether you stay within the city bounds or take a day trip to one of the many great destinations nearby.

Nikko is home to some of Japan's most elaborate religious architecture in a beautiful woodland setting, whilst Kamakura has some lovely temples and gardens and one of Japan's largest Buddha statues.

Alternatively, Mount Takao offers some great walking opportunities and stunning views. Details of how to make all of these trips and more will be included in your Info-Pack.

Overnight: Park Hotel Tokyo

Day 4-5

Swap city life for a quiet spell in the enchanting environs of Hakone, where world-class art museums and stunning scenery go hand in hand.

Leaving the capital behind, today you will travel in first class comfort on the Shinkansen to Odawara, the gateway to Fuji-Hakone National Park. From here you will travel by private car to your traditional ryokan inn and have the rest of the afternoon to start exploring the area.

We suggest visiting one of the interesting museums nearby or taking the cable car to Mount Komagatake for fantastic views of Lake Ashi and the surrounding hills. A beautiful kaiseki dinner will be included at your ryokan inn on both nights of your stay in Hakone.

After a peaceful night relaxing in the hot spring baths at your ryokan you'll have another free day to explore the wonderful Hakone region. Visit the sulphurous crater at Owakudani and try one of the black eggs cooked in hot spring water – reputed to bring good health and fortune!

From here, a cable car takes you to the shores of Lake Ashi, where you can take a pirate ship cruise and marvel at spectacular views of Mount Fuji (if weather permits!)

The area has a number of interesting galleries and museums, the best of which is the Chokoku no Mori outdoor sculpture park – home to a significant Picasso collection.

Overnight: Kowakien Tenyu

Day 6-7

Spend two nights in Nagoya, home to some of Japan's most distinguished historical and contemporary art collections.

The next stop on your arts trail is Nagoya, just 71 minutes by bullet train from Odawara. Spend the afternoon getting to know this city – the home of our Japan office!

Perhaps visit the Tokugawa Art Museum for an introduction to the Shogun Era's finest arts before spending the evening in the restaurants and bars of Nagoya's vibrant entertainment district.

On day seven of your trip you'll have a full day to explore Nagoya. We recommend heading to Toyota City to visit the Municipal Museum of Art, which exhibits works by Gustav Klimt and Edvard Munch.

Whilst in Toyota, don't miss the Toyota Kaikan Museum, which gives a fascinating insight into Japan's motor industry. Your Info-Pack will include details of these attractions as well as many other possibilities.

Overnight: Marriott Associa Nagoya

Day 8-10

Speed west to Kyoto to discover Japan's ancient capital city, where you'll learn the art of roketsu dyeing and take a tour of the city's mysterious geisha district.

This morning you will take the Shinkansen further west to Kyoto, a city without which no arts itinerary would be complete.

Whilst at first glance you could be forgiven for thinking that this is just another modern city, you only need to take a few steps from your hotel to discover Kyoto's wealth of temples, gardens and shrines seemingly hidden behind every corner.

Make time to visit the artisan workshops, kimono shows, small galleries and the National Museum of Modern Art before being taken on a private evening walking tour of Gion – Kyoto's geisha district. This tour is a fantastic way for you to get an inside look at one of Japan's best known (and least understood) traditional professions.

On your second day in Kyoto you will have the services of an expert local guide for a full-day tour of the city. As well as visiting the famous highlights, you will discover some favourite haunts known only to the locals. For lunch, your guide will take you to sample Kyoto's local cuisine – an art form in its own right!

The elaborate designs, patterns and colours of Japanese textiles have made them world famous, and on your third day in Kyoto you will be participating in a roketsu cloth-dyeing experience.

Roketsu dyeing is unique to Kyoto, and is a traditional technique whereby wax is used to block dyes in an area finely drawn by hand on cloth. You will be instructed by craftspeople with over 50 years of experience as you learn how to use techniques developed by artisans to create your own designs.

Overnight: Celestine Kyoto Gion

Day 11-12

Climb to the top of a samurai castle, visit one of Japan's most celebrated gardens and wander the Adachi Museum of Art in the "City of Water".

Today will take you to Matsue, a charming city with an impressive samurai castle at its centre. You will make the four-hour journey in first class comfort, perhaps making a stop at Okayama to visit Korakuen, one of Japan's three most celebrated gardens.

This afternoon will be free for you to explore Matsue, the "City of Water". We suggest a twilight cruise on Lake Shinji and a soak in some one of the many local hot springs on your arrival this afternoon. Dinner will be included at your Japanese-style inn on both nights of your stay in the city.

After recharging your batteries at your ryokan you'll have a full day to discover Matsue. We recommend making a visit to the wonderful Adachi Museum of Art in Yasugi, a short train ride from the city.

Featuring 1,300 modern Japanese masterpieces including the work of Yokoyama Taikan, the Museum is also home to an award-winning garden and makes a lovely day out.

Overnight: Minamikan

Day 13-14

Explore Naoshima, where artworks are not confined to galleries and museums but are part of the scenery and everyday life of the island.

The island of Naoshima is a highlight of the Japan Arts Trail. Despite being just a tiny island in Japan's Inland Sea, over the past decade Naoshima has developed a world-class reputation for its pioneering approach to art.

Throughout your time on the island you will discover a variety of art exhibitions and galleries, including the illustrious Benesse House, where you will be staying in one of museum's wonderful guest rooms.

Spend the afternoon exploring the works inside or stroll down to the beach, where you'll find a number of outdoor sculptures including Yayoi Kusama's famous "Yellow Pumpkin".

After a night at Benesse House you will have a full day to take in the rest of the island's abundant artistic offerings. The unusual Art House Projects in Honmura village or the Chichu Museum (home to some of Monet's Water Lilies and the ethereal works of James Turrell) are exceptional.

If you need a break from art, visit James Bond-themed 007 Museum, Honmura village's cat café, or just relax in one of the island's hot springs.

Overnight: Benesse House

Day 15-16

Return to Tokyo for one last night in the city's premier entertainment district: Shinjuku.

Today you will take the Shinkansen bullet train back to the capital for a striking contrast to peaceful Naoshima!

For your final night in Japan you will be staying in Tokyo's premier entertainment and shopping district: Shinjuku. Squeeze in a final gallery visit or do some last-minute shopping before spending your last evening in one of the thousands of world-class restaurants and bars right on your doorstep.

On your final morning in Japan, a driver will pick you up at your hotel and take you by private car to Tokyo Narita Airport in plenty of time for your flight home.

Overnight: Hilton Shinjuku
View all days
Day 1-3

Take a tour of Tokyo and discover the city's vibrant arts scene, from kabuki performances and traditional woodblock prints to cutting-edge contemporary art at the top of a Roppongi skyscraper.

After arriving in Japan, you have the rest of the day to start exploring the capital from your base in the Shiodome district.

A short hop on the subway will take you to Ueno, home of a number of interesting museums set in a large park. The National Museum has a significant collection of ukiyo-e woodblock prints that will take you through the ages of Japanese art.

Closer to your hotel, you might like to stroll around Hamarikyu Gardens or walk to Ginza, where you can do a spot of shopping or watch a kabuki performance at the Kabuki-za Theatre. For your first full day in Tokyo you will have a private local guide at your disposal. This will be a fantastic introduction to Tokyo and a chance to see both the classic sights and some of the lesser-known features of the city that you would be unlikely to find by yourself.

Your next day in Tokyo will be a chance for some independent exploration, it's up to you whether you stay within the city bounds or take a day trip to one of the many great destinations nearby.

Nikko is home to some of Japan's most elaborate religious architecture in a beautiful woodland setting, whilst Kamakura has some lovely temples and gardens and one of Japan's largest Buddha statues.

Alternatively, Mount Takao offers some great walking opportunities and stunning views. Details of how to make all of these trips and more will be included in your Info-Pack.

Overnight: Park Hotel Tokyo

Day 4-5

Swap city life for a quiet spell in the enchanting environs of Hakone, where world-class art museums and stunning scenery go hand in hand.

Leaving the capital behind, today you will travel in first class comfort on the Shinkansen to Odawara, the gateway to Fuji-Hakone National Park. From here you will travel by private car to your traditional ryokan inn and have the rest of the afternoon to start exploring the area.

We suggest visiting one of the interesting museums nearby or taking the cable car to Mount Komagatake for fantastic views of Lake Ashi and the surrounding hills. A beautiful kaiseki dinner will be included at your ryokan inn on both nights of your stay in Hakone.

After a peaceful night relaxing in the hot spring baths at your ryokan you'll have another free day to explore the wonderful Hakone region. Visit the sulphurous crater at Owakudani and try one of the black eggs cooked in hot spring water – reputed to bring good health and fortune!

From here, a cable car takes you to the shores of Lake Ashi, where you can take a pirate ship cruise and marvel at spectacular views of Mount Fuji (if weather permits!)

The area has a number of interesting galleries and museums, the best of which is the Chokoku no Mori outdoor sculpture park – home to a significant Picasso collection.

Overnight: Kowakien Tenyu

Day 6-7

Spend two nights in Nagoya, home to some of Japan's most distinguished historical and contemporary art collections.

The next stop on your arts trail is Nagoya, just 71 minutes by bullet train from Odawara. Spend the afternoon getting to know this city – the home of our Japan office!

Perhaps visit the Tokugawa Art Museum for an introduction to the Shogun Era's finest arts before spending the evening in the restaurants and bars of Nagoya's vibrant entertainment district.

On day seven of your trip you'll have a full day to explore Nagoya. We recommend heading to Toyota City to visit the Municipal Museum of Art, which exhibits works by Gustav Klimt and Edvard Munch.

Whilst in Toyota, don't miss the Toyota Kaikan Museum, which gives a fascinating insight into Japan's motor industry. Your Info-Pack will include details of these attractions as well as many other possibilities.

Overnight: Marriott Associa Nagoya

Day 8-10

Speed west to Kyoto to discover Japan's ancient capital city, where you'll learn the art of roketsu dyeing and take a tour of the city's mysterious geisha district.

This morning you will take the Shinkansen further west to Kyoto, a city without which no arts itinerary would be complete.

Whilst at first glance you could be forgiven for thinking that this is just another modern city, you only need to take a few steps from your hotel to discover Kyoto's wealth of temples, gardens and shrines seemingly hidden behind every corner.

Make time to visit the artisan workshops, kimono shows, small galleries and the National Museum of Modern Art before being taken on a private evening walking tour of Gion – Kyoto's geisha district. This tour is a fantastic way for you to get an inside look at one of Japan's best known (and least understood) traditional professions.

On your second day in Kyoto you will have the services of an expert local guide for a full-day tour of the city. As well as visiting the famous highlights, you will discover some favourite haunts known only to the locals. For lunch, your guide will take you to sample Kyoto's local cuisine – an art form in its own right!

The elaborate designs, patterns and colours of Japanese textiles have made them world famous, and on your third day in Kyoto you will be participating in a roketsu cloth-dyeing experience.

Roketsu dyeing is unique to Kyoto, and is a traditional technique whereby wax is used to block dyes in an area finely drawn by hand on cloth. You will be instructed by craftspeople with over 50 years of experience as you learn how to use techniques developed by artisans to create your own designs.

Overnight: Celestine Kyoto Gion

Day 11-12

Climb to the top of a samurai castle, visit one of Japan's most celebrated gardens and wander the Adachi Museum of Art in the "City of Water".

Today will take you to Matsue, a charming city with an impressive samurai castle at its centre. You will make the four-hour journey in first class comfort, perhaps making a stop at Okayama to visit Korakuen, one of Japan's three most celebrated gardens.

This afternoon will be free for you to explore Matsue, the "City of Water". We suggest a twilight cruise on Lake Shinji and a soak in some one of the many local hot springs on your arrival this afternoon. Dinner will be included at your Japanese-style inn on both nights of your stay in the city.

After recharging your batteries at your ryokan you'll have a full day to discover Matsue. We recommend making a visit to the wonderful Adachi Museum of Art in Yasugi, a short train ride from the city.

Featuring 1,300 modern Japanese masterpieces including the work of Yokoyama Taikan, the Museum is also home to an award-winning garden and makes a lovely day out.

Overnight: Minamikan

Day 13-14

Explore Naoshima, where artworks are not confined to galleries and museums but are part of the scenery and everyday life of the island.

The island of Naoshima is a highlight of the Japan Arts Trail. Despite being just a tiny island in Japan's Inland Sea, over the past decade Naoshima has developed a world-class reputation for its pioneering approach to art.

Throughout your time on the island you will discover a variety of art exhibitions and galleries, including the illustrious Benesse House, where you will be staying in one of museum's wonderful guest rooms.

Spend the afternoon exploring the works inside or stroll down to the beach, where you'll find a number of outdoor sculptures including Yayoi Kusama's famous "Yellow Pumpkin".

After a night at Benesse House you will have a full day to take in the rest of the island's abundant artistic offerings. The unusual Art House Projects in Honmura village or the Chichu Museum (home to some of Monet's Water Lilies and the ethereal works of James Turrell) are exceptional.

If you need a break from art, visit James Bond-themed 007 Museum, Honmura village's cat café, or just relax in one of the island's hot springs.

Overnight: Benesse House

Day 15-16

Return to Tokyo for one last night in the city's premier entertainment district: Shinjuku.

Today you will take the Shinkansen bullet train back to the capital for a striking contrast to peaceful Naoshima!

For your final night in Japan you will be staying in Tokyo's premier entertainment and shopping district: Shinjuku. Squeeze in a final gallery visit or do some last-minute shopping before spending your last evening in one of the thousands of world-class restaurants and bars right on your doorstep.

On your final morning in Japan, a driver will pick you up at your hotel and take you by private car to Tokyo Narita Airport in plenty of time for your flight home.

Overnight: Hilton Shinjuku
Close all days
Other trips you may like
Tokyo
Kawaguchiko
Matsumoto
Obuse
Kanazawa
Kyoto
Tsumago
Tokyo

Journey across Honshu Island to visit the towns and landscapes depicted in the ukiyo-e woodblock prints of Hokusai and Hiroshige.

15 nights: from US$7014 pp (twin share) Read more >

Iiyama
Togarinozawa Onsen

Lace up your hiking boots for a three-day hike along the Sekida Mountain's Shin-Etsu Trail.

3 nights: from US$1064 pp (twin share) Read more >

This is a simple little package that proves it needn't break the bank to go on a winter sports holiday in Japan.

7 nights: from US$1778 pp (twin share) Read more >