Self-Guided Adventure
Japan Arts Trail
14 Nights: from US$3666 per person (twin share)
Trip Code: JARTC
Japan may not have a high profile when it comes to art, but there are numerous museums and galleries to be discovered throughout the country. This itinerary will help you discover the Japanese passion for art. Read more >
For centuries Japan has placed the utmost value on the visual aesthetic, leaving it with a rich heritage of exquisite arts and crafts.
This itinerary will take your on a journey through the ages of Japanese art: beginning with the ukiyo-e woodblock print collection at Tokyo's National Museum, taking you through the towering Mori Gallery, to the gorgeous kimono art of Itchiku Kubota at the foot of Mount Fuji, and on to the award-winning gardens of the Adachi Museum in Matsue.
The highlight of your art exploration of Japan is bound to be Naoshima, a tiny island in the Inland Sea, which over the past ten years has acquired a worldwide reputation for its innovative approach to art. Your two-night stay will afford the opportunity to explore all the museums and Art House projects to be found on this "Art Island".
No Japan arts itinerary would be complete without a stay in Kyoto, and during your three days in the city you will be visiting some of its dazzling array of temples and shrines as well as its artisan workshops and small galleries - not to mention sampling Kyoto's own culinary art: kaiseki cuisine.
If you're interested in trying your hand at some of Japan's traditional art and craft techniques, from kintsugi, where you repair broken pottery with gold lacquer, to calligraphy or indigo dyeing, let us know and we can make arrangements for you.
Setouchi Art Triennale: every three years, the small islands of the Seto Inland Sea ("Setouchi" in Japanese) host a huge art festival spanning several months through the year, and Naoshima is just one of the islands involved. The next festival will take place in 2022. It does get busy and accommodation can be difficult to secure last-minute so be sure to get in touch with us early if you'd like to visit during the art festival!
What's included
14 nights' accommodation (four nights Japanese-style)

Breakfast each morning and four evening meals

Airport transfers

Transport between destinations

Manaca transport card with 2,500 yen credit for local transport

14-day Japan Rail Pass

Insider walking tour in Tokyo

Eight-hour private guide service in Kyoto

Evening tour of Kyoto's Gion geisha district

Tickets to the Chichu Art Museum on Naoshima

Pocket WiFi device

Your personalised InsideJapan Info-Pack
What's NOT included:
International flights

Local transport (local taxis, subways, buses) unless otherwise specified

Any entrance fees unless otherwise specified

Baggage handling and luggage forwarding
Trip Highlights
Visit the Itchiku Kubota museum near Mount Fuji

Discover Monet and Tadao Ando on Naoshima Island

Contemplate the Adachi Museum's award-winning garden
Drop by the Mori Gallery in Tokyo

Explore Kyoto's shrines and temples

Learn about traditional ukyio-e woodblock printing in Matsumoto
For more information email us: [email protected] or call: + 44 117 244 3380
What, where, when and how...
Japan Arts Trail - 15 Days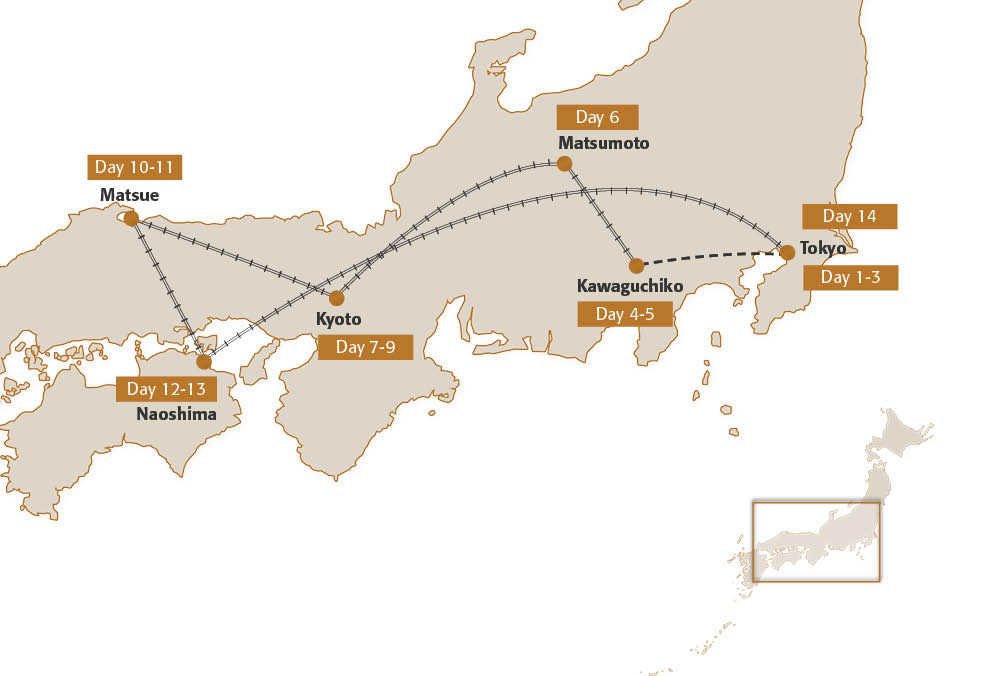 Japan Arts Trail - 15 Days - Day by Day
Japan Arts Trail - 15 Days - Accommodation
Japan Arts Trail - 15 Days - Experiences
Day 1-3

Discover the diversity of Tokyo's arts scene, from traditional ukiyo-e woodblock prints in the National Art Museum to the towering contemporary behemoth that is the Mori Art Gallery.

Today you will arrive in Tokyo and make your way to your hotel in the traditional Asakusa district of the capital. In such a modern city, Asakusa stands out as a little slice of old Japan with its lovely, laid-back atmosphere and narrow streets lined with traditional shops and restaurants.

Either spend the rest of the day here, head further afield to Akihabara's "electric town", or stop at glitzy Ginza for some world-class people-watching amid the incredible architecture. Join fellow InsideJapan Tours travellers for a full day tour of Tokyo with one of our Inside experts. Together you'll visit famous sites such as the Shibuya scramble, as well as historic, lesser visited traditional areas like Yanaka.

While in Tokyo you'll also have time to discover contemporary Japanese art at the Mori Gallery, traditional ukiyo-e woodblock prints in the Ota Memorial Museum, and the full sweep of art history in the National Museum.

There is no end to the attractions in Tokyo, but if you fancy a break from the fast pace of city life you could make the most of your Japan Rail Pass and make a day trip on day three of your itinerary.

Nikko is home to some of Japan's most elaborate religious architecture in a stunning forest setting, whilst the sleepy coastal town of Kamakura is a popular destination for its impressive giant Buddha statue. For those in need of a bit of countryside, sacred Mount Takao offers a break from the cityscapes with fantastic hiking opportunities and superb views.

Overnight: Gracery Asakusa Hotel

Day 4-5

Swap skyscrapers for scenic views of Mount Fuji with a two-night stay in Kawaguchiko

Today you'll leave the city behind and travel a few hours west to Lake Kawaguchiko which offers some of the best views of Mount Fuji. You can take a sightseeing boat cruise and ride the cable car to get the best photos.

We recommend a visit to the museum of Itchiku Kubota, a textile artist who specialized in elaborate silk dyeing art. His unfinished masterpiece, 'Symphony of Light' is a made up of 80 kimono that create an image of Mount Fuji when viewed together.

Your home will be the lakeshore Mizno Hotel, where Fuji views are available from your room, the hot spring baths, and the dining room where modern kaiseki course meals await.

Overnight: Mizno Hotel

Day 6

Explore the striking Black Crow Castle of Matsumoto

From Kawaguchiko you'll journey north to Matsumoto, home to 'the black crow castle' one of the most famous original castles in Japan. The nearby ukiyo-e museum of art is well worth a visit to see a curate selection of the 100,000 prints they house. The Matsumoto City Museum of Art is well worth a visit for fans of Yayoi Kusama.

Overnight: Kagetsu

Day 7-9

Head to Kyoto, the cultural heart of the country and a must-visit destination for any art lover in Japan.

This afternoon we'll arrange for you to join a guided walking tour of the famous Gion geisha district, led by the granddaughter of a geisha. As you slowly make your way through the narrow lanes and hidden alleys, your guide will provide you with insights into the history and traditions of Kyoto that will help bring to life the secret world of the geiko and maiko entertainers who still work here to this day.

On your second day in the city, you will have a full-day tour of the city with a private guide. Your guide will help you discover some of the more famous sights of the city as well as some of its lesser-known places of interest. With a knowledgeable local by your side you are sure to discover things that you might otherwise miss! You may decide to marvel at Kinkaku-ji's Golden Pavilion or stroll along the Philosopher's Path.

For your next day in Kyoto, you will have the whole day at leisure. You might like to explore more of Kyoto's art galleries or perhaps take a day trip out of the city. The charming Arashiyama area to the west offers boat rides down the river valley, picturesque bamboo groves and a monkey park. The ancient capital of Nara lies only 30 minutes away and is home to Todai-ji Temple's famous giant Buddha and park filled with sacred deer.

Buzzing Osaka city is also just a short distance away, and Hiroshima's Peace Park is only two hours by bullet train. Your Info-Pack will contain details on how to reach all of these places and more.

Overnight: Intergate Kyoto Shijo Shinmachi

Day 10-11

Discover Japan's "City of Water" as you travel to Matsue, home to one of the country's most impressive samurai castles and the outstanding Adachi Museum.

Your next stop will be the coastal town of Matsue, a four-hour scenic train journey from Kyoto. On the way, you might like to stop off in Okayama to visit the stunning Korakuen garden – one of the best gardens in Japan.

You will arrive in Matsue in the early afternoon with time to stroll around the traditional samurai quarter or take a sunset boat cruise on Lake Shinji. An elaborate kaiseki dinner will be included at your Japanese-style ryokan inn on both nights of your stay here.

Day 11 of your itinerary will be free for you to discover Matsue independently. We highly recommend visiting the Adachi Museum of Art in Yasugi, a short train ride away from the city.

The museum features approximately 1,300 masterpieces from modern Japanese painting circles, including the works of Yokoyama Taikan, and boasts an award-winning garden which has become almost more famous than the museum itself!

Matsue also boasts an impressive samurai castle that is well worth a visit during your stay here.

Overnight: Terazuya Ryokan

Day 12-13

Explore Naoshima Island, world-renowned for its eclectic exhibitions and unconventional approach to art.

Today you will travel back to Okayama by train before heading across the huge Seto-Ohashi Bridge to Takamatsu, from whence you will take a ferry to the island of Naoshima.

Over the past decade, Naoshima has become world-renowned for its eclectic art collections and this is undoubtedly one of the highlights of Japan's modern arts scene. You will be staying at a small hotel that was designed in the architectural style of Frank Lloyd Wright.

Your next day will be free for you to explore Naoshima under your own steam. Be sure to visit Yayoi Kusama's yellow pumpkin near the entrance to the excellent Benesse House, where you'll find works by Jasper Jones, David Hockney and Andy Warhol.

We'll include tickets to the Chichu Art Museum features permanent installations by Walter De Maria and James Turrell as well as a room dedicated to Monet's Water Lilies. Your personalised Info-Pack will include details of all these attractions and many more.

Overnight: Wright Style

Day 14-15

Return to Tokyo for a final night amongst the neon-spangled skyscrapers of Shinjuku, the capital's entertainment hub.

Today you will take a ferry back to Takamatsu and return to Tokyo by bullet train. For you final night in the metropolis, you will be based in the entertainment and commercial district of Shinjuku with its neon-spangled skyscrapers offering an impressive contrast to your island stay!

Head out for some last-minute shopping or squeeze in a couple more gallery visits before making the most of the restaurants and bars on your doorstep this evening.

After your final night in the city a shuttle bus will whisk you in comfort to the airport in plenty of time for your departure flight. Have a safe journey home!

Overnight: JR Kyushu Blossom Shinjuku
View all days
Day 1-3

Discover the diversity of Tokyo's arts scene, from traditional ukiyo-e woodblock prints in the National Art Museum to the towering contemporary behemoth that is the Mori Art Gallery.

Today you will arrive in Tokyo and make your way to your hotel in the traditional Asakusa district of the capital. In such a modern city, Asakusa stands out as a little slice of old Japan with its lovely, laid-back atmosphere and narrow streets lined with traditional shops and restaurants.

Either spend the rest of the day here, head further afield to Akihabara's "electric town", or stop at glitzy Ginza for some world-class people-watching amid the incredible architecture. Join fellow InsideJapan Tours travellers for a full day tour of Tokyo with one of our Inside experts. Together you'll visit famous sites such as the Shibuya scramble, as well as historic, lesser visited traditional areas like Yanaka.

While in Tokyo you'll also have time to discover contemporary Japanese art at the Mori Gallery, traditional ukiyo-e woodblock prints in the Ota Memorial Museum, and the full sweep of art history in the National Museum.

There is no end to the attractions in Tokyo, but if you fancy a break from the fast pace of city life you could make the most of your Japan Rail Pass and make a day trip on day three of your itinerary.

Nikko is home to some of Japan's most elaborate religious architecture in a stunning forest setting, whilst the sleepy coastal town of Kamakura is a popular destination for its impressive giant Buddha statue. For those in need of a bit of countryside, sacred Mount Takao offers a break from the cityscapes with fantastic hiking opportunities and superb views.

Overnight: Gracery Asakusa Hotel

Day 4-5

Swap skyscrapers for scenic views of Mount Fuji with a two-night stay in Kawaguchiko

Today you'll leave the city behind and travel a few hours west to Lake Kawaguchiko which offers some of the best views of Mount Fuji. You can take a sightseeing boat cruise and ride the cable car to get the best photos.

We recommend a visit to the museum of Itchiku Kubota, a textile artist who specialized in elaborate silk dyeing art. His unfinished masterpiece, 'Symphony of Light' is a made up of 80 kimono that create an image of Mount Fuji when viewed together.

Your home will be the lakeshore Mizno Hotel, where Fuji views are available from your room, the hot spring baths, and the dining room where modern kaiseki course meals await.

Overnight: Mizno Hotel

Day 6

Explore the striking Black Crow Castle of Matsumoto

From Kawaguchiko you'll journey north to Matsumoto, home to 'the black crow castle' one of the most famous original castles in Japan. The nearby ukiyo-e museum of art is well worth a visit to see a curate selection of the 100,000 prints they house. The Matsumoto City Museum of Art is well worth a visit for fans of Yayoi Kusama.

Overnight: Kagetsu

Day 7-9

Head to Kyoto, the cultural heart of the country and a must-visit destination for any art lover in Japan.

This afternoon we'll arrange for you to join a guided walking tour of the famous Gion geisha district, led by the granddaughter of a geisha. As you slowly make your way through the narrow lanes and hidden alleys, your guide will provide you with insights into the history and traditions of Kyoto that will help bring to life the secret world of the geiko and maiko entertainers who still work here to this day.

On your second day in the city, you will have a full-day tour of the city with a private guide. Your guide will help you discover some of the more famous sights of the city as well as some of its lesser-known places of interest. With a knowledgeable local by your side you are sure to discover things that you might otherwise miss! You may decide to marvel at Kinkaku-ji's Golden Pavilion or stroll along the Philosopher's Path.

For your next day in Kyoto, you will have the whole day at leisure. You might like to explore more of Kyoto's art galleries or perhaps take a day trip out of the city. The charming Arashiyama area to the west offers boat rides down the river valley, picturesque bamboo groves and a monkey park. The ancient capital of Nara lies only 30 minutes away and is home to Todai-ji Temple's famous giant Buddha and park filled with sacred deer.

Buzzing Osaka city is also just a short distance away, and Hiroshima's Peace Park is only two hours by bullet train. Your Info-Pack will contain details on how to reach all of these places and more.

Overnight: Intergate Kyoto Shijo Shinmachi

Day 10-11

Discover Japan's "City of Water" as you travel to Matsue, home to one of the country's most impressive samurai castles and the outstanding Adachi Museum.

Your next stop will be the coastal town of Matsue, a four-hour scenic train journey from Kyoto. On the way, you might like to stop off in Okayama to visit the stunning Korakuen garden – one of the best gardens in Japan.

You will arrive in Matsue in the early afternoon with time to stroll around the traditional samurai quarter or take a sunset boat cruise on Lake Shinji. An elaborate kaiseki dinner will be included at your Japanese-style ryokan inn on both nights of your stay here.

Day 11 of your itinerary will be free for you to discover Matsue independently. We highly recommend visiting the Adachi Museum of Art in Yasugi, a short train ride away from the city.

The museum features approximately 1,300 masterpieces from modern Japanese painting circles, including the works of Yokoyama Taikan, and boasts an award-winning garden which has become almost more famous than the museum itself!

Matsue also boasts an impressive samurai castle that is well worth a visit during your stay here.

Overnight: Terazuya Ryokan

Day 12-13

Explore Naoshima Island, world-renowned for its eclectic exhibitions and unconventional approach to art.

Today you will travel back to Okayama by train before heading across the huge Seto-Ohashi Bridge to Takamatsu, from whence you will take a ferry to the island of Naoshima.

Over the past decade, Naoshima has become world-renowned for its eclectic art collections and this is undoubtedly one of the highlights of Japan's modern arts scene. You will be staying at a small hotel that was designed in the architectural style of Frank Lloyd Wright.

Your next day will be free for you to explore Naoshima under your own steam. Be sure to visit Yayoi Kusama's yellow pumpkin near the entrance to the excellent Benesse House, where you'll find works by Jasper Jones, David Hockney and Andy Warhol.

We'll include tickets to the Chichu Art Museum features permanent installations by Walter De Maria and James Turrell as well as a room dedicated to Monet's Water Lilies. Your personalised Info-Pack will include details of all these attractions and many more.

Overnight: Wright Style

Day 14-15

Return to Tokyo for a final night amongst the neon-spangled skyscrapers of Shinjuku, the capital's entertainment hub.

Today you will take a ferry back to Takamatsu and return to Tokyo by bullet train. For you final night in the metropolis, you will be based in the entertainment and commercial district of Shinjuku with its neon-spangled skyscrapers offering an impressive contrast to your island stay!

Head out for some last-minute shopping or squeeze in a couple more gallery visits before making the most of the restaurants and bars on your doorstep this evening.

After your final night in the city a shuttle bus will whisk you in comfort to the airport in plenty of time for your departure flight. Have a safe journey home!

Overnight: JR Kyushu Blossom Shinjuku
Close all days
Other trips you may like
Tokyo
Kyoto
Mount Koya
Kawayu Onsen
Yunomine Onsen
Nachi
Ise
Tokyo

Join the ranks of the junreisha, or pilgrims, as you explore Ise, Mount Koya and the ancient paths of the Kumano Kodo on this classic trip.

14 nights: from US$4108 pp (twin share) Read more >

Tokyo
Nikko
Sendai
Nyuto Onsen
Kakunodate
Mount Haguro
Tokyo

Journey through the lush rural landscapes in Tohoku, a land steeped in tradition and mystery, on this classic two-week itinerary.

13 nights: from US$3419 pp (twin share) Read more >

Tokyo
Utoro
Lake Kussharo
Mount Asahi
Biei
Sapporo
Hakodate
Tokyo

This summery itinerary highlights some of the best natural scenery, hikes, and wildlife in Hokkaido, combined with a city stay in Sapporo.

14 nights: from US$5109 pp (twin share) Read more >