Self-Guided Adventure
Fuji Rock Festival
7 Nights: from US$1599 per person (twin share)
Trip Code: FRF
The Fuji Rock Festival is one of those magical events. Fantastic food at a great price, no queues to buy beer, all night hot spring baths, a stunning mountain setting, an incredibly friendly crowd and, of course, some of the best in British, American & Japanese indie, dance and world music. Read more >
With a line-up of such international giants, you would have thought that Japan's annual Fuji Rock festival would be better known to music-lovers across the globe. 2019's bill included The Chemical Brothers, The Cure, SIA, Death Cab for Cutie, Martin Garrix and James Blake, so we can't wait to see who'll be there in 2020.
In an era when you have to stump up a deposit nearly a year in advance to get your hands on a ticket for Glastonbury, Fuji Rock remains an undiscovered gem on the world festival circuit; a festival where the original counter-culture ideals of Glastonbury still hold true, where "alternative" still carries some meaning, and where relentless consumerism can be left behind for the weekend.
Oh, and the toilets are clean, there isn't a spot of litter to be seen, there are public showers available - there is even a steak-eating competition with the chance to win a year's supply of beef! Fuji Rock is a festival to treasure and we can guarantee you will have a fantastic time.
Before and after the festival you will be having plenty of fun with a stay in Japan's exciting capital city, Tokyo. Use the included five-day JR East Rail Pass to explore the many sights and sounds of this amazing metropolis before joining one of our "Insider" staff and other Fuji Rockers for a night food tour finishing in the bars of Golden Gai - it should be a great night and offer a great opportunity to really "get beneath the surface" of this fascinating city.
Dates 2020
In 2020 Fuji Rock will take place a little later than usual due to the Tokyo Olympics. The festival will be on Friday 21st, Saturday 22nd and Sunday 23rd August 2020, with entry to the campsite on Thursday 20th. Our package is designed for you to arrive in Tokyo on Tuesday 19th August, however if you wish to arrive earlier or leave later do let us know! We'd be happy to extend your arrangements in Japan.
What's included
Three nights' accommodation in Tokyo

Breakfast in Tokyo

Inside Circle night food tour in Tokyo

5 day Flexi JR East Rail Pass (covers all train transfers)

Fuji Rock Festival ticket

4 nights' camping at the festival

Tent delivered to festival site
What's NOT included:
International flights

Shuttle bus from Echigo Yuzawa Station to the Fuji Rock site (500 yen payable on the day)

Local transport in Tokyo

Any entrance fees for shrines, temples and museums

Baggage handling (except for tent) - you will be expected to carry your bags for the duration of the trip
Trip Highlights
Enjoy big name bands at Fuji Rock

Camp in the cleanest campsite you'll ever see
Meet other Fuji Rockers on a night food tour in Tokyo

Take a hot spring bath (open all night at Fuji Rock!)
For more information email us: [email protected] or call: + 44 117 244 3380
What, where, when and how...
Fuji Rock Festival - 8 Days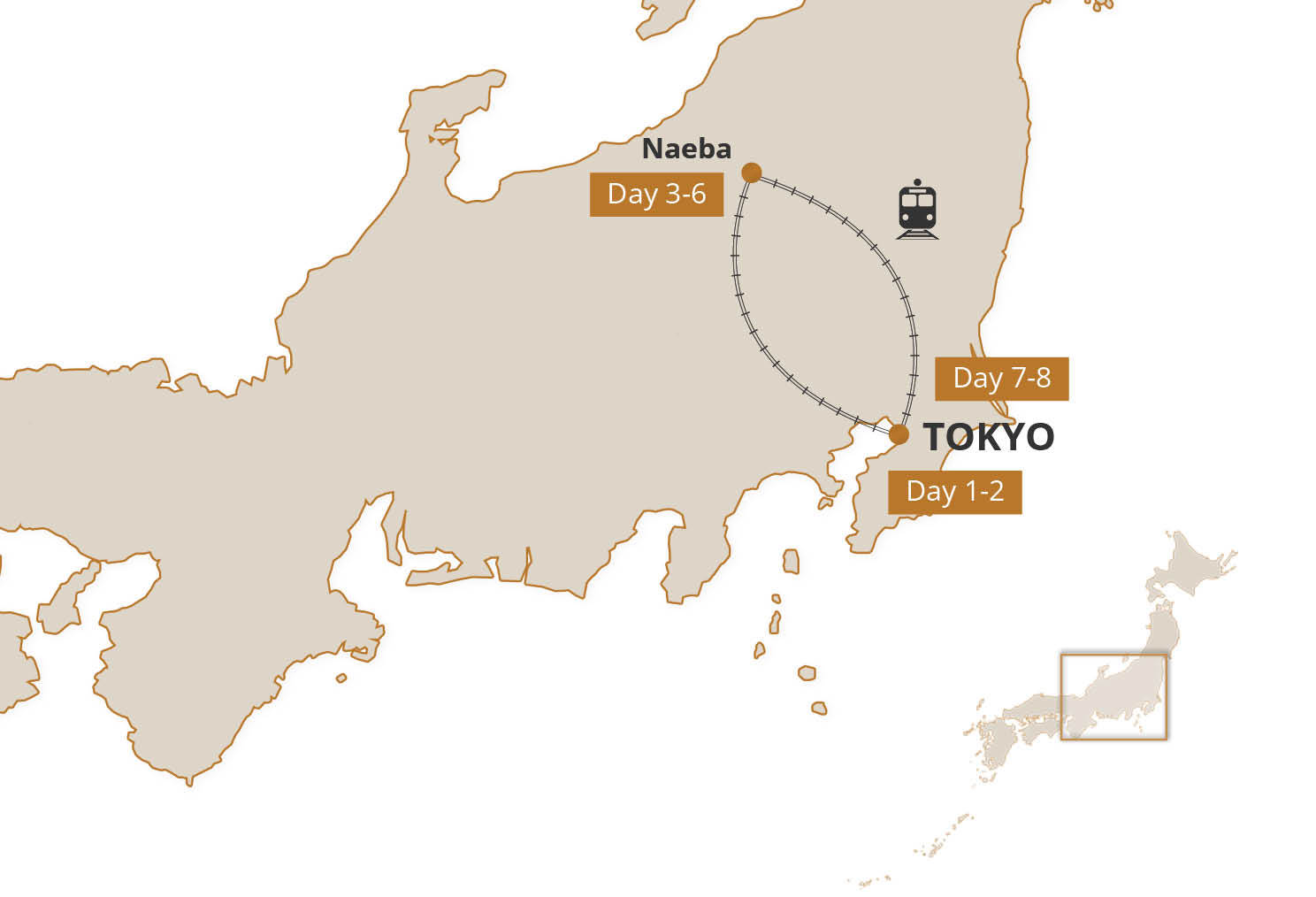 Destinations
Fuji Rock Festival - 8 Days - Day by Day
Fuji Rock Festival - 8 Days - Accommodation

Fuji Rock Festival - 8 Days - Experiences
Day 1-2

Have dinner with your fellow festival-goers and an InsideJapan tour guide before exploring the many faces of Tokyo, Japan's exciting capital city.

Welcome to Japan! You will start your trip in Ikebukuro, one of Tokyo's liveliest districts, where you'll be met by a sea of neon lights introducing bars, restaurants, karaoke boxes and pachinko gambling parlours, all vying clamorously for your attention.

You'll have a free day to explore Tokyo, armed with your Info-Pack full of fantastic sightseeing suggestions. Tokyo is one of the greatest capital cities in the world, made up of a number of districts each with their own distinctive character. Shibuya is the fashion capital of the country, packed with ultra-trendy clothes shops and anime stores; Asakusa provides a glimpse of pre-war Japan, with the bustling Senso-ji temple at its centre. In Ginza you can visit the Sony building for a look at tomorrow's technology, whilst in Odaiba you can relax on an artificial beach with sand imported from Hawaii, ride the giant Ferris wheel, and see the famous, "life-sized" Gundam Wing suit. The only problem is knowing where to start!
On the second night, once you're over any jet lag, you'll join one of our "Insider" staff and some fellow InsideJapan Tours' travellers for an evening night food tour amid the bright lights of Shinjuku. This is your chance to meet some fellow festival-goers, grill our resident "Insider" for Tokyo tips, and enjoy some great food. After dinner the Insider can advise you on the best local bars and clubs if you wish to continue partying.

Overnight: The B Ikebukuro

Day 3-6

Ride the bullet train to Naeba ski resort, then dance the night (and day) away at Fuji Rock!

Today you will catch the world-famous Shinkansen bullet train to Echigo Yuzawa, a journey of just over an hour. Here you will join the queues for the shuttle bus to Naeba ski resort, home to the Fuji Rock Festival. (Please note the shuttle bus costs 500 yen per person, the return journey is free.) Located deep in the mountains, the festival site is like no other on earth: soaring peaks tower up on either side of the valley, whilst a clear mountain stream runs the length of the site.
Fuji Rock is like no other festival. Here you'll find great music side-by-side with eating contests, outlandish entertainments and some very bizarre stand-up comedy. Helicopter rides over the festival site are available for just 3,000 yen (around 15 GBP), and the Dragondola cable car takes visitors over the mountains to a plateau for some stunning views and festival games.
The festival's six stages provide an eclectic mix of rock, indie, pop, dance and jazz over the course of the weekend. You'll also have a chance to sample some great food – no burger van selling over-priced fried cardboard in sight! Festival food Japanese-style is a great mix of noodles, curry, kebabs, Thai, Indian, grilled meats and rice dishes, all at extremely reasonable prices. More or less everything is around the 500 yen mark (approximately 2.50 GBP) - and that goes for the beer too.
Be sure to check out the late-night stages after the main festival shuts down at around midnight. This is also the best time to visit the natural hot spring bathhouse for a good scrub and a soak!

Overnight: Tent

Day 7-8

It's time to return to Tokyo for a final night in the big city

Sadly the festival must come to an end, and today it is time to return to Tokyo. Shuttle buses leave the site every 30 minutes or so, transporting the festival hordes back to Echigo Yuzawa station where you will board the Shinkansen back to Tokyo.
For one final night in the capital, partygoers should consider heading down to the Shibuya clubs for the post-festival parties – the perfect way to end your Fuji Rock Festival adventures in Japan!
On the final day of your trip you will return to Narita Airport for your flight home. Have a safe flight.

Overnight: The B Ikebukuro
View all days
Day 1-2

Have dinner with your fellow festival-goers and an InsideJapan tour guide before exploring the many faces of Tokyo, Japan's exciting capital city.

Welcome to Japan! You will start your trip in Ikebukuro, one of Tokyo's liveliest districts, where you'll be met by a sea of neon lights introducing bars, restaurants, karaoke boxes and pachinko gambling parlours, all vying clamorously for your attention.

You'll have a free day to explore Tokyo, armed with your Info-Pack full of fantastic sightseeing suggestions. Tokyo is one of the greatest capital cities in the world, made up of a number of districts each with their own distinctive character. Shibuya is the fashion capital of the country, packed with ultra-trendy clothes shops and anime stores; Asakusa provides a glimpse of pre-war Japan, with the bustling Senso-ji temple at its centre. In Ginza you can visit the Sony building for a look at tomorrow's technology, whilst in Odaiba you can relax on an artificial beach with sand imported from Hawaii, ride the giant Ferris wheel, and see the famous, "life-sized" Gundam Wing suit. The only problem is knowing where to start!
On the second night, once you're over any jet lag, you'll join one of our "Insider" staff and some fellow InsideJapan Tours' travellers for an evening night food tour amid the bright lights of Shinjuku. This is your chance to meet some fellow festival-goers, grill our resident "Insider" for Tokyo tips, and enjoy some great food. After dinner the Insider can advise you on the best local bars and clubs if you wish to continue partying.

Overnight: The B Ikebukuro

Day 3-6

Ride the bullet train to Naeba ski resort, then dance the night (and day) away at Fuji Rock!

Today you will catch the world-famous Shinkansen bullet train to Echigo Yuzawa, a journey of just over an hour. Here you will join the queues for the shuttle bus to Naeba ski resort, home to the Fuji Rock Festival. (Please note the shuttle bus costs 500 yen per person, the return journey is free.) Located deep in the mountains, the festival site is like no other on earth: soaring peaks tower up on either side of the valley, whilst a clear mountain stream runs the length of the site.
Fuji Rock is like no other festival. Here you'll find great music side-by-side with eating contests, outlandish entertainments and some very bizarre stand-up comedy. Helicopter rides over the festival site are available for just 3,000 yen (around 15 GBP), and the Dragondola cable car takes visitors over the mountains to a plateau for some stunning views and festival games.
The festival's six stages provide an eclectic mix of rock, indie, pop, dance and jazz over the course of the weekend. You'll also have a chance to sample some great food – no burger van selling over-priced fried cardboard in sight! Festival food Japanese-style is a great mix of noodles, curry, kebabs, Thai, Indian, grilled meats and rice dishes, all at extremely reasonable prices. More or less everything is around the 500 yen mark (approximately 2.50 GBP) - and that goes for the beer too.
Be sure to check out the late-night stages after the main festival shuts down at around midnight. This is also the best time to visit the natural hot spring bathhouse for a good scrub and a soak!

Overnight: Tent

Day 7-8

It's time to return to Tokyo for a final night in the big city

Sadly the festival must come to an end, and today it is time to return to Tokyo. Shuttle buses leave the site every 30 minutes or so, transporting the festival hordes back to Echigo Yuzawa station where you will board the Shinkansen back to Tokyo.
For one final night in the capital, partygoers should consider heading down to the Shibuya clubs for the post-festival parties – the perfect way to end your Fuji Rock Festival adventures in Japan!
On the final day of your trip you will return to Narita Airport for your flight home. Have a safe flight.

Overnight: The B Ikebukuro
Close all days
Other trips you may like
Tokyo
Nikko
Kyoto
Mount Koya
Himeji
Hiroshima
Kanazawa
Tokyo

Discover Japan's most important monuments on this superior 17-night trip, including the temples of Nikko, Hiroshima's Peace Park, and Himeji Castle.

17 nights: from US$7566 pp (twin share) Read more >

Nagasaki
Kagoshima
Yakushima
Kirishima National Park
Kumamoto
Kurokawa Onsen
Fukuoka

If you're an adventurous traveller who wants to discover a side of Japan rarely seen by outsiders, this itinerary could be the one for you.

13 nights: from US$3406 pp (twin share) Read more >

Iiyama
Togarinozawa Onsen

Lace up your hiking boots for a three-day hike along the Sekida Mountain's Shin-Etsu Trail.

3 nights: from US$1040 pp (twin share) Read more >