Self Guided Adventure
Gastronomic Adventure
13 Nights: from US$6102 per person (twin share)
Trip Code: GADS
This trip will take you on a gastronomic journey across Japan, from Tokyo to the Japanese Alps. Combining the tenets of freshness, variety and appearance, Japanese cooking never fails to delight the senses - and this trip is jam-packed with opportunities to experience it at its best. Read more >
This gastronomic adventure begins in Tokyo before journeying through the Japanese Alps to the cultural capital of Kyoto, with stays at traditional ryokan inns and a Buddhist temple lodging along the way. Needless to say, there will be a mouth-watering array of food opportunities and experiences in every location!
On your first night, you will eat out in a typical izakaya - Japan's idiosyncratic take on pub dining. These lively establishments are the preferred after-work dinner spot for Japan's legions of salarymen, and one of our tour leaders will accompany you for this experience to translate the menu and explain the all-important dining etiquette!
In Osaka, you'll be treated to a mouth-watering evening tour of the city's street food with our resident local guide.
In Kyoto you'll visit a typical Japanese house for a lesson in Japanese home cooking, whilst in Matsumoto you'll try your hand at making the local speciality, soba noodles, before checking out the town's impressive "Black Crow" castle.
A guided tour of Tokyo's world-famous Tsukiji Fish Market, complete with a breakfast of the very freshest sushi, is also included.
Aside from these foodie experiences, there will be plenty of time to explore the many sides of Tokyo, discover the charms of traditional towns in the Japanese Alps, get in touch with your spiritual side at Mount Koya, and wonder at the 17 UNESCO World Heritage Sights in the historic capital of Kyoto.
From sushi to Kobe beef, from ramen to yakitori, from green tea kit-kats to sake - we have every confidence that this will be a gastronomic adventure to savour!
What's included
13 nights' accommodation (three nights Japanese style)

Breakfast every day, four dinners and four lunches

Transport between all destinations

Airport transfer by private car

Manaca transport card with 2,500 yen credit for city transport

Provate guided visit to Tsukiji Fish Market tuna auctions including a sushi breakfast

Dinner and drinks with a guide at a Tokyo izakaya
Soba noodle-making class
Kaiseki dinner in Takayama

Evening street food tour of Osaka

Eight-hour private guide service in Tokyo and Kyoto including lunch and entrance fees

Private home cookery class

Your personalised InsideJapan Info-Pack
What's NOT included:
International flights

Local transport (taxis, subways etc) unless otherwise specified

Entrance fees unless otherwise specified

Baggage handling and luggage forwarding
Trip Highlights
Enjoy a private guided visit to the Tsukiji tuna auctions with sushi breakfast included

Try Buddhist shojin ryori at Mount Koya
Make your own soba noodles
Dine kaiseki style in Takayama

Take a street food tour of Osaka

Have a cooking lesson at a private local house
For more information email us: [email protected] or call: 303 952 0379
What, where, when and how...
Gastronomic Adventure - 14 Days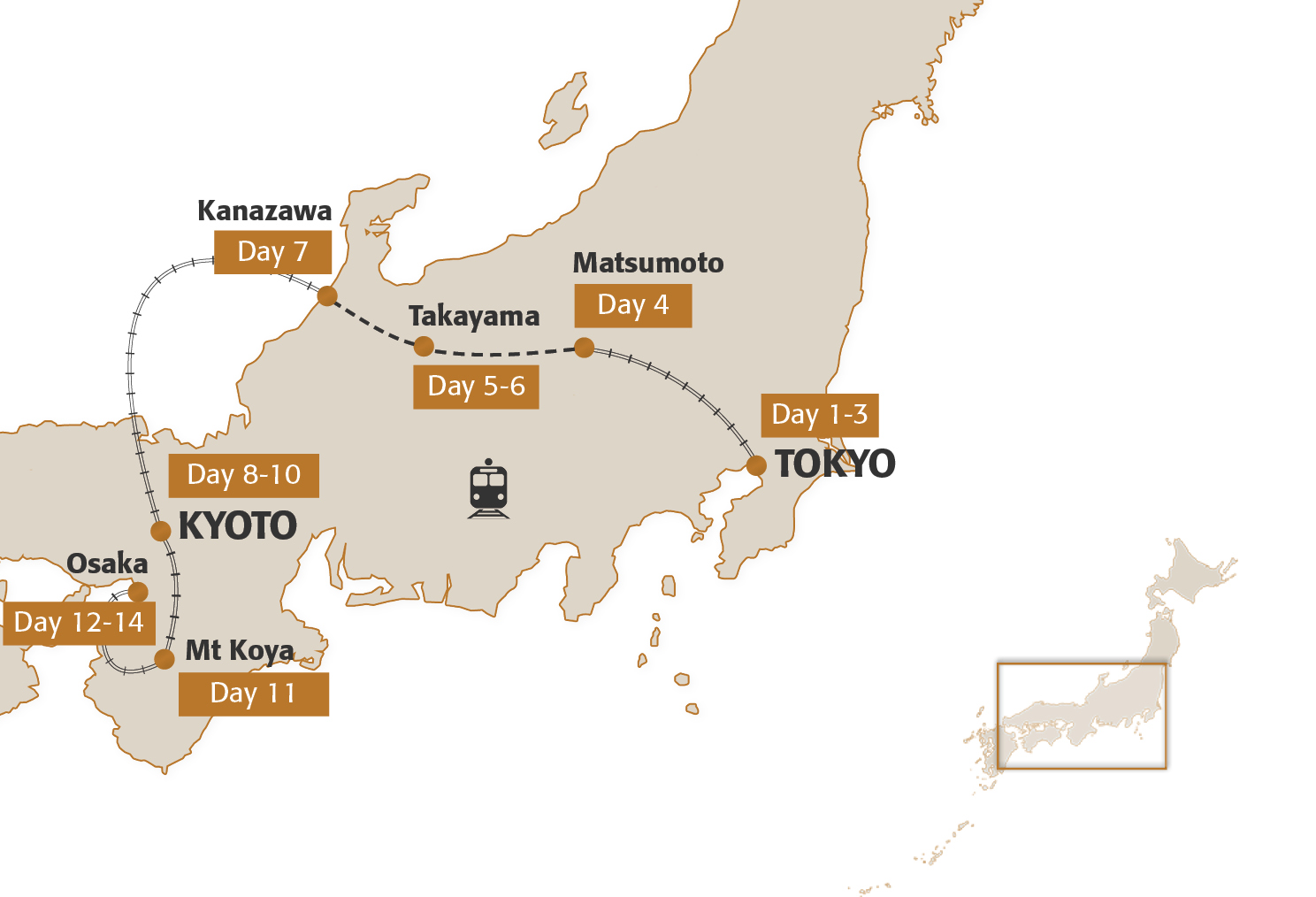 Gastronomic Adventure - 14 Days - Day by Day
Gastronomic Adventure - 14 Days - Accommodation
Gastronomic Adventure - 14 Days - Experiences
Day 1-3

Discover a Japanese institution at an izakaya, check out the city's top sights with an expert local guide, and treat yourself to the world's freshest sushi at Tsukiji Fish Market.

Welcome to Japan! On arrival at Narita Airport you will be driven by private car to your hotel in the Shiodome district, where the rest of the day will be free to explore at your leisure.

Hamarikyu Gardens are very nearby, offering you the opportunity to try a tea ceremony in the traditional teahouse overlooking the lake. From here we recommend taking the waterbus along the Sumida River to Asakusa, the most traditional district of Tokyo.

This evening, one of our tour leaders will be taking you out for dinner at a local izakaya restaurant for an introduction to Japanese cuisine, where they will show you some more unusual dishes and guide you through the etiquette of dining out in Japan. After dinner, let your tour leader know if you fancy checking out some of the local bars as well.

On your second day you will be exploring Tokyo with a private local guide. The itinerary is completely flexible and your guide will have lots of great ideas for the day – as well as being on hand to answer any questions about Japanese culture, language and food.

Take advantage of this time to visit Meiji Shrine, people-watch in Yoyogi Park, discover the museums of Ueno and much more. Your personalised Info-Pack will include lots of suggestions if you would like to think of some ideas in advance.

Day three will begin early with the famous tuna auctions at Tsukiji Fish Market. Your guide will meet you at your hotel at around 3.30am and you will travel to the market together by taxi. Because of the popularity of the auctions the market has had to limit group sizes, so by aiming to join the first group of the day you will ensure the best chance of being allowed in.

Seeing the auction is a fantastic experience and your guide will be able to explain exactly what is going on and how the market works. After the auctions a sushi breakfast is included – the perfect way to finish up your early morning adventure! The rest of the day is free to continue discovering Tokyo at your leisure.

Overnight: Park Hotel Tokyo

Day 4

Try your hand at the art of noodle-making in the highland town of Matsumoto, famous for its impressive

The next stop on your itinerary will be Matsumoto, accessible by direct express train through the mountains of Nagano. The "Black Crow" castle here is one of Japan's finest, and looks particularly impressive set against its dramatic, mountainous backdrop.

We will arrange a soba noodle-making class for you this afternoon at a 130-year-old shop near the castle. Here you will be able to try your hand at making Matsumoto's speciality dish before spending the rest of the day exploring the town's traditional quarter or visiting the art museum.

If you are feeling brave, try Matsumoto's other speciality – basashi (raw horse) – for dinner!

Overnight: Buena Vista Hotel

Day 5-6

Turn down the pace as you explore the morning markets, admire the thatched folk village and sip the local sake in the alpine craft town of Takayama.

Today you will take a scenic bus ride through the Japanese Alps to Takayama. Known for its traditional craft districts and the Hida Folk Village with its steeply-thatched buildings, Takayama is certainly a sharp contrast to Tokyo!

Dinner tonight will be a sumptuous kaiseki multi-course affair at your traditional Japanese ryokan inn, including plenty of local specialities (known as meibutsu).

After a restful night in your ryokan you will have a full day to discover the sights and sounds of Takayama. We recommend a visit to the Festival Float Museum where you can find out about the town's famous spring and autumn festivals.

The lively morning markets along the river are worth exploring for fresh produce and souvenirs such as the local sarubobo good luck charm, and a wander through the old wooden buildings of the Sannomachi area will reveal plenty of sake breweries where you can sample Takayama's other speciality!

For dinner, we highly recommend trying Hida beef, a lesser-known relative of the more famous Kobe beef. It is exquisite, and an absolute must for meat-eaters this evening!

Overnight: Tanabe Ryokan

Day 7

After a morning in the picturesque mountain village of Shirakawa-go, find yourself transported to the Japan of yesteryear as you wander the samurai quarter and old teahouse districts of coastal Kanazawa.

From Takayama, you will take a bus to Shirakawa-go, a UNESCO World Heritage Site famous for its traditional gassho-zukuri farmhouses – some of which are more than 250 years old.

Next, you will continue on by bus to Kanazawa on Japan's western coast. Here you will have a full afternoon to explore the old Nagamachi samurai quarter, the traditional teahouse districts, the spectacular Kenroku-en (one of Japan's top three landscape gardens), or perhaps the intriguing 21st Century Art Museum.

Your Info-Pack will include details on all these sights as well as restaurant suggestions for dinner.

Overnight: Nikko Hotel Kanazawa

Day 8-10

Go geisha-spotting, eat elaborate kaiseki cuisine and have a lesson in Japanese home-cooking – all in Kyoto, the "City of Ten Thousand Temples".

Travelling south from Kanazawa by express train, you will arrive in Kyoto around lunchtime with the rest of the day to discover the city.

Kyoto was the capital of Japan for over 1,000 years, so it's no surprise that the city is steeped in history and packed full of fascinating sights. Shrines, temples and gardens – 17 of which are UNESCO World Heritage Sites – are to be found on every corner, and you may even spot a geisha in the Gion district at dusk!

Be sure to head out for some kaiseki cuisine this evening using our restaurant recommendations as a guide.

The next day, a private local guide will meet you at your hotel to take you on a full day tour of the city. There is no better way to get to know Kyoto than by experiencing it with a knowledgeable local, and you'll visit a mixture of major highlights – such as Kinkaku-ji's Golden Pavilion and Kiyomizu-dera – and less frequented locations like the gardens at Tofuku-ji.

This evening we recommend dining at the Tempura Endo Yasaka, one of InsideJapan's favourite restaurants. The restaurant is famous for its tempura dishes: lightly battered vegetables and seafood served piping hot with dipping sauce, salt or grated radish.(Please note that while we will make the Tempura Endo reservation, you will need to pay on the day for this meal.)

On your final day in Kyoto you will be participating in a private cooking class at a real Japanese home. You'll be met at your hotel by an assistant and brought to the house by taxi, where you will learn to cook some simple Japanese dishes such as sushi, tempura and teriyaki chicken.

This is a great way to learn about Japanese cooking and get a peek inside a proper Japanese home! The rest of your day will be free to explore Kyoto. We suggest relaxing by the Hozugawa River and bamboo groves in the Arashiyama district, or shopping for gifts in the streets around the Higashiyama temple area.

Overnight: Granvia

Day 11

Get in touch with your spiritual side as you stay at a shukubo temple lodging and try traditional Buddhist cuisine at mysterious Mount Koya, the home of Shingon Buddhism.

The next stop on your adventure is Mount Koya, the spiritual home of Shingon Buddhism. You will take the train to the Kii Peninsula followed by the funicular railway to Mount Koya, arriving in time for the afternoon ritual at your shukubo temple lodging.

The eerie but beautiful Okunoin mausoleum, home to thousands of tombstones set amongst towering evergreen trees, makes for a hauntingly atmospheric visit – especially at dusk or in the early morning.

The temple where you'll be staying serves an elaborate, vegetarian shojin ryori feast in the evening, consisting of konyaku (root vegetable jelly), tempura vegetables, chrysanthemum flowers, tofu, noodles, and much more.

Overnight: Fudoin Shukubo

Day 12

Treat yourself to an evening street food tour of Osaka, famous throughout Japan for its vibrant character and mouth-watering culinary offerings.

After breakfast and morning prayers at your lodging you will exchange the tranquillity of Mount Koya for bold, brash Osaka - and there could hardly be a more striking contrast!

We suggest spending the afternoon visiting the castle, the famed city aquarium with its whale sharks, or the architecturally dizzying Umeda Sky Building.

This evening, our resident local guide will be introducing you to the food paradise of Dotonbori on a street food tour of the city. The district you'll be exploring is where Osakans come to celebrate when their local baseball or football team win the league – or just whenever they can think of an excuse!

Dinner is included tonight, and you'll have the opportunity to try all the local specialities – from kushikatsu (skewered vegetables and meat dishes), to takoyaki (the famous octopus balls) to okonomiyaki (Japanese-style pancakes).

Overnight: Swissôtel Nankai Osaka

Day 13-14

Round off your gastronomic adventure with a food finale in Shinjuku, one of Tokyo's liveliest and most exciting inner-city districts.

Today you will head back to Tokyo by Nozomi Shinkansen, the very fastest of the bullet trains with a top speed of 300 kph (186 mph)!

Once back in the capital, you will have one night to enjoy the bewildering array of entertainment options in Shinjuku, one of Tokyo's most popular districts and the location of your hotel for tonight.

Head to an izakaya for one last gastronomic blow-out and enjoy the bars and karaoke joints afterwards for a real experience of Tokyo's famous nightlife!

Eventually your adventures in Japan must come to an end, and on your final day you will be picked up from your hotel by private car and escorted in comfort to Narita Airport in time for your flight. Have a safe journey home.

Overnight: Hilton Shinjuku
View all days
Day 1-3

Discover a Japanese institution at an izakaya, check out the city's top sights with an expert local guide, and treat yourself to the world's freshest sushi at Tsukiji Fish Market.

Welcome to Japan! On arrival at Narita Airport you will be driven by private car to your hotel in the Shiodome district, where the rest of the day will be free to explore at your leisure.

Hamarikyu Gardens are very nearby, offering you the opportunity to try a tea ceremony in the traditional teahouse overlooking the lake. From here we recommend taking the waterbus along the Sumida River to Asakusa, the most traditional district of Tokyo.

This evening, one of our tour leaders will be taking you out for dinner at a local izakaya restaurant for an introduction to Japanese cuisine, where they will show you some more unusual dishes and guide you through the etiquette of dining out in Japan. After dinner, let your tour leader know if you fancy checking out some of the local bars as well.

On your second day you will be exploring Tokyo with a private local guide. The itinerary is completely flexible and your guide will have lots of great ideas for the day – as well as being on hand to answer any questions about Japanese culture, language and food.

Take advantage of this time to visit Meiji Shrine, people-watch in Yoyogi Park, discover the museums of Ueno and much more. Your personalised Info-Pack will include lots of suggestions if you would like to think of some ideas in advance.

Day three will begin early with the famous tuna auctions at Tsukiji Fish Market. Your guide will meet you at your hotel at around 3.30am and you will travel to the market together by taxi. Because of the popularity of the auctions the market has had to limit group sizes, so by aiming to join the first group of the day you will ensure the best chance of being allowed in.

Seeing the auction is a fantastic experience and your guide will be able to explain exactly what is going on and how the market works. After the auctions a sushi breakfast is included – the perfect way to finish up your early morning adventure! The rest of the day is free to continue discovering Tokyo at your leisure.

Overnight: Park Hotel Tokyo

Day 4

Try your hand at the art of noodle-making in the highland town of Matsumoto, famous for its impressive

The next stop on your itinerary will be Matsumoto, accessible by direct express train through the mountains of Nagano. The "Black Crow" castle here is one of Japan's finest, and looks particularly impressive set against its dramatic, mountainous backdrop.

We will arrange a soba noodle-making class for you this afternoon at a 130-year-old shop near the castle. Here you will be able to try your hand at making Matsumoto's speciality dish before spending the rest of the day exploring the town's traditional quarter or visiting the art museum.

If you are feeling brave, try Matsumoto's other speciality – basashi (raw horse) – for dinner!

Overnight: Buena Vista Hotel

Day 5-6

Turn down the pace as you explore the morning markets, admire the thatched folk village and sip the local sake in the alpine craft town of Takayama.

Today you will take a scenic bus ride through the Japanese Alps to Takayama. Known for its traditional craft districts and the Hida Folk Village with its steeply-thatched buildings, Takayama is certainly a sharp contrast to Tokyo!

Dinner tonight will be a sumptuous kaiseki multi-course affair at your traditional Japanese ryokan inn, including plenty of local specialities (known as meibutsu).

After a restful night in your ryokan you will have a full day to discover the sights and sounds of Takayama. We recommend a visit to the Festival Float Museum where you can find out about the town's famous spring and autumn festivals.

The lively morning markets along the river are worth exploring for fresh produce and souvenirs such as the local sarubobo good luck charm, and a wander through the old wooden buildings of the Sannomachi area will reveal plenty of sake breweries where you can sample Takayama's other speciality!

For dinner, we highly recommend trying Hida beef, a lesser-known relative of the more famous Kobe beef. It is exquisite, and an absolute must for meat-eaters this evening!

Overnight: Tanabe Ryokan

Day 7

After a morning in the picturesque mountain village of Shirakawa-go, find yourself transported to the Japan of yesteryear as you wander the samurai quarter and old teahouse districts of coastal Kanazawa.

From Takayama, you will take a bus to Shirakawa-go, a UNESCO World Heritage Site famous for its traditional gassho-zukuri farmhouses – some of which are more than 250 years old.

Next, you will continue on by bus to Kanazawa on Japan's western coast. Here you will have a full afternoon to explore the old Nagamachi samurai quarter, the traditional teahouse districts, the spectacular Kenroku-en (one of Japan's top three landscape gardens), or perhaps the intriguing 21st Century Art Museum.

Your Info-Pack will include details on all these sights as well as restaurant suggestions for dinner.

Overnight: Nikko Hotel Kanazawa

Day 8-10

Go geisha-spotting, eat elaborate kaiseki cuisine and have a lesson in Japanese home-cooking – all in Kyoto, the "City of Ten Thousand Temples".

Travelling south from Kanazawa by express train, you will arrive in Kyoto around lunchtime with the rest of the day to discover the city.

Kyoto was the capital of Japan for over 1,000 years, so it's no surprise that the city is steeped in history and packed full of fascinating sights. Shrines, temples and gardens – 17 of which are UNESCO World Heritage Sites – are to be found on every corner, and you may even spot a geisha in the Gion district at dusk!

Be sure to head out for some kaiseki cuisine this evening using our restaurant recommendations as a guide.

The next day, a private local guide will meet you at your hotel to take you on a full day tour of the city. There is no better way to get to know Kyoto than by experiencing it with a knowledgeable local, and you'll visit a mixture of major highlights – such as Kinkaku-ji's Golden Pavilion and Kiyomizu-dera – and less frequented locations like the gardens at Tofuku-ji.

This evening we recommend dining at the Tempura Endo Yasaka, one of InsideJapan's favourite restaurants. The restaurant is famous for its tempura dishes: lightly battered vegetables and seafood served piping hot with dipping sauce, salt or grated radish.(Please note that while we will make the Tempura Endo reservation, you will need to pay on the day for this meal.)

On your final day in Kyoto you will be participating in a private cooking class at a real Japanese home. You'll be met at your hotel by an assistant and brought to the house by taxi, where you will learn to cook some simple Japanese dishes such as sushi, tempura and teriyaki chicken.

This is a great way to learn about Japanese cooking and get a peek inside a proper Japanese home! The rest of your day will be free to explore Kyoto. We suggest relaxing by the Hozugawa River and bamboo groves in the Arashiyama district, or shopping for gifts in the streets around the Higashiyama temple area.

Overnight: Granvia

Day 11

Get in touch with your spiritual side as you stay at a shukubo temple lodging and try traditional Buddhist cuisine at mysterious Mount Koya, the home of Shingon Buddhism.

The next stop on your adventure is Mount Koya, the spiritual home of Shingon Buddhism. You will take the train to the Kii Peninsula followed by the funicular railway to Mount Koya, arriving in time for the afternoon ritual at your shukubo temple lodging.

The eerie but beautiful Okunoin mausoleum, home to thousands of tombstones set amongst towering evergreen trees, makes for a hauntingly atmospheric visit – especially at dusk or in the early morning.

The temple where you'll be staying serves an elaborate, vegetarian shojin ryori feast in the evening, consisting of konyaku (root vegetable jelly), tempura vegetables, chrysanthemum flowers, tofu, noodles, and much more.

Overnight: Fudoin Shukubo

Day 12

Treat yourself to an evening street food tour of Osaka, famous throughout Japan for its vibrant character and mouth-watering culinary offerings.

After breakfast and morning prayers at your lodging you will exchange the tranquillity of Mount Koya for bold, brash Osaka - and there could hardly be a more striking contrast!

We suggest spending the afternoon visiting the castle, the famed city aquarium with its whale sharks, or the architecturally dizzying Umeda Sky Building.

This evening, our resident local guide will be introducing you to the food paradise of Dotonbori on a street food tour of the city. The district you'll be exploring is where Osakans come to celebrate when their local baseball or football team win the league – or just whenever they can think of an excuse!

Dinner is included tonight, and you'll have the opportunity to try all the local specialities – from kushikatsu (skewered vegetables and meat dishes), to takoyaki (the famous octopus balls) to okonomiyaki (Japanese-style pancakes).

Overnight: Swissôtel Nankai Osaka

Day 13-14

Round off your gastronomic adventure with a food finale in Shinjuku, one of Tokyo's liveliest and most exciting inner-city districts.

Today you will head back to Tokyo by Nozomi Shinkansen, the very fastest of the bullet trains with a top speed of 300 kph (186 mph)!

Once back in the capital, you will have one night to enjoy the bewildering array of entertainment options in Shinjuku, one of Tokyo's most popular districts and the location of your hotel for tonight.

Head to an izakaya for one last gastronomic blow-out and enjoy the bars and karaoke joints afterwards for a real experience of Tokyo's famous nightlife!

Eventually your adventures in Japan must come to an end, and on your final day you will be picked up from your hotel by private car and escorted in comfort to Narita Airport in time for your flight. Have a safe journey home.

Overnight: Hilton Shinjuku
Close all days
Other trips you may like
Tokyo
Fukuoka
Yufuin
Kirishima National Park
Kagoshima
Hiroshima
Kyoto
Tokyo

Mix traditional elegance and modern style, vast cities and sweeping countryside on this luxurious rail journey through Japan.

13 nights: from US$17766 pp (twin share) Read more >

Tokyo
Tsurui
Rausu
Nemuro
Kushiro
Tokyo

Enjoy some fantastic bird-watching on Japan's snow-swept northern island of Hokkaido

10 nights: from US$3712 pp (twin share) Read more >

Yunomine Onsen
Koguchi
Nachi

Add this advanced hiking module to a longer trip and discover the ancient pilgrimage trails of the Kumano Kodo.

3 nights: from US$796 pp (twin share) Read more >