Self-Guided Adventure
Best of Japan
14 Nights: from US$4147 per person (twin share)
Trip Code: BOJC
With two weeks to see the best of Japan's classic sights you can't beat this fantastic itinerary. Packed with contrasts, you are sure to get an insight into many aspects of Japan and its culture – past, present and future. Read more >
Your journey starts and ends in Tokyo, an immense, futuristic city made up of a host of distinct neighbourhoods each with its own unique character. With a wonderful abundance of street-level detail, Tokyo is a city that never fails to amaze visitors.
The perfect counterpoint to Tokyo is Kyoto, capital of Japan for over one thousand years and home to many of the country's finest temples, shrines and gardens - including a remarkable 17 UNESCO World Heritage sites! Just down the railway tracks you will sample some of Japan's best food and drink in Kyoto's lively neighbour, Osaka. Following this, you'll head down the western seaboard to Hiroshima, a city that looks to the future whilst acknowledging its past.
Carefully woven amongst your urban stays are visits to more rural parts of Japan. In Hakone National Park you'll experience the steaming volcanic hot springs and natural beauty to be found in the foothills of Mount Fuji. High in the Japanese Alps, in the well-preserved historic town of Takayama, you will find traditional crafts, sake breweries and morning markets.
We believe that cultural experiences are the key to a fantastic trip to Japan, and this trip is packed with them. Riding the famous Shinkansen bullet train, enjoying traditional Japanese hospitality at an authentic ryokan inn, spotting a geisha scurrying from one teahouse to another in Kyoto, and wandering through Tokyo's eye-popping neon districts are just a few of the fascinating experiences that make this itinerary so stimulating and exciting.
What's included
14 nights' accommodation (six nights Japanese style)

Breakfast every day and five evening meals

All transport between destinations

Airport transfers

14-day Japan Rail Pass

Hakone Free Pass for local transport in the Hakone region

Manaca transport card with 2,500 yen credit for city transport

Eight-hour private guide service in Tokyo and Kyoto

Group walking tour of Gion

Half-day cycle ride in Takayama

Pocket WiFi device

Your personalised InsideJapan Tours Info-Pack
What's NOT included:
International flights

Local transport (buses, subways, taxis) at any destination unless otherwise specified

Any entrance fees including those for shrines, temples and museums

Baggage handling and luggage forwarding
Trip Highlights
Stay in an authentic minshuku inn in Takayama

Discover the neon lights of Tokyo

Cycle through traditional Hida villages
Relax in Hakone's hot spring baths

Explore Kyoto's shrines and temples

Take the cable car up Mount Misen on Miyajima Island
For more information email us: [email protected] or call: + 44 117 244 3380
What, where, when and how...
Best of Japan - 15 Days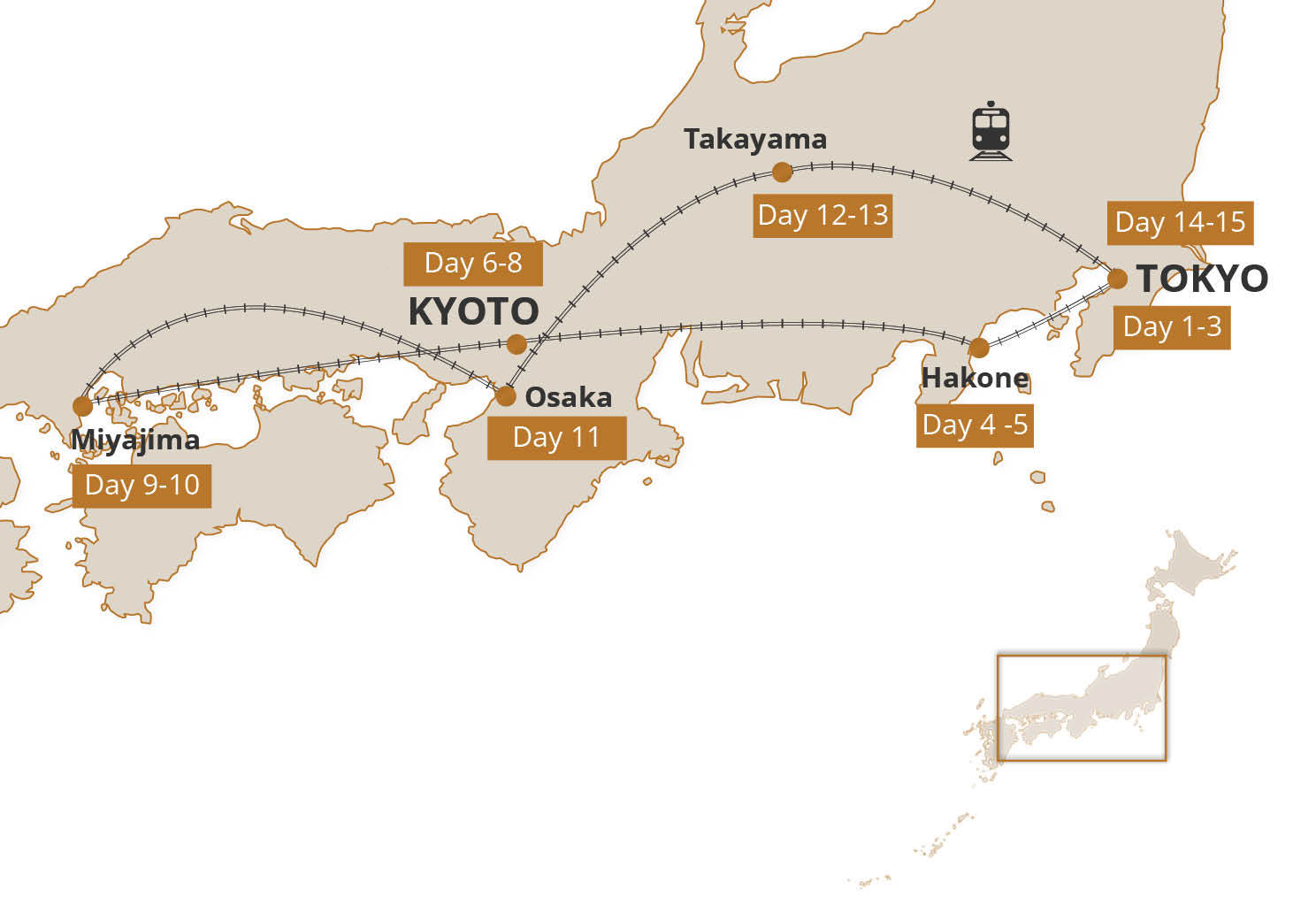 Best of Japan - 15 Days - Day by Day
Best of Japan - 15 Days - Accommodation
Day 1-3

Discover the contrasts of modern Tokyo and take an optional day-trip to one of the many fascinating destinations outside the city

You will be based in Tokyo's historic Asakusa, famed for its bustling market street, Nakamise Dori, which leads up to the oldest temple in the city: Senso-ji. Here you can wend your way through curious streets filled with Kabuki theatres and rustic bars that reflect Asakusa's glory days as the entertainment district of Edo (old Tokyo).

From Asakusa you might also like to board a boat down to Tokyo Bay, passing under the famous Rainbow Bridge to the man-made island of Odaiba – a glowing, futuristic paradise.

You will spend your second day with a private guide on a tour of the city, making use of Tokyo's world-class public transport network. Marvel at the green haven of Hamarikyu gardens surrounded by high-rise buildings, watch out for a wedding party at Meiji Shrine or visit Akihabara to wander through the electronic shops and manga cafes – your guide will take you anywhere you'd like to go.

If you fancy a break from the big city, on day three you'll have the chance to head out of Tokyo to one of the many fascinating destinations that lie just an hour or two away by train.

Nikko, to the north of Tokyo, is the final resting place for members of the most powerful clan of Japan's past – the Tokugawa family. The elaborate shrine complex here is a stark contrast to the more modest temples you will see during the rest of your trip!

South of Tokyo, coastal Kamakura is equally worthwhile as a day trip, offering a laid-back atmosphere, several temples, and a giant stone Buddha.

Overnight: Gracery Asakusa Hotel

Day 4-5

Relax in a hot spring and soak up the beautiful natural scenery of Fuji-Hakone National Park

Your first trip on the bullet train will take you to Odawara, the gateway to Fuji-Hakone National Park. After a scenic bus journey into the mountains, you will arrive the hot spring town of Hakone where a stay at a traditional ryokan awaits.

Your afternoon will be free to spend exploring this area using your Hakone Free Pass and your personalised Info-Pack as your guide.

Hakone has plenty to see and do, from tasting eggs boiled in volcanic waters to taking a boat trip across beautiful Lake Ashi.

The outdoor sculpture park and Picasso gallery are great to wander around for an afternoon – or maybe you will just sit back and relax in one of the many therapeutic hot spring baths that the area is famous for.

Hakone also boasts some of the best views of Mount Fuji – but make sure you have your camera at the ready as Fuji-san is notoriously shy!

Overnight: Ichinoyu Susukinohara

Day 6-8

Find modernity rubbing shoulders with history in the former capital city, Kyoto

On day six you will be whisked southwards on the bullet train to Kyoto, a must for all trips to Japan. Arriving at the massive architectural masterpiece that is Kyoto Station you would be forgiven for thinking that this is just another modern, glass-and-concrete city, but a short walk from your hotel will quickly prove otherwise.

Kyoto is a city alive with history and culture with a temple on every corner, and you'll spend your first evening on a group walking tour through Kyoto's Gion district. Here, if you're lucky, you'll catch a glimpse of one of Kyoto's elusive geisha making her way between her evening appointments!

On day seven you will have a full day to explore Kyoto – and the options are endless. To help you maximise your time, a private guide will meet you at your hotel and take you a tour of the city's top spots – from world-famous heritage sites like the Golden Pavilion to little-known hideaways such as Tofuku-ji Temple.

If you have any particular preferences for the day feel free to let us know in advance, or you can just take advantage of your guide's local expertise.

On your third day in Kyoto you will have more time to explore the delights of the city independently. Perhaps you'd like to go food shopping at Nishiki Market, or hire a bike to discover the spacious Imperial Palace grounds.

Or, perhaps you'd prefer to visit Ryoan-ji's Zen garden, count the vermillion torii gates at Fushimi Inari Shrine, and test the anti-ninja security measures at Nijo Castle. A day trip to Nara, another ancient capital of Japan, is also highly recommended. The choice is yours!

Overnight: Intergate Kyoto Shijo Shinmachi

Day 9-10

Visit Miyajima Island, home to one of Japan's most iconic views

More enchanting scenery and culture awaits you on Miyajima Island, just off the coast of Hiroshima in the Seto Inland Sea National Park. Here you will be staying in a Japanese-style ryokan with a treat of an evening meal included.

This tranquil island is famous for Itsukushima shrine with its "floating" red torii gate - and for the resident monkeys and deer!

On your second day in Miyajima we recommend taking a trip to Hiroshima, where a visit to the Peace Park and Atomic Bomb Museum are a must. The city will be forever linked to the tragic events of August 6th 1945, yet today you will find a friendly, bustling city many times the size of wartime Hiroshima.

Don't forget to try Hiroshima's famous savoury pancakes - okonomiyaki - for lunch.

Overnight: Yamaichi Bekkan

Day 11

Explore vibrant Osaka, famous for its delicious food and fun-loving atmosphere

Travelling back to the mainland, you will head back east to the vibrant, laid-back city of Osaka. Here you will be staying in the exciting Nanba district – a short walk from the iconic Glico "running man" in the heart of Dotonbori's entertainment arcades.

Don't forget to head over to Osaka castle, set in a lovely park, where street food stalls abound.

Overnight: Cross Hotel Osaka

Day 12-13

Swap city lights for mountain scenery as you discover the Japanese Alps by bicycle in the picturesque Hida district

On day twelve, hop on board the Shinkansen and speed west to Nagoya, before wending your way through beautiful alpine scenery on an express train to Takayama.

Takayama was renowned throughout the Edo Period (1603-1868) for the high quality of its craftsmen, many of whom worked on some of the great temples of Kyoto. During your stay we recommend that you visit the Hida Folk Village, an open-air museum filled with traditional rural buildings, and take some time to learn about the town's famous festivals at the Festival Float Museum.

A delicious kaiseki-style meal is included at your family-run inn tonight.

After a restful night's sleep you will have the opportunity to head deeper into rural Japan and take a cycling tour through the rice fields and farming villages of Hida, accompanied by an English-speaking guide.

As well as the beautiful mountain scenery the tour will visit a natural spring, a local temple, minka farmhouses and an orchard. After this insight into traditional life, your afternoon will be free to continue exploring Takayama.

Meat lovers must try the local Hida beef – arguably as good as the more famous Kobe variety!

Overnight: Yamakyu

Day 14-15

Conclude your trip amongst the towering skyscrapers of Shinjuku

Leaving the Japanese Alps behind, today you will return to Tokyo for a taste of the high rise area of West Shinjuku, the location of several scenes from the famous film Lost in Translation.

Although skyscrapers now appear all over the city, this area still holds its own in terms of modern architecture, crowded with monolithic structures such as the NS building with its giant pendulum, the award-winning Cocoon Tower, and the towering Tokyo Metropolitan Government Building with its dizzying views across the city.

On the east side of Shinjuku you will find Tokyo's largest entertainment district, Kabuki-cho. There's never a dull moment in Shinjuku and your stay here will certainly leave an indelible impression!

Day 15 will see your adventures in Japan come to an end, and this morning you will be catching a shared shuttle bus from your hotel to the airport in plenty of time for your flight home.

Overnight: JR Kyushu Blossom Shinjuku
View all days
Day 1-3

Discover the contrasts of modern Tokyo and take an optional day-trip to one of the many fascinating destinations outside the city

You will be based in Tokyo's historic Asakusa, famed for its bustling market street, Nakamise Dori, which leads up to the oldest temple in the city: Senso-ji. Here you can wend your way through curious streets filled with Kabuki theatres and rustic bars that reflect Asakusa's glory days as the entertainment district of Edo (old Tokyo).

From Asakusa you might also like to board a boat down to Tokyo Bay, passing under the famous Rainbow Bridge to the man-made island of Odaiba – a glowing, futuristic paradise.

You will spend your second day with a private guide on a tour of the city, making use of Tokyo's world-class public transport network. Marvel at the green haven of Hamarikyu gardens surrounded by high-rise buildings, watch out for a wedding party at Meiji Shrine or visit Akihabara to wander through the electronic shops and manga cafes – your guide will take you anywhere you'd like to go.

If you fancy a break from the big city, on day three you'll have the chance to head out of Tokyo to one of the many fascinating destinations that lie just an hour or two away by train.

Nikko, to the north of Tokyo, is the final resting place for members of the most powerful clan of Japan's past – the Tokugawa family. The elaborate shrine complex here is a stark contrast to the more modest temples you will see during the rest of your trip!

South of Tokyo, coastal Kamakura is equally worthwhile as a day trip, offering a laid-back atmosphere, several temples, and a giant stone Buddha.

Overnight: Gracery Asakusa Hotel

Day 4-5

Relax in a hot spring and soak up the beautiful natural scenery of Fuji-Hakone National Park

Your first trip on the bullet train will take you to Odawara, the gateway to Fuji-Hakone National Park. After a scenic bus journey into the mountains, you will arrive the hot spring town of Hakone where a stay at a traditional ryokan awaits.

Your afternoon will be free to spend exploring this area using your Hakone Free Pass and your personalised Info-Pack as your guide.

Hakone has plenty to see and do, from tasting eggs boiled in volcanic waters to taking a boat trip across beautiful Lake Ashi.

The outdoor sculpture park and Picasso gallery are great to wander around for an afternoon – or maybe you will just sit back and relax in one of the many therapeutic hot spring baths that the area is famous for.

Hakone also boasts some of the best views of Mount Fuji – but make sure you have your camera at the ready as Fuji-san is notoriously shy!

Overnight: Ichinoyu Susukinohara

Day 6-8

Find modernity rubbing shoulders with history in the former capital city, Kyoto

On day six you will be whisked southwards on the bullet train to Kyoto, a must for all trips to Japan. Arriving at the massive architectural masterpiece that is Kyoto Station you would be forgiven for thinking that this is just another modern, glass-and-concrete city, but a short walk from your hotel will quickly prove otherwise.

Kyoto is a city alive with history and culture with a temple on every corner, and you'll spend your first evening on a group walking tour through Kyoto's Gion district. Here, if you're lucky, you'll catch a glimpse of one of Kyoto's elusive geisha making her way between her evening appointments!

On day seven you will have a full day to explore Kyoto – and the options are endless. To help you maximise your time, a private guide will meet you at your hotel and take you a tour of the city's top spots – from world-famous heritage sites like the Golden Pavilion to little-known hideaways such as Tofuku-ji Temple.

If you have any particular preferences for the day feel free to let us know in advance, or you can just take advantage of your guide's local expertise.

On your third day in Kyoto you will have more time to explore the delights of the city independently. Perhaps you'd like to go food shopping at Nishiki Market, or hire a bike to discover the spacious Imperial Palace grounds.

Or, perhaps you'd prefer to visit Ryoan-ji's Zen garden, count the vermillion torii gates at Fushimi Inari Shrine, and test the anti-ninja security measures at Nijo Castle. A day trip to Nara, another ancient capital of Japan, is also highly recommended. The choice is yours!

Overnight: Intergate Kyoto Shijo Shinmachi

Day 9-10

Visit Miyajima Island, home to one of Japan's most iconic views

More enchanting scenery and culture awaits you on Miyajima Island, just off the coast of Hiroshima in the Seto Inland Sea National Park. Here you will be staying in a Japanese-style ryokan with a treat of an evening meal included.

This tranquil island is famous for Itsukushima shrine with its "floating" red torii gate - and for the resident monkeys and deer!

On your second day in Miyajima we recommend taking a trip to Hiroshima, where a visit to the Peace Park and Atomic Bomb Museum are a must. The city will be forever linked to the tragic events of August 6th 1945, yet today you will find a friendly, bustling city many times the size of wartime Hiroshima.

Don't forget to try Hiroshima's famous savoury pancakes - okonomiyaki - for lunch.

Overnight: Yamaichi Bekkan

Day 11

Explore vibrant Osaka, famous for its delicious food and fun-loving atmosphere

Travelling back to the mainland, you will head back east to the vibrant, laid-back city of Osaka. Here you will be staying in the exciting Nanba district – a short walk from the iconic Glico "running man" in the heart of Dotonbori's entertainment arcades.

Don't forget to head over to Osaka castle, set in a lovely park, where street food stalls abound.

Overnight: Cross Hotel Osaka

Day 12-13

Swap city lights for mountain scenery as you discover the Japanese Alps by bicycle in the picturesque Hida district

On day twelve, hop on board the Shinkansen and speed west to Nagoya, before wending your way through beautiful alpine scenery on an express train to Takayama.

Takayama was renowned throughout the Edo Period (1603-1868) for the high quality of its craftsmen, many of whom worked on some of the great temples of Kyoto. During your stay we recommend that you visit the Hida Folk Village, an open-air museum filled with traditional rural buildings, and take some time to learn about the town's famous festivals at the Festival Float Museum.

A delicious kaiseki-style meal is included at your family-run inn tonight.

After a restful night's sleep you will have the opportunity to head deeper into rural Japan and take a cycling tour through the rice fields and farming villages of Hida, accompanied by an English-speaking guide.

As well as the beautiful mountain scenery the tour will visit a natural spring, a local temple, minka farmhouses and an orchard. After this insight into traditional life, your afternoon will be free to continue exploring Takayama.

Meat lovers must try the local Hida beef – arguably as good as the more famous Kobe variety!

Overnight: Yamakyu

Day 14-15

Conclude your trip amongst the towering skyscrapers of Shinjuku

Leaving the Japanese Alps behind, today you will return to Tokyo for a taste of the high rise area of West Shinjuku, the location of several scenes from the famous film Lost in Translation.

Although skyscrapers now appear all over the city, this area still holds its own in terms of modern architecture, crowded with monolithic structures such as the NS building with its giant pendulum, the award-winning Cocoon Tower, and the towering Tokyo Metropolitan Government Building with its dizzying views across the city.

On the east side of Shinjuku you will find Tokyo's largest entertainment district, Kabuki-cho. There's never a dull moment in Shinjuku and your stay here will certainly leave an indelible impression!

Day 15 will see your adventures in Japan come to an end, and this morning you will be catching a shared shuttle bus from your hotel to the airport in plenty of time for your flight home.

Overnight: JR Kyushu Blossom Shinjuku
Close all days
Other trips you may like
Tokyo
Kawaguchiko
Matsumoto
Kyoto
Matsue
Naoshima
Tokyo

The best of Japan's arts scene, from Naoshima "Art Island" to the Adachi Museum, with moderate accommodation and some delicious meals included.

14 nights: from US$3666 pp (twin share) Read more >

Tokyo
Kawaguchiko
Matsumoto
Kyoto
Matsue
Naoshima
Tokyo

This deluxe itinerary introduces the best of Japan's arts scene, with five-star accommodation, exclusive experiences and top-class cuisine included.

14 nights: from US$13897 pp (twin share) Read more >

Enjoy an easy-breezy trip to Japan on this two-centre family holiday.

10 nights: from US$6929 (per family) Read more >