Self-Guided Adventure
Best of Japan
14 Nights: from US$6916 per person (twin share)
Trip Code: BOJS
This trip showcases the striking contrasts to be found throughout Japan, taking you from vibrant modern cities to charming market towns, up into mountainous rural countryside and through the varied coastal regions. Read more >

Beginning in the modern megalopolis of Tokyo and travelling south on the bullet train to the Fuji-Hakone National Park, you will be amazed by the surprises and contradictions to be found in such a small area of this diverse country. As far as we're concerned, there are few things more impressive than the sight of Mount Fuji emerging from the clouds, or more relaxing than soaking in a soothing hot spring bath.
After visiting Hakone you will spend the next three days exploring the historic temples, shrines and gardens in the cultural heart of Japan: Kyoto. Continuing west from here you'll then travel west to Miyajima, an island just across the water from Hiroshima and one of the most scenic places in all Japan.
Although Miyajima is always thronged with tourists during the day, most visitors head home by late afternoon leaving a wonderful after-dark atmosphere for the lucky few who remain. Make sure you take this chance to stroll down to the shrine and the illuminated torii gate in the early evening.
Your next destination will take you deep into the Japanese Alps, where you'll be exploring the picturesque historical town of Takayama. Here the old streets have been carefully preserved to show off the original architecture of this old artisanal centre to its best advantage, and the spectacular festivals held here every spring and autumn are justly famous throughout Japan.
Over the course of your trip you will also have endless opportunities to sample the local Japanese cuisine, explore a fantastic array of shopping opportunities and perhaps even test your vocal cords at a karaoke venue!
What's included
First class (green) 14-day Japan Rail Pass

14 nights' accommodation (six nights Japanese style)

Breakfast every day and five evening meals

All transport between destinations

Airport transfers by private car

Hakone Free Pass for local transport in the Hakone region

Manaca transport card with 2,500 yen credit for city transport

Eight-hour private guide service in Tokyo, Kyoto and Hiroshima including lunch and entrance fees

Evening Tokyo night food group tour

Private guided walking tour of Gion

Half-day cycle ride in Takayama

Pocket WiFi device

Your personalised InsideJapan Info-Pack
What's NOT included:
International flights

Local transport (buses, subways, taxis) at any destination unless otherwise specified

Any entrance fees including those for shrines, temples and museums unless otherwise specified

Baggage handling and luggage forwarding
Trip Highlights
Bathe in Hakone's hot springs

Stay in a ryokan inn on Miyajima Island

Explore Kyoto's shrines and temples
Cycle through traditional Hida villages

Discover Tokyo's neon lights

Go geisha-spotting in Gion
For more information email us: [email protected] or call: + 44 117 244 3380
What, where, when and how...
Best of Japan - 15 Days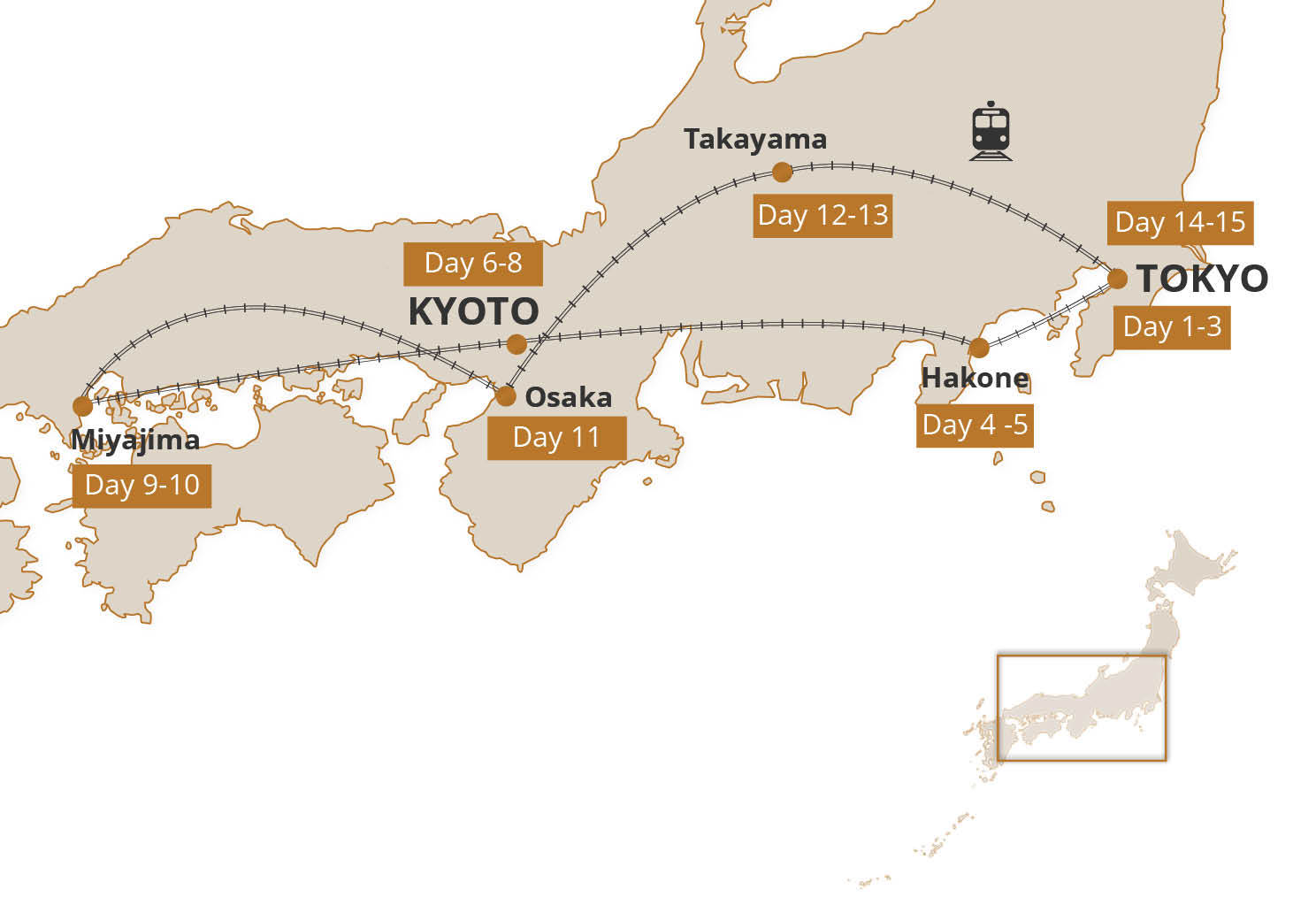 Best of Japan - 15 Days - Day by Day
Best of Japan - 15 Days - Accommodation
Day 1-3

Explore the diverse mix of old and new in the fascinating city of Tokyo

Welcome to Japan! After being whisked into central Tokyo by private car, the rest of today will be free for you to start getting to know this huge and diverse metropolis. Your hotel is located just a few minutes' walk from the Ginza area of Tokyo, a great location from which to begin exploring Japan's capital city.

Why not watch a scene of kabuki at the nearby Kabuki-za theatre or take the monorail across the rainbow bridge to the futuristic, man-made island of Odaiba? Use your included transport card on public transport and consult your personalised Info-Pack for a wealth of ideas.

On your second day in Tokyo you will have a full-day private tour of the city with lunch included, accompanied by a local guide. You'll be travelling by public transport just as Tokyoites do, helping you to get a real feel for Japan's capital as you cover not only the classic sights, but also into some of the more unusual features of the city. Feel free to set the pace of the day to be as busy or relaxed as you choose.

Day three is an opportunity to continue exploring Tokyo's endless sights or, alternatively, to take a day trip out of the city. Your Info-Pack will include details of how to make a selection of trips. In the evening join one of our Insider experts and some fellow InsideJapan Tours travellers for a fun foodie night out in Shinjuku.

Overnight: Park Hotel Tokyo

Day 4-5

Explore top-class museums and relaxing hot spring baths under the watchful gaze of majestic Mount Fuji

Leaving Tokyo behind, you will whizz south on the bullet train to Odawara, the entrance point for the Fuji-Hakone National Park. After a private car ride into the mountains, you will arrive at your mountain-view accommodation in the hot spring town of Hakone.

With a three-day Hakone Free Pass and your personalised Info-Pack on hand, spend the afternoon exploring the area. We recommend visiting the Open Air Sculpture Park in Gora, which features a great Picasso collection, or heading to the excellent Venetian Glass Museum. Dinner will be included tonight.

On day five you will have a full day to explore the mountains around Hakone. We recommend taking a boat trip across Lake Ashi, one of the best ways to appreciate the stunning views of the magnificent (and somewhat elusive) Mount Fuji. Following this, take the cable car up to Owakudani and try a black egg cooked in scalding volcanic water!

Later, take the chance to relax in an outdoor rotenburo hot spring bath before another night of delectable kaiseki-style cuisine at your accommodation.

Overnight: Kowakien Tenyu

Day 6-8

Find treasures hidden down every alley in Kyoto, Japan's cultural and historical heartland

The next stop on your itinerary is Kyoto, the cultural heart of Japan. Whilst the imposing station building gives a thoroughly modern first impression, you will soon realise that in Kyoto temples, shrines and gardens lurk around every corner.

After exploring some of the city's hotspots in the afternoon, as dusk falls you will head to Gion, Kyoto's famous geisha district, to enjoy a private walking tour. As you make your way through the narrow lanes and hidden alleys, your guide will provide you with insights into the history and traditions of Kyoto, bringing to life the secret world of the geisha.

On your second day in Kyoto you will have a full day to explore the city and an expert local guide at your disposal. Your guide will discuss your preferences for the day and design an itinerary to include the more iconic sights as well as some great little-known spots known only to the locals. For lunch, you can look forward to sampling some of Kyoto's renowned speciality cuisine at one of the city's many outstanding restaurants.

On your last day in the city you can either continue exploring Kyoto, or plump for a day trip to one of the many locations within easy reach of the Shinkansen.

Should you opt for a day trip there are many exciting options to choose from. You might choose to visit peaceful Nara, filled with deer and home to the giant Buddha of Todai-ji Temple, or Uji – home to Byodo-in Temple, which you may recognise from the back of the 10 yen coin.

Overnight: Celestine Kyoto Gion

Day 9-10

Admire one of Japan's most iconic views from the comfort of your traditional ryokan inn on Miyajima Island

Hop aboard the bullet train today to be whisked to your next destination: Miyajima. This beautiful island is a short ferry ride from Hiroshima and is most famous as the location of the magnificent Itsukushima Shrine with its "floating" torii gate - one of the most photographed sights in Japan.

Since you'll be staying in one of the island's traditional ryokan inns, be sure to take a stroll around the island this evening once the crowds have taken the last ferry back to Hiroshima. At the day's end you'll have the chance to try some of the delicacies of the region in a fabulous kaiseki-style dinner at your accommodation.

Following your day in Miyajima you will spend a full day with an expert local guide who can either help you to continue to explore the island or, alternatively, take you on a day trip to Hiroshima – where a visit to the Peace Park and Museum is a must.

The A-Bomb Dome is a stark reminder of the tragic events of August 6th 1945, yet the Hiroshima of today is a friendly, cosmopolitan city that refuses to be overshadowed by its troubled past.

For lunch, your guide will take you to try the local speciality, okonomiyaki: a noodle-based pancake dish with your choice of fillings. Dinner will once again be included at your ryokan.

Overnight: Iwaso

Day 11

Pay a visit to Tokyo's fun-loving cousin, Osaka – famous for its delicious local cuisine and laid-back attitude

Today you will travel by bullet train to Osaka, the economic powerhouse of the Kansai region and Japan's third-largest city. Osakans work hard and play hard – which means you'll find a vast number of restaurants, bars and entertainment options available throughout the city.

After dark is when the city really comes alive, and this is the perfect opportunity to have a big night out, eat some hearty local food and let your hair down. That's not to say that there isn't plenty to keep you occupied in the daytime, however!

Osaka Castle is well worth a visit, and you mustn't leave without taking a ride on one of the city's several giant ferris wheels – the most dramatic of which is perched on top of the Hep 5 department store. Just don't look down!

Overnight: Royal Park Iconic Osaka Midosuji

Day 12-13

Take a cycling tour through the stunning scenery of the Hida mountain range and tuck in to an elaborate kaiseki spread in the alpine craft town of Takayama

Today you will travel north through stunning mountain scenery to the market town of Takayama, perched in the Japanese Alps.

Renowned throughout the Edo Period for the high quality of its craftsmen, Takayama retains much of the traditional atmosphere of the past. Be sure to wander amongst the preserved thatched buildings at Hida Folk Village, learn about the town's celebrated spring and autumn festivals at the Float Museum, and try the local brews on offer at one of the numerous sake breweries in the town.

Dinner tonight will be an ample and elaborate kaiseki spread served at your traditional ryokan inn accommodation.

On your second day in Takayama you will be taking a cycling tour through the rice fields and farming villages of Hida, taking you deep into the heart of the countryside. With an English-speaking guide to accompany you, the half day ride will include minka farmhouses, a temple, a hot spring and an orchard – all set against the backdrop of the Hida mountain range.

The afternoon will be free to continue exploring the city with your Info-Pack in hand. Local Hida beef – arguably as good as the more famous Kobe variety – is a must for meat lovers tonight!

Overnight: Tanabe Ryokan

Day 14-15

Complete your adventure with a stay amongst the neon-spangled skyscrapers of Tokyo's Shinjuku district

Your trip will come full circle today as you return to the capital. For your last night, you will get a taste of the neon-spangled skyscrapers surrounding Shinjuku Station – the busiest station in the world. As the setting for the film Lost in Translation this area is full of architectural delights.

There will be plenty of opportunity to do any last-minute souvenir shopping, sightseeing or just to relax in one of the hundreds of bars and restaurants on the doorstep of your hotel.

Sadly your adventures in Japan must come to an end, and on your final day your private driver will drop you off at the airport. Have a safe flight home.

Overnight: Century Southern Tower
View all days
Day 1-3

Explore the diverse mix of old and new in the fascinating city of Tokyo

Welcome to Japan! After being whisked into central Tokyo by private car, the rest of today will be free for you to start getting to know this huge and diverse metropolis. Your hotel is located just a few minutes' walk from the Ginza area of Tokyo, a great location from which to begin exploring Japan's capital city.

Why not watch a scene of kabuki at the nearby Kabuki-za theatre or take the monorail across the rainbow bridge to the futuristic, man-made island of Odaiba? Use your included transport card on public transport and consult your personalised Info-Pack for a wealth of ideas.

On your second day in Tokyo you will have a full-day private tour of the city with lunch included, accompanied by a local guide. You'll be travelling by public transport just as Tokyoites do, helping you to get a real feel for Japan's capital as you cover not only the classic sights, but also into some of the more unusual features of the city. Feel free to set the pace of the day to be as busy or relaxed as you choose.

Day three is an opportunity to continue exploring Tokyo's endless sights or, alternatively, to take a day trip out of the city. Your Info-Pack will include details of how to make a selection of trips. In the evening join one of our Insider experts and some fellow InsideJapan Tours travellers for a fun foodie night out in Shinjuku.

Overnight: Park Hotel Tokyo

Day 4-5

Explore top-class museums and relaxing hot spring baths under the watchful gaze of majestic Mount Fuji

Leaving Tokyo behind, you will whizz south on the bullet train to Odawara, the entrance point for the Fuji-Hakone National Park. After a private car ride into the mountains, you will arrive at your mountain-view accommodation in the hot spring town of Hakone.

With a three-day Hakone Free Pass and your personalised Info-Pack on hand, spend the afternoon exploring the area. We recommend visiting the Open Air Sculpture Park in Gora, which features a great Picasso collection, or heading to the excellent Venetian Glass Museum. Dinner will be included tonight.

On day five you will have a full day to explore the mountains around Hakone. We recommend taking a boat trip across Lake Ashi, one of the best ways to appreciate the stunning views of the magnificent (and somewhat elusive) Mount Fuji. Following this, take the cable car up to Owakudani and try a black egg cooked in scalding volcanic water!

Later, take the chance to relax in an outdoor rotenburo hot spring bath before another night of delectable kaiseki-style cuisine at your accommodation.

Overnight: Kowakien Tenyu

Day 6-8

Find treasures hidden down every alley in Kyoto, Japan's cultural and historical heartland

The next stop on your itinerary is Kyoto, the cultural heart of Japan. Whilst the imposing station building gives a thoroughly modern first impression, you will soon realise that in Kyoto temples, shrines and gardens lurk around every corner.

After exploring some of the city's hotspots in the afternoon, as dusk falls you will head to Gion, Kyoto's famous geisha district, to enjoy a private walking tour. As you make your way through the narrow lanes and hidden alleys, your guide will provide you with insights into the history and traditions of Kyoto, bringing to life the secret world of the geisha.

On your second day in Kyoto you will have a full day to explore the city and an expert local guide at your disposal. Your guide will discuss your preferences for the day and design an itinerary to include the more iconic sights as well as some great little-known spots known only to the locals. For lunch, you can look forward to sampling some of Kyoto's renowned speciality cuisine at one of the city's many outstanding restaurants.

On your last day in the city you can either continue exploring Kyoto, or plump for a day trip to one of the many locations within easy reach of the Shinkansen.

Should you opt for a day trip there are many exciting options to choose from. You might choose to visit peaceful Nara, filled with deer and home to the giant Buddha of Todai-ji Temple, or Uji – home to Byodo-in Temple, which you may recognise from the back of the 10 yen coin.

Overnight: Celestine Kyoto Gion

Day 9-10

Admire one of Japan's most iconic views from the comfort of your traditional ryokan inn on Miyajima Island

Hop aboard the bullet train today to be whisked to your next destination: Miyajima. This beautiful island is a short ferry ride from Hiroshima and is most famous as the location of the magnificent Itsukushima Shrine with its "floating" torii gate - one of the most photographed sights in Japan.

Since you'll be staying in one of the island's traditional ryokan inns, be sure to take a stroll around the island this evening once the crowds have taken the last ferry back to Hiroshima. At the day's end you'll have the chance to try some of the delicacies of the region in a fabulous kaiseki-style dinner at your accommodation.

Following your day in Miyajima you will spend a full day with an expert local guide who can either help you to continue to explore the island or, alternatively, take you on a day trip to Hiroshima – where a visit to the Peace Park and Museum is a must.

The A-Bomb Dome is a stark reminder of the tragic events of August 6th 1945, yet the Hiroshima of today is a friendly, cosmopolitan city that refuses to be overshadowed by its troubled past.

For lunch, your guide will take you to try the local speciality, okonomiyaki: a noodle-based pancake dish with your choice of fillings. Dinner will once again be included at your ryokan.

Overnight: Iwaso

Day 11

Pay a visit to Tokyo's fun-loving cousin, Osaka – famous for its delicious local cuisine and laid-back attitude

Today you will travel by bullet train to Osaka, the economic powerhouse of the Kansai region and Japan's third-largest city. Osakans work hard and play hard – which means you'll find a vast number of restaurants, bars and entertainment options available throughout the city.

After dark is when the city really comes alive, and this is the perfect opportunity to have a big night out, eat some hearty local food and let your hair down. That's not to say that there isn't plenty to keep you occupied in the daytime, however!

Osaka Castle is well worth a visit, and you mustn't leave without taking a ride on one of the city's several giant ferris wheels – the most dramatic of which is perched on top of the Hep 5 department store. Just don't look down!

Overnight: Royal Park Iconic Osaka Midosuji

Day 12-13

Take a cycling tour through the stunning scenery of the Hida mountain range and tuck in to an elaborate kaiseki spread in the alpine craft town of Takayama

Today you will travel north through stunning mountain scenery to the market town of Takayama, perched in the Japanese Alps.

Renowned throughout the Edo Period for the high quality of its craftsmen, Takayama retains much of the traditional atmosphere of the past. Be sure to wander amongst the preserved thatched buildings at Hida Folk Village, learn about the town's celebrated spring and autumn festivals at the Float Museum, and try the local brews on offer at one of the numerous sake breweries in the town.

Dinner tonight will be an ample and elaborate kaiseki spread served at your traditional ryokan inn accommodation.

On your second day in Takayama you will be taking a cycling tour through the rice fields and farming villages of Hida, taking you deep into the heart of the countryside. With an English-speaking guide to accompany you, the half day ride will include minka farmhouses, a temple, a hot spring and an orchard – all set against the backdrop of the Hida mountain range.

The afternoon will be free to continue exploring the city with your Info-Pack in hand. Local Hida beef – arguably as good as the more famous Kobe variety – is a must for meat lovers tonight!

Overnight: Tanabe Ryokan

Day 14-15

Complete your adventure with a stay amongst the neon-spangled skyscrapers of Tokyo's Shinjuku district

Your trip will come full circle today as you return to the capital. For your last night, you will get a taste of the neon-spangled skyscrapers surrounding Shinjuku Station – the busiest station in the world. As the setting for the film Lost in Translation this area is full of architectural delights.

There will be plenty of opportunity to do any last-minute souvenir shopping, sightseeing or just to relax in one of the hundreds of bars and restaurants on the doorstep of your hotel.

Sadly your adventures in Japan must come to an end, and on your final day your private driver will drop you off at the airport. Have a safe flight home.

Overnight: Century Southern Tower
Close all days
Other trips you may like
Tokyo
Kawaguchiko
Matsumoto
Kyoto
Matsue
Naoshima
Tokyo

A superior 14-night itinerary for those who want to discover Japan's exciting arts scene in comfort and style.

14 nights: from US$6240 pp (twin share) Read more >

Tokyo
Nikko
Kyoto
Mount Koya
Himeji
Hiroshima
Kanazawa
Shirakawago
Tokyo

With a wide range of incredible World Heritage Sites, Japan is the perfect destination for this classic 17-night cultural and historical adventure.

17 nights: from US$4485 pp (twin share) Read more >

Tokyo
Matsumoto
Kamikochi
Takayama
Kanazawa
Kyoto
Tokyo

Admire Japan's autumnal beauty in this special seasonal itinerary

14 nights: from US$3653 pp (twin share) Read more >