Self-Guided Adventure
Best of Japan
14 Nights: from US$13845 per person (twin share)
Trip Code: BOJD
The perfect itinerary for first-time visitors to Japan: cities, countryside, hot springs, great food, history and culture. Locations you will visit include Japan's historic capital, Kyoto; Tokyo with its bright lights and excitement; the Fuji-Hakone National Park; Takayama in the Japanese Alps; and Hiroshima. Read more >
You will begin and end your adventure in Tokyo, a teeming metropolis that encapsulates the diversity of Japanese culture and history.
A visit to the lively and traditional Asakusa district contrasts sharply with the über-modern skyscrapers of Shinjuku and Shibuya, whilst the new and ever crazier trends that continue to spring up provide yet another dimension to the melting-pot. Tokyo is organised chaos at its best, with a curiosity around every corner.
Kyoto is the country's other must-see city: capital of Japan for over a thousand years and thoroughly steeped in traditional arts and history. Here you'll find seemingly limitless temples, shrines and gardens rubbing shoulders with high modernity in the form of buildings such as Kyoto Station.
After your dose of culture you will be heading westwards along the coast to Hiroshima, where a vibrant and cosmopolitan atmosphere belies the destruction once wrought here by the atom bomb dropped in 1945. You will spend the night on the nearby island of Miyajima - home to the famous "floating" torii gate of Itsukushima Shrine.
Carefully woven between stays in the big cities you will be travelling deep into the Japanese Alps to explore the traditional farmhouses surrounding Takayama, and eastwards to Hakone to relax in a hot spring in the shadow of Japan's most iconic symbol - Mount Fuji.
If you still want to see more, why not take a day trip from Tokyo to the ornate temples and shrines of Nikko National Park, or visit Nara's Great Buddha statue and resident deer population just a short hop from Kyoto?
What's included
14 nights' accommodation (six nights Japanese style)

Breakfast every day, six evening meals and four lunches

All transport between destinations

Airport transfers by private car

Transfers between train stations and accommodation by private car

First class (green) train tickets

Hakone Free Pass for local transport in the Hakone area

Manaca transport card with 2,500 yen credit for city transport

Eight-hour private guide service in Tokyo, Kyoto and Hiroshima including lunch, entrance fees and driver

Afternoon tea with a maiko in Kyoto

Private driver and guide for Fuji Five Lakes trip

Sake tour in Takayama

Pocket WiFi device

Your personalised InsideJapan Info-Pack
What's NOT included:
International flights

Local transport (buses, subways, taxis) at any destination unless otherwise specified

Any entrance fees including those for shrines, temples and museums unless otherwise specified

Baggage handling and luggage forwarding
Trip Highlights
Explore Kyoto's shrines and temples`

Bathe in Hakone's hot springs

Indulge in Osaka's best cuisine
Sample sake in Takayama

Experience the very best of Japanese hospitality at a ryokan inn

Spend an evening with a trainee geisha
For more information email us: [email protected] or call: + 44 117 244 3380
What, where, when and how...
Best of Japan - 15 Days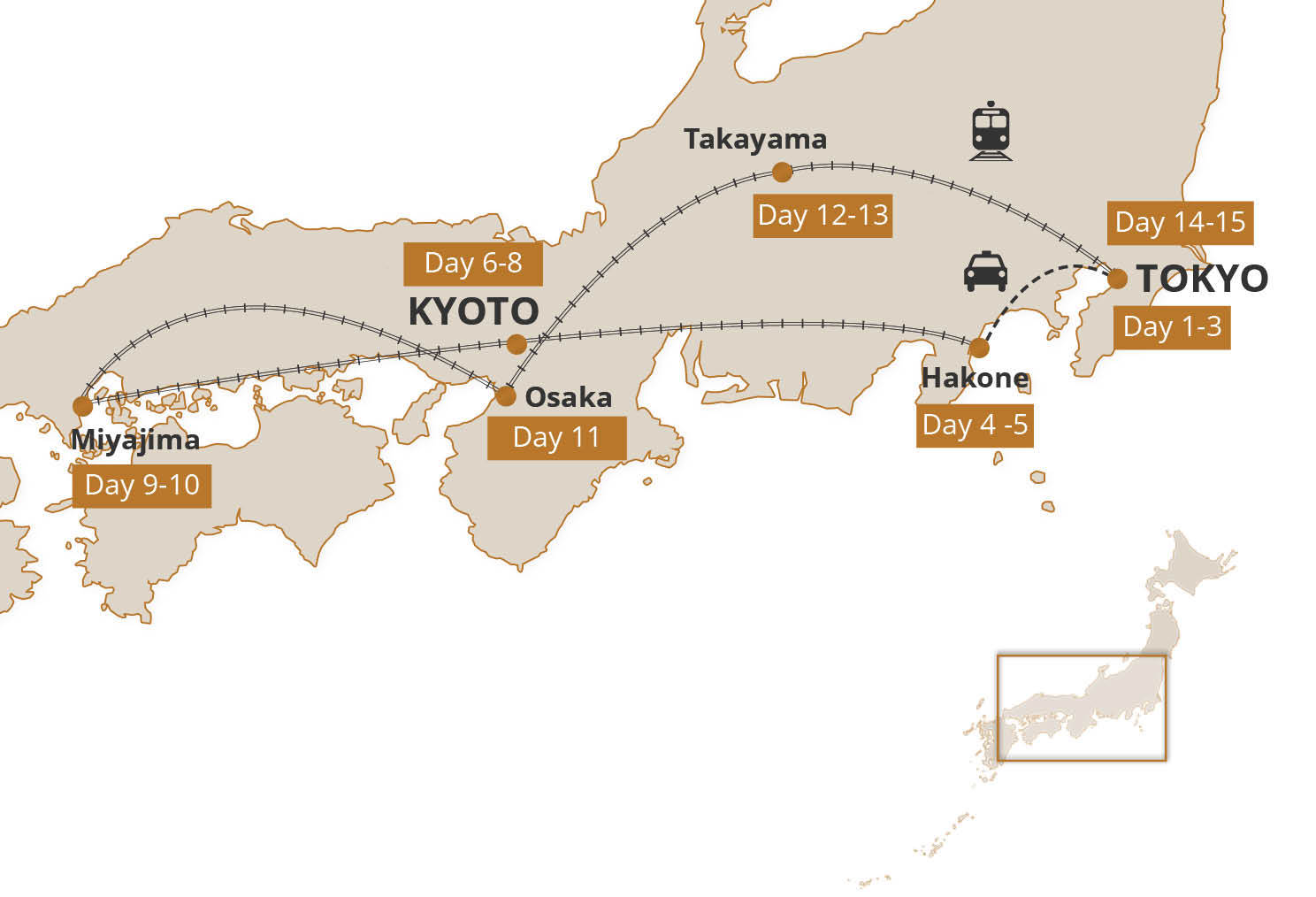 Best of Japan - 15 Days - Day by Day
Best of Japan - 15 Days - Accommodation
Day 1-3

Explore Senso-ji Temple, learn the art of tea ceremony at Hamarikyu Gardens and scale the world's tallest tower in Tokyo, Japan's vibrant capital city.

After being conveyed to central Tokyo by private car, the rest of your first day will be free for you to make the most of the hotel's facilities or to start exploring the capital with your personalised Info-Pack.

Located in the prestigious district of Marunouchi opposite the Imperial Palace and Hibiya Park, your hotel is in prime position for sightseeing and there are many options to keep you busy nearby. Alternatively you could venture further afield, perhaps to the historic Asakusa district surrounding Senso-ji Temple or to the top of the city's 634m Skytree.

On your second day in Tokyo you'll have a private driver and car at your disposal to help you explore the diverse districts that Tokyo has to offer.

Your personal guide can help you discover aspects of Tokyo that you would not be able to find by yourself, combining the more famous sights with some lesser-known local haunts, with lunch included at one of the city's many excellent restaurants.

If you have anything particular in mind, just let us know and we can pass your preferences on to the guide in advance.

Your third day in Tokyo is free for you to continue sightseeing at leisure.

Overnight: Palace Tokyo

Day 4-5

Take a guided tour of the Fuji Five Lakes area before tucking in to a superb kaiseki dinner and relaxing in the hot spring baths at your luxurious ryokan inn in Hakone

Today you will leave the capital behind and make your way by bullet train to Fuji-Hakone National Park, the home of Japan's most iconic symbol: Mount Fuji. A private car and guide will be waiting to take you to Fuji Five Lakes, one of the most beautiful areas around the mountain.

Weather permitting, you will make your way to Mount Fuji's fifth station (nearly 2,000 metres above sea level) from where, if it is a clear day, you'll have spectacular views of the surrounding area.

Your guide will also show you to some local points of interest, take you for lunch and drop you off at your deluxe ryokan inn in Hakone. A superb kaiseki-style dinner is included – and don't forget to try the hot spring baths!

On day five of your trip you'll have a full day to explore the Hakone region, which consists of a handful of small villages and hamlets all connected by a variety of local transport. Here you can taste black eggs boiled in volcanic waters at Owakudani's volcanic crater, visit the outstanding outdoor sculpture park and Picasso gallery, and traverse Lake Ashi by pirate ship in the shadow of Fuji-san.

Overnight: Byakudan

Day 6-8

Discover a hidden world as you enjoy an exclusive private audience with a trainee geisha in Kyoto, Japan's "City of Ten Thousand Temples".

The next destination on your itinerary is Kyoto, Japan's ancient capital and the cultural centre of the nation. After speeding south in first class comfort along the eastern coast, you will take a taxi to your hotel.

This afternoon you will have a private audience with a maiko (an apprentice geisha) in one of Gion district's tea houses. With plenty of opportunity to ask questions, this will give you a rare and fascinating glimpse into a hidden world.

On day seven of your itinerary you will have a private guide and driver at your disposal for the whole day. After meeting you at your hotel, they will discuss your preferences for the day and design an itinerary to include some of the city's most iconic sights as well as some of its more unusual locations.

Lunch is included and your guide will take you to a local restaurant to sample Kyoto's cuisine – arguably some of the finest in Japan.

On your third and final day in Kyoto you have a full day to relax and discover the city independently using your Info-Pack to guide you. Take a walk around the narrow backstreets in Higashiyama, wander around Nishijin textile district or marvel at Nanzen-ji Temple's majestic entrance gate.

Perhaps you might like to hike up the sacred Daimonji hillside in the east for spectacular views over the city, or stroll through the thousands of vermillion torii gates that wind through the forest at Fushimi Inari Shrine.

Overnight: Four Seasons

Day 9-10

Visit the iconic "floating" gate of Itsukushima Shrine, see the local deer and take a day trip to Hiroshima as you stay on Miyajima Island.

Travelling further west by bullet train you will reach Hiroshima, the staging point for your stay on nearby Miyajima Island.

Itsukushima Shrine, originally constructed in 1168, is the focal point of this sacred island. Whilst tourists swarm the island during the day, as the last ferry heads back over to the mainland you will be treated to a tranquil coastal experience.

Sample the delicacies of the region at your ryokan before taking a stroll past the famous torii gate out on the water of the Seto Inland Sea – one of Japan's most iconic sights.

The tenth day of your journey will be spent exploring Miyajima and Hiroshima with an expert guide and private driver. The itinerary is flexible but we recommend a visit to Hiroshima's Peace Park and Museum.

The A-Bomb Dome at the north of the park remains as a stark reminder of the tragic events of August 6th 1945, yet Hiroshima today is a vibrant and cosmopolitan city and a symbol of resilience in the face of disaster.

Overnight: Kurayado Iroha

Day 11

Sample the regional specialities in Osaka, famous throughout Japan for its delicious cuisine and friendly, fun-loving inhabitants.

Today, another bullet train ride will speed you to Osaka, Japan's third largest city and the economic powerhouse of the Kansai region. Osakans are renowned throughout Japan for their "work hard, play hard" attitude and the vast number of restaurants, bars and entertainment options in the city reflect this reputation.

With a full day to explore the city, we recommend a visit Osaka Castle. The architecturally striking Umeda Sky Building offers fantastic views of the city, or there are a number of giant ferris wheels if you prefer to take in the view that way.

Spend the evening amongst the bright lights of the Nanba district, where you can sample some of the local specialities including takoyaki (octopus balls) and okonomiyaki (cabbage pancake).

Overnight: Conrad Osaka

Day 12-13

Explore the sake breweries, merchant residences, craft shops and traditional ryokan inns of the alpine town of Takayama.

This morning you will travel north through stunning mountain scenery to Takayama, a market town in the beautiful Japanese Alps.

During the Edo Period (1603–1868) the town was renowned for its high-quality crafts, and still retains a strong artisanal atmosphere. After settling in at your deluxe Japanese-style inn, you will have the afternoon free to start exploring – armed, of course, with your Info-Pack.

We recommend learning about the town's celebrated spring and autumn festivals at the Float Museum and wandering through the preserved thatched buildings at the Hida Folk Village. Dinner this evening will be served at your inn and will include the very best local specialities.

Amongst the highlights of Takayama are the morning markets that take place along the river, selling all manner of fresh produce, flowers and crafts. After some free time this morning, you will take an afternoon tour of the town's numerous sake breweries, some of which have been in business for hundreds of years.

You will be accompanied by a guide who will take you to sample some of the town's best brews and help you learn about the industry. You will then return to your Japanese-style inn for dinner tonight.

Overnight: Hanaougi Bettei Iiyama

Day 14-15

Swap sweeping mountain scenery for the concrete jungle of Tokyo as you round off your trip in the skyscraper district of Shinjuku.

Leaving the Alps behind, your trip will come full circle as you return to the capital today. Here you will walking in the footsteps of Scarlett Johansson and Bill Murray as you stay in one of Tokyo's finest hotels at the top of a Shinjuku's skyscraper, the setting for the film Lost in Translation.

Here you will be perfectly placed to do some final souvenir shopping, visit the Meiji Shrine or just relax in one of the array of bars and restaurants on your doorstep.

Your time in Japan must come to an end, and after one more night in the metropolis you will be taken by private car to the airport in comfort. Have a safe flight home.

Overnight: Park Hyatt
View all days
Day 1-3

Explore Senso-ji Temple, learn the art of tea ceremony at Hamarikyu Gardens and scale the world's tallest tower in Tokyo, Japan's vibrant capital city.

After being conveyed to central Tokyo by private car, the rest of your first day will be free for you to make the most of the hotel's facilities or to start exploring the capital with your personalised Info-Pack.

Located in the prestigious district of Marunouchi opposite the Imperial Palace and Hibiya Park, your hotel is in prime position for sightseeing and there are many options to keep you busy nearby. Alternatively you could venture further afield, perhaps to the historic Asakusa district surrounding Senso-ji Temple or to the top of the city's 634m Skytree.

On your second day in Tokyo you'll have a private driver and car at your disposal to help you explore the diverse districts that Tokyo has to offer.

Your personal guide can help you discover aspects of Tokyo that you would not be able to find by yourself, combining the more famous sights with some lesser-known local haunts, with lunch included at one of the city's many excellent restaurants.

If you have anything particular in mind, just let us know and we can pass your preferences on to the guide in advance.

Your third day in Tokyo is free for you to continue sightseeing at leisure.

Overnight: Palace Tokyo

Day 4-5

Take a guided tour of the Fuji Five Lakes area before tucking in to a superb kaiseki dinner and relaxing in the hot spring baths at your luxurious ryokan inn in Hakone

Today you will leave the capital behind and make your way by bullet train to Fuji-Hakone National Park, the home of Japan's most iconic symbol: Mount Fuji. A private car and guide will be waiting to take you to Fuji Five Lakes, one of the most beautiful areas around the mountain.

Weather permitting, you will make your way to Mount Fuji's fifth station (nearly 2,000 metres above sea level) from where, if it is a clear day, you'll have spectacular views of the surrounding area.

Your guide will also show you to some local points of interest, take you for lunch and drop you off at your deluxe ryokan inn in Hakone. A superb kaiseki-style dinner is included – and don't forget to try the hot spring baths!

On day five of your trip you'll have a full day to explore the Hakone region, which consists of a handful of small villages and hamlets all connected by a variety of local transport. Here you can taste black eggs boiled in volcanic waters at Owakudani's volcanic crater, visit the outstanding outdoor sculpture park and Picasso gallery, and traverse Lake Ashi by pirate ship in the shadow of Fuji-san.

Overnight: Byakudan

Day 6-8

Discover a hidden world as you enjoy an exclusive private audience with a trainee geisha in Kyoto, Japan's "City of Ten Thousand Temples".

The next destination on your itinerary is Kyoto, Japan's ancient capital and the cultural centre of the nation. After speeding south in first class comfort along the eastern coast, you will take a taxi to your hotel.

This afternoon you will have a private audience with a maiko (an apprentice geisha) in one of Gion district's tea houses. With plenty of opportunity to ask questions, this will give you a rare and fascinating glimpse into a hidden world.

On day seven of your itinerary you will have a private guide and driver at your disposal for the whole day. After meeting you at your hotel, they will discuss your preferences for the day and design an itinerary to include some of the city's most iconic sights as well as some of its more unusual locations.

Lunch is included and your guide will take you to a local restaurant to sample Kyoto's cuisine – arguably some of the finest in Japan.

On your third and final day in Kyoto you have a full day to relax and discover the city independently using your Info-Pack to guide you. Take a walk around the narrow backstreets in Higashiyama, wander around Nishijin textile district or marvel at Nanzen-ji Temple's majestic entrance gate.

Perhaps you might like to hike up the sacred Daimonji hillside in the east for spectacular views over the city, or stroll through the thousands of vermillion torii gates that wind through the forest at Fushimi Inari Shrine.

Overnight: Four Seasons

Day 9-10

Visit the iconic "floating" gate of Itsukushima Shrine, see the local deer and take a day trip to Hiroshima as you stay on Miyajima Island.

Travelling further west by bullet train you will reach Hiroshima, the staging point for your stay on nearby Miyajima Island.

Itsukushima Shrine, originally constructed in 1168, is the focal point of this sacred island. Whilst tourists swarm the island during the day, as the last ferry heads back over to the mainland you will be treated to a tranquil coastal experience.

Sample the delicacies of the region at your ryokan before taking a stroll past the famous torii gate out on the water of the Seto Inland Sea – one of Japan's most iconic sights.

The tenth day of your journey will be spent exploring Miyajima and Hiroshima with an expert guide and private driver. The itinerary is flexible but we recommend a visit to Hiroshima's Peace Park and Museum.

The A-Bomb Dome at the north of the park remains as a stark reminder of the tragic events of August 6th 1945, yet Hiroshima today is a vibrant and cosmopolitan city and a symbol of resilience in the face of disaster.

Overnight: Kurayado Iroha

Day 11

Sample the regional specialities in Osaka, famous throughout Japan for its delicious cuisine and friendly, fun-loving inhabitants.

Today, another bullet train ride will speed you to Osaka, Japan's third largest city and the economic powerhouse of the Kansai region. Osakans are renowned throughout Japan for their "work hard, play hard" attitude and the vast number of restaurants, bars and entertainment options in the city reflect this reputation.

With a full day to explore the city, we recommend a visit Osaka Castle. The architecturally striking Umeda Sky Building offers fantastic views of the city, or there are a number of giant ferris wheels if you prefer to take in the view that way.

Spend the evening amongst the bright lights of the Nanba district, where you can sample some of the local specialities including takoyaki (octopus balls) and okonomiyaki (cabbage pancake).

Overnight: Conrad Osaka

Day 12-13

Explore the sake breweries, merchant residences, craft shops and traditional ryokan inns of the alpine town of Takayama.

This morning you will travel north through stunning mountain scenery to Takayama, a market town in the beautiful Japanese Alps.

During the Edo Period (1603–1868) the town was renowned for its high-quality crafts, and still retains a strong artisanal atmosphere. After settling in at your deluxe Japanese-style inn, you will have the afternoon free to start exploring – armed, of course, with your Info-Pack.

We recommend learning about the town's celebrated spring and autumn festivals at the Float Museum and wandering through the preserved thatched buildings at the Hida Folk Village. Dinner this evening will be served at your inn and will include the very best local specialities.

Amongst the highlights of Takayama are the morning markets that take place along the river, selling all manner of fresh produce, flowers and crafts. After some free time this morning, you will take an afternoon tour of the town's numerous sake breweries, some of which have been in business for hundreds of years.

You will be accompanied by a guide who will take you to sample some of the town's best brews and help you learn about the industry. You will then return to your Japanese-style inn for dinner tonight.

Overnight: Hanaougi Bettei Iiyama

Day 14-15

Swap sweeping mountain scenery for the concrete jungle of Tokyo as you round off your trip in the skyscraper district of Shinjuku.

Leaving the Alps behind, your trip will come full circle as you return to the capital today. Here you will walking in the footsteps of Scarlett Johansson and Bill Murray as you stay in one of Tokyo's finest hotels at the top of a Shinjuku's skyscraper, the setting for the film Lost in Translation.

Here you will be perfectly placed to do some final souvenir shopping, visit the Meiji Shrine or just relax in one of the array of bars and restaurants on your doorstep.

Your time in Japan must come to an end, and after one more night in the metropolis you will be taken by private car to the airport in comfort. Have a safe flight home.

Overnight: Park Hyatt
Close all days
Other trips you may like
The constant bad economic news has been getting everyone a bit down, so we've created this bargain seven-night Japanese getaway to beat the blues!

7 nights: from US$1326 pp (twin share) Read more >

Iiyama
Togarinozawa Onsen

Combine days of intrepid hiking along the 70km-long Shin-Etsu with a relaxing day off at a family-run inn in a rural village.

4 nights: from US$1196 pp (twin share) Read more >

This classic itinerary introduces the best of Japan with a manga and anime twist - from Studio Ghibli to interactive art at teamLab to Kyoto's International Manga Museum.

10 nights: from US$2678 pp (twin share) Read more >