Self-Guided Adventure
Best of Japan
14 Nights: from US$2535 per person (twin share)
Trip Code: BOJE
The perfect itinerary for first-time visitors to Japan: cities, countryside, hot springs, great food, history and culture. Locations you will visit include Japan's historic capital, Kyoto; the modern metropolis of Tokyo; the Fuji-Hakone National Park; Takayama in the Japanese Alps; and Hiroshima. Read more >
Our Best of Japan itinerary makes maximum use of the efficient and speedy bullet train, leaving you with ample time not only to marvel at Japan's iconic temples and shrines but also to explore its backstreets, to discover its natural wonders, and to mix on a more intimate level with the locals.
Your journey will begin in Tokyo, world-famous for its futuristic architecture and energetic atmosphere lit beneath a blaze of neon. As with many Japanese cities, however, Tokyo is more than it seems - beneath the brash, modern surface lies a city of tradition with many surprising opportunities for calm and serenity.
In ancient Japan, the Tokaido Highway connected the Shogun's powerbase at Edo (modern-day Tokyo) with the old capital of Kyoto - a distance of about 500km. Your next destination, Hakone, was once a post town on this route and has since become a popular location for its proximity to Tokyo and its mixture of outdoor activities, culture and relaxation. When skies are clear, the views of Mount Fuji across Lake Ashi are truly spectacular.
From Hakone you'll take the bullet train to Kyoto, where gardens, temples and shrines lie hidden around every corner. Having served as Japan's capital for more than a millennium, Kyoto provides a fascinating insight into the origins of Japanese culture and lives up to its moniker "The City of Ten Thousand Shrines". Following this you'll pay a visit to atmospheric Hiroshima, where the Peace Park offers a sobering look at Japan's more recent history.
After a stay in Osaka, Japan's foodie capital, you'll switch cityscapes for countryside views with a stay in an authentic, family-run minshuku inn in the alpine market town of Takayama.
What's included
14 nights' accommodation (three nights Japanese-style)

Breakfast every day and one evening meal

All transport between destinations

Airport transfers

14-day Japan Rail Pass

Hakone Free Pass for local transport in the Hakone region

Manaca transport card with 2,500yen credit for city transport

Insider sightseeing tour in Tokyo

Four hours private guide service in Kyoto

Tea ceremony experience

Your personalised InsideJapan Info-Pack
What's NOT included:
International flights

Local transport (buses, subways, taxis) at any destination unless otherwise specified

Any entrance fees including those for shrines, temples and museums

Baggage handling - you will be expected to carry your own bags for the duration of the trip
Trip Highlights
Stay in an authentic minshuku inn in Takayama

Discover Tokyo's neon lights

Explore Kyoto's shrines and temples
Relax in Hakone's hot spring baths

Take part in a tea ceremony

Visit the floating torii gate on Miyajima
For more information email us: [email protected] or call: + 44 117 244 3380
What, where, when and how...
Best of Japan - 15 Days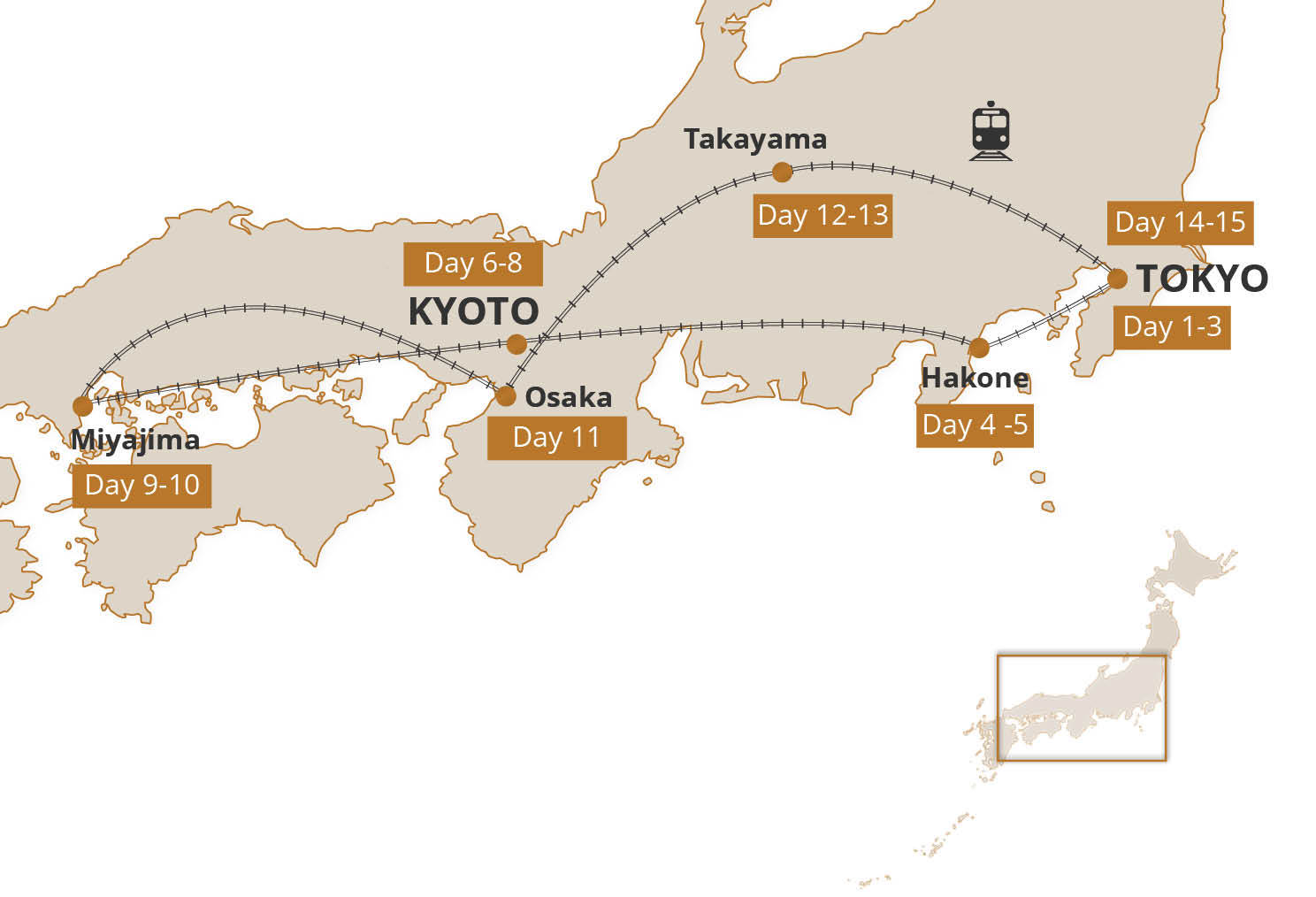 Best of Japan - 15 Days - Day by Day
Best of Japan - 15 Days - Accommodation
Best of Japan - 15 Days - Experiences
Day 1-3

Get to know Japan's energetic capital and take an optional day trip to Nikko, Kamakura, Yokohama or Mount Takao

Welcome to Japan! We will provide you with a Manaca transport card that you will use to take a train to central Tokyo. You will be staying in Asakusa, home to Tokyo's oldest temple and plenty to explore. From Asakusa you might like to take a cruise on the Sumida River to visit Hamarikyu gardens or the organised chaos of Shinjuku.

On the morning of your second day you'll join a local guide for a sightseeing tour the capital, including city hotspots and some lesser-known locations.

A day trip is the perfect remedy for those needing a break from the big city, and for your third day you have some great options just a couple of hours from Tokyo. Nikko is the final resting place for members of the Tokugawa clan, Japan's most powerful historical family, and the architecture to be found here is unlike anything else in Japan. More excellent choices include Kamakura, a laid-back, coastal town with numerous temples and a fascinating history; Yokohama, a city with a portside promenade and famously extensive China Town; or, for the more energetic amongst you, a hike up Mount Takao.

Overnight: Hotel MONday Asakusa

Day 4-5

Relax and enjoy hot springs, hiking, museums, and (if you're lucky) spectacular views of Mount Fuji in the natural splendour of Hakone National Park

On day four the Shinkansen bullet train will whizz you on to Odawara, from which point you will make your way to your guesthouse for two days in Hakone, where you will have the chance to take the pace down a few notches and enjoy some traditional Japanese pastimes in a beautiful natural setting.

You will be staying in a national park so, naturally, there will be some wonderful hiking opportunities amongst the hills and lakes. You won't fail to be amazed by the number of museums located throughout the area, along with volcanic landscapes, hot spring bathhouses, and – if you're lucky – views of Mount Fuji (get up early for the best chance!).

Your Hakone Free Pass will allow you to traverse the park by numerous modes of transport – including funicular, cable car and even pirate ship!

Overnight: Fuji Hakone Guest House

Day 6-8

Discover the historical and cultural heritage of Japan's ancient capital, the "City of Ten Thousand Shrines"

On day six you can sit back and relax as you travel at speeds of up to 190mph to Kyoto, often lauded as Japan's most beautiful city.

Kyoto was the capital city of Japan for over a thousand years before the accolade was transferred to Edo (modern-day Tokyo) in 1868, and this long tenure has left it with an unparalleled cultural and historical heritage.

Despite this, visitors are often surprised by the modernity of central Kyoto – the huge, futuristic Kyoto Station is virtually a city within itself!

After a restful night's sleep you will spend the morning with a professional guide, with whom you'll discover some of the most famous – and the more obscure – areas of the city using the extensive bus and subway system.

In the afternoon you will head to a teahouse in the historic Gion district, where you'll take part in the ancient ritual of tea ceremony under the guidance of an expert in the art.

On day eight you will have a free day in which to either spend more time exploring Kyoto or to use your Rail Pass to make a day trip to nearby Nara or Hikone.

If you should choose to stay in Kyoto there are a multitude of places to visit – why not go food shopping at Nishiki Market, have a picnic in the Imperial Palace grounds, test the Shogun's anti-ninja security measures at Nijo Castle, have a Zen moment at Ryoan-ji Temple, or wind your way through the sacred torii gates at Fushimi Inari Shrine?

Overnight: OMO5 Kyoto Sanjo

Day 9-10

Take time to reflect at Hiroshima's Peace Park and Museum before paying a visit to Miyajima Island to meet the resident monkeys and deer

From Kyoto you will once again hop on the Shinkansen for the journey to Hiroshima. After your arrival we recommend that you spend the afternoon at the Peace Park and Museum, a thoroughly moving experience and a reminder of Japan's role in the catastrophic events of the mid-twentieth century.

In the evening be sure to try the local speciality, okonomiyaki, a type of cabbage-based, pancake-style dish that you cook yourself on a hot plate at your table.

After your night in Hiroshima you will have the opportunity to spend either a half day or a full day on the scenic island of Miyajima just fifteen minutes' ferry ride from the city.

Miyajima is famous for its "floating" torii gate at Itsukushima shrine, which is officially ranked as one of Japan's "top three sights." Other highlights include taking the scenic cable car to the top of Mount Misen for sweeping views of the Seto Inland Sea – as well as the chance to see some of the native monkeys and deer!

Overnight: Intergate Hiroshima

Day 11

While away the day in Osaka, renowned throughout Japan for its delicious food and fun-loving locals

Once back on the mainland it's time to head east, back to the port city of Osaka: bright, brash and bold – that goes for the people and the city itself!

Osaka is known for the quality of its food as well as the vivacity of its inhabitants, and you will find a plethora of fantastic eating establishments here – especially around the areas of Dotonbori and Shinsaibashi.

We suggest that you pay a visit Osaka Castle, catch a baseball game and then explore the neon-soaked canals after the sun has set. This city's buzz will keep you stimulated throughout your stay!

Overnight: Royal Park Canvas Osaka Kitahama

Day 12-13

Venture into the Alps for a taste of alpine life in rural Takayama

On day twelve you will head away from the coast and into the hills for two nights in the rural town of Takayama.

This Edo Period merchant town set against the spectacular backdrop of the Northern Alps is the perfect place to try delicious Hida beef (just as good as Kobe's!) and sample some local sake in one of the town's small breweries.

On your second day in Takayama you will be free to explore, and there is plenty to see and do. A short bus ride will take you to the Hida no Sato folk village, a fascinating outdoor museum featuring traditional thatched-roof dwellings, store houses and a mill – all brought from the surrounding countryside. Back in town there is a diverse range of museums, and the morning markets are a delight to wander around.

Overnight: Yamakyu

Day 14-15

Return to Tokyo for a final chance to eat, drink and shop before your flight home

After the peace and quiet of the mountains it's back to hectic Tokyo for your last full day in Japan.

This time you'll be staying close to the bright neon lights of Shibuya, another of Tokyo's main districts located to the west of the city. This is the perfect place for any last-minute souvenir shopping, or an opportunity to fit in those sights you missed at the beginning of the trip!

With endless restaurants, bars and karaoke joints on your doorstep, you will be spoilt for choice when it comes to entertainment for your final night in the capital.

On your final morning you will make your way to Shibuya Station to take the train back to Narita Airport. Have a safe flight home!

Overnight: Sequence Miyashita Park
View all days
Day 1-3

Get to know Japan's energetic capital and take an optional day trip to Nikko, Kamakura, Yokohama or Mount Takao

Welcome to Japan! We will provide you with a Manaca transport card that you will use to take a train to central Tokyo. You will be staying in Asakusa, home to Tokyo's oldest temple and plenty to explore. From Asakusa you might like to take a cruise on the Sumida River to visit Hamarikyu gardens or the organised chaos of Shinjuku.

On the morning of your second day you'll join a local guide for a sightseeing tour the capital, including city hotspots and some lesser-known locations.

A day trip is the perfect remedy for those needing a break from the big city, and for your third day you have some great options just a couple of hours from Tokyo. Nikko is the final resting place for members of the Tokugawa clan, Japan's most powerful historical family, and the architecture to be found here is unlike anything else in Japan. More excellent choices include Kamakura, a laid-back, coastal town with numerous temples and a fascinating history; Yokohama, a city with a portside promenade and famously extensive China Town; or, for the more energetic amongst you, a hike up Mount Takao.

Overnight: Hotel MONday Asakusa

Day 4-5

Relax and enjoy hot springs, hiking, museums, and (if you're lucky) spectacular views of Mount Fuji in the natural splendour of Hakone National Park

On day four the Shinkansen bullet train will whizz you on to Odawara, from which point you will make your way to your guesthouse for two days in Hakone, where you will have the chance to take the pace down a few notches and enjoy some traditional Japanese pastimes in a beautiful natural setting.

You will be staying in a national park so, naturally, there will be some wonderful hiking opportunities amongst the hills and lakes. You won't fail to be amazed by the number of museums located throughout the area, along with volcanic landscapes, hot spring bathhouses, and – if you're lucky – views of Mount Fuji (get up early for the best chance!).

Your Hakone Free Pass will allow you to traverse the park by numerous modes of transport – including funicular, cable car and even pirate ship!

Overnight: Fuji Hakone Guest House

Day 6-8

Discover the historical and cultural heritage of Japan's ancient capital, the "City of Ten Thousand Shrines"

On day six you can sit back and relax as you travel at speeds of up to 190mph to Kyoto, often lauded as Japan's most beautiful city.

Kyoto was the capital city of Japan for over a thousand years before the accolade was transferred to Edo (modern-day Tokyo) in 1868, and this long tenure has left it with an unparalleled cultural and historical heritage.

Despite this, visitors are often surprised by the modernity of central Kyoto – the huge, futuristic Kyoto Station is virtually a city within itself!

After a restful night's sleep you will spend the morning with a professional guide, with whom you'll discover some of the most famous – and the more obscure – areas of the city using the extensive bus and subway system.

In the afternoon you will head to a teahouse in the historic Gion district, where you'll take part in the ancient ritual of tea ceremony under the guidance of an expert in the art.

On day eight you will have a free day in which to either spend more time exploring Kyoto or to use your Rail Pass to make a day trip to nearby Nara or Hikone.

If you should choose to stay in Kyoto there are a multitude of places to visit – why not go food shopping at Nishiki Market, have a picnic in the Imperial Palace grounds, test the Shogun's anti-ninja security measures at Nijo Castle, have a Zen moment at Ryoan-ji Temple, or wind your way through the sacred torii gates at Fushimi Inari Shrine?

Overnight: OMO5 Kyoto Sanjo

Day 9-10

Take time to reflect at Hiroshima's Peace Park and Museum before paying a visit to Miyajima Island to meet the resident monkeys and deer

From Kyoto you will once again hop on the Shinkansen for the journey to Hiroshima. After your arrival we recommend that you spend the afternoon at the Peace Park and Museum, a thoroughly moving experience and a reminder of Japan's role in the catastrophic events of the mid-twentieth century.

In the evening be sure to try the local speciality, okonomiyaki, a type of cabbage-based, pancake-style dish that you cook yourself on a hot plate at your table.

After your night in Hiroshima you will have the opportunity to spend either a half day or a full day on the scenic island of Miyajima just fifteen minutes' ferry ride from the city.

Miyajima is famous for its "floating" torii gate at Itsukushima shrine, which is officially ranked as one of Japan's "top three sights." Other highlights include taking the scenic cable car to the top of Mount Misen for sweeping views of the Seto Inland Sea – as well as the chance to see some of the native monkeys and deer!

Overnight: Intergate Hiroshima

Day 11

While away the day in Osaka, renowned throughout Japan for its delicious food and fun-loving locals

Once back on the mainland it's time to head east, back to the port city of Osaka: bright, brash and bold – that goes for the people and the city itself!

Osaka is known for the quality of its food as well as the vivacity of its inhabitants, and you will find a plethora of fantastic eating establishments here – especially around the areas of Dotonbori and Shinsaibashi.

We suggest that you pay a visit Osaka Castle, catch a baseball game and then explore the neon-soaked canals after the sun has set. This city's buzz will keep you stimulated throughout your stay!

Overnight: Royal Park Canvas Osaka Kitahama

Day 12-13

Venture into the Alps for a taste of alpine life in rural Takayama

On day twelve you will head away from the coast and into the hills for two nights in the rural town of Takayama.

This Edo Period merchant town set against the spectacular backdrop of the Northern Alps is the perfect place to try delicious Hida beef (just as good as Kobe's!) and sample some local sake in one of the town's small breweries.

On your second day in Takayama you will be free to explore, and there is plenty to see and do. A short bus ride will take you to the Hida no Sato folk village, a fascinating outdoor museum featuring traditional thatched-roof dwellings, store houses and a mill – all brought from the surrounding countryside. Back in town there is a diverse range of museums, and the morning markets are a delight to wander around.

Overnight: Yamakyu

Day 14-15

Return to Tokyo for a final chance to eat, drink and shop before your flight home

After the peace and quiet of the mountains it's back to hectic Tokyo for your last full day in Japan.

This time you'll be staying close to the bright neon lights of Shibuya, another of Tokyo's main districts located to the west of the city. This is the perfect place for any last-minute souvenir shopping, or an opportunity to fit in those sights you missed at the beginning of the trip!

With endless restaurants, bars and karaoke joints on your doorstep, you will be spoilt for choice when it comes to entertainment for your final night in the capital.

On your final morning you will make your way to Shibuya Station to take the train back to Narita Airport. Have a safe flight home!

Overnight: Sequence Miyashita Park
Close all days
Other trips you may like
Tokyo
Ishigaki
Taketomi
Iriomote
Tokyo

This 10-night superior island-hopping itinerary introduces Japan's subtropical side in style, with superb accommodation and fine dining included.

10 nights: from US$6617 pp (twin share) Read more >

Yunomine Onsen
Koguchi
Nachi

Add this advanced hiking module to a longer trip and discover the ancient pilgrimage trails of the Kumano Kodo.

3 nights: from US$910 pp (twin share) Read more >

Enjoy an easy-breezy trip to Japan on this two-centre family holiday.

10 nights: from US$6929 (per family) Read more >