Hidden Japan
12 Nights: from US$5187
Trip Code: HJ
Skipping Tokyo allows you more time to discover Japan's intriguing south-central regions, which is why this tour begins and ends in Kyoto: Japan's alternative capital. Here you'll get to know your group and meet a trainee geisha before exploring the temples and gardens that lurk behind every sliding screen and around every corner in this incredible city.
Venturing to Mount Koya you will have the opportunity to stay overnight in a shukubo temple lodging, with a meal of vegetarian Buddhist cuisine and the chance to join the monks at their morning prayers.
Then with a ferry ride across the Seto Inland Sea to Shikoku, you will explore Tokushima, with its beautiful views from Mount Bizan and participate in the practice of one of the biggest dance festivals in Japan.
In Takamatsu catch a traditional Bunraku puppet show, and loose yourself in the beauty of Ritsurin Gardens. A ferry ride away from Takamatsu, is Naoshima Island housing world class art, which you will explore with an expert local guide.
Discover the island's most famous shrine, Konpira-san and stay in a wonderful ryokan inn in Kotohira. Then explore the fertile Iya Valley and cross the heart-stopping vine bridges.
Visit Matsuyama, home to the oldest bathhouse in Japan and a magnificent original samurai castle.
Finally, take a ferry back to the mainland for a visit to the haunting Peace Park in Hiroshima and the "floating" torii gate on Miyajima Island. Then on your way back to Kyoto stop at the historic rural town Joge, for a peak into another way of life.
It is especially in these less-frequented destinations that your full-time tour leader is worth their weight in gold, helping you navigate your way, walk you through the history and local customs of these fascinating and thoroughly worthwhile locations.
If this sounds good and makes you want to see even more, why not extend your tour in Japan!
Important Tour Information
The accommodation listed is for the 2023 departures.
Group Size: 4 - 14
Single Supplement: This tour has a single supplement. This guarantees a single room throughout the tour.

Fitness: Even when not using public transport, sightseeing in Japan often involves walking between sights, climbing up steps in temples and being 'on the go' for much of the day. To enjoy any of our Small Group Tours you should be of moderate fitness, able to walk and climb stairs without difficulty and able to maintain a pace that is comfortable for the majority of the group. Please bring sturdy shoes for walking on this tour.
Check-in: Please note that rooms at the Kyoto hotel are only available from 3pm. (You can, however, securely leave your luggage at the front desk at any time).
The tour leader will be staying at the first hotel for two nights before the tour starts so they will be available for advice if you choose to book pre tour nights. We recommend booking at least one extra night to check in and relax before the tour begins.
Transport: We will be using several modes of transport on this tour including a private mini-bus taking us to and from Mount Koya, several ferry rides as well as making use of Japan's first-rate train network. All the hotels and ryokan have been chosen for their location close to the nearest station. However, you will have to carry your bags for short distances and some stations do not have escalators.

Luggage: We highly recommend that to make your stay more enjoyable you pack reasonably light. Large suitcases will be an inconvenience to you. A small case or bag with wheels or a rucksack are most appropriate for this tour as you will have to carry your bags for short distances and some stations do not have escalators or elevators/lifts. You will also need a small overnight back-pack (for up to two nights) for use when we forward our main bags to the next location.

Accommodation: Culturally, communal bathing is common practice in Japan. Please note that in some traditional accommodations fully private en suite facilities may not be available. We will do our best to secure rooms on tour with private toilet and sink however some accommodations are not able to offer private bathing facilities. Shared facilities (when included) will always be separated by gender. In Mount Koya we are staying at a temple lodging. Baths are shared (single sex) and toilets are not attached to the rooms.
Please note that in Japan, Twin rooms are very much the norm, and there are far fewer Double rooms available. Please understand that even if you are being booked in a Double, this will only be in the hotels where there is availability.
International Flights: The tour starts and finishes in Kyoto for arrival and departures at Osaka Kansai or Itami airports.
What's included
Full-time services of your InsideJapan tour leader

12 nights' accommodation

Breakfast every day, three lunches and six evening meals

Your InsideJapan Info-Pack

Full-day private guide in Mount Koya including lunch & entrance fees

Selected entrance fees & local transport in Kyoto

Afternoon tea with a maiko in Kyoto

All transport between destinations

Airport transfers by shared taxi

Tickets to Awa Odori Kaikan Museum, Mount Bizan Ropeway, Awa Jurobe Yashiki Puppet Theatre & Ritsurin Gardens in Takamatsu

Full-day private guide service in Naoshima including lunch at the Benesse House Museum

Iya Valley sightseeing including entrance fees & lunch

Hiroshima Peace Museum & Park

Okonomiyaki dinner in Hiroshima

Visit to Miyajima Island including entrance fees.

Luggage forwarding from Kyoto to Tokushima and from Kotohira to Hiroshima

Shared portable Wi-Fi access throughout trip
What's NOT included:
International flights

Any local transport unless covered by the included transport passes

Any entrance fees (including temples, shrines and museums) unless otherwise specified

Baggage handling and luggage forwarding unless otherwise specified - you will be expected to carry your own luggage
2023
Tour Price:

From US$5187

Single Supplement:

From US$468
Extra Nights
Pre-Tour:

Twin Share From US$117 pp

Single From US$130 pp

Post-Tour:

Twin Share From US$117 pp

Single From US$130 pp
2024
Tour Price:

From US$5993

Single Supplement:

From US$468
Extra Nights
Pre-Tour:

Twin Share From US$130 pp

Single From US$143 pp

Post-Tour:

Twin Share From US$130 pp

Single From US$143 pp
Please note: Prices displayed above are all "From" prices as individual prices vary depending on the tour departure date.
Tour Highlights
Spend the night in traditional temple lodgings

Explore the rugged gorges and vine bridges of Iya Valley

Explore Naoshima art island with an expert local guide

Visit Joge, for a real peek into rural Japan

Hidden Japan won the Special Jury Award at the Tour Grand Prix 2017
Glide to the top of Mount Bizan by cable car

Visit Kyoto's temples and Hiroshima's Peace Museum

Join in a festival dance performance in Tokushima

If all this sounds great and makes you want to see even more, why not extend your stay in Japan!
For more information email us: [email protected] or call: + 44 117 244 3380
What, where, when and how...
Hidden Japan - 13 Days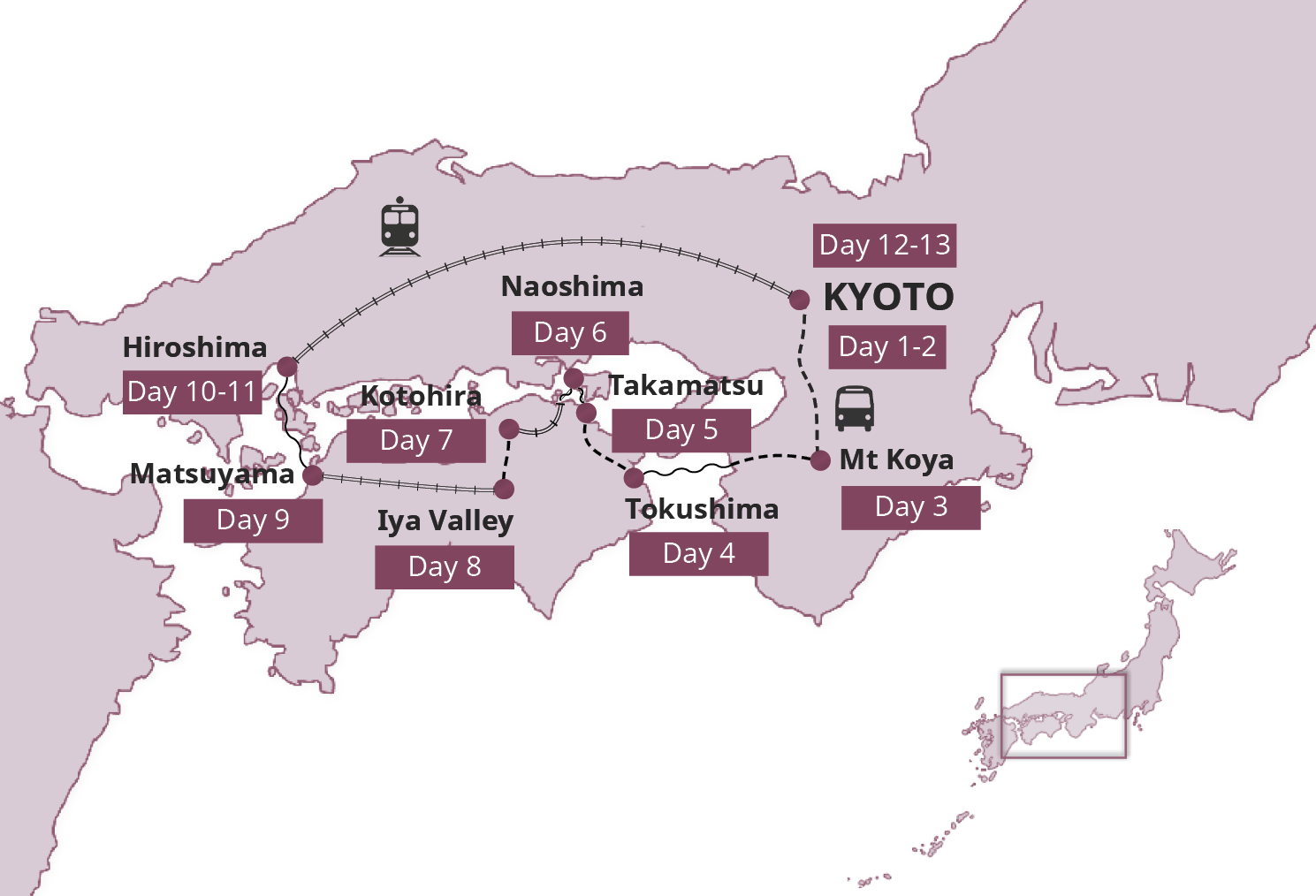 Hidden Japan - 13 Days - Day by Day
Hidden Japan - 13 Days - Accommodation
Hidden Japan - 13 Days - Booking
Single supplement from US$468
Day 1-2

Take a tour of Kyoto, Japan's imperial capital for over one thousand years and home to an amazing 17 World Heritage Sites.

Welcome to Japan! Upon arrival at Kansai or Itami International Airport you will be met by our representative and take a shared taxi transfer to your hotel in Kyoto. Your tour leader will be waiting to greet you in the lobby, and this evening you'll convene with your group at a welcome meeting before you all head out for a delicious included meal at one of the area's fantastic restaurants.
Refreshed after a relaxing arrival day, your tour leader will take the group on an extensive tour of Kyoto using public transport. Aptly known as the "City of Ten Thousand Temples" - Kyoto is bursting with history, culture and incredible sights. Your tour leader will introduce you to their favourite locations and a number of entrance fees will be included today. Whether you stroll the Philosophers' Path, gaze on Ginkakuji's resplendent Silver Pavilion or take in the hustle & bustle of Nishiki Food Market you are sure to have a fascinating day. In the afternoon you will enjoy afternoon tea with a maiko (trainee geisha) in the traditional Gion district.

Overnight: The Royal Park Hotel Kyoto Sanjo

Day 3

Discover sacred Koya, an atmospheric, mountaintop temple community where you'll visit the largest cemetery in Japan.

Today you will leave behind the beaten path and travel to Mount Koya, a remote mountaintop temple community and the spiritual home of Shingon Buddhism.
Mount Koya is located deep in the mountains of Wakayama Prefecture and is home to a collection of ancient temples, shrines and pagodas – not to mention Okunoin, the largest cemetery in Japan. Located in a forest filled with towering cryptomeria trees, this atmospheric graveyard is a real wonder, seeming to go on interminably through the early morning mist.
Today you will have the services of a local guide to explain the history and significance of these sites, with lunch and entrance fees included. This evening you will be staying at a traditional Buddhist temple lodging, where you will have the chance to partake in shojin ryori - vegetarian Buddhist cuisine.

Overnight: Renge-in Shukubo

Day 4

Attend morning prayers at a traditional Buddhist temple lodging and catch a ferry to Shikoku, the smallest of Japan's four main islands.

Today you'll rise early in order to join the morning prayers at your temple lodging – a really special opportunity to witness ancient rituals being played out. After prayers you will enjoy a traditional Buddhist breakfast before jumping on a private bus to Wakayama Port, from where you will catch a ferry to Tokushima on Shikoku Island –the smallest of Japan's four main islands.
Tokushima is most famous as the location of the largest dance festival in Japan, Awa Odori. After your arrival today you'll visit the Awa Odori Kaikan Museum for some background on the festival and ride the cable car to the top of nearby Mount Bizan for fantastic views across the city.

Overnight: Hotel Sunroute Tokushima

Day 5-6

See traditional Japanese puppet theatre, explore Ritsurin Gardens and make a day trip to Naoshima, Japan's famous "Art Island".

On the morning of day five you will take a half-day trip to the Awa Jurobe Yashiki puppet theatre, where you'll have the rare opportunity to see traditional bunraku puppet theatre in an authentic setting. Afterwards you'll make your way to Takamatsu, where you'll have plenty of time left to explore Ritsurin Gardens, some of the best landscape gardens in Japan.
On day six you will be making a day trip from Takamatsu to the nearby island of Naoshima, internationally known for world-class art set in beautiful natural scenery. You'll have the benefit of a local guide for your visit, who will explain the history of the island's art projects and introduce you to some of its most impressive sights.
For lunch you'll stop at a local island café. You will also visit both Benesse House and Chichu Art museums, home to works by famous artists such as Yayoi Kusama and Claude Monet. This evening you'll return to your hotel in Takamatsu.

Overnight: JR Clement Hotel

Day 7-8

Climb the 1,368 steps to the top of Shikoku's most important shrine and take a boat ride through the beautiful gorges of the Iya Valley.

Today you'll be making the scenic train ride from Takamatsu to Kotohira, a town best known as the location of Shikoku's largest shrine complex – Konpira-san. Tonight you'll be staying at a beautiful ryokan inn with its own hot spring baths and fabulous Japanese-style evening meals included on both nights of your stay.
In the afternoon of day seven you'll have the chance to scale the 1,368 steps to Konpira-san's inner shrine, a climb that's well worth the effort as you'll be rewarded with spectacular views across the area! There will also be time to visit the local sake brewery with its excellent little museum, as well as the chance to sample some rice wine.
On day eight you will board a private bus bound for the Iya Valley, a lush and undeveloped area of natural beauty, particularly famous for its vine bridges. Today you'll cross one of these bridges yourself, have a delicious included lunch and enjoy a boat ride through one of the area's gorges. We will also have time to visit a charming rural samurai residence before making our way back to Kotohira, where a second night of hot spring baths and feasting awaits.

Overnight: Sakura-no-Sho

Day 9

Explore an original samurai castle and soak in the restorative waters of Dogo Onsen, Japan's oldest hot spring baths.

Day nine and a train ride west across Shikoku Island brings you to Matsuyama, home to the oldest hot spring baths in Japan and one of the country's best original samurai castles. Later we will visit the castle and its grounds, then you'll have a free afternoon to explore the city at your leisure.
Dogo Onsen, the town's famous bathhouse, is conveniently located right next to your hotel. It is said to have existed for over 3,000 years, and currently undergoing a 7 year long restoration period for us to enjoy for many more generations to come. It is still accessibly by the public and even has a set of baths reserved exclusively for the use of the royal family. But don't worry – there are separate baths for common folk, so you'll also have a chance to bathe in the restorative waters this evening if you choose.

Overnight: Candeo Hotels Matsuyama Okaido

Day 10-11

Pay your respects at Hiroshima's Peace Park and visit Miyajima Island, home to an abundance of friendly deer.

On day ten you will make your way by ferry from Matsuyama to Hiroshima, back on Japan's main island. Hiroshima will always be remembered for the tragic events of 1945, and today you will visit the inspiring Peace Park and sobering Museum for an insight into the dropping of the world's first atomic bomb. Informative and even-handed, this museum is a must-see on any visit to Hiroshima.
After a thought-provoking afternoon, the perfect antidote is to stroll the splendid riverside, take a waterside coffee, or hit lively Hondori shopping arcade to mix with the friendly locals. For our included evening meal, we'll opt for okonomiyaki, Hiroshima's best-known speciality food. Okonomiyaki is a kind of savoury noodle- or cabbage-based pancake, cooked on a hot plate in front of you. It always goes down a treat!
On day eleven you will make the short ferry ride across the bay from Hiroshima to Miyajima, a tiny island known for its friendly resident population of deer and for Itsukushima Shrine, one of Japan's most iconic views. We recommend hiking (or catching the cable car!) to the top of Mount Misen for fabulous views across the Seto Inland Sea.


Overnight: Vista Hotel Hiroshima

Day 12-13

Return to the "City of Ten Thousand Temples" for some last-minute shopping, sightseeing and your final night in Japan.

Today you will take a side trip to Joge, a small historic town which has proved a perfect match for our 'Hidden Japan' concept. Little known to foreign tourists, Joge is renowned for its wonderful examples of original Meiji & Taisho era architecture and taking a walk down Joge's main street really does feel like you've stepped back in time. We've arranged a full day of cultural activities with local guides and you will have plenty of opportunities to meet and interact with members of the local community.
Late in the afternoon you'll be whisked back to Kyoto on a super-fast Nozomi shinkansen bullet train, leaving you time to freshen up and head out to a local izakaya for a farewell evening meal with your tour leader and group. We suggest an evening of karaoke to really see out the tour with a bang!
On day thirteen it's time to say goodbye and make your way back to the Airport by shared taxi for your flight home. We hope to see you next time!

Overnight: The Royal Park Hotel Kyoto Sanjo
View all days
Day 1-2

Take a tour of Kyoto, Japan's imperial capital for over one thousand years and home to an amazing 17 World Heritage Sites.

Welcome to Japan! Upon arrival at Kansai or Itami International Airport you will be met by our representative and take a shared taxi transfer to your hotel in Kyoto. Your tour leader will be waiting to greet you in the lobby, and this evening you'll convene with your group at a welcome meeting before you all head out for a delicious included meal at one of the area's fantastic restaurants.
Refreshed after a relaxing arrival day, your tour leader will take the group on an extensive tour of Kyoto using public transport. Aptly known as the "City of Ten Thousand Temples" - Kyoto is bursting with history, culture and incredible sights. Your tour leader will introduce you to their favourite locations and a number of entrance fees will be included today. Whether you stroll the Philosophers' Path, gaze on Ginkakuji's resplendent Silver Pavilion or take in the hustle & bustle of Nishiki Food Market you are sure to have a fascinating day. In the afternoon you will enjoy afternoon tea with a maiko (trainee geisha) in the traditional Gion district.

Overnight: The Royal Park Hotel Kyoto Sanjo

Day 3

Discover sacred Koya, an atmospheric, mountaintop temple community where you'll visit the largest cemetery in Japan.

Today you will leave behind the beaten path and travel to Mount Koya, a remote mountaintop temple community and the spiritual home of Shingon Buddhism.
Mount Koya is located deep in the mountains of Wakayama Prefecture and is home to a collection of ancient temples, shrines and pagodas – not to mention Okunoin, the largest cemetery in Japan. Located in a forest filled with towering cryptomeria trees, this atmospheric graveyard is a real wonder, seeming to go on interminably through the early morning mist.
Today you will have the services of a local guide to explain the history and significance of these sites, with lunch and entrance fees included. This evening you will be staying at a traditional Buddhist temple lodging, where you will have the chance to partake in shojin ryori - vegetarian Buddhist cuisine.

Overnight: Renge-in Shukubo

Day 4

Attend morning prayers at a traditional Buddhist temple lodging and catch a ferry to Shikoku, the smallest of Japan's four main islands.

Today you'll rise early in order to join the morning prayers at your temple lodging – a really special opportunity to witness ancient rituals being played out. After prayers you will enjoy a traditional Buddhist breakfast before jumping on a private bus to Wakayama Port, from where you will catch a ferry to Tokushima on Shikoku Island –the smallest of Japan's four main islands.
Tokushima is most famous as the location of the largest dance festival in Japan, Awa Odori. After your arrival today you'll visit the Awa Odori Kaikan Museum for some background on the festival and ride the cable car to the top of nearby Mount Bizan for fantastic views across the city.

Overnight: Hotel Sunroute Tokushima

Day 5-6

See traditional Japanese puppet theatre, explore Ritsurin Gardens and make a day trip to Naoshima, Japan's famous "Art Island".

On the morning of day five you will take a half-day trip to the Awa Jurobe Yashiki puppet theatre, where you'll have the rare opportunity to see traditional bunraku puppet theatre in an authentic setting. Afterwards you'll make your way to Takamatsu, where you'll have plenty of time left to explore Ritsurin Gardens, some of the best landscape gardens in Japan.
On day six you will be making a day trip from Takamatsu to the nearby island of Naoshima, internationally known for world-class art set in beautiful natural scenery. You'll have the benefit of a local guide for your visit, who will explain the history of the island's art projects and introduce you to some of its most impressive sights.
For lunch you'll stop at a local island café. You will also visit both Benesse House and Chichu Art museums, home to works by famous artists such as Yayoi Kusama and Claude Monet. This evening you'll return to your hotel in Takamatsu.

Overnight: JR Clement Hotel

Day 7-8

Climb the 1,368 steps to the top of Shikoku's most important shrine and take a boat ride through the beautiful gorges of the Iya Valley.

Today you'll be making the scenic train ride from Takamatsu to Kotohira, a town best known as the location of Shikoku's largest shrine complex – Konpira-san. Tonight you'll be staying at a beautiful ryokan inn with its own hot spring baths and fabulous Japanese-style evening meals included on both nights of your stay.
In the afternoon of day seven you'll have the chance to scale the 1,368 steps to Konpira-san's inner shrine, a climb that's well worth the effort as you'll be rewarded with spectacular views across the area! There will also be time to visit the local sake brewery with its excellent little museum, as well as the chance to sample some rice wine.
On day eight you will board a private bus bound for the Iya Valley, a lush and undeveloped area of natural beauty, particularly famous for its vine bridges. Today you'll cross one of these bridges yourself, have a delicious included lunch and enjoy a boat ride through one of the area's gorges. We will also have time to visit a charming rural samurai residence before making our way back to Kotohira, where a second night of hot spring baths and feasting awaits.

Overnight: Sakura-no-Sho

Day 9

Explore an original samurai castle and soak in the restorative waters of Dogo Onsen, Japan's oldest hot spring baths.

Day nine and a train ride west across Shikoku Island brings you to Matsuyama, home to the oldest hot spring baths in Japan and one of the country's best original samurai castles. Later we will visit the castle and its grounds, then you'll have a free afternoon to explore the city at your leisure.
Dogo Onsen, the town's famous bathhouse, is conveniently located right next to your hotel. It is said to have existed for over 3,000 years, and currently undergoing a 7 year long restoration period for us to enjoy for many more generations to come. It is still accessibly by the public and even has a set of baths reserved exclusively for the use of the royal family. But don't worry – there are separate baths for common folk, so you'll also have a chance to bathe in the restorative waters this evening if you choose.

Overnight: Candeo Hotels Matsuyama Okaido

Day 10-11

Pay your respects at Hiroshima's Peace Park and visit Miyajima Island, home to an abundance of friendly deer.

On day ten you will make your way by ferry from Matsuyama to Hiroshima, back on Japan's main island. Hiroshima will always be remembered for the tragic events of 1945, and today you will visit the inspiring Peace Park and sobering Museum for an insight into the dropping of the world's first atomic bomb. Informative and even-handed, this museum is a must-see on any visit to Hiroshima.
After a thought-provoking afternoon, the perfect antidote is to stroll the splendid riverside, take a waterside coffee, or hit lively Hondori shopping arcade to mix with the friendly locals. For our included evening meal, we'll opt for okonomiyaki, Hiroshima's best-known speciality food. Okonomiyaki is a kind of savoury noodle- or cabbage-based pancake, cooked on a hot plate in front of you. It always goes down a treat!
On day eleven you will make the short ferry ride across the bay from Hiroshima to Miyajima, a tiny island known for its friendly resident population of deer and for Itsukushima Shrine, one of Japan's most iconic views. We recommend hiking (or catching the cable car!) to the top of Mount Misen for fabulous views across the Seto Inland Sea.


Overnight: Vista Hotel Hiroshima

Day 12-13

Return to the "City of Ten Thousand Temples" for some last-minute shopping, sightseeing and your final night in Japan.

Today you will take a side trip to Joge, a small historic town which has proved a perfect match for our 'Hidden Japan' concept. Little known to foreign tourists, Joge is renowned for its wonderful examples of original Meiji & Taisho era architecture and taking a walk down Joge's main street really does feel like you've stepped back in time. We've arranged a full day of cultural activities with local guides and you will have plenty of opportunities to meet and interact with members of the local community.
Late in the afternoon you'll be whisked back to Kyoto on a super-fast Nozomi shinkansen bullet train, leaving you time to freshen up and head out to a local izakaya for a farewell evening meal with your tour leader and group. We suggest an evening of karaoke to really see out the tour with a bang!
On day thirteen it's time to say goodbye and make your way back to the Airport by shared taxi for your flight home. We hope to see you next time!

Overnight: The Royal Park Hotel Kyoto Sanjo
Close all days
Tour Reviews
InsideJapan provided an excellent, well-organized itinerary, and Karin was easy to work with. She was quick to answer questions, and she did a great job setting up pre-…

Read more >

Imaginative

Read more >
Tour Reviews
InsideJapan provided an excellent, well-organized itinerary, and Karin was easy to work with. She was quick to answer questions, and she did a great job setting up pre-…

Read more >

Imaginative

Read more >
4.9 out of 5 from 37 reviews Show all Hidden Japan Reviews
Tokyo
Hakone
Kyoto
Hiroshima
Osaka
Tokyo

Witness ancient collide with modern as you discover Japan's exuberant pop culture and celebrated traditional heritage.

10 nights: US$3575 Read more >

Tokyo
Tsurui
Lake Kussharo
Abashiri
Sapporo
Kyoto
Yudanaka
Tokyo

Japan in the winter is a magical destination, blanketed in snow and free from the crowds that throng the cultural hotspots in summer.

14 nights: US$6500 Read more >

Tokyo
Matsumoto
Takayama
Kanazawa
Kyoto
Hakone
Tokyo

From neon cityscapes to towering mountains and back, Spring Elegance provides an excellent balance of superb experiences and value for money.

13 nights: US$5980 Read more >