Kochi
Kochi Prefecture is Japan's poorest and most rural district. However the sparsely populated region boasts unrivalled scenery, from Japan's last untamed river, the Shimanto-gawa, to the spectacular rugged coastline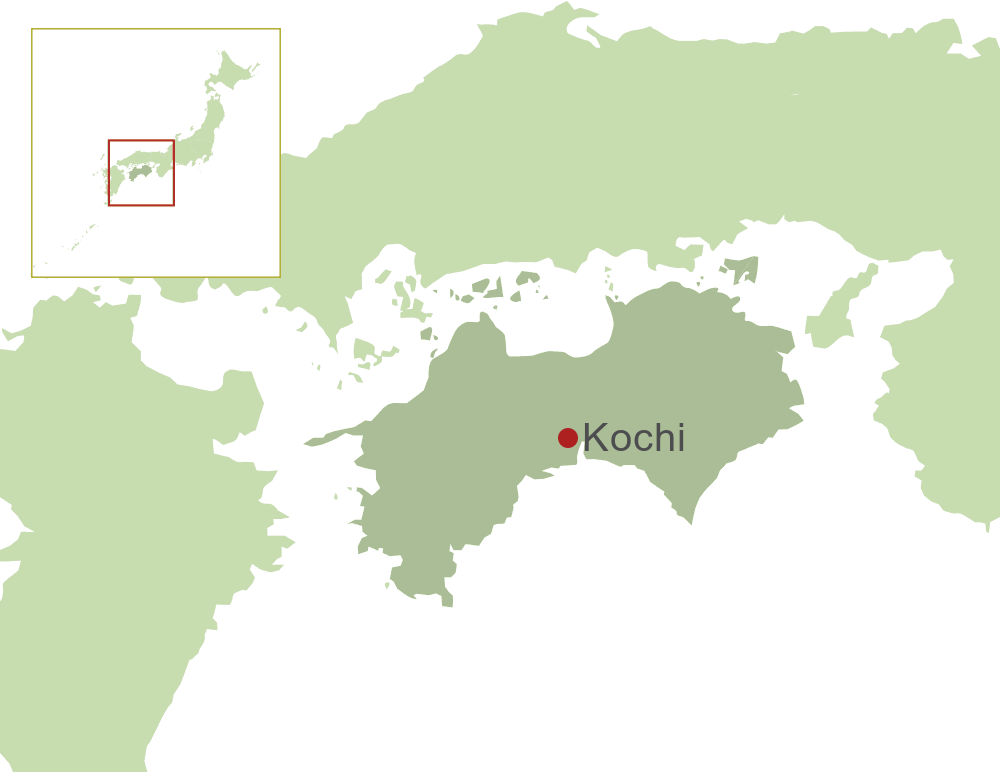 "For a dose of sunny, southern flare head to Kochi for fruit markets and palm trees. The wider area displays spectacular landscapes and adventure opportunities from rafting to whale watching"
In the centre of Shikoku's sweeping southern coast line sits the laid back city of Kochi. This sun-kissed prefectural capital has a relaxed, yet cosmopolitan atmosphere with wide boulevards lined with palm trees and fashionable shopping arcades. Kochi is loved for its many markets, the best of which takes place every Sunday when local farmers bring their colourful fruit and vegetables to town.
Kochi's best tourist attraction is the original castle, Kochi-jo, which dominates the city centre. The castle is testimony to Kochi's dramatic past during the feudal era, when several dissenting samurai emerged from the city to oppose the Tokugawa shogunate.
A rewarding trip from Kochi is to the nearby mountain of Godai-san, home of Chikurin-ji, the 31st temple on Shikoku's pilgrimage circuit. The mountain boasts great views of Kochi and Katsurahama, the pebbly beach that lies 13km to the south of Kochi city centre.
Here activities abound, from canoeing to scuba diving and surfing. Tiny fishing villages such as Ogata offer whale watching tours and the rocky cape at Ashizuri Misaki is well worth a drive if you have a hire car.
Recommended Accommodation in Kochi
The following are our favourites from among the western-style hotels and Japanese-style inns of Kochi.

Experiences in Kochi
Kochi offers a wealth of exciting experiences that will help you get beneath the surface of Japan's fascinating culture. See below for a few of our favourites
Weather in Kochi
The Climate Guide for Kochi, Japan is perfect for planning your holiday. Monthly weather averages give the best indication of what the weather is usually like for every month of the year including figures for temperature, rainfall and sunshine.
Jan
Feb
Mar
Apr
May
Jun
Jul
Aug
Sep
Oct
Nov
Dec
Max Daytime Temperature (°C)
6
7
10
16
20
22
26
27
24
19
14
9
Min Night-time Temperature (°C)
-1
-1
2
7
12
16
20
21
17
11
6
1
Hours of Sunshine (Daily)
5
6
6
6
6
5
6
7
5
6
5
5
Hours of Daylight (Daily)
10
11
12
13
14
14
14
13
12
11
10
10
Heat and Humidity Discomfort
None
None
None
None
None
None
Low
Moderate
None
None
None
None
Days with some Rainfall
16
16
18
16
15
19
19
18
18
13
12
14
Monthly Rainfall (mm)
46
77
140
198
221
337
296
234
286
145
94
36
UV Index (Maximum)
3
4
6
8
10
11
11
10
9
6
4
3