Naha
Naha is the capital city of Okinawa and is located on the Southwest coast of the subtropical island.The port, located just outside the city, has long been an point of international trade which has resulted in Naha having a true international flavour.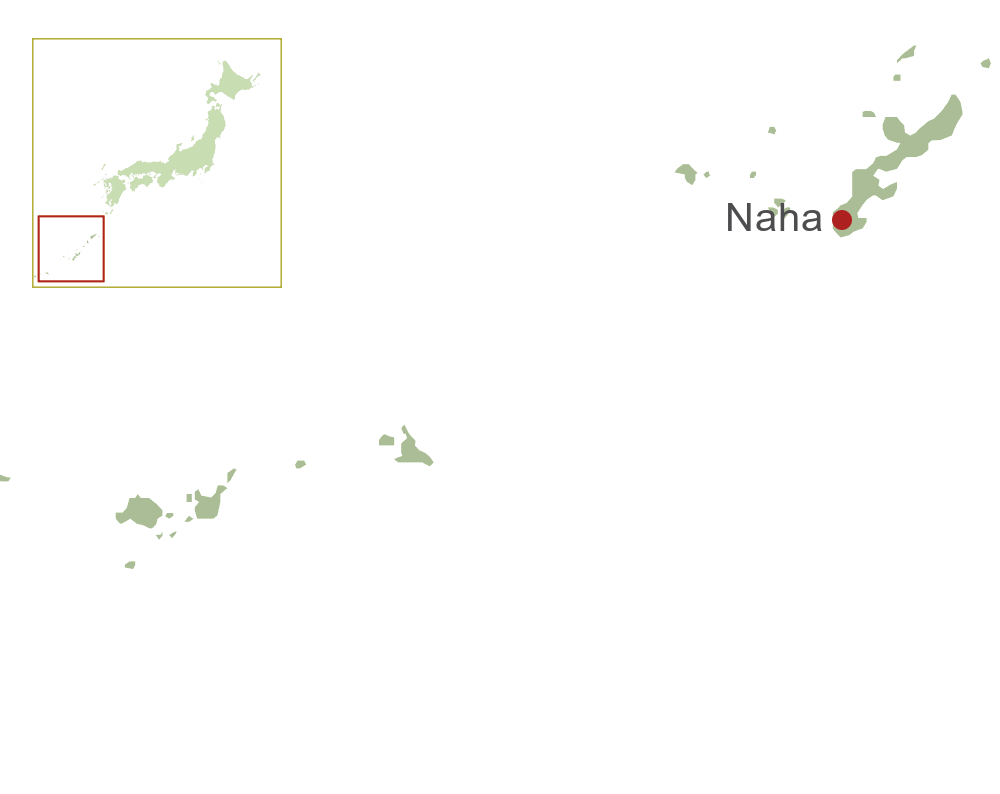 "With its unique Ryukyu culture, Naha offers a very different view of Japan as well as great nightlife. Great for day trips and also as a place to stop off for a couple of nights on the way to the beach"
Alastair Donnelly, Director
The city revolves around Kokusai Dori (International Street) which is lined with department stores, souvenir shops, movie theatres, restaurants and cafes. Just off this street is Makishi Market where fresh fish, meat and produce is sold.
Whilst there are foreign influences, Naha still manages to maintain the unique aspects of Okinawan culture. There are many shops selling traditional Okinawan textiles and the Tsuboya pottery district has some fine examples of Okinawan ceramics including the famous Shisa figures, mythical creatures which are used to guard dwellings on the island.
The city was extensively bombed during World War II but many of the temples and shrines have been rebuilt back to their former glory. Shuri castle, which overlooks the city, was chosen as the headquarters for Japanese troops during the 82 day battle of Okinawa and was completely destroyed. Much of the stonework has now been rebuilt.
Naha is a truly fascinating city with a mix of cultures and an interesting history and can keep you occupied for days. With an airport, port and other transport links it is also a great base to explore the rest of Okinawa and its surrounding islands.
Weather in Naha
The Climate Guide for Naha, Japan is perfect for planning your holiday. Monthly weather averages give the best indication of what the weather is usually like for every month of the year including figures for temperature, rainfall and sunshine.
Jan
Feb
Mar
Apr
May
Jun
Jul
Aug
Sep
Oct
Nov
Dec
Max Daytime Temperature (°C)
19
19
21
24
26
29
31
31
30
27
24
21
Min Night-time Temperature (°C)
13
13
15
18
20
24
26
25
24
21
18
15
Hours of Sunshine (Daily)
3
3
4
5
5
6
8
7
7
6
4
3
Hours of Daylight (Daily)
11
11
12
13
13
14
14
13
12
12
11
10
Heat and Humidity Discomfort
None
None
None
None
Low
High
Very High
Very High
High
Moderate
None
None
Days with some Rainfall
21
19
20
17
19
19
19
21
19
19
19
20
Monthly Rainfall (mm)
115
130
142
161
209
233
208
222
229
174
152
114
UV Index (Maximum)
6
8
10
11
11+
11+
11+
11+
10
8
6
5
Featured trips including Naha
Tokyo
Ishigaki
Taketomi
Iriomote
Naha
Tokashiki Island
Tokyo

This 12-night superior island-hopping itinerary introduces Japan's subtropical side in style, with superb accommodation and fine dining included.

12 nights: from US$7774 pp (twin share) Read more >