Self-Guided Adventure
World Heritage
17 Nights: from US$7566 per person (twin share)
Trip Code: WHRTGS
Discover Japan's most important cultural and historical monuments as you visit the temples of Nikko, the Peace Park at Hiroshima, and Himeji Castle, staying in outstanding accommodation - including a traditional townhouse in Kanazawa and a temple lodging on Mount Koya. Read more >
This is a fast-paced itinerary designed to give you a flavour of how much you can fit into a trip centered around the most famous World Heritage sites in Japan. If you want to slim down the itinerary to leave off a few destinations and spend a bit more time somewhere else, we can adapt it to suit your interests.
Your adventure begins and ends in Tokyo, a beacon of modernity whose radical architecture and irrepressible pop culture provide a fascinating counterpoint to the rich historical monuments that provide the inspiration for this itinerary.
Just a short journey from Tokyo lies Nikko, home to the mind-bogglingly intricate temple complex that serves as the final resting place of the shogun Tokugawa Ieyasu: one of the most important figures in Japanese history.
Mount Koya provides a link to another celebrated personage, the monk Kobo Daishi, who introduced Shingon Buddhism to Japan. Here you'll stay in a shukubo temple lodging, eat vegetarian shojin ryori cuisine and watch as monks perform their solemn morning rites.
The cities of Kyoto and Hiroshima harbour a diverse array of remarkable historical gems. In Hiroshima visit the atmospheric Peace Park, where the tragic events of 1945 come hauntingly alive. Kyoto is home to no less than 17 World Heritage locations, from much-loved Kiyomizu-dera Temple to the "nightingale floor" of Nijo Castle, and offers the chance for a day trip to another World Heritage hotspot: the ancient capital of Nara.
On your third day in Kanazawa, you'll take a day trip out to Shirakawago, a peaceful village set to the backdrop of the Japanese Alps. If you are feeling adventurous, we highly recommend spending a night here in one of the traditional farmhouses. The facilities are simple but the hospitality is warm, and the homecooked meals using locally sourced ingredients are the best way to round off a trip to Japan.
Finally, crowning your World Heritage trip is a visit to Himeji Castle. Himeji is by far the largest and most spectacular of all Japan's castles - there really is nothing else like it!
What's included
17 nights' accommodation (five nights Japanese-style)

15 breakfasts, four lunches, and five dinners

Airport transfers

All transport between destinations in Japan

Six-hour private tour in Nikko including lunch and entrance fees

Eight-hour private guide service in Tokyo, Kyoto and Mount Koya including lunch and entrance fees

Visit to Saiho-ji's moss garden temple

Private cooking class in Kanazawa

Bonsai experience in Tokyo

Manaca transport pass with 2,500 yen credit for city transport

Nikko Free Pass for transport in the Nikko region

Kansai Thru Pass

First class (green) 14-day Japan Rail Pass

Pocket WiFi device

Your personalised InsideJapan Info-Pack
What's NOT included:
International flights

Local transport (buses, subways, taxis) unless otherwise specified

Any entrance fees including those for shrines, temples and museums unless otherwise specified

Baggage handling and luggage forwarding
Trip Highlights
Discover Nikko National Park

Visit Kyoto's historic temples and shrines

Visit Hiroshima's haunting Peace Park and Museum
Stay in an authentic shukubo temple lodging

Admire Himeji Castle, Japan's largest

Learn the local cuisine at a cooking class in Kanazawa
For more information email us: [email protected] or call: + 44 117 244 3380
What, where, when and how...
World Heritage - 18 Days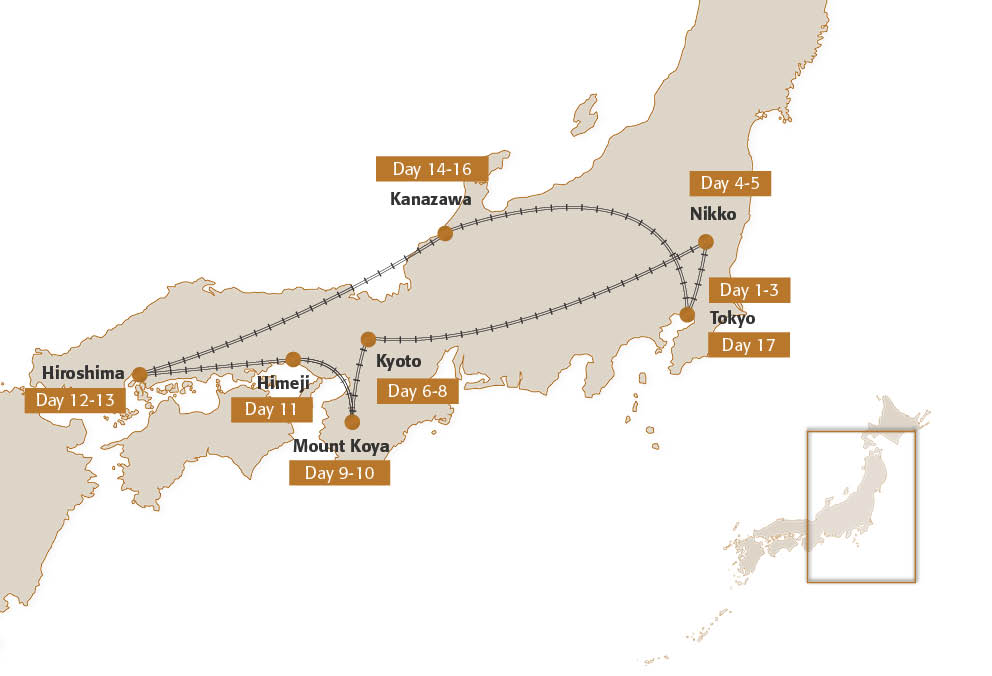 World Heritage - 18 Days - Day by Day
World Heritage - 18 Days - Accommodation
Day 1-3

Begin your Japanese adventure with a three-night stay in Tokyo's historical Asakusa district, where throngs of street market traders and food stalls evoke the atmosphere of old Edo.

The remainder of today will be free for you to explore the area or to venture further afield if you fancy it. You might decide to visit one of Ueno Park's fascinating museums or watch a traditional Kabuki performance at the Kabuki-za Theatre in Ginza – check you Info-Pack for lots of sightseeing ideas to keep you busy!
On your first full day in Tokyo we will arrange for a private local guide to take you on a tour of the city. Highlights will include a mixture of the city's famous locations and its lesser-known gems, perhaps including a water bus ride on the Sumida River, a tea ceremony at the teahouse in the Hamarikyu gardens, or maybe people-watching in Harajuku and Yoyogi Park. The options are endless but your guide is sure to make sure that you have a fantastic day. Lunch at a local restaurant will be included as part of the tour.
On your third day in the city we'll include a visit to the Bonsai Village and Museum in Omiya, just north of Tokyo, to get a first-hand look at one of Japan's most famous crafts.

Overnight: Gate Hotel Kaminarimon

Day 4-5

Spend two days in Nikko, home to Japan's most ornate religious architecture and a spectacular national park.

Today you will speed north through the Tokyo suburbs by Shinkansen bullet train to Nikko in Tochigi Prefecture. On arrival you will be met by an experienced local guide who will take you to explore Nikko's UNESCO World Heritage complex – the most ornate collection of religious buildings in all Japan.
Keep your eyes peeled for the original carving of the three wise monkeys from the Buddhist maxim "see no evil, hear no evil, speak no evil." Lunch at a local restaurant will be included in your tour today.
Besides the temple complex, Nikko is also the location of a stunning national park where, 20,000 years ago, the eruption of the sacred Mount Nantai created Lake Chuzenji.
A favourite spot for viewing the changing of the leaves in autumn, this area is criss-crossed with hiking trails and boasts some outstanding natural features such as the Kegon Falls and the breathtaking views from the Akechidaira plateau. Your guide will make suggestions for your time and your Info-Pack will also include full details of the highlights of the national park.

Overnight: Kanaya Hotel

Day 6-8

Explore the cultural and historical heart of Japan, including a visit to the famous Saiho-ji moss garde.

Today you will travel by Shinkansen bullet train to Kyoto, in the Kansai region of Japan. You'll have this afternoon free to begin exploring this fascinating city armed with your personalised Info-Pack, which will be packed with exciting sightseeing suggestions.
On your first full day in the city you'll have a private guide at your disposal to show you some of Kyoto's more famous sights as well as some lesser-known places of interest. The itinerary for today will be flexible and your knowledgeable guide will discuss their ideas with you this morning.
A visit to the Saiho-ji moss temple (Koke-dera) will be included as part of your tour. Viewable by appointment only, the gardens of this temple are justifiably famous throughout Japan, and all visitors are asked to join in a 30-minute session of sutra-chanting before exploring the garden – a great insight into Japanese religious rituals. Lunch will also be included as part of the day's sightseeing.
With another full day at leisure in Kyoto, we highly recommend taking a day trip to one of the excellent destinations within easy reach of the rail network using your Japan Rail Pass. Just a short distance away is Nara, another ancient capital city with an impressive collection of World Heritage Sites without the crowds of Kyoto's main attractions, whilst nearby Osaka is ideal for those seeking the bright lights and entertainment value of the big city.

Overnight: Celestine Kyoto Gion

Day 9-10

Spend the night at an authentic Buddhist shukubo temple lodging, where you can participate in the rituals of temple life and try traditional shojin ryori cuisine.

Journey on to the Kii Peninsula today, where you will arrive at the sacred community of Mount Koya, established by the revered monk Kobo Daishi in 816. The 123 temples that make up this mountain village are surrounded by cedar trees, giving it a truly remote and peaceful atmosphere.
Here you'll be spending two nights at a Buddhist shukubo temple lodging, where you will have the opportunity to experience the daily rituals of the monks and try authentic vegetarian shojin ryori cuisine. For your second day on Mount Koya you will be shown around the town by a local guide, who will be able to give you some great insights into life in the mountains and provide some background to the area's temples and the vast graveyard, Okunoin. Lunch at a local restaurant will be included in the tour today, and you will have another sumptuous shojin ryori feast at your shukubo tonight.

Overnight: Fudoin Shukubo

Day 11

Admire Japan's largest and most impressive original samurai castle, Himeji's "White Heron".

Today you will make your way by funicular railway and rural train out of the mountains and to Himeji, known throughout Japan as the location of the country's finest samurai castle: the "White Heron". Himeji Castle is one of only 12 original castles still extant in Japan, and it is easily the largest, with impressive ramparts and a dramatic keep that dominates the city skyline. After visiting the castle we recommend stopping at Koko-en Gardens just next-door, where you might like to stop at the teahouse for a rest and a cup of green tea.
If you fancy travelling further afield whilst in Himeji, half an hour's bus ride will take you to Engyo-ji Temple complex at the top of Mount Shosha – a wonderful and atmospheric place to visit away from the crowds that flock to the castle.

Overnight: Nikko Hotel Himeji

Day 12-13

Head west to Hiroshima and Miyajima, one an exciting modern city; the other a beautifully tranquil island just across the bay.

On day 12 of your adventure you'll continue your journey west as you make your way to Hiroshima, the first city to be hit by an atomic bomb during the Second World War. Though the events of 1945 will never be forgotten – and every visitor to Hiroshima should pay a visit to the haunting and informative Peace Park and Museum – Hiroshima today is a lively and exciting modern city that refuses to be defined by its tragic past. Whilst here you must be sure to try the local dish, okonomiyaki, a delicious kind of savoury pancake cooked on a hotplate.
After a night in Hiroshima you'll have the chance to visit Miyajima, a small island on the Seto Inland Sea. Miyajima is particularly well-known for is population of friendly deer and for the brilliant red Itsukushima Shrine with its "floating" torii, but venture a little beyond and you'll find other lovely temples and shrines hidden in the surrounding woods. We recommend making your way to the top of Mount Misen (take the cable car unless you're a real masochist!) for spectacular views across the Seto Inland Sea.

Overnight: Sheraton Hiroshima

Day 14-16

Explore wood-panelled streets in Kanazawa, a World Heritage city on the Japan Sea Coast.

On day fourteen of your itinerary, you'll be making your way across Honshu Island to the Japan Sea Coast and Kanazawa, sometimes known as "Little Kyoto" for its impressive collection of historic sights – though without the crowds that Kyoto draws! On your second day in Kanazawa we'll arrange one of our favourite Kanazawa experiences for you: a cooking class! You'll learn about the traditional food culture of the region and try your hand at preparing various dishes, which are also vegan-friendly. Then for lunch you'll be able to enjoy the fruits of your labour.
Cooking complete, you'll have the rest of the day at leisure. The gardens of Kenrokuen are a must-see and a stroll through the bukeyashiki samurai houses give the visitor a chance to step back in time and enjoy the romance of old feudal Japan. The beautiful geisha quarter has a couple of tea houses which are open to the public to take green tea - sadly without the presence of a geisha though!
The following day you'll leave the city for a day trip to Shirakawago, a postcard-perfect village set to the backdrop of the Japanese Alps. For the ultimate traditional experience, we highly recommend spending a night here in one of the thatched gassho-zukuri farmhouses. The facilities and rooms are simple – no western beds here! - but the hospitality from the hosts is warm, and with homecooked meals we think there's no better way to round off your trip to Japan. Let us know if you're interested in staying the night and we can adapt the itinerary accordingly.
Your home in Kanazawa will be a memorable change from a standard hotel – though Kanazawa does have some excellent ones! Instead you will stay in a traditional 'machiya' townhouse where you can feel like a local.

Overnight: Machiya Residence

Day 17-18

Swap traditional towns and peaceful countryside for a final night in Shinjuku, the biggest and brashest of Tokyo's entertainment districts.

Today you will leave behind one ancient capital to return to today's capital, Tokyo. Here you will be staying in Shinjuku, Tokyo's dynamic, high-rise entertainment and business hub – a striking contrast to the ancient temples, national parks and small towns you've visited so far on your adventure! This is the perfect spot for some last-minute shopping and sightseeing, and the choice of restaurants and bars for this evening is never-ending.
Sadly your adventures must come to an end, and on your final morning a private car will take you to the airport in time for your departure flight. Have a safe journey home.

Overnight: Century Southern Tower
View all days
Day 1-3

Begin your Japanese adventure with a three-night stay in Tokyo's historical Asakusa district, where throngs of street market traders and food stalls evoke the atmosphere of old Edo.

The remainder of today will be free for you to explore the area or to venture further afield if you fancy it. You might decide to visit one of Ueno Park's fascinating museums or watch a traditional Kabuki performance at the Kabuki-za Theatre in Ginza – check you Info-Pack for lots of sightseeing ideas to keep you busy!
On your first full day in Tokyo we will arrange for a private local guide to take you on a tour of the city. Highlights will include a mixture of the city's famous locations and its lesser-known gems, perhaps including a water bus ride on the Sumida River, a tea ceremony at the teahouse in the Hamarikyu gardens, or maybe people-watching in Harajuku and Yoyogi Park. The options are endless but your guide is sure to make sure that you have a fantastic day. Lunch at a local restaurant will be included as part of the tour.
On your third day in the city we'll include a visit to the Bonsai Village and Museum in Omiya, just north of Tokyo, to get a first-hand look at one of Japan's most famous crafts.

Overnight: Gate Hotel Kaminarimon

Day 4-5

Spend two days in Nikko, home to Japan's most ornate religious architecture and a spectacular national park.

Today you will speed north through the Tokyo suburbs by Shinkansen bullet train to Nikko in Tochigi Prefecture. On arrival you will be met by an experienced local guide who will take you to explore Nikko's UNESCO World Heritage complex – the most ornate collection of religious buildings in all Japan.
Keep your eyes peeled for the original carving of the three wise monkeys from the Buddhist maxim "see no evil, hear no evil, speak no evil." Lunch at a local restaurant will be included in your tour today.
Besides the temple complex, Nikko is also the location of a stunning national park where, 20,000 years ago, the eruption of the sacred Mount Nantai created Lake Chuzenji.
A favourite spot for viewing the changing of the leaves in autumn, this area is criss-crossed with hiking trails and boasts some outstanding natural features such as the Kegon Falls and the breathtaking views from the Akechidaira plateau. Your guide will make suggestions for your time and your Info-Pack will also include full details of the highlights of the national park.

Overnight: Kanaya Hotel

Day 6-8

Explore the cultural and historical heart of Japan, including a visit to the famous Saiho-ji moss garde.

Today you will travel by Shinkansen bullet train to Kyoto, in the Kansai region of Japan. You'll have this afternoon free to begin exploring this fascinating city armed with your personalised Info-Pack, which will be packed with exciting sightseeing suggestions.
On your first full day in the city you'll have a private guide at your disposal to show you some of Kyoto's more famous sights as well as some lesser-known places of interest. The itinerary for today will be flexible and your knowledgeable guide will discuss their ideas with you this morning.
A visit to the Saiho-ji moss temple (Koke-dera) will be included as part of your tour. Viewable by appointment only, the gardens of this temple are justifiably famous throughout Japan, and all visitors are asked to join in a 30-minute session of sutra-chanting before exploring the garden – a great insight into Japanese religious rituals. Lunch will also be included as part of the day's sightseeing.
With another full day at leisure in Kyoto, we highly recommend taking a day trip to one of the excellent destinations within easy reach of the rail network using your Japan Rail Pass. Just a short distance away is Nara, another ancient capital city with an impressive collection of World Heritage Sites without the crowds of Kyoto's main attractions, whilst nearby Osaka is ideal for those seeking the bright lights and entertainment value of the big city.

Overnight: Celestine Kyoto Gion

Day 9-10

Spend the night at an authentic Buddhist shukubo temple lodging, where you can participate in the rituals of temple life and try traditional shojin ryori cuisine.

Journey on to the Kii Peninsula today, where you will arrive at the sacred community of Mount Koya, established by the revered monk Kobo Daishi in 816. The 123 temples that make up this mountain village are surrounded by cedar trees, giving it a truly remote and peaceful atmosphere.
Here you'll be spending two nights at a Buddhist shukubo temple lodging, where you will have the opportunity to experience the daily rituals of the monks and try authentic vegetarian shojin ryori cuisine. For your second day on Mount Koya you will be shown around the town by a local guide, who will be able to give you some great insights into life in the mountains and provide some background to the area's temples and the vast graveyard, Okunoin. Lunch at a local restaurant will be included in the tour today, and you will have another sumptuous shojin ryori feast at your shukubo tonight.

Overnight: Fudoin Shukubo

Day 11

Admire Japan's largest and most impressive original samurai castle, Himeji's "White Heron".

Today you will make your way by funicular railway and rural train out of the mountains and to Himeji, known throughout Japan as the location of the country's finest samurai castle: the "White Heron". Himeji Castle is one of only 12 original castles still extant in Japan, and it is easily the largest, with impressive ramparts and a dramatic keep that dominates the city skyline. After visiting the castle we recommend stopping at Koko-en Gardens just next-door, where you might like to stop at the teahouse for a rest and a cup of green tea.
If you fancy travelling further afield whilst in Himeji, half an hour's bus ride will take you to Engyo-ji Temple complex at the top of Mount Shosha – a wonderful and atmospheric place to visit away from the crowds that flock to the castle.

Overnight: Nikko Hotel Himeji

Day 12-13

Head west to Hiroshima and Miyajima, one an exciting modern city; the other a beautifully tranquil island just across the bay.

On day 12 of your adventure you'll continue your journey west as you make your way to Hiroshima, the first city to be hit by an atomic bomb during the Second World War. Though the events of 1945 will never be forgotten – and every visitor to Hiroshima should pay a visit to the haunting and informative Peace Park and Museum – Hiroshima today is a lively and exciting modern city that refuses to be defined by its tragic past. Whilst here you must be sure to try the local dish, okonomiyaki, a delicious kind of savoury pancake cooked on a hotplate.
After a night in Hiroshima you'll have the chance to visit Miyajima, a small island on the Seto Inland Sea. Miyajima is particularly well-known for is population of friendly deer and for the brilliant red Itsukushima Shrine with its "floating" torii, but venture a little beyond and you'll find other lovely temples and shrines hidden in the surrounding woods. We recommend making your way to the top of Mount Misen (take the cable car unless you're a real masochist!) for spectacular views across the Seto Inland Sea.

Overnight: Sheraton Hiroshima

Day 14-16

Explore wood-panelled streets in Kanazawa, a World Heritage city on the Japan Sea Coast.

On day fourteen of your itinerary, you'll be making your way across Honshu Island to the Japan Sea Coast and Kanazawa, sometimes known as "Little Kyoto" for its impressive collection of historic sights – though without the crowds that Kyoto draws! On your second day in Kanazawa we'll arrange one of our favourite Kanazawa experiences for you: a cooking class! You'll learn about the traditional food culture of the region and try your hand at preparing various dishes, which are also vegan-friendly. Then for lunch you'll be able to enjoy the fruits of your labour.
Cooking complete, you'll have the rest of the day at leisure. The gardens of Kenrokuen are a must-see and a stroll through the bukeyashiki samurai houses give the visitor a chance to step back in time and enjoy the romance of old feudal Japan. The beautiful geisha quarter has a couple of tea houses which are open to the public to take green tea - sadly without the presence of a geisha though!
The following day you'll leave the city for a day trip to Shirakawago, a postcard-perfect village set to the backdrop of the Japanese Alps. For the ultimate traditional experience, we highly recommend spending a night here in one of the thatched gassho-zukuri farmhouses. The facilities and rooms are simple – no western beds here! - but the hospitality from the hosts is warm, and with homecooked meals we think there's no better way to round off your trip to Japan. Let us know if you're interested in staying the night and we can adapt the itinerary accordingly.
Your home in Kanazawa will be a memorable change from a standard hotel – though Kanazawa does have some excellent ones! Instead you will stay in a traditional 'machiya' townhouse where you can feel like a local.

Overnight: Machiya Residence

Day 17-18

Swap traditional towns and peaceful countryside for a final night in Shinjuku, the biggest and brashest of Tokyo's entertainment districts.

Today you will leave behind one ancient capital to return to today's capital, Tokyo. Here you will be staying in Shinjuku, Tokyo's dynamic, high-rise entertainment and business hub – a striking contrast to the ancient temples, national parks and small towns you've visited so far on your adventure! This is the perfect spot for some last-minute shopping and sightseeing, and the choice of restaurants and bars for this evening is never-ending.
Sadly your adventures must come to an end, and on your final morning a private car will take you to the airport in time for your departure flight. Have a safe journey home.

Overnight: Century Southern Tower
Close all days
Other trips you may like
Tokyo
Hakone
Kyoto
Kinosaki Onsen
Osaka

Japan's hot spring towns and vibrant cities make for a perfect setting for a romantic honeymoon

11 nights: from US$2938 pp (twin share) Read more >

Tokyo
Kyoto
Mount Koya
Kawayu Onsen
Yunomine Onsen
Nachi
Ise
Tokyo

Join the ranks of the junreisha, or pilgrims, as you explore Ise, Mount Koya and the ancient paths of the Kumano Kodo on this classic trip.

14 nights: from US$4108 pp (twin share) Read more >

Tokyo
Kawaguchiko
Matsumoto
Kyoto
Matsue
Naoshima
Tokyo

This deluxe itinerary introduces the best of Japan's arts scene, with five-star accommodation, exclusive experiences and top-class cuisine included.

14 nights: from US$13897 pp (twin share) Read more >