Self-Guided Adventure
Manga & Anime
10 Nights: from US$2678 per person (twin share)
Trip Code: MANGAC
Experience the very best of Japan with a manga and anime twist on this unusual ten-night itinerary. With sightseeing time amongst the bright lights of Tokyo, historic Kyoto and vibrant Osaka mixed with visits to the top manga and anime museums, this trip is sure to be packed with fun. Read more >
Manga (Japanese comics) and anime (Japanese animation) have become integral parts of modern Japanese life and culture, and as such there is no way of escaping their influence. Without them Japan would definitely not be the brilliant and intriguing country that it is today!
In Tokyo you will kick off your trip with a full day of exploring with one of our "Insider" guides who calls the capital 'home'. Wander Harajuku to catch up on the latest youth trends, spot cosplayers displaying their elaborate costumes based on their favourite fictional characters, and visit the fabulous Studio Ghibli Museum just outside Tokyo.
The latter is a must for all anime fans, giving visitors the chance to learn about the inner workings of the animation genius Hayao Miyazaki - revered creator of Spirited Away, My Neighbour Totoro and Princess Mononoke. We'll also include tickets to one of our favourite attractions in the city, the immersive, interactive, and futuristic art of teamLab.
Heading south on the world-renowned Shinkansen bullet train, you will spend a few days in the cultural heart of Japan, Kyoto, before making your way to Osaka - Tokyo's fun-loving cousin.
As well as the classic cultural highlights in Kyoto, including a guided walk of the atmospheric Gion geisha district, you will have the opportunity to visit the International Manga Museum and spend an afternoon at the Toei Movie Park - where you can dress up as a samurai, geisha or ninja and explore some real Japanese film sets!
We also recommend a day trip to Takarazuka just outside of Osaka, where you can visit the Osamu Tezuka Manga Museum. Then to wrap up your trip, you can spend the day trying out all the rides at Universal Studios Japan.
If you'd like to return to Tokyo to fly home from there, just let us know - we can easily add that on for you.
What's included
Ten nights' accommodation

Breakfast every day and two lunches

All transport between destinations

Airport transfers

Manaca transport card with 2,500 yen credit for city transport

Manga- and anime-themed day tour in Tokyo

Eight-hour private guide service in Kyoto

Ghibli fan bus tour including Ghibli Museum entry

Toei Movie Village tickets

Tickets to teamLab in Tokyo

Tickets to GEAR theatre performance in Kyoto

Pocket WiFi device

Your personalised InsideJapan Info-Pack
What's NOT included:
International flights

Local transport (buses, subways, taxis) at any destination unless otherwise specified

Any entrance fees unless otherwise stated

Baggage handling and luggage forwarding
Trip Highlights
Take a manga themed tour of Tokyo with our Insider expert

Explore Osaka's buzzing Dotonbori district

Spend an afternoon at Toei Studio Park

Ride the rollercoasters at Universal Studios theme park
Travel on the world-famous bullet train

Visit Akihabara - the centre of all things anime

Immerse yourself in teamLab's colourful interactive art

Stop by the Kyoto International Manga Museum
For more information email us: [email protected] or call: + 44 117 244 3380
What, where, when and how...
Manga & Anime - 11 Days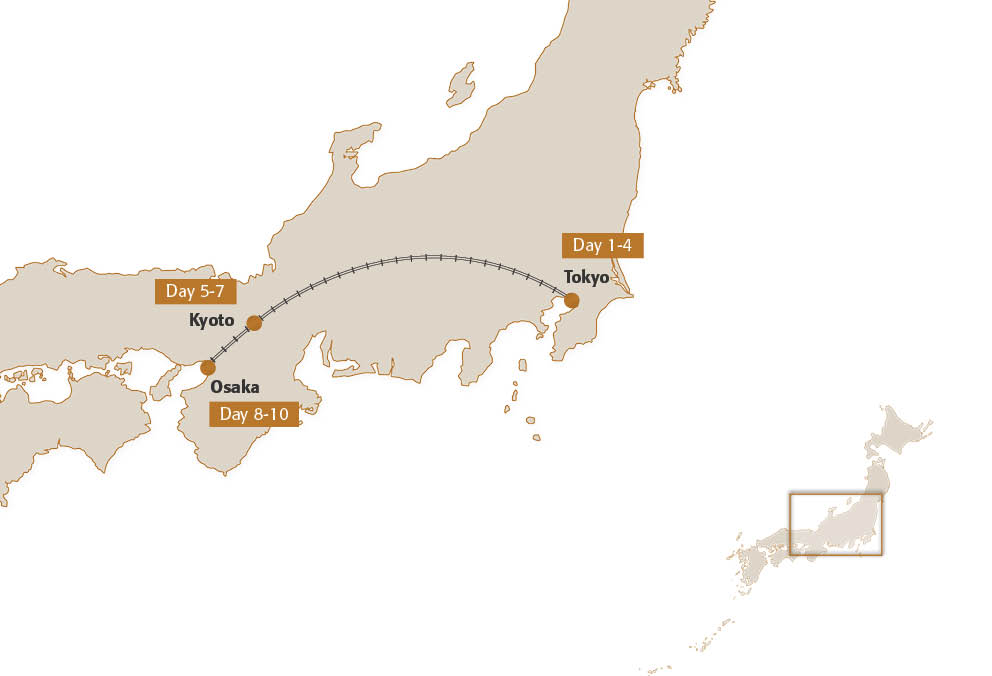 Destinations
Manga & Anime - 11 Days - Day by Day
Manga & Anime - 11 Days - Accommodation

Manga & Anime - 11 Days - Experiences
Day 1-4

Find your own cosplay costume in Akihabara "electric town", hang out with Totoro, and stand in the shadow of a Gundam Wing suit in futuristic Odaiba.

On arrival at the airport today, you will make your way to your hotel by shuttle bus and have the rest of the day free to explore. You will be staying in Akihabara, the national centre of all things anime and manga-related. Stop in at the famous Mandarake shop with its outrageous costumes, wigs, comics and models; check out the AKB48 café for an insight into Japanese pop idol culture; or just explore "electric town" in general.

On your first full day in the capital you will be accompanied by one of our "Insider" staff on a manga and anime-themed tour of Tokyo. The plan for today is completely flexible and your Insider will help you decide what you'd most like to do. Perhaps you'd like to head over to Harajuku to spot some cosplay enthusiasts in Yoyogi Park or visit Tokyo's other anime & manga mecca: Nakano Broadway.

Day two will see you heading to the magical Ghibli Musem (tickets included). The shop is well worth a visit! On the following day we recommend heading down to Tokyo Bay. The manmade island of Odaiba is home to the famous Gundam statue, the futuristic Miraikan museum, and Joypolis indoor arcarde and amusement park. We'll also include tickets to the incredible teamLab art exhibition – this isn't just any old art gallery. Here the exhibits are fully immersive and you can interact them as you make your way through the space, from lanterns that light up as you move, to the shimmering colour-changing 'crystal universe'.

We can arrange many other activities in Tokyo, such as cute bento-box cooking classes to a manga drawing workshop, taiko drumming and so much more. Let us know your interests and we can adapt the itinerary to suit.

Overnight: Remm Akihabara

Day 5-7

Visit the Gion geisha district, stop by the International Manga Museum, and take in an incredible family-friendly show

Today you will ride the Shinkansen bullet train to Japan's cultural capital, Kyoto. In the evening we've included a show like no other: GEAR, an incredible non-verbal theatre performance that's family-friendly but appeals to people of all ages. Trust us, we've been!

On the second day in Kyoto, we'll arrange for you to see the sights with your own private guide. Whether you want to temple hop, wander the bamboo groves of Arashiyama, hike through the orange torii gates of Fushimi Inari, or hit up Nishiki Market, your guide can match the day's itinerary to your interests.

The following day we will included a visit to the Toei Movie Village, where you can dress up as a historical character and wander through real Japanese film sets!

On the final morning in Kyoto, we recommend visiting the International Manga Museum before making your way over to Osaka.

Of course, if there are any other cultural experiences you'd like to try in Kyoto, from doing a tea ceremony in a beautiful kimono, to pretending to be a ninja to trying your hand at calligraphy, we can make arrangements for you. Just let us know what you're interested in

Overnight: OMO5 Kyoto Sanjo

Day 8-11

Wander Osaka's neon-spangled Dotonbori district before heading to Universal Studios

The next stop on your adventure will be Osaka, only 30 minutes by train from Kyoto. You'll have two full days to explore the city, where highlights include Osaka Castle and the architecturally spectacular Umeda Sky Building. Be sure to try the local specialty of takoyaki octopus balls (tastier than they sound!) The neon-spangled Dotonbori district is the place to go this evening – there's a reason it's known as "Japan's kitchen"!

After an action-packed day sightseeing, you'll wrap up your Japan trip with an unforgettable visit to Universal Studios, before taking the train out to Kansai International Airport the following morning.

If you want to fly back from Tokyo instead or extend your trip to see more of Japan, we can adjust the itinerary accordingly.

Overnight: Royal Park Canvas Osaka Kitahama
View all days
Day 1-4

Find your own cosplay costume in Akihabara "electric town", hang out with Totoro, and stand in the shadow of a Gundam Wing suit in futuristic Odaiba.

On arrival at the airport today, you will make your way to your hotel by shuttle bus and have the rest of the day free to explore. You will be staying in Akihabara, the national centre of all things anime and manga-related. Stop in at the famous Mandarake shop with its outrageous costumes, wigs, comics and models; check out the AKB48 café for an insight into Japanese pop idol culture; or just explore "electric town" in general.

On your first full day in the capital you will be accompanied by one of our "Insider" staff on a manga and anime-themed tour of Tokyo. The plan for today is completely flexible and your Insider will help you decide what you'd most like to do. Perhaps you'd like to head over to Harajuku to spot some cosplay enthusiasts in Yoyogi Park or visit Tokyo's other anime & manga mecca: Nakano Broadway.

Day two will see you heading to the magical Ghibli Musem (tickets included). The shop is well worth a visit! On the following day we recommend heading down to Tokyo Bay. The manmade island of Odaiba is home to the famous Gundam statue, the futuristic Miraikan museum, and Joypolis indoor arcarde and amusement park. We'll also include tickets to the incredible teamLab art exhibition – this isn't just any old art gallery. Here the exhibits are fully immersive and you can interact them as you make your way through the space, from lanterns that light up as you move, to the shimmering colour-changing 'crystal universe'.

We can arrange many other activities in Tokyo, such as cute bento-box cooking classes to a manga drawing workshop, taiko drumming and so much more. Let us know your interests and we can adapt the itinerary to suit.

Overnight: Remm Akihabara

Day 5-7

Visit the Gion geisha district, stop by the International Manga Museum, and take in an incredible family-friendly show

Today you will ride the Shinkansen bullet train to Japan's cultural capital, Kyoto. In the evening we've included a show like no other: GEAR, an incredible non-verbal theatre performance that's family-friendly but appeals to people of all ages. Trust us, we've been!

On the second day in Kyoto, we'll arrange for you to see the sights with your own private guide. Whether you want to temple hop, wander the bamboo groves of Arashiyama, hike through the orange torii gates of Fushimi Inari, or hit up Nishiki Market, your guide can match the day's itinerary to your interests.

The following day we will included a visit to the Toei Movie Village, where you can dress up as a historical character and wander through real Japanese film sets!

On the final morning in Kyoto, we recommend visiting the International Manga Museum before making your way over to Osaka.

Of course, if there are any other cultural experiences you'd like to try in Kyoto, from doing a tea ceremony in a beautiful kimono, to pretending to be a ninja to trying your hand at calligraphy, we can make arrangements for you. Just let us know what you're interested in

Overnight: OMO5 Kyoto Sanjo

Day 8-11

Wander Osaka's neon-spangled Dotonbori district before heading to Universal Studios

The next stop on your adventure will be Osaka, only 30 minutes by train from Kyoto. You'll have two full days to explore the city, where highlights include Osaka Castle and the architecturally spectacular Umeda Sky Building. Be sure to try the local specialty of takoyaki octopus balls (tastier than they sound!) The neon-spangled Dotonbori district is the place to go this evening – there's a reason it's known as "Japan's kitchen"!

After an action-packed day sightseeing, you'll wrap up your Japan trip with an unforgettable visit to Universal Studios, before taking the train out to Kansai International Airport the following morning.

If you want to fly back from Tokyo instead or extend your trip to see more of Japan, we can adjust the itinerary accordingly.

Overnight: Royal Park Canvas Osaka Kitahama
Close all days
Other trips you may like
Iiyama
Togarinozawa Onsen

Lace up your hiking boots for a three-day hike along the Sekida Mountain's Shin-Etsu Trail.

3 nights: from US$1040 pp (twin share) Read more >

Tokyo
Hakone
Kyoto
Hiroshima
Osaka
Takayama
Tokyo

An essential two-week itinerary featuring some of Japan's classic sights, including Tokyo, Kyoto and Mount Fuji.

14 nights: from US$2535 pp (twin share) Read more >

Tokyo
Matsumoto
Takayama
Kyoto
Osaka
Tokyo

The whole family can get stuck in to Japanese culture with this hands-on activity holiday.

12 nights: from US$11648 (per family) Read more >