Self-Guided Adventure
Japan Arts Trail
15 Nights: from US$12908 per person (twin share)
Trip Code: JARTD
Discover world-class museums and galleries all across Japan, from city skyscrapers to rural towns where art has brought a new and unique vibrancy to otherwise forgotten places. This trip will allow you to visit Japan's classic sights as well as some real artistic treasures. Read more >
With this itinerary you will travel from Tokyo to Kyoto via a stunning national park before returning to the capital by way of Naoshima "Art Island" in the Seto Inland Sea. Exploring some of the best museums and art exhibitions both large and small, you will see Japan through the eyes of its artists whilst discovering the country and culture that have shaped their works.
Three nights in the capital will introduce you to the diverse nature of the Japanese art world before you travel on to Hakone by the world famous Shinkansen bullet train. Here you will soak in hot spring onsen baths created by the area's volcanic activity and surrounded by spectacular views - including (if you're lucky!) a glimpse of Japan's most iconic landmark: Mount Fuji.
At the Chokoku no Mori outdoor sculpture park you'll have the chance to admire the works of Henry Moore, Anthony Gormley and many others are set against a stunning mountain backdrop.
In Matsue you'll appreciate the collection of modern Japanese art at the Adachi Museum, also home to one of the country's best landscape gardens, before taking a sunset cruise across Lake Shinji and exploring one of Japan's best-preserved medieval castles.
Nagoya offers some of the country's finest Shogun Era arts alongside world-class contemporary museums, whilst Naoshima Island in the Seto Inland Sea will not fail to disappoint with its litany of outstanding galleries such as Benesse House, the Chichu Art Museum, and the Art House Projects of Honmura village.
This itinerary will take you from Japan's modern capital to its historical and cultural heart, via a mountainous national park and a remarkable little island to discover the amazing range of arts that Japan has to offer.
What's included
15 nights' accommodation (four nights Japanese-style)

Breakfast each morning, four evening meals and three lunches

Airport transfers by private car

First class (green) train travel between destinations

Taxis between train stations (and hotels in some destinations)

Eight-hour private guide and driver service in Tokyo and Kyoto, including lunch and entrance fees

Tour of Fuji Five Lakes by private car with an expert guide

Afternoon tea with a maiko (apprentice geisha) in Kyoto

Manaca transport card with 2,500 yen credit for city transport

Pocket WiFi device

Your personalised InsideJapan Info-Pack
What's NOT included:
International flights

Local transport (taxis, subways, buses) unless otherwise specified

Entrance fees unless otherwise specified

Baggage handling and luggage forwarding
Trip Highlights
Hop across the Inland Sea to explore Naoshima art island

See Tokugawa Era artworks in Nagoya

Experience the very best in Japanese hospitality at the Gora Kadan ryokan
Discover Tokyo's world-class galleries

Meet an apprentice geisha in Kyoto

Visit the award-winning Adachi Museum and gardens
For more information email us: [email protected] or call: + 44 117 244 3380
What, where, when and how...
Japan Arts Trail - 16 Days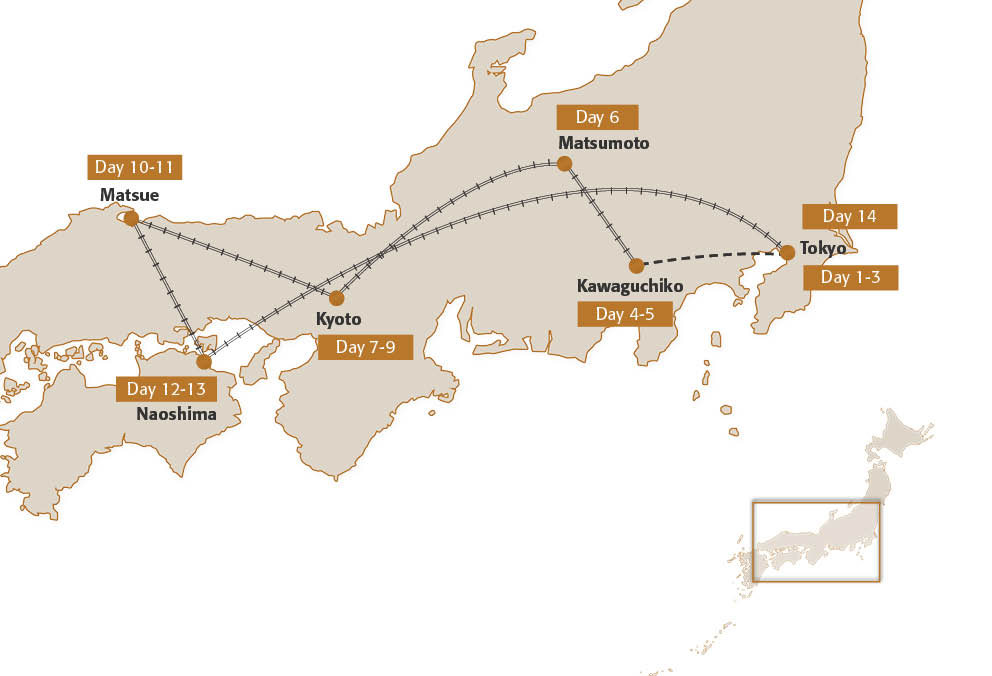 Japan Arts Trail - 16 Days - Day by Day
Japan Arts Trail - 16 Days - Accommodation
Japan Arts Trail - 16 Days - Experiences
Day 1-3

Watch a kabuki performance, try a tea ceremony in Hamarikyu Gardens and discover the diversity of Tokyo's arts scene in Japan's inimitable capital city.

On arrival at Tokyo's Narita Airport you will be taken by private car to your hotel near Tokyo Station, where you will truly be in the centre of this bustling metropolis.

Spend the rest of today getting acquainted with the city – stroll through the Imperial Palace gardens or take in a traditional kabuki performance at the Kabuki-za theatre in Ginza, both only a stone's throw from your hotel.

Alternatively, you could visit the ever-changing modern art exhibitions at Roppongi's Mori Tower or the extensive ukiyo-e woodblock print collection at the National Museum in Ueno Park.

On your first full day in Tokyo you will have a private guide and driver at your disposal to help you make the most of your time in this extraordinary city. Today you will have the chance to get a personal insight into both the classic sights and some of the lesser-known gems of the city at a pace that suits you.

Whether you choose to discover the historical district of Asakusa, lose yourself amongst the bright lights of Shinjuku, or try a tea ceremony next to the lake at Hamarikyu Gardens – today, Tokyo is your oyster.

With a second full day in Tokyo there are endless options just waiting to be discovered. Travel through the art of the twentieth century at the Museum of Contemporary Art, peruse Ginza's fabulous photography museums and make a trip to the Tokyo Station Gallery to experience some of the best of the capital's arts scene.

For those who need a break from the city, a day trip to the giant stone Buddha in sleepy Kamakura, hiking at Mount Takao or a visit to Nikko's ornate shrine complex are also great possibilities.

Overnight: Shangri-La

Day 4-5

Trade the city crowds for the peace and quiet of Fuji-Hakone National Park, where you'll enjoy some of the country's best scenery, hot springs and galleries under the watchful eye of Mount Fuji.

Leaving the capital behind, today you will have the chance to discover the Fuji Five Lakes region with the help of a private guide and driver. Here, if the weather is favourable, you will be privy to the very best views of Japan's most iconic landmark and visit Fuji's fifth station for spectacular views from nearly 2,000m above sea level.

You will stop for a complementary lunch at a local restaurant and visit a selection of the local points of interest before being dropped off for a kaiseki dinner prepared by one of Japan's top chefs at your exclusive accommodation in Hakone.

On day two of your stay in Hakone, visit the sulphurous crater at Owakudani and try one of the black eggs cooked in hot spring water – reputed to bring good health and fortune! Next, take a pirate ship ride across Lake Ashi for more spectacular views of Mount Fuji (if the weather is clear!).

There are also several interesting galleries and museums in the area, the best of which is the Chokoku no Mori outdoor sculpture park. Return to your ryokan to relax in the hot spring waters and indulge in another fabulous dinner tonight.

Overnight: Gora Kadan

Day 6-7

Return to the city as you explore the world-class art museums of Nagoya, home to Japan's finest collection of Tokugawa Era antiques.

The next stop on your arts itinerary is Nagoya, reached in first class comfort on the world-famous bullet train. Your hotel will be located on the top floors of one of Nagoya station's towers, from where you can begin to explore the city this afternoon.

You can be certain that your Info-Pack will include some fantastic suggestions to keep you busy, as Nagoya is the home of our office in Japan!

On day seven of your trip you will have a full day in Nagoya with plenty of time of visit one of the top art museums here: The Tokugawa Art Museum will introduce you to the finest arts of the Shogun Era.

Nearby Toyota City is also home to an excellent art museum exhibiting the works of Gustav Klimt and Edvard Munch. Spend the evening discovering the bars and restaurants of Nagoya's vibrant entertainment quarter.

Overnight: Marriott Associa Nagoya

Day 8-10

Spend a few days getting to know Japan's ancient capital through the eyes of the locals as you take a tour of the city and enjoy an exclusive private audience with a trainee geisha.

Today you will ride the bullet train west to Kyoto – the cultural heart of Japan. Arriving at the gigantic architectural masterpiece that is Kyoto station, you would be forgiven for thinking that this is just another modern Japanese city – but a short walk away from your hotel you will find yourself in a different world.

This afternoon you will be granted private audience with a maiko (an apprentice geisha). This is truly a rare and unmissable opportunity to gain an insight into an ancient and secretive profession.

On your second day in Kyoto you will have a private guide and driver at your disposal to help you maximise your time and see both the classic sights and the lesser-known areas of the city.

You will have the opportunity to marvel at Kinkaku-ji's Golden Pavilion, to visit the Nishijin textile district and to test out an ancient burglar alarm at Nijo Castle! Your guide will take you to sample some of the best local cuisine for lunch and will be on hand all day to help give you a personal insight into the cultural life of this amazing city.

Armed with your personalised Info-Pack, you will have another full day to explore Kyoto on day ten of your trip. We suggest a visit to Nishiki Market to discover the wide selection of foods on offer, a ramble through the thousands of vermillion torii gates at Fushimi Inari shrine, a wander in the bamboo groves of Arashiyama, and a boat trip along the peaceful Hozugawa River.

Let us know if you would like us to arrange any experiences for you today, or if you fancy a day trip to somewhere further afield – the ancient capital of Nara, the laid-back city of Osaka, or perhaps Hiroshima.

Overnight: Hyatt Regency Kyoto

Day 11-12

Relax in one of Japan's most lovely traditional ryokan inns at Tamatsukuri before taking a trip to Matsue, Japan's "City of Water".

Another journey on the bullet train will take you to Okayama, where you will catch a limited express train to Matsue. A charming city lying between two lakes on the Japan Sea Coast, Matsue is home to an impressive samurai castle and is known as Japan's "City of Water".

A private car will meet you at Matsue Station and take you to your deluxe ryokan inn in Tamatsukuri, a sacred hot spring town with the nickname "hot waters of God". Here you will relax in the cypress-lined hot spring baths before tasting some of the very best in local cuisine tonight.

After your night in Tamatsukuri, your private car will pick you up and take you the short distance back to Matsue for some sightseeing, including a visit to Japan's most sacred Shinto shrine: Izumo Taisha.

No stay in Matsue would be complete without heading to the Adachi Museum, home to an impressive collection of 1,300 modern Japanese paintings by master painters of the modern era. Despite this vast collection, the Adachi Museum's most famous attraction is its exquisite Japanese garden.

Your driver will drop you back at your accommodation in time for another exquisite dinner tonight.

Overnight: Kai Izumo

Day 13-14

Stay overnight at Benesse House, Naoshima's flagship museum and hotel, as you explore this

No arts trail would be complete without a stay on Naoshima – known as "Art Island" for its pioneering approach to art and numerous innovative exhibitions. From Matsue, you will take a train to Okayama where a private car will take you on to Uno Port. It's then a short ferry journey to the island where you will stay at Benesse House, an architecturally diverse string of buildings designed by Tadao Ando that collectively make up an art gallery and hotel. Explore the works of the likes of Jasper Jones, David Hockney and Andy Warhol here at the island's flagship museum.

After a night at Benesse House you will have a full day to explore the art exhibitions and galleries all over the island. Discover unusual outdoor installations – including Yayoi Kusama's yellow pumpkin – and walk to the Chichu Museum where Monet's Water Lilies and works by James Turrell await.

You might also like to rent a bicycle and cycle around the coast to the Art House Projects sprinkled through the streets of Honmura village. There are small exhibitions around every corner and full details of today's options will be included in your Info-Pack.

Overnight: Benesse House

Day 15-16

Return to Tokyo for some last-minute sightseeing before a final night amongst the sleek skyscrapers of the Shiodome district.

Your trip will come full circle as you return to the capital today. You will retrace your steps to Okayama by ferry and car and from there whizz along the eastern seaboard to the capital. A private car will take you to your hotel in the sleek Shiodome district, where you can spend your last afternoon doing some last-minute shopping, squeeze in a couple more galleries and dine under the train tracks of Shinbashi Station.

On the morning of your final day in Japan you will be taken by private car from your hotel to Tokyo's Narita Airport in time for your departure flight. Have a safe journey home.

Overnight: Conrad Tokyo
View all days
Day 1-3

Watch a kabuki performance, try a tea ceremony in Hamarikyu Gardens and discover the diversity of Tokyo's arts scene in Japan's inimitable capital city.

On arrival at Tokyo's Narita Airport you will be taken by private car to your hotel near Tokyo Station, where you will truly be in the centre of this bustling metropolis.

Spend the rest of today getting acquainted with the city – stroll through the Imperial Palace gardens or take in a traditional kabuki performance at the Kabuki-za theatre in Ginza, both only a stone's throw from your hotel.

Alternatively, you could visit the ever-changing modern art exhibitions at Roppongi's Mori Tower or the extensive ukiyo-e woodblock print collection at the National Museum in Ueno Park.

On your first full day in Tokyo you will have a private guide and driver at your disposal to help you make the most of your time in this extraordinary city. Today you will have the chance to get a personal insight into both the classic sights and some of the lesser-known gems of the city at a pace that suits you.

Whether you choose to discover the historical district of Asakusa, lose yourself amongst the bright lights of Shinjuku, or try a tea ceremony next to the lake at Hamarikyu Gardens – today, Tokyo is your oyster.

With a second full day in Tokyo there are endless options just waiting to be discovered. Travel through the art of the twentieth century at the Museum of Contemporary Art, peruse Ginza's fabulous photography museums and make a trip to the Tokyo Station Gallery to experience some of the best of the capital's arts scene.

For those who need a break from the city, a day trip to the giant stone Buddha in sleepy Kamakura, hiking at Mount Takao or a visit to Nikko's ornate shrine complex are also great possibilities.

Overnight: Shangri-La

Day 4-5

Trade the city crowds for the peace and quiet of Fuji-Hakone National Park, where you'll enjoy some of the country's best scenery, hot springs and galleries under the watchful eye of Mount Fuji.

Leaving the capital behind, today you will have the chance to discover the Fuji Five Lakes region with the help of a private guide and driver. Here, if the weather is favourable, you will be privy to the very best views of Japan's most iconic landmark and visit Fuji's fifth station for spectacular views from nearly 2,000m above sea level.

You will stop for a complementary lunch at a local restaurant and visit a selection of the local points of interest before being dropped off for a kaiseki dinner prepared by one of Japan's top chefs at your exclusive accommodation in Hakone.

On day two of your stay in Hakone, visit the sulphurous crater at Owakudani and try one of the black eggs cooked in hot spring water – reputed to bring good health and fortune! Next, take a pirate ship ride across Lake Ashi for more spectacular views of Mount Fuji (if the weather is clear!).

There are also several interesting galleries and museums in the area, the best of which is the Chokoku no Mori outdoor sculpture park. Return to your ryokan to relax in the hot spring waters and indulge in another fabulous dinner tonight.

Overnight: Gora Kadan

Day 6-7

Return to the city as you explore the world-class art museums of Nagoya, home to Japan's finest collection of Tokugawa Era antiques.

The next stop on your arts itinerary is Nagoya, reached in first class comfort on the world-famous bullet train. Your hotel will be located on the top floors of one of Nagoya station's towers, from where you can begin to explore the city this afternoon.

You can be certain that your Info-Pack will include some fantastic suggestions to keep you busy, as Nagoya is the home of our office in Japan!

On day seven of your trip you will have a full day in Nagoya with plenty of time of visit one of the top art museums here: The Tokugawa Art Museum will introduce you to the finest arts of the Shogun Era.

Nearby Toyota City is also home to an excellent art museum exhibiting the works of Gustav Klimt and Edvard Munch. Spend the evening discovering the bars and restaurants of Nagoya's vibrant entertainment quarter.

Overnight: Marriott Associa Nagoya

Day 8-10

Spend a few days getting to know Japan's ancient capital through the eyes of the locals as you take a tour of the city and enjoy an exclusive private audience with a trainee geisha.

Today you will ride the bullet train west to Kyoto – the cultural heart of Japan. Arriving at the gigantic architectural masterpiece that is Kyoto station, you would be forgiven for thinking that this is just another modern Japanese city – but a short walk away from your hotel you will find yourself in a different world.

This afternoon you will be granted private audience with a maiko (an apprentice geisha). This is truly a rare and unmissable opportunity to gain an insight into an ancient and secretive profession.

On your second day in Kyoto you will have a private guide and driver at your disposal to help you maximise your time and see both the classic sights and the lesser-known areas of the city.

You will have the opportunity to marvel at Kinkaku-ji's Golden Pavilion, to visit the Nishijin textile district and to test out an ancient burglar alarm at Nijo Castle! Your guide will take you to sample some of the best local cuisine for lunch and will be on hand all day to help give you a personal insight into the cultural life of this amazing city.

Armed with your personalised Info-Pack, you will have another full day to explore Kyoto on day ten of your trip. We suggest a visit to Nishiki Market to discover the wide selection of foods on offer, a ramble through the thousands of vermillion torii gates at Fushimi Inari shrine, a wander in the bamboo groves of Arashiyama, and a boat trip along the peaceful Hozugawa River.

Let us know if you would like us to arrange any experiences for you today, or if you fancy a day trip to somewhere further afield – the ancient capital of Nara, the laid-back city of Osaka, or perhaps Hiroshima.

Overnight: Hyatt Regency Kyoto

Day 11-12

Relax in one of Japan's most lovely traditional ryokan inns at Tamatsukuri before taking a trip to Matsue, Japan's "City of Water".

Another journey on the bullet train will take you to Okayama, where you will catch a limited express train to Matsue. A charming city lying between two lakes on the Japan Sea Coast, Matsue is home to an impressive samurai castle and is known as Japan's "City of Water".

A private car will meet you at Matsue Station and take you to your deluxe ryokan inn in Tamatsukuri, a sacred hot spring town with the nickname "hot waters of God". Here you will relax in the cypress-lined hot spring baths before tasting some of the very best in local cuisine tonight.

After your night in Tamatsukuri, your private car will pick you up and take you the short distance back to Matsue for some sightseeing, including a visit to Japan's most sacred Shinto shrine: Izumo Taisha.

No stay in Matsue would be complete without heading to the Adachi Museum, home to an impressive collection of 1,300 modern Japanese paintings by master painters of the modern era. Despite this vast collection, the Adachi Museum's most famous attraction is its exquisite Japanese garden.

Your driver will drop you back at your accommodation in time for another exquisite dinner tonight.

Overnight: Kai Izumo

Day 13-14

Stay overnight at Benesse House, Naoshima's flagship museum and hotel, as you explore this

No arts trail would be complete without a stay on Naoshima – known as "Art Island" for its pioneering approach to art and numerous innovative exhibitions. From Matsue, you will take a train to Okayama where a private car will take you on to Uno Port. It's then a short ferry journey to the island where you will stay at Benesse House, an architecturally diverse string of buildings designed by Tadao Ando that collectively make up an art gallery and hotel. Explore the works of the likes of Jasper Jones, David Hockney and Andy Warhol here at the island's flagship museum.

After a night at Benesse House you will have a full day to explore the art exhibitions and galleries all over the island. Discover unusual outdoor installations – including Yayoi Kusama's yellow pumpkin – and walk to the Chichu Museum where Monet's Water Lilies and works by James Turrell await.

You might also like to rent a bicycle and cycle around the coast to the Art House Projects sprinkled through the streets of Honmura village. There are small exhibitions around every corner and full details of today's options will be included in your Info-Pack.

Overnight: Benesse House

Day 15-16

Return to Tokyo for some last-minute sightseeing before a final night amongst the sleek skyscrapers of the Shiodome district.

Your trip will come full circle as you return to the capital today. You will retrace your steps to Okayama by ferry and car and from there whizz along the eastern seaboard to the capital. A private car will take you to your hotel in the sleek Shiodome district, where you can spend your last afternoon doing some last-minute shopping, squeeze in a couple more galleries and dine under the train tracks of Shinbashi Station.

On the morning of your final day in Japan you will be taken by private car from your hotel to Tokyo's Narita Airport in time for your departure flight. Have a safe journey home.

Overnight: Conrad Tokyo
Close all days
Other trips you may like
Tokyo
Nagano
Kusatsu
Minakami
Lake Chuzenji
Nikko
Tokyo

Discover splendid mountain scenery and hot spring towns in this intrepid driving itinerary along the famous Romantic Road.

10 nights: from US$3612 pp (twin share) Read more >

Iiyama
Togarinozawa Onsen

Combine days of intrepid hiking along the 70km-long Shin-Etsu with a relaxing day off at a family-run inn in a rural village.

4 nights: from US$1260 pp (twin share) Read more >

Tokyo
Nikko
Kyoto
Mount Koya
Himeji
Hiroshima
Kanazawa
Shirakawago
Tokyo

Discover Japan's most important monuments on this superior 17-night trip, including the temples of Nikko, Hiroshima's Peace Park, and Himeji Castle.

17 nights: from US$7126 pp (twin share) Read more >