Self-Guided Adventure
Through the Floating World
15 Nights: from US$6448 per person (twin share)
Trip Code: TFWS
This two-week trip allows you to delve into the life and work of two of Japan's greatest woodblock print artists as you journey to the postal towns and iconic mountains that inspired their most famous works, and provides plenty of time to visit the cities of Tokyo, Kyoto and Kanazawa along the way. Read more >
This two-week itinerary takes you on an artistic journey across Honshu Island, through the landscapes and towns depicted in the iconic ukiyo-e woodblock prints created by the master artists Katsushika Hokusai and Utagawa Hiroshige.

Ukiyo-e, literally meaning "pictures of the floating world", is a genre of art that flourished in the 17th to 19th centuries in Edo (Tokyo). The ukiyo-e artists captured a wide range of subjects in their woodblock prints and paintings, including sumo wrestlers, hedonistic kabuki actors and geisha, folk tales, and landscapes. The landscape prints of Hokusai and Hiroshige, particularly their series featuring Mount Fuji and the ancient Tokaido road, influenced the likes of Manet, Monet, and van Gogh, and had a lasting impact on Western art.

Your adventure through the floating world begins in Tokyo, famous for its neon-lit skyscrapers, vibrant districts, and cutting-edge technology. The capital is also home to a thriving art scene, and the Sumida Hokusai Museum, dedicated to the master artist himself, provides an in-depth introduction to woodblock prints and Hokusai's life and work.

From Tokyo you'll journey west to Lake Kawaguchiko at the foot of Mount Fuji for a two night stay. Kawaguchiko is one of the best places to enjoy uninterrupted views of the notoriously shy Mount Fuji, which was immortalized in Hokusai's series "Thirty-six Views of Mount Fuji".

Matsumoto is next on the list, a small castle town in the Japan Alps which is famous for its striking ?Black Crow Castle', delicious soba buckwheat noodles, and the Ukiyo-e Museum. As the home of 100,000 woodblock prints, the Ukiyo-e Museum is the largest private collection of prints in the world.

The small town of Obuse in north-eastern Nagano Prefecture isn't usually on the tourist trail, despite its rich history. Obuse's most famous past residence was none other than Katsuhika Hokusai himself, who lived here in his 80s. While in town you can head to the Hokusai museum to see a range of his works, then finish off your day with a visit to a brewery to sample some locally produced sake.

A train journey through the Northern Japan Alps will bring you the garden city of Kanazawa. This photogenic city was spared bombing in World War II, so you can enjoy wandering the unspoilt traditional geisha and samurai quarters, Kenrokuen - one of the top three landscape gardens in the country, and Omi-cho fish market. Kanazawa also has a thriving history as a centre of crafts and produces 99% of all gold leaf in Japan. As a change from traditional ukiyo-e art, you can visit the highly acclaimed 21st Century Museum of Contemporary Art.

No trip to Japan is complete without a stay in Kyoto, the city of a thousand temples. From the gilded Kinkakuji Golden Pavilion to the bamboo groves of Arashiyama to the historic Nishiki market, there is more to see here than you could ever hope to accomplish even if you lived here for years. That's why we've included a private English-speaking guide to help you make the most of your time in the ancient capital.

Your penultimate destination is the Nakasendo Way (also called the Kiso road), the old samurai highway that connected Edo (Tokyo) and Kyoto, which was the inspiration behind Hiroshige's ukiyo-e series "Sixty-nine Stations of the Kiso Road". Take a step back in time as you walk the ancient trail between Magome and Tsumago, the well-preserved post towns that have changed little since Hiroshige's time.

You'll round off your trip back in Tokyo where you can take advantage of the vast array of shops for some last-minute souvenir buying, or perhaps treat yourself to a fabulous final meal at one of the 230 Michelin-starred restaurants the capital has to offer.

What's included
14 nights' accommodation (five nights Japanese-style)

Breakfast each morning except in Kyoto, four dinners

Transport between destinations unless otherwise specified

First class (green) Japan Rail Pass

Airport transfers by private car

Eight-hour private guide service in Kyoto, including entrance fees and lunch

Full day private art tour of Tokyo

Private afternoon tea experience with a maiko (trainee geisha)

Pocket WiFi device

Your personalised InsideJapan Info-Pack
What's NOT included:
International flights

Any entrance fees including those for museums, shrines, and temples unless otherwise specified

Baggage handling and luggage forwarding unless otherwise specified

Local transport (buses, subways, taxis) at any destinations
Trip Highlights
Delve into Tokyo's modern and traditional art scene

Hike the ancient Nakasendo Way

Speed around Japan on the Shinkansen bullet train
Visit three woodblock print museums in Tokyo, Matsumoto, and Obuse

Have a private afternoon tea experience with a maiko

Stay like a local in your own Kyoto machiya townhouse
For more information email us: [email protected] or call: + 44 117 244 3380
What, where, when and how...
Through the Floating World - 16 Days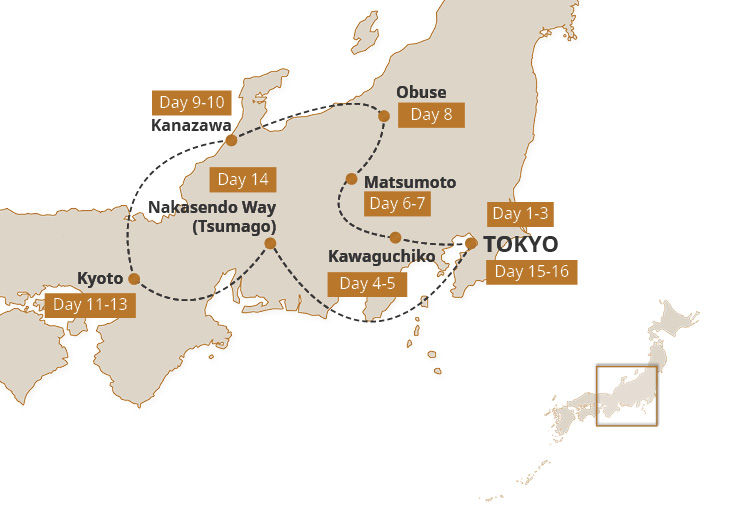 Through the Floating World - 16 Days - Day by Day
Through the Floating World - 16 Days - Accommodation
Through the Floating World - 16 Days - Experiences
Day 1-3

Get your bearings in Tokyo with a stay in Asakusa, the traditional heart of the city.

Welcome to Japan! Upon arrival at Tokyo's Narita or Haneda International Airport, a private car will be waiting to whisk you away into the city to your hotel in the historic Asakusa district. From your hotel you'll have easy access to Tokyo's oldest temple Senso-ji and the touristy yet charming Nakamise street that's lined with little shops and food vendors. You'll have the remainder of the day to get your bearings and explore the area, or venture further afield if you'd like.

On the first full day in the city we'll arrange for you to have a private tour of Tokyo's art scene with one of our Insiders, native English speakers who are long-term residents of Japan and are brimming with knowledge and enthusiasm of the country. It'll be the perfect way to get to grips with the city and its transport network while learning about the traditional and contemporary art available across the museums and galleries. If you have any specific requests of what you'd like to see or do, let us know in advance and we can pass your requests on to your Insider. The following day will be free for you to spend as you please. We recommend a visit to the Sumida Hokusai Museum which offers a great introduction to the life and work of the famous ukiyo-e artist Katsushika Hokusai. In addition to art, Tokyo has a wealth of lovely gardens, fascinating museums, vibrant shopping districts, and incredible restaurants. All our recommendations and suggestions will be in your InsideJapan Info-Pack.

Overnight: Gate Hotel Kaminarimon

Day 4-5

Keep your fingers crossed for views of elusive Mount Fuji.

This morning you'll leave the bright city lights behind and take the comfortable highway bus out to Kawaguchiko, a lake on the north side of Mount Fuji. The iconic mountain formed the inspiration to Hokusai's famous woodblock print series, "Thirty-six Views of Mount Fuji", and if the weather is behaving you'll be rewarded with panoramic views of Fuji from the ropeway and sightseeing boat. You'll have another full day to enjoy exploring Kawaguchiko or a bit further afield; instructions for getting around will be in your Info-Pack. (

) For your accommodation we've chosen a hot spring hotel with your own outdoor bath and Fuji views; perfect for relaxing in after a day's sightseeing. A sumptuous kaiseki course dinner will be included on both nights.

Overnight: Konanso

Day 6-7

Swap lakes for mountains as your journey to the castle town of Matsumoto.

This morning you'll hop on the highway bus again for the hour-long journey north to Kofu, where you'll change to the train to reach Matsumoto. This castle town, home to the striking original feudal 'Black Crow Castle', has a relaxed atmosphere and delicious food – we recommend tucking into the local soba noodles, which are delicious hot or cold. On your second full day in Matsumoto, you can head just out of the city to the Ukiyo-e Museum which houses some 100,000 woodblock prints, making it the largest private collection of prints in the world. Sadly the museum only exhibits a small, carefully curated selection of the prints at any one time, but it's still well worth the visit to see some rare works of art. (

) For the two nights in Matsumoto you'll be staying in a Western-style hotel in a central location.

Overnight: Buena Vista Hotel

Day 8

Head off the tourist trail with a visit to Hokusai's former village, Obuse.

It's time to go a little more rural. Armed with your Japan Rail Pass you'll travel north-east to the small town of Obuse in the foothills of the mountains. This little-known destination has the distinction of being the former home of Hokusai, who lived here in his 80s back in the mid-19th century. Obuse has preserved his legacy in the Hokusai Museum which houses a number of his works, from some of his finest masterpieces to the cartoons that made him famous during his lifetime. The Takai Kozan Memorial Museum is located within a building once owned by the wealthy merchant Takai Kozan, who was a patron of Hokusai's, and the highlight is Hokusai's workshop which has been left mostly untouched over the last 150 years. As well as its Hokusai connection, Obuse has a long history of sake production, and while in town you can enjoy the local tipple at the family-owned Masuichi sake brewery. (

) Your home for the night will be the boutique hotel Masuichi Kyakuden, run by the owners of the Masuichi brewery. Housed in several renovated storehouses, the sleek, minimalist design of the hotel rooms and the top-quality service is sure to provide a memorable stay.

Overnight: Masuichi Kyakuden

Day 9-10

Take the time to appreciate Kenrokuen, one of the top landscape gardens in Japan.

After a scenic train journey through the Northern Japan Alps you'll arrive into Kanazawa, one of the most photogenic cities in Japan. Here you'll find the Higashi-chaya geisha district that used to inspire the ukiyo-e artists in the Edo Period (1603-1868), and the samurai district, both of which are well-preserved thanks to the fact that Kanazawa was spared bombing during WWII. If you're interested in crafts, then Kanazawa is the city for you; the surrounding area has a long history of traditional crafts, from lacquerware to gold leaf. (

) While in Kanazawa you won't want to miss a visit to the sprawling landscape garden Kenrokuen, considered to be one of the three most stunning gardens in the whole country. The master haiku poet Matsuo Basho composed several of his haiku while sitting in contemplation in Kenrokuen garden, and it's beautiful no matter which season you visit in. (

) Another highlight is the highly regarded 21st Century Museum of Contemporary Art in the centre of the city which has several interactive and thought-provoking installations. (

) Your Western-style hotel is well-located close to Kanazawa station and the loop bus which will get you around to all the major sites in the city.

Overnight: Hyatt Centric Kanazawa

Day 11-13

Meet a maiko for afternoon tea in the city of a thousand temples.

Today you'll travel south on the Thunderbird express train to Kyoto, the ancient capital of Japan. We'll arrange for a private English-speaking guide to introduce the city to you on your first full day, ensuring you make the most of your time there. Do let us know if there's anywhere in particular you would like to visit, whether it's the charming Philosopher's Path, the iconic Fushimi Inari shrine with its thousands of red torii gates, or you might like to get off the regular tourist trails and see some of the spots that only locals know. (

) Accompanied by your guide, we'll also include a private afternoon tea experience with a maiko (trainee geisha) at a tea house in the Gion geisha district. Geisha were one of the most popular subjects of woodblock prints, and still provide a fascinating glimpse into the 'floating world' that inspired the ukiyo-e genre. (

) On your second full day in the city you'll be able to use your included Japan Rail Pass to make a day trip to one of the several nearby towns or cities, such as Osaka, Nara, or even Hiroshima. (

) While in Kyoto you'll stay at a traditional machiya townhouse, complete with sliding screen doors, tatami mat flooring, and elegant Japanese touches, allowing you to live like a true local.

Overnight: Machiya Residence

Day 14

Hike along the Nakasendo Way, the inspiration for Hiroshige's masterpieces.

Two train journeys with an easy change in Nagoya will bring you to the gateway to the Nakasendo Way, the ancient road that connected Edo (Tokyo) with Kyoto. The 8km, 2 hour hike between the post towns of Magome and Tsumago will take you along a route that remains little changed from the time of Hiroshige, the ukiyo-e artist who immortalized the picturesque route in his series, "Sixty-nine Stations of the Kiso Road'. (

) Upon arrival in Tsumago, you'll be staying at an authentic minshuku inn that's renowned for its warm hospitality and local cuisine.

Overnight: Daikichi Minshuku

Day 15-16

Return to Tokyo for a final day of sightseeing, shopping, and eating.

You'll ride the Shinkansen bullet train for the final time today as you make your way back to Tokyo. The rest of the day will be at leisure so you can catch up on some last souvenir shopping, a bit of sightseeing, or even treat yourself to a fabulous final meal. If there's something in particular you'd like to do, let us know and we can arrange it for you. (

) Sadly your time in Japan has to come to an end, and on your last morning a private car will take you in comfort from your hotel to the airport in plenty of time for your flight home. We hope you have a safe trip!

Overnight: Park Hyatt
View all days
Day 1-3

Get your bearings in Tokyo with a stay in Asakusa, the traditional heart of the city.

Welcome to Japan! Upon arrival at Tokyo's Narita or Haneda International Airport, a private car will be waiting to whisk you away into the city to your hotel in the historic Asakusa district. From your hotel you'll have easy access to Tokyo's oldest temple Senso-ji and the touristy yet charming Nakamise street that's lined with little shops and food vendors. You'll have the remainder of the day to get your bearings and explore the area, or venture further afield if you'd like.

On the first full day in the city we'll arrange for you to have a private tour of Tokyo's art scene with one of our Insiders, native English speakers who are long-term residents of Japan and are brimming with knowledge and enthusiasm of the country. It'll be the perfect way to get to grips with the city and its transport network while learning about the traditional and contemporary art available across the museums and galleries. If you have any specific requests of what you'd like to see or do, let us know in advance and we can pass your requests on to your Insider. The following day will be free for you to spend as you please. We recommend a visit to the Sumida Hokusai Museum which offers a great introduction to the life and work of the famous ukiyo-e artist Katsushika Hokusai. In addition to art, Tokyo has a wealth of lovely gardens, fascinating museums, vibrant shopping districts, and incredible restaurants. All our recommendations and suggestions will be in your InsideJapan Info-Pack.

Overnight: Gate Hotel Kaminarimon

Day 4-5

Keep your fingers crossed for views of elusive Mount Fuji.

This morning you'll leave the bright city lights behind and take the comfortable highway bus out to Kawaguchiko, a lake on the north side of Mount Fuji. The iconic mountain formed the inspiration to Hokusai's famous woodblock print series, "Thirty-six Views of Mount Fuji", and if the weather is behaving you'll be rewarded with panoramic views of Fuji from the ropeway and sightseeing boat. You'll have another full day to enjoy exploring Kawaguchiko or a bit further afield; instructions for getting around will be in your Info-Pack. (

) For your accommodation we've chosen a hot spring hotel with your own outdoor bath and Fuji views; perfect for relaxing in after a day's sightseeing. A sumptuous kaiseki course dinner will be included on both nights.

Overnight: Konanso

Day 6-7

Swap lakes for mountains as your journey to the castle town of Matsumoto.

This morning you'll hop on the highway bus again for the hour-long journey north to Kofu, where you'll change to the train to reach Matsumoto. This castle town, home to the striking original feudal 'Black Crow Castle', has a relaxed atmosphere and delicious food – we recommend tucking into the local soba noodles, which are delicious hot or cold. On your second full day in Matsumoto, you can head just out of the city to the Ukiyo-e Museum which houses some 100,000 woodblock prints, making it the largest private collection of prints in the world. Sadly the museum only exhibits a small, carefully curated selection of the prints at any one time, but it's still well worth the visit to see some rare works of art. (

) For the two nights in Matsumoto you'll be staying in a Western-style hotel in a central location.

Overnight: Buena Vista Hotel

Day 8

Head off the tourist trail with a visit to Hokusai's former village, Obuse.

It's time to go a little more rural. Armed with your Japan Rail Pass you'll travel north-east to the small town of Obuse in the foothills of the mountains. This little-known destination has the distinction of being the former home of Hokusai, who lived here in his 80s back in the mid-19th century. Obuse has preserved his legacy in the Hokusai Museum which houses a number of his works, from some of his finest masterpieces to the cartoons that made him famous during his lifetime. The Takai Kozan Memorial Museum is located within a building once owned by the wealthy merchant Takai Kozan, who was a patron of Hokusai's, and the highlight is Hokusai's workshop which has been left mostly untouched over the last 150 years. As well as its Hokusai connection, Obuse has a long history of sake production, and while in town you can enjoy the local tipple at the family-owned Masuichi sake brewery. (

) Your home for the night will be the boutique hotel Masuichi Kyakuden, run by the owners of the Masuichi brewery. Housed in several renovated storehouses, the sleek, minimalist design of the hotel rooms and the top-quality service is sure to provide a memorable stay.

Overnight: Masuichi Kyakuden

Day 9-10

Take the time to appreciate Kenrokuen, one of the top landscape gardens in Japan.

After a scenic train journey through the Northern Japan Alps you'll arrive into Kanazawa, one of the most photogenic cities in Japan. Here you'll find the Higashi-chaya geisha district that used to inspire the ukiyo-e artists in the Edo Period (1603-1868), and the samurai district, both of which are well-preserved thanks to the fact that Kanazawa was spared bombing during WWII. If you're interested in crafts, then Kanazawa is the city for you; the surrounding area has a long history of traditional crafts, from lacquerware to gold leaf. (

) While in Kanazawa you won't want to miss a visit to the sprawling landscape garden Kenrokuen, considered to be one of the three most stunning gardens in the whole country. The master haiku poet Matsuo Basho composed several of his haiku while sitting in contemplation in Kenrokuen garden, and it's beautiful no matter which season you visit in. (

) Another highlight is the highly regarded 21st Century Museum of Contemporary Art in the centre of the city which has several interactive and thought-provoking installations. (

) Your Western-style hotel is well-located close to Kanazawa station and the loop bus which will get you around to all the major sites in the city.

Overnight: Hyatt Centric Kanazawa

Day 11-13

Meet a maiko for afternoon tea in the city of a thousand temples.

Today you'll travel south on the Thunderbird express train to Kyoto, the ancient capital of Japan. We'll arrange for a private English-speaking guide to introduce the city to you on your first full day, ensuring you make the most of your time there. Do let us know if there's anywhere in particular you would like to visit, whether it's the charming Philosopher's Path, the iconic Fushimi Inari shrine with its thousands of red torii gates, or you might like to get off the regular tourist trails and see some of the spots that only locals know. (

) Accompanied by your guide, we'll also include a private afternoon tea experience with a maiko (trainee geisha) at a tea house in the Gion geisha district. Geisha were one of the most popular subjects of woodblock prints, and still provide a fascinating glimpse into the 'floating world' that inspired the ukiyo-e genre. (

) On your second full day in the city you'll be able to use your included Japan Rail Pass to make a day trip to one of the several nearby towns or cities, such as Osaka, Nara, or even Hiroshima. (

) While in Kyoto you'll stay at a traditional machiya townhouse, complete with sliding screen doors, tatami mat flooring, and elegant Japanese touches, allowing you to live like a true local.

Overnight: Machiya Residence

Day 14

Hike along the Nakasendo Way, the inspiration for Hiroshige's masterpieces.

Two train journeys with an easy change in Nagoya will bring you to the gateway to the Nakasendo Way, the ancient road that connected Edo (Tokyo) with Kyoto. The 8km, 2 hour hike between the post towns of Magome and Tsumago will take you along a route that remains little changed from the time of Hiroshige, the ukiyo-e artist who immortalized the picturesque route in his series, "Sixty-nine Stations of the Kiso Road'. (

) Upon arrival in Tsumago, you'll be staying at an authentic minshuku inn that's renowned for its warm hospitality and local cuisine.

Overnight: Daikichi Minshuku

Day 15-16

Return to Tokyo for a final day of sightseeing, shopping, and eating.

You'll ride the Shinkansen bullet train for the final time today as you make your way back to Tokyo. The rest of the day will be at leisure so you can catch up on some last souvenir shopping, a bit of sightseeing, or even treat yourself to a fabulous final meal. If there's something in particular you'd like to do, let us know and we can arrange it for you. (

) Sadly your time in Japan has to come to an end, and on your last morning a private car will take you in comfort from your hotel to the airport in plenty of time for your flight home. We hope you have a safe trip!

Overnight: Park Hyatt
Close all days
Other trips you may like
Tokyo
Hakone
Kyoto
Kinosaki Onsen
Osaka

Japan's hot spring towns and vibrant cities make for a perfect setting for a romantic honeymoon

11 nights: from US$2938 pp (twin share) Read more >

Tokyo
Nikko
Kyoto
Mount Koya
Himeji
Hiroshima
Kanazawa
Tokyo

Discover Japan's most important monuments on this superior 17-night trip, including the temples of Nikko, Hiroshima's Peace Park, and Himeji Castle.

17 nights: from US$7566 pp (twin share) Read more >

Tokyo
Hakone
Kyoto
Hakuba
Nagano
Tokyo

Japan is a first class winter sports destination with a twist. Why not combine skiing or snowboarding with a taste of the unique Japanese culture?

13 nights: from US$3991 pp (twin share) Read more >