Self-Guided Adventure
Rural Tohoku Trail
7 Nights: from US$2210 per person (twin share)
Trip Code: RTTC
Journey north into lesser-known Tohoku to discover the highlights this area has to offer. From samurai towns to temple lodgings on sacred mountains, to soaking in hot springs and tucking into local cuisine at izakaya restaurants, this itinerary makes a perfect add-on to any of our Japan trips. Read more >
Tohoku is a vast region that is still woefully undiscovered by international visitors. While we're adamant that you could easily spend a full two weeks in Tohoku, the northernmost area of Honshu island, we know that there is just so much to see and do across Japan that it can be difficult to squeeze everything in.

That's why we put together this short itinerary designed as an add-on to a longer trip that would usually wrap up in Tokyo. Over the course of six jam-packed days, this itinerary will take you on a loop around Tohoku to cover as much as possible, while still providing time to enjoy each destination at leisure. One of the many fantastic things about Tohoku is that it's great to visit no matter the season. So whether you're looking for an addition to a ski trip in the depths of winter, visiting as a respite from the heat during the summer, or looking for less-crowded destinations to take in the autumn leaves or cherry blossoms, this itinerary would work perfectly year-round.

On day one you just have to sit back and relax with an ekiben lunchbox as the Shinkansen bullet train whisks you north directly to Kakunodate. In the 17th century this small town was home to grand samurai residences, and you can still see many of the original streets and districts today. The highlight here is your overnight stay in a gorgeous converted traditional storehouse where original features and modern comforts have been blended into an unforgettable accommodation experience.

From Kakunodate you'll loop down to the southwest for a visit to Mount Haguro, one of the three Dewa Sanzan mountains and the most accessible. The three mountains are where the spiritual yamabushi mountain priests practice their ascetic religion called shugendo, a fascinating blend of Shintoism, Buddhism, and local folk religion. You might see them dressed in white on their pilgrimage to Gosaiden shrine at the summit. While it's possible to travel to the top of Mount Haguro by bus, we highly recommended making the journey on foot; 2,446 stone steps might sound daunting but trust us - walking the route through the quiet cedar forests up the slopes of Mount Haguro is a highlight of any trip to Tohoku.

After enjoying a simple overnight stay at a shukubo temple lodge on Mount Haguro, you'll set off to the next stop on your Tohoku adventure: Ginzan Onsen. This hot spring town might not have the fame that similar towns like Hakone near Mount Fuji, and Beppu on Kyushu island do, but if you're looking for a picture-perfect town with traditional wooden ryokan inns lining the street, look no further than this northern gem. There is one aim of a stay in Ginzan Onsen: to relax. Upon arrival you can wander around the town to soak in the atmosphere and explore the small silver mine which was the reason the town was founded in the first place. Then it'll be time to check in to your ryokan, enjoy the baths, and tuck into the kaiseki course dinner awaiting you. Bliss.

After several one-night stays in a row, you'll spend the second half of your Tohoku trip based in the biggest city in the region: Sendai. This cosmopolitan city might not look like much on the surface, but we love the mix of history and modernity, the relaxed pace of life, and the incredible cuisine. Foodies will be delighted to hear that on the first evening we've included a bar-hopping guided tour to take you around some of the best eateries in the city.

The next two days are yours to use as you please, and we have plenty of recommendations for day trips from Sendai. If you're looking for scenic views, look no further than mountaintop Yamadera Temple to the west, or the pine-clad islands of Matsushima Bay to the east, where you'll find some tasty seafood if you're visiting in-season. Another of our favourite day trip options is a visit to Geibikei Gorge, where you can enjoy a sedate, scenic boat ride down the gorge, followed by a visit to Hiraizumi, a small town whose temples date back a thousand years to the Heian Period.

Once your time in Sendai comes to an end, you'll make your way back by Shinkansen bullet train to Tokyo's vibrant Shinjuku district for your final afternoon in Japan. If you would like to extend your Tohoku trip by a few more days, just let us know and we'll tailor your itinerary to fit your requirements
One thing we're sure of is that this week long journey through Tohoku only touches the tip of the iceberg of what this fascinating region has to offer, and it'll leave you yearning for more.
What's included
7-day Japan Rail Pass

7 nights' accommodation

7 breakfasts and 2 dinners

A guided izakaya evening in Sendai

Private car transfer between Mount Haguro and Ginzan Onsen

Shared shuttle bus transfer to Tokyo's Narita or Haneda airport
What's NOT included:
International flights

Local transport (buses, subways, taxis) at any destination unless otherwise specified

Any entrance fees including those for shrines, temples, and museums

Baggage handling - you will be expected to carry your own bags for the duration of the trip
Trip Highlights
Stay in a converted historical samurai storehouse in Kakunodate

Relax in the hot spring baths of Ginzan Onsen

Explore the temples of Hiraizumi and nearby Geibikei Gorge
Soak in the serene atmosphere of sacred Mount Haguro

Discover the culinary delights of Tohoku's cuisine in Sendai

Take in the views from mountain-top Yamadera Temple
For more information email us: [email protected] or call: + 44 117 244 3380
What, where, when and how...
Rural Tohoku Trail - 8 Days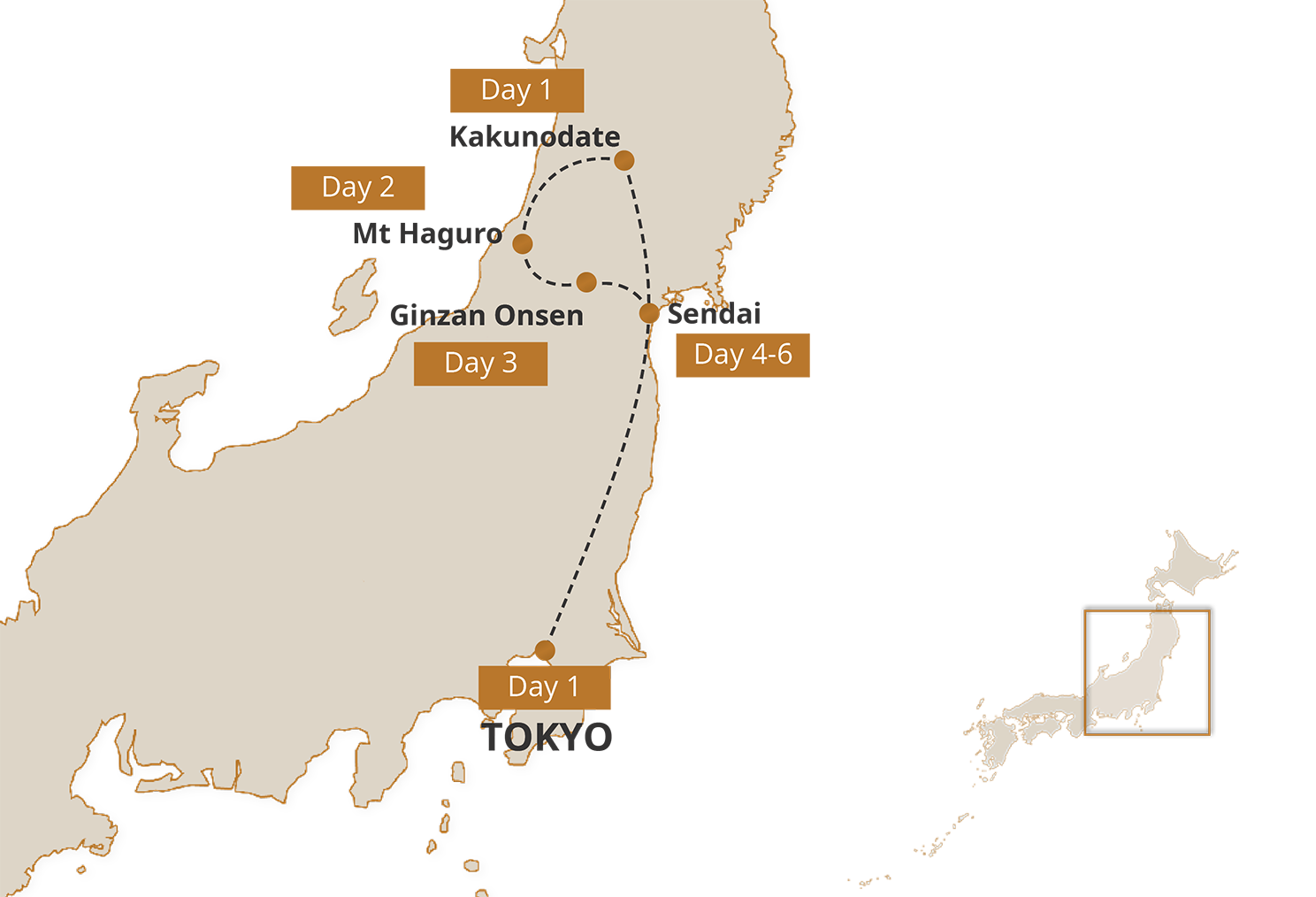 Rural Tohoku Trail - 8 Days - Day by Day
Rural Tohoku Trail - 8 Days - Accommodation
Day 1

Swap skyscrapers for samurai houses as you travel north into Tohoku

We hope you love the contrast you experience on this day as much as we do; waking up in a modern hotel in the largest city on the planet, and falling asleep on futon beds in a converted traditional storehouse in a samurai town in Tohoku.

The Shinkansen bullet train journey is a long one today, but armed with an ekiben lunchbox you can simply sit back and relax, and take in the scenery as you travel from city to suburbs to forested countryside. The first stop on your trip is Kakunodate, a town that enjoyed its heyday in the 1600s as the home of grand samurai residences. You can stretch your legs this afternoon as you wander around the beautifully preserved streets before retiring to your unique accommodation.

In Kakunodate you'll be staying in one of the three properties that have been converted from 'kura', traditional storehouses that used to stock everything from silk garments to samurai armour to pickles! The properties have been carefully restored to preserve their original features like the irori hearth, while providing plenty of modern comforts. It's a fantastic way to spend your first night in Tohoku.

Overnight: Wanoi Kakunodate

Day 2

Follow in the footsteps of mountain priests as you climb the 2,446 steps up Mount Haguro

We hope you packed your walking boots!

Today you'll travel southwest to Mount Haguro, one of the three mountains that make up the sacred Dewa Sanzan. Each mountain represents a different step of the cycle of life; birth (Mount Haguro), death (Mount Gassan), and rebirth (Mount Yudono). Yamabushi mountain priests who practice the ascetic shugendo religion make a pilgrimage between the Dewa Sanzan mountains, and while on Mount Haguro you might see them in their white robes.

From the foot of Mount Haguro to the summit it's a leisurely 2-hour walk through atmospheric cedar forests where some of the trees are over 1,000 years old. While 2,446 steps might seem overwhelming, they're spaced out along the route and you can always stop at the tea house part way for a breather and to admire the views.

After reaching the summit and exploring Gosaiden shrine, you'll be rewarded with a wholesome Buddhist vegan shojin ryori meal at your simple shukubo temple lodging - one of our favourite overnight experiences in Japan.

Overnight: Kanbayashi Katsukane Shukubo

Day 3

Soak in the hot springs of postcard-worthy Ginzan Onsen

While a stay in a temple lodging is bound to be unforgettable, it won't win awards for creature comforts. But we'll remedy that with the next destination on your trip: Ginzan Onsen hot spring town. Ginzan Onsen was built around a small silver mine centuries ago and is now one of the most charming hot spring towns in the country – think traditional wooden ryokan inns lining the streets, their lights gleaming warmly over the river, with little bridges crisscrossing between them. We love how Ginzan Onsen focusses on doing one thing exceptionally well - the chance to truly relax and unwind.

Here you'll stay in a ryokan where you can soak in the hot spring baths and enjoy a leisurely kaiseki course meal before retiring for the night.

Overnight: Kosekiya Bekkan

Day 4-6

Make the cosmopolitan city of Sendai your base for day trips

After spending three nights in three wonderfully diverse destinations, it's time to put down some roots for the second half of your Tohoku trip. Sendai will be your home now; it's a city of two halves, with a vibrant food culture and a cosmopolitan feel, set against the backdrop of the fascinating history of its ruling Date clan, one of the strongest daimyo feudal lords in the north during the 17th-19th centuries.

On your first evening in the city, we'll arrange for you to have a guided food tour of some of the most eclectic izakaya eateries in the city, offering a great introduction to the food culture of the region. The sake produced in Tohoku is some of the best in the country, so if you're a fan of the traditional beverage we're sure you'll enjoy this night out.

On your two full free days, you can either explore Sendai in depth or head out on a day trip to some of our favourite spots in the area: scenic Yamadera Temple perched on a mountain top; the pine-covered islands of Matsushima Bay, considered to be one of the three best views in Japan; or a combination of Geibikei Gorge (particularly beautiful during the autumn) and Hiraizumi, famous for its 1,000-year-old temples and local specialty of wanko soba noodles – dozens of small portions of noodles served in little lacquerware bowls. Your personalized Info-Pack will be chock-full of recommendations so you can make the most of your time in and around Sendai.

On your final day you will either return to Tokyo for your journey home, or we can tailor your itinerary and extend it to take in even more of the Tohoku region. Whatever you choose to do, we hope you enjoyed dipping your toe into the waters of this fascinating region, and that your trip leaves you wanting to come back for further adventures.

Overnight: Hotel Vista Sendai

Day 7-8

Return to Tokyo for your final afternoon in Japan

Today you'll retrace your route south by Shinkansen bullet train to Tokyo. We've chosen the vibrant Shinjuku district for your final day in Japan, so that you can take in the sights, pick up last-minute souvenirs, and enjoy one final meal in Japan.

Tomorrow a shared shuttle bus will pick you up from your hotel to take you in comfort to one of Tokyo's international airports. We hope you have a safe flight home.

Overnight: Sunroute Plaza Shinjuku
View all days
Day 1

Swap skyscrapers for samurai houses as you travel north into Tohoku

We hope you love the contrast you experience on this day as much as we do; waking up in a modern hotel in the largest city on the planet, and falling asleep on futon beds in a converted traditional storehouse in a samurai town in Tohoku.

The Shinkansen bullet train journey is a long one today, but armed with an ekiben lunchbox you can simply sit back and relax, and take in the scenery as you travel from city to suburbs to forested countryside. The first stop on your trip is Kakunodate, a town that enjoyed its heyday in the 1600s as the home of grand samurai residences. You can stretch your legs this afternoon as you wander around the beautifully preserved streets before retiring to your unique accommodation.

In Kakunodate you'll be staying in one of the three properties that have been converted from 'kura', traditional storehouses that used to stock everything from silk garments to samurai armour to pickles! The properties have been carefully restored to preserve their original features like the irori hearth, while providing plenty of modern comforts. It's a fantastic way to spend your first night in Tohoku.

Overnight: Wanoi Kakunodate

Day 2

Follow in the footsteps of mountain priests as you climb the 2,446 steps up Mount Haguro

We hope you packed your walking boots!

Today you'll travel southwest to Mount Haguro, one of the three mountains that make up the sacred Dewa Sanzan. Each mountain represents a different step of the cycle of life; birth (Mount Haguro), death (Mount Gassan), and rebirth (Mount Yudono). Yamabushi mountain priests who practice the ascetic shugendo religion make a pilgrimage between the Dewa Sanzan mountains, and while on Mount Haguro you might see them in their white robes.

From the foot of Mount Haguro to the summit it's a leisurely 2-hour walk through atmospheric cedar forests where some of the trees are over 1,000 years old. While 2,446 steps might seem overwhelming, they're spaced out along the route and you can always stop at the tea house part way for a breather and to admire the views.

After reaching the summit and exploring Gosaiden shrine, you'll be rewarded with a wholesome Buddhist vegan shojin ryori meal at your simple shukubo temple lodging - one of our favourite overnight experiences in Japan.

Overnight: Kanbayashi Katsukane Shukubo

Day 3

Soak in the hot springs of postcard-worthy Ginzan Onsen

While a stay in a temple lodging is bound to be unforgettable, it won't win awards for creature comforts. But we'll remedy that with the next destination on your trip: Ginzan Onsen hot spring town. Ginzan Onsen was built around a small silver mine centuries ago and is now one of the most charming hot spring towns in the country – think traditional wooden ryokan inns lining the streets, their lights gleaming warmly over the river, with little bridges crisscrossing between them. We love how Ginzan Onsen focusses on doing one thing exceptionally well - the chance to truly relax and unwind.

Here you'll stay in a ryokan where you can soak in the hot spring baths and enjoy a leisurely kaiseki course meal before retiring for the night.

Overnight: Kosekiya Bekkan

Day 4-6

Make the cosmopolitan city of Sendai your base for day trips

After spending three nights in three wonderfully diverse destinations, it's time to put down some roots for the second half of your Tohoku trip. Sendai will be your home now; it's a city of two halves, with a vibrant food culture and a cosmopolitan feel, set against the backdrop of the fascinating history of its ruling Date clan, one of the strongest daimyo feudal lords in the north during the 17th-19th centuries.

On your first evening in the city, we'll arrange for you to have a guided food tour of some of the most eclectic izakaya eateries in the city, offering a great introduction to the food culture of the region. The sake produced in Tohoku is some of the best in the country, so if you're a fan of the traditional beverage we're sure you'll enjoy this night out.

On your two full free days, you can either explore Sendai in depth or head out on a day trip to some of our favourite spots in the area: scenic Yamadera Temple perched on a mountain top; the pine-covered islands of Matsushima Bay, considered to be one of the three best views in Japan; or a combination of Geibikei Gorge (particularly beautiful during the autumn) and Hiraizumi, famous for its 1,000-year-old temples and local specialty of wanko soba noodles – dozens of small portions of noodles served in little lacquerware bowls. Your personalized Info-Pack will be chock-full of recommendations so you can make the most of your time in and around Sendai.

On your final day you will either return to Tokyo for your journey home, or we can tailor your itinerary and extend it to take in even more of the Tohoku region. Whatever you choose to do, we hope you enjoyed dipping your toe into the waters of this fascinating region, and that your trip leaves you wanting to come back for further adventures.

Overnight: Hotel Vista Sendai

Day 7-8

Return to Tokyo for your final afternoon in Japan

Today you'll retrace your route south by Shinkansen bullet train to Tokyo. We've chosen the vibrant Shinjuku district for your final day in Japan, so that you can take in the sights, pick up last-minute souvenirs, and enjoy one final meal in Japan.

Tomorrow a shared shuttle bus will pick you up from your hotel to take you in comfort to one of Tokyo's international airports. We hope you have a safe flight home.

Overnight: Sunroute Plaza Shinjuku
Close all days
Other trips you may like
Tokyo
Hakone
Kyoto
Miyajima
Osaka
Takayama
Tokyo

A deluxe two-week itinerary introducing Japan's most iconic sights with the best in luxury accommodation and fine dining included.

14 nights: from US$13845 pp (twin share) Read more >

Yunomine Onsen
Koguchi
Nachi

Add this advanced hiking module to a longer trip and discover the ancient pilgrimage trails of the Kumano Kodo.

3 nights: from US$910 pp (twin share) Read more >

Tokyo
Matsumoto
Kamikochi
Takayama
Kanazawa
Kyoto
Tokyo

Admire Japan's autumnal beauty in this special seasonal itinerary

14 nights: from US$3653 pp (twin share) Read more >