Self-Guided Adventure
Cruise Add-On: Tides to Temples
8 Nights: from US$3523 per person (twin share)
Trip Code: CAOS3
Back on dry land in Kobe, this 8-night itinerary showcases some of Japan's top destinations, ranging from the ancient temples of Kyoto to the neon-lit skyscrapers, world-class galleries, and vibrant entertainment districts of the capital. Read more >
Your cruise ends in the cosmopolitan port city of Kobe and your Japan adventure begins. A private car will take you straight from the port to your hotel in downtown Kyoto where you can unwind and get your bearings.
Kyoto is known as the 'city of a thousand temples' and there's enough to see here to keep you going for weeks. Whether you're interested in historic sights, traditional markets, scenic spots, or simply enjoying wandering through the atmospheric districts, Kyoto is sure to captivate you. You'll have the services of a private English-speaking guide, ensuring you make the most of your time. On the second full day we'll arrange for you to have a guided day trip to Nara, once the capital of Japan in the 8th century, which is now famous for its ancient wooden temples and friendly deer.

The next stop is Hakone, located in the foothills of Mount Fuji. This hot spring resort has been a popular choice for centuries for Tokyoites looking to escape the hustle and bustle of the city. These days a quirky array of transport, from cable cars to a pirate ship cruise across Lake Ashi, traverses the valleys of Hakone, allowing you to easily hop around the museums and sightseeing spots. A guide will be with you on the first full day to help you see everything you want to.

Your final destination is the capital in all its hectic, neon glory. Each district of the sprawling city has its own character and charm, which you can discover at your leisure with the help of your guide. You might like to visit the excellent choice of museums and galleries, do a spot of shopping in upmarket, glitzy Ginza, visit Asakusa's traditional streets and temples, or rub elbows with the locals in tiny atmospheric bars in Shinjuku. Tokyo has more Michelin stars than any city in the world, making it the perfect place to have a meal to remember.

At the end of your trip we'll arrange for a private car to take you out to the airport in plenty of your time for your onwards journey.
What's included
8 nights' accommodation

Breakfast every day and two dinners

Transport between destinations unless otherwise specified

Transfers by private car from Kobe Port and to the airport

Two-day Hakone Freepass

Eight-hour private guide service in Tokyo & Hakone

Private tea ceremony in Kyoto

Full day and half day private guide service in Kyoto

Pocket WiFi device

Your personalized InsideJapan Tours Info-Pack
What's NOT included:
International flights

Any entrance fees including those for museums, shrines, and temples unless otherwise specified

Baggage handling and luggage forwarding unless otherwise specified
Trip Highlights
Explore Kyoto, Hakone, and Tokyo with a private guide

Relax in onsen baths in Hakone
Tuck into authentic kaiseki course cuisine
Sip Japanese tea at a private tea ceremony

Speed across Japan on the sleek Shinkansen bullet train

Temple-hop around ancient Kyoto
For more information email us: [email protected] or call: + 44 117 244 3380
What, where, when and how...
Cruise Add-On: Tides to Temples - 9 Days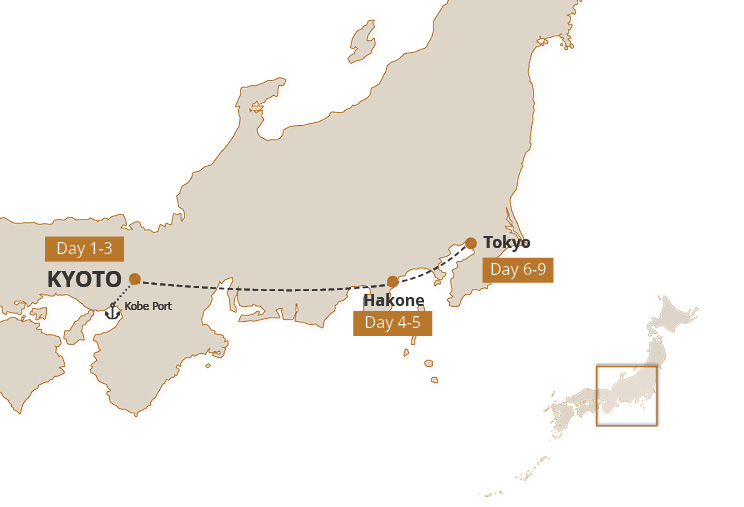 Destinations
Cruise Add-On: Tides to Temples - 9 Days - Day by Day
Cruise Add-On: Tides to Temples - 9 Days - Accommodation

Cruise Add-On: Tides to Temples - 9 Days - Experiences
Day 1-3

Step into the past in traditional Kyoto

Welcome to Japan! A private car will be waiting at Kobe Port to take you in comfort on the 2 hour journey to your hotel in Kyoto.

On your first full day in the city we'll arrange for you to have a half day with a private guide to help you get around Kyoto to see the places you've always wanted to visit. During the afternoon you can swap temples for tea as you enjoy a private tea ceremony experience. If you have any requests of particularly places you'd like to see, let us know in advance and we can pass along your interests to your guide to ensure you have the best day possible.

The following day you'll have a guided excursion to nearby Nara, which was the capital of Japan during the 8th century. These days it's a popular draw for visitors wanting to visit some of the oldest temples in the country, including Todai-ji Temple with its vast bronze Buddha statue, and its hordes of curious deer who've been known to interrupt a picnic or two…

Your hotel will be within the impressive, award-winning Kyoto station building with easy access to the public transport network around the city.

Overnight: Granvia

Day 4-5

Unwind in Hakone's hot spring pools

This morning you'll take your first ride on the sleek Shinkansen bullet train as you speed east to Hakone, in the foothills of Mount Fuji. The hot spring resort of Hakone stretches along valleys and mountainsides around Lake Ashi, and is best enjoyed by making full use of the buses, mountain trains, and cable car that criss cross the area. Your included Hakone Freepass will be valid on all the transport, including the kitschy yet fun 'pirate ship' cruise across the lake, which offers views of Mount Fuji on a clear day.

In Hakone you'll be staying in an authentic ryokan inn that dates back to 1614. Ryokan inns have tatami mat flooring, and comfortable, traditional futon mattresses spread on the floor, and a highlight of any stay is the hot spring baths and the kaiseki cuisine, made up of course after course of exquisitely presented small dishes.

Overnight: Motoyu Kansuiro

Day 6-9

Discover Tokyo's alluring mix of tradition and modernity

Another Shinkansen bullet train will whisk you in style to Tokyo, your final destination. From upmarket shopping districts to raucous entertainment areas to serene parks and gardens and world-class galleries, Tokyo has more to do than you can possibly fit into a few days. That's why you'll have the services of a private guide on your first full day there to help you make sense of the vast yet surprisingly well-organized transport network. No matter your interests, your guide will be able to adjust the itinerary to suit your requirements.

On the following day you can either continue to explore Tokyo at your leisure, or you might like to escape the hustle and bustle for a day trip to coastal Kamakura, majestic Nikko, or go for a leisurely hike up Mount Takao.

Sadly all good things must come to an end, and on your final day we'll make the arrangements for a private car to take you from your central hotel out to the airport. We hope you have a safe flight.

Overnight: Park Hotel Tokyo
View all days
Day 1-3

Step into the past in traditional Kyoto

Welcome to Japan! A private car will be waiting at Kobe Port to take you in comfort on the 2 hour journey to your hotel in Kyoto.

On your first full day in the city we'll arrange for you to have a half day with a private guide to help you get around Kyoto to see the places you've always wanted to visit. During the afternoon you can swap temples for tea as you enjoy a private tea ceremony experience. If you have any requests of particularly places you'd like to see, let us know in advance and we can pass along your interests to your guide to ensure you have the best day possible.

The following day you'll have a guided excursion to nearby Nara, which was the capital of Japan during the 8th century. These days it's a popular draw for visitors wanting to visit some of the oldest temples in the country, including Todai-ji Temple with its vast bronze Buddha statue, and its hordes of curious deer who've been known to interrupt a picnic or two…

Your hotel will be within the impressive, award-winning Kyoto station building with easy access to the public transport network around the city.

Overnight: Granvia

Day 4-5

Unwind in Hakone's hot spring pools

This morning you'll take your first ride on the sleek Shinkansen bullet train as you speed east to Hakone, in the foothills of Mount Fuji. The hot spring resort of Hakone stretches along valleys and mountainsides around Lake Ashi, and is best enjoyed by making full use of the buses, mountain trains, and cable car that criss cross the area. Your included Hakone Freepass will be valid on all the transport, including the kitschy yet fun 'pirate ship' cruise across the lake, which offers views of Mount Fuji on a clear day.

In Hakone you'll be staying in an authentic ryokan inn that dates back to 1614. Ryokan inns have tatami mat flooring, and comfortable, traditional futon mattresses spread on the floor, and a highlight of any stay is the hot spring baths and the kaiseki cuisine, made up of course after course of exquisitely presented small dishes.

Overnight: Motoyu Kansuiro

Day 6-9

Discover Tokyo's alluring mix of tradition and modernity

Another Shinkansen bullet train will whisk you in style to Tokyo, your final destination. From upmarket shopping districts to raucous entertainment areas to serene parks and gardens and world-class galleries, Tokyo has more to do than you can possibly fit into a few days. That's why you'll have the services of a private guide on your first full day there to help you make sense of the vast yet surprisingly well-organized transport network. No matter your interests, your guide will be able to adjust the itinerary to suit your requirements.

On the following day you can either continue to explore Tokyo at your leisure, or you might like to escape the hustle and bustle for a day trip to coastal Kamakura, majestic Nikko, or go for a leisurely hike up Mount Takao.

Sadly all good things must come to an end, and on your final day we'll make the arrangements for a private car to take you from your central hotel out to the airport. We hope you have a safe flight.

Overnight: Park Hotel Tokyo
Close all days
Other trips you may like
The constant bad economic news has been getting everyone a bit down, so we've created this bargain seven-night Japanese getaway to beat the blues!

7 nights: from US$1326 pp (twin share) Read more >

Tokyo
Nagano
Kusatsu
Minakami
Lake Chuzenji
Nikko
Tokyo

Discover splendid mountain scenery and hot spring towns in this intrepid driving itinerary along the famous Romantic Road.

10 nights: from US$3211 pp (twin share) Read more >

Tokyo
Matsumoto
Hida Furukawa
Kanazawa
Kyoto
Mount Koya
Osaka

A classic 14-night itinerary that promises a mouthwatering introduction to Japanese cuisine, from sushi to soba and everything in between.

14 nights: from US$3978 pp (twin share) Read more >