Self-Guided Adventure
Views of Mount Fuji (Group Tour Add-On)
4 Nights: from US$780 per person (twin share)
Trip Code: AOVMFE
Don't go home when our Japan Unmasked Small Group Tour ends! Instead extend your stay with a Self-Guided trip to Hakone National Park to see Mount Fuji, plus a few extra days in Tokyo. Read more >
Your time in Japan doesn't have to end when your Small Group Tour finishes. Now that you know the ropes, why not spend a couple of extra nights by yourselves to explore further?
This add-on module works best after the Japan Unmasked Small Group Tour. After saying goodbye to your group and tour leader, we'll provide you with reserved seat tickets for the train from Tokyo to Hakone National Park. You'll spend two nights in Japanese-style accommodation, complete with an outdoor hot spring bath that can be booked for private use.
Hakone is in the foothills of Mount Fuji, and weather permitting, you'll be rewarded with views of Japan's most iconic mountain as you explore the national park. We've thrown in a three day Hakone Free Pass which will make getting around the region a breeze - there are countless busses, trains, cable cars, switchback railways and even a pirate ship that link up the park's highlights.
Follow in the footsteps of samurai who historically stopped in Hakone to purify themselves in the naturally occurring hot springs before reaching Edo (Tokyo). See the red gate on the waterfront at Hakone Shrine. Take the cable car up Mount Komagatake. And don't miss Hakone's world class art scene. Our top tip is the Open Air Museum where sculptures dot the lawn against a backdrop of valleys and mountains.
Following on from Hakone, we've added two extra nights in Tokyo. You could spend a life time in Japan's capital and still not explore every nook and cranny, but with our complimentary Info-Pack to hand you can follow the recommendations to our favourite spots. Why not enjoy some wild nights out in Shinjuku's Golden Gai - a rabbit warren of tiny drinking dens. Or shop for antiques in Asakusa, or manga and anime goods in Nakano. The choice is yours!

Notes
This extension package is designed to be bolted on to one of our Small Group Tours. It works best when combined with Japan Unmasked. Please note that the extension is Self-Guided. This means you will not be travelling in a group or with a tour leader, but full instructions including details of your journeys and directions to your accommodation will be included in your complimentary InsideJapan Tours' Info-Pack.
What's included
Four nights' accommodation

Breakfast every day

All transport between destinations

Hakone Free Pass for local transport in the Hakone region

Airport transfer at the end of your trip

Your personalised InsideJapan Info-Pack
What's NOT included:
International flights

Local transport (buses, subways, taxis) at any destination unless otherwise specified

ny entrance fees including those for shrines, temples and museums

aggage handling - you will be expected to carry your own bags for the duration of the trip
Trip Highlights
Enjoy a private hot spring bath in Hakone

See artworks by Picasso and Monet in Hakone's world class art museums
Gaze at majestic Mount Fuji as you take a boat across Lake Ashi

Spend a couple of extra nights in Tokyo to explore the metropolis
For more information email us: [email protected] or call: + 44 117 244 3380
What, where, when and how...
Views of Mount Fuji (Group Tour Add-On) - 5 Days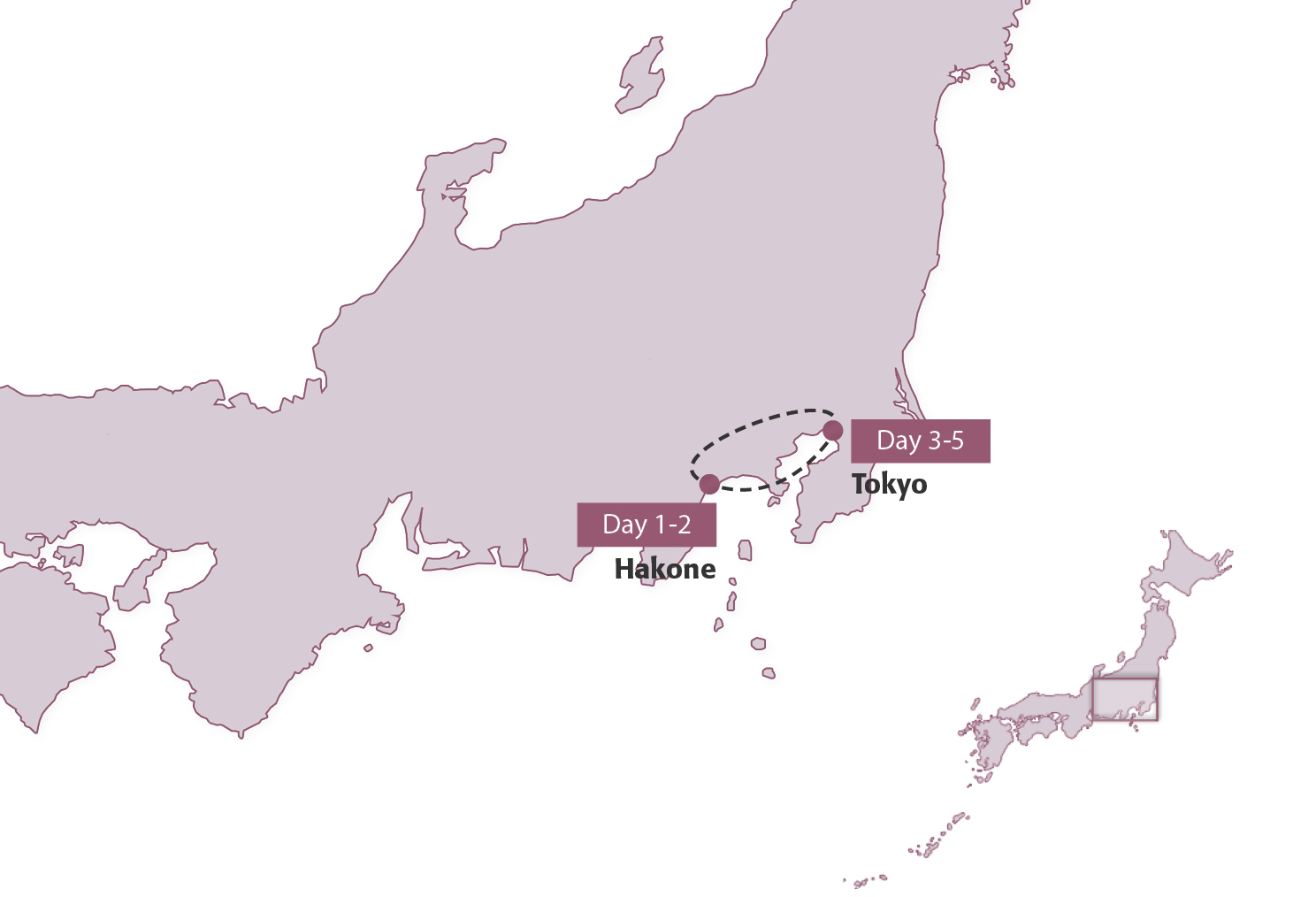 Destinations
Views of Mount Fuji (Group Tour Add-On) - 5 Days - Day by Day
Views of Mount Fuji (Group Tour Add-On) - 5 Days - Accommodation

Views of Mount Fuji (Group Tour Add-On) - 5 Days - Experiences
Day 1-2

Journey to Hakone National Park in the foothills of majestic Mount Fuji

First stop on this Self-Guided Add-On is Hakone. Just 100km from Tokyo, Hakone is part of the Fuji-Hakone-Izu National Park. Although you'll be on your own for this extension, we'll provide detailed instructions for each journey so you don't need to worry! The journey from Tokyo to Hakone is by train and take around 2 hours.
You'll be staying in Japanese-style accommodation in Hakone, which means you'll sleep on thick futon mattresses placed on the reed mat flooring. Staff at this inn speak English and can advise on sightseeing.
There's so much to see in Hakone. We recommend following the sightseeing loop which will see you travelling around the national park by mountain railway, funicular train, cable car, bus and even a pirate ship across Lake Ashi! All of this transport is covered by the included Hakone Free Pass, making Hakone a great value destination.
On day two you have a full day free in Hakone. There are some outstanding art museums where you can see works by Picasso and Monet. If relaxation is more your thing, head to Yunessun – a huge water park with dozens of hot spring baths.

Overnight: Fuji Hakone Guest House

Day 3-5

Return to the capital for sightseeing, shopping, nightlife and more!

You'll need to retrace your steps back to Tokyo today. Then you have a couple of extra nights to further explore the capital – perhaps there are some spots that you missed at the start of your Small Group Tour? Or maybe now's the chance for some last minute shopping. Ask our travel consultants to recommend their favourite shops for electronics, antiques, vintage kimono, stationary, fabrics, kitschy souvenirs – whatever floats your boat!
Our complimentary InsideJapan Tours Info-Pack is chock full with recommendations and sightseeing suggestions from hidden gardens to our favourite drinking spots. Tokyo is truly one of the world's greatest cities, so enjoy!
Let us know if we can make extra arrangements or reservations for you – check out the Experiences section of our website for ideas from an origami lesson, to a sumo stable visit or the Kawaii Monster Café.
On day five we'll arrange for you to be picked up in a shared shuttle bus and taken to Tokyo Narita or Haneda Airport in good time for your flight home. A smooth, easy transfer to round off your time in Japan.

Overnight: Sunroute Plaza Shinjuku
View all days
Day 1-2

Journey to Hakone National Park in the foothills of majestic Mount Fuji

First stop on this Self-Guided Add-On is Hakone. Just 100km from Tokyo, Hakone is part of the Fuji-Hakone-Izu National Park. Although you'll be on your own for this extension, we'll provide detailed instructions for each journey so you don't need to worry! The journey from Tokyo to Hakone is by train and take around 2 hours.
You'll be staying in Japanese-style accommodation in Hakone, which means you'll sleep on thick futon mattresses placed on the reed mat flooring. Staff at this inn speak English and can advise on sightseeing.
There's so much to see in Hakone. We recommend following the sightseeing loop which will see you travelling around the national park by mountain railway, funicular train, cable car, bus and even a pirate ship across Lake Ashi! All of this transport is covered by the included Hakone Free Pass, making Hakone a great value destination.
On day two you have a full day free in Hakone. There are some outstanding art museums where you can see works by Picasso and Monet. If relaxation is more your thing, head to Yunessun – a huge water park with dozens of hot spring baths.

Overnight: Fuji Hakone Guest House

Day 3-5

Return to the capital for sightseeing, shopping, nightlife and more!

You'll need to retrace your steps back to Tokyo today. Then you have a couple of extra nights to further explore the capital – perhaps there are some spots that you missed at the start of your Small Group Tour? Or maybe now's the chance for some last minute shopping. Ask our travel consultants to recommend their favourite shops for electronics, antiques, vintage kimono, stationary, fabrics, kitschy souvenirs – whatever floats your boat!
Our complimentary InsideJapan Tours Info-Pack is chock full with recommendations and sightseeing suggestions from hidden gardens to our favourite drinking spots. Tokyo is truly one of the world's greatest cities, so enjoy!
Let us know if we can make extra arrangements or reservations for you – check out the Experiences section of our website for ideas from an origami lesson, to a sumo stable visit or the Kawaii Monster Café.
On day five we'll arrange for you to be picked up in a shared shuttle bus and taken to Tokyo Narita or Haneda Airport in good time for your flight home. A smooth, easy transfer to round off your time in Japan.

Overnight: Sunroute Plaza Shinjuku
Close all days
Other trips you may like
Tokyo
Hakone
Kyoto
Miyajima
Osaka
Takayama
Tokyo

A superior two-week itinerary taking in Japan's most iconic sights, with four-star accommodation and a programme of cultural experiences included.

14 nights: from US$6916 pp (twin share) Read more >

Kyoto
Miyajima
Matsuyama
Kotohira
Iya Valley
Takamatsu
Osaka

Explore the rural heartlands of Japan whilst helping to sustain unique aspects of Japanese culture and tradition on this classic two-week trip.

13 nights: from US$3822 pp (twin share) Read more >

From ultra-modern Tokyo to the ancient capital of Kyoto via the hot springs of Hakone, this is a classic first-timer's trip to Japan.

9 nights: from US$2678 pp (twin share) Read more >