Self-Guided Adventure
Views of Mount Fuji (Group Tour Add-On)
4 Nights: from US$1118 per person (twin share)
Trip Code: AOVMFC
Winter is one of the best times to see the elusive Mount Fuji, so how about taking a trip to the hot spring resort of Hakone for superb views of Japan's iconic mountain - and fit in some relaxation time while you're there. Read more >
Your Small Group Tour Winter Highlights finishes in Tokyo, but why not extend your time in Japan with a Self-Guided trip to Hakone to see Mount Fuji?

You've explored the icy reaches of Hokkaido and visited the ancient temples and shrines of Japan's old capital Kyoto, so now it's time for you to travel independently from Tokyo to the Hakone region for two nights, then back to Tokyo for a further two night stay.

Hakone National Park is just to the southeast of Mount Fuji, and the winter season is one of the best times to catch a glimpse of the elusive mountain with its crown of snow. Owing to its location along a valley between steep hills, Hakone is a long and winding hot spring town requiring a small network of buses, cable cars, and funicular railways to get around. You will be provided with the Hakone Free Pass which can be used on all of the public transport in the region, including the enjoyable boat cruise across Lake Ashi - keep your fingers crossed for a view of Mount Fuji from across the lake. We've arranged for you to have a final stay in a traditional ryokan where you will be able to soak in the restorative waters and dine privately in your room.

After two relaxing days in the hot springs and tranquil scenery of Hakone, it's back to Tokyo for a final two nights in the vibrant Shinjuku area before heading out to the airport for your flight home.
Notes
This extension package is designed to be bolted on to one of our Small Group Tours. It works best when combined with Winter Highlights. Please note that the extension is Self-Guided. This means you will not be travelling in a group or with a tour leader, but full instructions including details of your journeys and directions to your accommodation will be included in your complimentary InsideJapan Tours' Info-Pack.
What's included
Four nights' accommodation

Breakfast every day and two evening meals

All transport between destinations

Hakone Free Pass for local transport in the Hakone area

Airport transfer to Narita Airport at the end of your trip

Your personalised InsideJapan Info-Pack
What's NOT included:
International flights

Local transport in Tokyo (buses, subways, taxis) or taxis in Hakone

Any entrance fees including those for shrines, temples and museums

Baggage handling - you will be expected to carry your own bags for the duration of the trip
Trip Highlights
Relax on the "Romance Car" train from Tokyo out west to Hakone

Cruise across Lake Ashi on the sightseeing boat

Visit the wide variety of fascinating museums, from the open air sculpture park to a museum dedicated to Lalique
Vie for a glimpse of snow-capped Mount Fuji

Take the cable car up to sulphurous Owakudani and eat an 'onsen egg', boiled in the natural hot springs

Soak in the restorative hot spring baths in your historic Japanese-style inn
For more information email us: [email protected] or call: + 44 117 244 3380
What, where, when and how...
Views of Mount Fuji (Group Tour Add-On) - 5 Days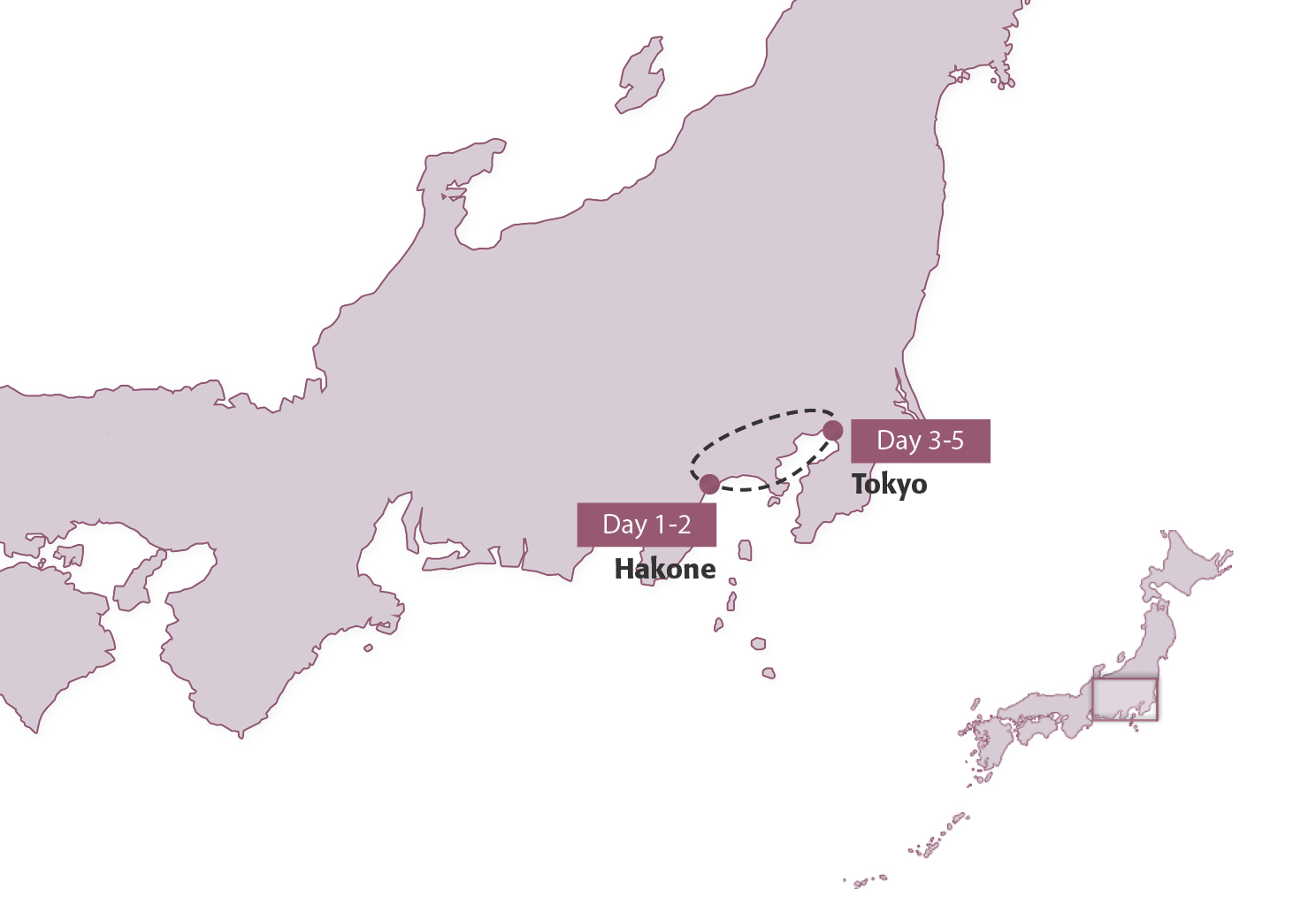 Destinations
Views of Mount Fuji (Group Tour Add-On) - 5 Days - Day by Day
Views of Mount Fuji (Group Tour Add-On) - 5 Days - Accommodation

Views of Mount Fuji (Group Tour Add-On) - 5 Days - Experiences
Day 1-2

Relax in the restorative hot spring baths in Hakone, enjoy the scenic views from Lake Ashi, hop on and off the various modes of transport around the valley, and get in touch with your cultural side in the wide array of museums and galleries.

In the morning you will say your farewells to your tour leader and group in Tokyo, then make your way on the Odakyu "Romance Car" west to the Hakone area. We will provide you with instructions for this journey, as well as a three day Hakone Free Pass for use on the six types of transport in the region.
After an hour and a half on the train you will come to the final stop, Yumoto Station, and you'll begin your two days of sightseeing in Hakone. The high concentration of fascinating museums and art galleries in the area means that it's not possible to see everything in two days, so on the train ride from Tokyo have a look in the Info-Pack and earmark a couple of the places that pique your interest. Fancy seeing some outdoor sculptures, visiting a Ferrari Museum, and or relaxing in an onsen-themed water park? Hakone has you covered.
One of the highlights of Hakone is the boat cruise on Lake Ashi from one end of the lake to the other, and you can stop at the old Moto-Hakone port to have a walk along the tree-lined path to Hakone Shrine tucked away in the dense forest. Another recommendation is to take the cable car up to Owakudani where you can try one of the black "onsen eggs" which have been boiled in the sulphurous waters.
Your base in Hakone will be the Ichinoyu Susukinohara where you'll have your own hot spring bath. The ryokan has tasty seasonal cuisine and lovely hot spring baths where you can relax after a day of sightseeing.

Overnight: Ichinoyu Susukinohara

Day 3-5

Swap hot springs for high rises as you return to the high-energy atmosphere of Shinjuku, Tokyo's skyscraper district.

You've had your fill of relaxation, so now it's time to retrace your steps to Tokyo on the Romance Car, and you will arrive into Shinjuku where your hotel is conveniently located. Over the next day and a half you'll have a good amount of time to do any last shopping or eating in Tokyo before your flight home. Is there one last cultural experience you're eager to do, or would you like to meet a local professional guide to get some inside knowledge into the best places to eat? Let us know and we'll endeavour to make arrangements for you.
On your final morning we'll arrange a shared shuttle bus to take you to Narita Airport in good time for your flight home. If it's more convenient to fly out of Haneda Airport instead, do let us know and we can provide alternative plans to suit your needs.

Overnight: JR Kyushu Blossom Shinjuku
View all days
Day 1-2

Relax in the restorative hot spring baths in Hakone, enjoy the scenic views from Lake Ashi, hop on and off the various modes of transport around the valley, and get in touch with your cultural side in the wide array of museums and galleries.

In the morning you will say your farewells to your tour leader and group in Tokyo, then make your way on the Odakyu "Romance Car" west to the Hakone area. We will provide you with instructions for this journey, as well as a three day Hakone Free Pass for use on the six types of transport in the region.
After an hour and a half on the train you will come to the final stop, Yumoto Station, and you'll begin your two days of sightseeing in Hakone. The high concentration of fascinating museums and art galleries in the area means that it's not possible to see everything in two days, so on the train ride from Tokyo have a look in the Info-Pack and earmark a couple of the places that pique your interest. Fancy seeing some outdoor sculptures, visiting a Ferrari Museum, and or relaxing in an onsen-themed water park? Hakone has you covered.
One of the highlights of Hakone is the boat cruise on Lake Ashi from one end of the lake to the other, and you can stop at the old Moto-Hakone port to have a walk along the tree-lined path to Hakone Shrine tucked away in the dense forest. Another recommendation is to take the cable car up to Owakudani where you can try one of the black "onsen eggs" which have been boiled in the sulphurous waters.
Your base in Hakone will be the Ichinoyu Susukinohara where you'll have your own hot spring bath. The ryokan has tasty seasonal cuisine and lovely hot spring baths where you can relax after a day of sightseeing.

Overnight: Ichinoyu Susukinohara

Day 3-5

Swap hot springs for high rises as you return to the high-energy atmosphere of Shinjuku, Tokyo's skyscraper district.

You've had your fill of relaxation, so now it's time to retrace your steps to Tokyo on the Romance Car, and you will arrive into Shinjuku where your hotel is conveniently located. Over the next day and a half you'll have a good amount of time to do any last shopping or eating in Tokyo before your flight home. Is there one last cultural experience you're eager to do, or would you like to meet a local professional guide to get some inside knowledge into the best places to eat? Let us know and we'll endeavour to make arrangements for you.
On your final morning we'll arrange a shared shuttle bus to take you to Narita Airport in good time for your flight home. If it's more convenient to fly out of Haneda Airport instead, do let us know and we can provide alternative plans to suit your needs.

Overnight: JR Kyushu Blossom Shinjuku
Close all days
Other trips you may like
Tokyo
Kawaguchiko
Matsumoto
Obuse
Kanazawa
Kyoto
Tsumago
Tokyo

Journey across Honshu Island to visit the towns and landscapes depicted in the ukiyo-e woodblock prints of Hokusai and Hiroshige.

15 nights: from US$6448 pp (twin share) Read more >

Tokyo
Hakone
Kyoto
Kinosaki Onsen
Osaka

Japan's hot spring towns and vibrant cities make for a perfect setting for a romantic honeymoon

11 nights: from US$2938 pp (twin share) Read more >

Tokyo
Kawaguchiko
Matsumoto
Kyoto
Matsue
Naoshima
Tokyo

A superior 14-night itinerary for those who want to discover Japan's exciting arts scene in comfort and style.

14 nights: from US$6240 pp (twin share) Read more >