Self-Guided Adventure
Autumn Splendour
13 Nights: from US$3836 per person (twin share)
Trip Code: ASC
Spectacular colourful leaves are to the Japanese autumn what cherry blossoms are to spring. From the beginning of October until early December, Japan's deciduous trees change colour, painting mountains, parks and forests with a vibrant palette of reds, brown, oranges, golds and yellows. Read more >
This special seasonal itinerary is designed to showcase the best of Japan's kidney bean-shaped main island, Honshu during October and November. Just as in spring the parks and countryside are packed with revellers gathering for hanami (blossom-viewing) parties, during these months the Japanese flock to their favourite spots to appreciate the autumn leaves - known as koyo or momiji.
Whether you depart earlier or later in the fall you are bound to see stunning colours - October brings gorgeous autumn foliage to Nikko and Kamikochi National Parks, while the colours are at their best in Tokyo and Kyoto's temples around mid-November.
Beginning in Tokyo, a day with a private professional guide will help you seek out pockets of calm among the buzzing metropolis. In the city centre Gingko Avenue turns bright yellow in autumn, while the city's parks and gardens - particularly Rikugien Park and Koishikawa Korakuen - are also excellent places to admire a variety of fall colours.
Nikko is one of our favourite destinations full stop, and it's just a couple of hours' train ride north of Tokyo. Home to an elaborate temple complex and the final resting place of one of Japan's most important shoguns, Nikko lies in a beautiful national park and is particularly attractive from early October until mid-November. From Nikko town an easy bus ride will take you up a spectacular road of 48 hairpin turns to the waterfalls surrounding Lake Chuzenji, decked in their autumn finest.
Kyoto, the "City of Ten Thousand Temples", has no end of sights that are at their most splendid in autumn. Tofuku-ji, Kiyomizu-dera, Yoshimine-dera and Eikando are four temples best visited in the evening, as the trees are lit up to their best advantage. Another day with a private local guide will help you get the most out of Kyoto. We've also included the opportunity to try on a kimono and take part in a traditional tea ceremony. Japanese culture plays close attention to the changing seasons - it's reflected in cuisine, poetry, garden design and even textiles - so why not choose a kimono with a maple leaf motif?
No trip to Honshu at this time of year would be complete without venturing into the Japanese Alps. First Takayama, were you'll stay at an authentic inn, sleeping on thick futon mattresses rolled out on the tatami mat floor. Dinner is included on your first night here, a feast of local, seasonal produce. Then it's upwards and onwards into Kamikochi National Park. In October this area of protected natural beauty is ablaze with colour; a gorgeous backdrop to a couple of days' hiking. Finally the samurai castle town of Matsumoto provides a handy stepping stone on your return journey back to Tokyo.
What's included
Thirteen nights' accommodation in Japan

Breakfast every day and three evening meals

Airport transfers

All transport between destinations

Seven-day Japan Rail Pass

Manaca transport card with 2,500 yen credit for city transport

Eight-hour private guide service in Tokyo and Kyoto

Kimono wearing and tea ceremony experience in Kyoto

Half-day cycling ride in Takayama

Pocket WiFi device

Your personalised InsideJapan Info-Pack
What's NOT included:
International flights

Local transport (buses, subways, taxis) at any destination unless otherwise specified

Any entrance fees including those for shrines, temples and museums

Baggage handling and luggage forwarding
Trip Highlights
Witness Japan's spectacular autumn colours

Uncover the colourful temples of Nikko

Stay in an authentic minshuku inn in Takayama
Discover Tokyo & Kyoto with the help of private guides

Visit the waterfalls and lakes of Nikko National Park

Explore the mountain plateau of Kamikochi
For more information email us: [email protected] or call: + 44 117 244 3380
What, where, when and how...
Autumn Splendour - 14 Days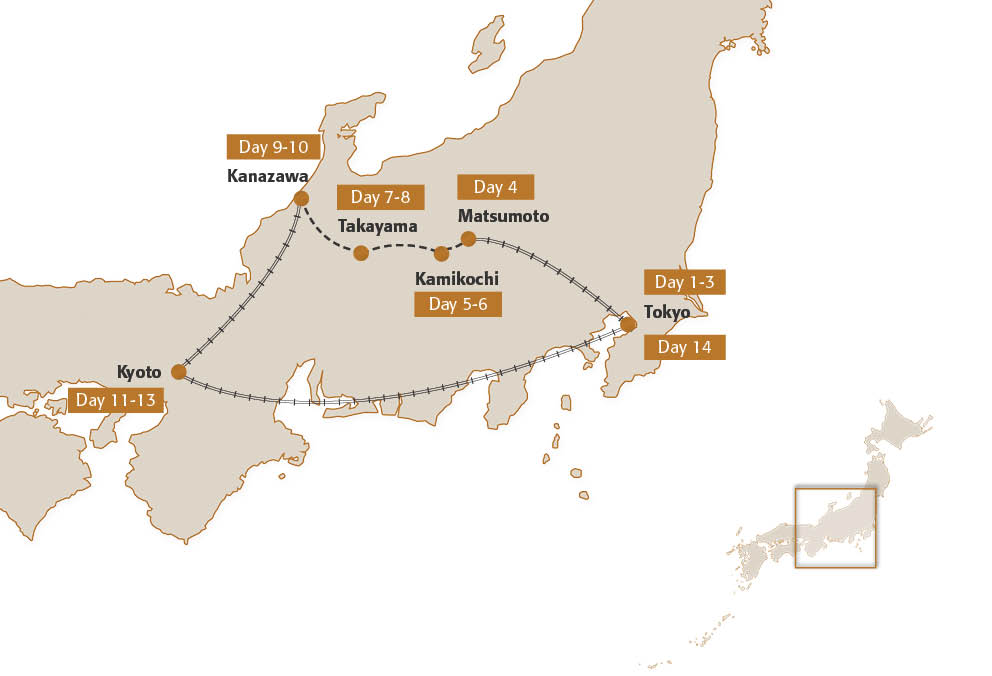 Autumn Splendour - 14 Days - Day by Day
Autumn Splendour - 14 Days - Accommodation
Day 1-2

Explore Tokyo's bright lights and secret corners with a private guide

Welcome to Japan! You'll take a shared shuttle bus from Tokyo Narita Airport straight to your accommodation in central Tokyo for a nice, easy start to your Japan adventure. Your hotel is close to Tokyo Tower and Zozo-ji Temple so there's plenty to see right on your doorstep as you shake off the jetlag on your first afternoon.
For your first full day in Japan, we've arrange for you to have the services of a knowledgeable professional guide who can introduce you to the very best the capital has to offer. Today's sightseeing itinerary is fully flexible so you might like to visit classic spots such as Hamarikyu Garden or Meiji Shrine, or instead you could venture into quieter gardens and parks which are full of autumn colour at this time of year.
Tokyo is a city that never sleeps so you'll be spoiled for choice with endless restaurants, pubs and bars to enjoy until the small hours.

Overnight: Shiba Park

Day 3-4

Discover colourful temples, waterfalls and autumn leaves in Nikko National Park

Nikko beckons next. It's a two hour journey from Tokyo to Nikko; the first leg is on the world famous Shinkansen bullet train and then you'll hop on a local train. Nikko is both the name of a small town and a huge national park. The town boasts vibrant temples in red, green, blue and yellow - quite unlike any others in Japan. The most lavish is Tosho-gu which encompasses the mausoleum of Tokugawa Ieyasu, the founder of the Tokugawa shogunate.
After familiarising yourself with the Japan's samurai history, we suggest spending a full day up by Lake Chuzenji in the heart of the national park. The 45 minute journey from the town to the lake is jaw-dropping: 48 hairpin bends wind ever upwards through a stunning valley. Dramatic waterfalls drop in and out of the lake plateau. Kegon Waterfall is the most famous (and accessible), a dramatic plunge of nearly 100 metres.

Overnight: Nikko Station Classic

Day 5-7

Delve into Japanese culture in Kyoto where you can try on a kimono and take part in a tea ceremony

From Nikko you'll use the provided Japan Rail Pass to travel back through Tokyo and on the bullet train to Kyoto. Kyoto is the epicentre of Japanese culture, and to introduce you to this, we've included the opportunity to try on an elaborate kimono and take part in a traditional tea ceremony.
Kyoto has more temples and shrines than you can shake a stick at, so it's difficult to know where to begin! Fortunately you'll meet another private guide today who can show you the cream of the crop - both the famous sights and some of the lesser-known gems. Certain Kyoto temples are particularly beautiful in autumn, where vermillion leaves are cleverly framed by gates and doorways; a photographer's dream.
On your second full day in Kyoto you could make a day trip to the suburb of Arashiyama. Literally 'storm mountain' Arashiyama sits at the bottom of a dramatic gorge. Take a sightseeing steam train north through the gorge and then travel back by traditional boat to best enjoy the reds, golds and oranges of this gorgeous neighbourhood. The famous bamboo groves are here, as well as the UNESCO World Heritage temple Tenryu-ji and Iwatayama monkey zoo!

Overnight: Gracery Kyoto Sanjo

Day 8-9

Wander untouched streets of traditional wooden houses and cycle past rice paddies

From Kyoto it's a four hour train journey up into the Japanese Alps and the mountainous town of Takayama. The second half of this journey is particularly scenic as you pass rivers, forests and rice paddies carved into the mountain side.
Takayama was established in the 16th century as the castle town of the Kanamori family. Today Takayama is famous throughout Japan for its old town area of narrow streets containing many well-preserved inns, tea houses, shops and merchant houses with latticed windows and overhanging roofs characteristic of the Edo period. On the outskirts of the town is the fascinating Hida folk village where old farm houses from across the Hida region have been brought together and rebuilt (beam by beam) on a hillside overlooking the town. Takayama's morning market on the bank of the Miyagawa River is famous and well worth a visit to see the stands selling local farm produce, flowers and crafts. There are also some great micro sake breweries affording the chance to sample the wares of Takayama's most famous product!
On your second day in Takayama we have included a half day guided cycling tour in and around the rural farmland of nearby Hida Furukawa, a great chance to get into the Japanese countryside.
During your two nights in Takayama you will stay at an authentic family-run inn, sleeping Japanese-style on thick futon mattresses placed directly on the tatami mat flooring. Dinner is included on your first night and will include local produce showcasing the best flavours of the autumn season.

Overnight: Yamakyu

Day 10-11

Enjoy spectacular autumn colours in the high mountain plateau of Kamikochi - the highlight of any fall trip

Kamikochi is quite simply stunning. The cool and crisp Azusa river meanders its way through the valley with some of Japan's highest peaks rising on up on either side. There is an amazing variety of flora and bird life here as well as wild monkeys. Kamikochi offers numerous walks which range from easy rambles along the valley as well as some more serious hikes to the tops of the nearest peaks.
Part of the Chubu Sangaku National Park, Kamikochi has only been moderately developed with half a dozen hotels, a few souvenir shops, mountain huts and hiking trails. Private cars are banned from Kamikochi in order to preserve the unspoiled environment here. Your journey from Takayama will be by highway bus - the tickets and times will be included in your Info-Pack. Your accommodation here is another traditional Japanese inn and dinner is included on both nights.
Kamikochi is only accessible from mid April to mid November. In winter heavy snowfall closes the national park completely! Due to it's high elevation, the autumn leaves are at their best in October. Whatever time of year you visit, please bear in mind that Kamikochi is much colder than Tokyo and Kyoto so do bring appropriate clothing.

Overnight: Nishiitoya Sanso

Day 12

Visit an original samurai castle in the small mountain city of Matsumoto

Your penultimate stop is the castle town of Matsumoto. The "black crow" castle is one of the best preserved original samurai castles in Japan. Built between 1592 and 1614, the castle is unusual for its black cladding and secondary turrets adjacent to the main keep.
After visiting the castle, Matsumoto's museum of woodblock prints is well worth a look. And you must try soba noodles here, one of two local specialities - the other is raw horse meat! Matsumoto has a relaxed yet cosmopolitan feel befitting a city renowned for its musicians and authors. The famous violin teacher, Suzuki (of the Suzuki method) originated from Matsumoto and you will find a commemorative statue on the street opposite the station.

Overnight: Richmond Matsumoto

Day 13-14

Return to Tokyo for a final night in the exciting metropolis

A final journey by train will take your directly from Matsumoto into Tokyo's Shinjuku Station for your final night in the bright lights. This gives you a handy opportunity to visit any sights you might have missed in the capital at the start of your trip, do some last minute shopping or enjoy a fantastic meal out.
At the end of your trip you will retrace your steps to the airport by shared shuttle bus transfer. We wish you a pleasant journey home.

Overnight: Sunroute Plaza Shinjuku
View all days
Day 1-2

Explore Tokyo's bright lights and secret corners with a private guide

Welcome to Japan! You'll take a shared shuttle bus from Tokyo Narita Airport straight to your accommodation in central Tokyo for a nice, easy start to your Japan adventure. Your hotel is close to Tokyo Tower and Zozo-ji Temple so there's plenty to see right on your doorstep as you shake off the jetlag on your first afternoon.
For your first full day in Japan, we've arrange for you to have the services of a knowledgeable professional guide who can introduce you to the very best the capital has to offer. Today's sightseeing itinerary is fully flexible so you might like to visit classic spots such as Hamarikyu Garden or Meiji Shrine, or instead you could venture into quieter gardens and parks which are full of autumn colour at this time of year.
Tokyo is a city that never sleeps so you'll be spoiled for choice with endless restaurants, pubs and bars to enjoy until the small hours.

Overnight: Shiba Park

Day 3-4

Discover colourful temples, waterfalls and autumn leaves in Nikko National Park

Nikko beckons next. It's a two hour journey from Tokyo to Nikko; the first leg is on the world famous Shinkansen bullet train and then you'll hop on a local train. Nikko is both the name of a small town and a huge national park. The town boasts vibrant temples in red, green, blue and yellow - quite unlike any others in Japan. The most lavish is Tosho-gu which encompasses the mausoleum of Tokugawa Ieyasu, the founder of the Tokugawa shogunate.
After familiarising yourself with the Japan's samurai history, we suggest spending a full day up by Lake Chuzenji in the heart of the national park. The 45 minute journey from the town to the lake is jaw-dropping: 48 hairpin bends wind ever upwards through a stunning valley. Dramatic waterfalls drop in and out of the lake plateau. Kegon Waterfall is the most famous (and accessible), a dramatic plunge of nearly 100 metres.

Overnight: Nikko Station Classic

Day 5-7

Delve into Japanese culture in Kyoto where you can try on a kimono and take part in a tea ceremony

From Nikko you'll use the provided Japan Rail Pass to travel back through Tokyo and on the bullet train to Kyoto. Kyoto is the epicentre of Japanese culture, and to introduce you to this, we've included the opportunity to try on an elaborate kimono and take part in a traditional tea ceremony.
Kyoto has more temples and shrines than you can shake a stick at, so it's difficult to know where to begin! Fortunately you'll meet another private guide today who can show you the cream of the crop - both the famous sights and some of the lesser-known gems. Certain Kyoto temples are particularly beautiful in autumn, where vermillion leaves are cleverly framed by gates and doorways; a photographer's dream.
On your second full day in Kyoto you could make a day trip to the suburb of Arashiyama. Literally 'storm mountain' Arashiyama sits at the bottom of a dramatic gorge. Take a sightseeing steam train north through the gorge and then travel back by traditional boat to best enjoy the reds, golds and oranges of this gorgeous neighbourhood. The famous bamboo groves are here, as well as the UNESCO World Heritage temple Tenryu-ji and Iwatayama monkey zoo!

Overnight: Gracery Kyoto Sanjo

Day 8-9

Wander untouched streets of traditional wooden houses and cycle past rice paddies

From Kyoto it's a four hour train journey up into the Japanese Alps and the mountainous town of Takayama. The second half of this journey is particularly scenic as you pass rivers, forests and rice paddies carved into the mountain side.
Takayama was established in the 16th century as the castle town of the Kanamori family. Today Takayama is famous throughout Japan for its old town area of narrow streets containing many well-preserved inns, tea houses, shops and merchant houses with latticed windows and overhanging roofs characteristic of the Edo period. On the outskirts of the town is the fascinating Hida folk village where old farm houses from across the Hida region have been brought together and rebuilt (beam by beam) on a hillside overlooking the town. Takayama's morning market on the bank of the Miyagawa River is famous and well worth a visit to see the stands selling local farm produce, flowers and crafts. There are also some great micro sake breweries affording the chance to sample the wares of Takayama's most famous product!
On your second day in Takayama we have included a half day guided cycling tour in and around the rural farmland of nearby Hida Furukawa, a great chance to get into the Japanese countryside.
During your two nights in Takayama you will stay at an authentic family-run inn, sleeping Japanese-style on thick futon mattresses placed directly on the tatami mat flooring. Dinner is included on your first night and will include local produce showcasing the best flavours of the autumn season.

Overnight: Yamakyu

Day 10-11

Enjoy spectacular autumn colours in the high mountain plateau of Kamikochi - the highlight of any fall trip

Kamikochi is quite simply stunning. The cool and crisp Azusa river meanders its way through the valley with some of Japan's highest peaks rising on up on either side. There is an amazing variety of flora and bird life here as well as wild monkeys. Kamikochi offers numerous walks which range from easy rambles along the valley as well as some more serious hikes to the tops of the nearest peaks.
Part of the Chubu Sangaku National Park, Kamikochi has only been moderately developed with half a dozen hotels, a few souvenir shops, mountain huts and hiking trails. Private cars are banned from Kamikochi in order to preserve the unspoiled environment here. Your journey from Takayama will be by highway bus - the tickets and times will be included in your Info-Pack. Your accommodation here is another traditional Japanese inn and dinner is included on both nights.
Kamikochi is only accessible from mid April to mid November. In winter heavy snowfall closes the national park completely! Due to it's high elevation, the autumn leaves are at their best in October. Whatever time of year you visit, please bear in mind that Kamikochi is much colder than Tokyo and Kyoto so do bring appropriate clothing.

Overnight: Nishiitoya Sanso

Day 12

Visit an original samurai castle in the small mountain city of Matsumoto

Your penultimate stop is the castle town of Matsumoto. The "black crow" castle is one of the best preserved original samurai castles in Japan. Built between 1592 and 1614, the castle is unusual for its black cladding and secondary turrets adjacent to the main keep.
After visiting the castle, Matsumoto's museum of woodblock prints is well worth a look. And you must try soba noodles here, one of two local specialities - the other is raw horse meat! Matsumoto has a relaxed yet cosmopolitan feel befitting a city renowned for its musicians and authors. The famous violin teacher, Suzuki (of the Suzuki method) originated from Matsumoto and you will find a commemorative statue on the street opposite the station.

Overnight: Richmond Matsumoto

Day 13-14

Return to Tokyo for a final night in the exciting metropolis

A final journey by train will take your directly from Matsumoto into Tokyo's Shinjuku Station for your final night in the bright lights. This gives you a handy opportunity to visit any sights you might have missed in the capital at the start of your trip, do some last minute shopping or enjoy a fantastic meal out.
At the end of your trip you will retrace your steps to the airport by shared shuttle bus transfer. We wish you a pleasant journey home.

Overnight: Sunroute Plaza Shinjuku
Close all days
Other trips you may like
Tokyo
Izu Peninsula
Kyoto
Ayabe
Tsumago
Matsumoto
Tokyo

Contemplate your reason for being on a philosophical journey around Japan.

13 nights: from US$4438 pp (twin share) Read more >

Tokyo
Mount Fuji
Kyoto
Nara
Osaka
Tokyo

Welcome to one of the most wheelchair-friendly countries in the world. Explore Tokyo, Kyoto, Osaka and more on this exciting 10-night adventure.

10 nights: from US$4662 pp (twin share) Read more >

Tokyo
Miyajima
Matsue
Kinosaki Onsen
Kyoto
Tokyo

Japan's hot spring bathing culture and scenic countryside make it a wonderfully romantic setting for a honeymoon.

12 nights: from US$7714 pp (twin share) Read more >