Self-Guided Adventure
Nikko Temple Splendour (Group Tour Add-On)
3 Nights: from US$988 per person (twin share)
Trip Code: AONTSC
Make your trip last longer with a stay in Nikko, home to the splendid Tosho-gu Shrine and the verdant forests and stunning waterfalls of Nikko National Park. Read more >
Your Small Group Tour Classic Japan is over, but you don't have to go home just yet. Why not extend your stay in Japan with a Self-Guided Adventure north to Nikko?

Now that you're comfortable using public transport, you're ready to travel independently to Nikko for two nights before returning for a last stay in Tokyo. Nikko is a little under 3 hours from Tokyo, and is famous for its UNESCO World Heritage Site, Tosho-gu Shrine, the lavishly decorated mausoleum and resting place of Tokugawa Ieyasu, the first shogun of the Tokugawa Shogunate which ruled from 1603-1868. One of the highlights is the relief of three monkeys that represent "hear no evil, see no evil, speak no evil". The shrine is unlike any other in Japan and provides a wonderful contrast with the more modest shrines and temples you see in Kyoto and Tokyo.

Nikko isn't only famous for its history; the sprawling Nikko National Park is made up of thick forests, dazzling waterfalls, and impressive mountains, and you could easily spend several days here exploring off the beaten track.

Your final stop on your add-on trip will be back in Tokyo, this time in Asakusa. If you just can't decide how to spend your final day in Japan, don't forget to flick through your Info-Pack for inspiration and our best recommendations on where to eat and what to do in Japan's greatest city.

On your final morning, we've arranged a shared shuttle bus to take you to Narita Airport for your flight home. Alternatively, if you'd prefer to fly from Haneda Airport please let us know and we can arrange a different transfer for you.
Notes
This extension package is designed to be bolted on to one of our Small Group Tours. It works best when combined with Classic Japan. Please note that the extension is Self-Guided. This means you will not be travelling in a group or with a tour leader, but full instructions including details of your journeys and directions to your accommodation will be included in your complimentary InsideJapan Tours' Info-Pack.
What's included
Three nights' accommodation

Breakfast every day and two evening meals

All transport between destinations

Airport transfer to Narita Airport at the end of your trip

Your personalised InsideJapan Info-Pack
What's NOT included:
International flights

Local transport (buses, subways, taxis) at any destinations

Any entrance fees including those for shrines, temples and museums

Baggage handling - you will be expected to carry your own bags for the duration of the trip
Trip Highlights
Journey into the mountainous countryside north of Tokyo

Visit the majestic Kegon Falls

Relax in the hot spring baths at a traditional Japanese inn
Marvel at the gilded splendour of Tosho-gu Shrine, the final resting place of Japan's famed Tokugawa shoguns

Walk along the waterfront of Japan's highest lake, Chuzenji

Savour the sights of Tokyo on your final day
For more information email us: [email protected] or call: + 44 117 244 3380
What, where, when and how...
Nikko Temple Splendour (Group Tour Add-On) - 4 Days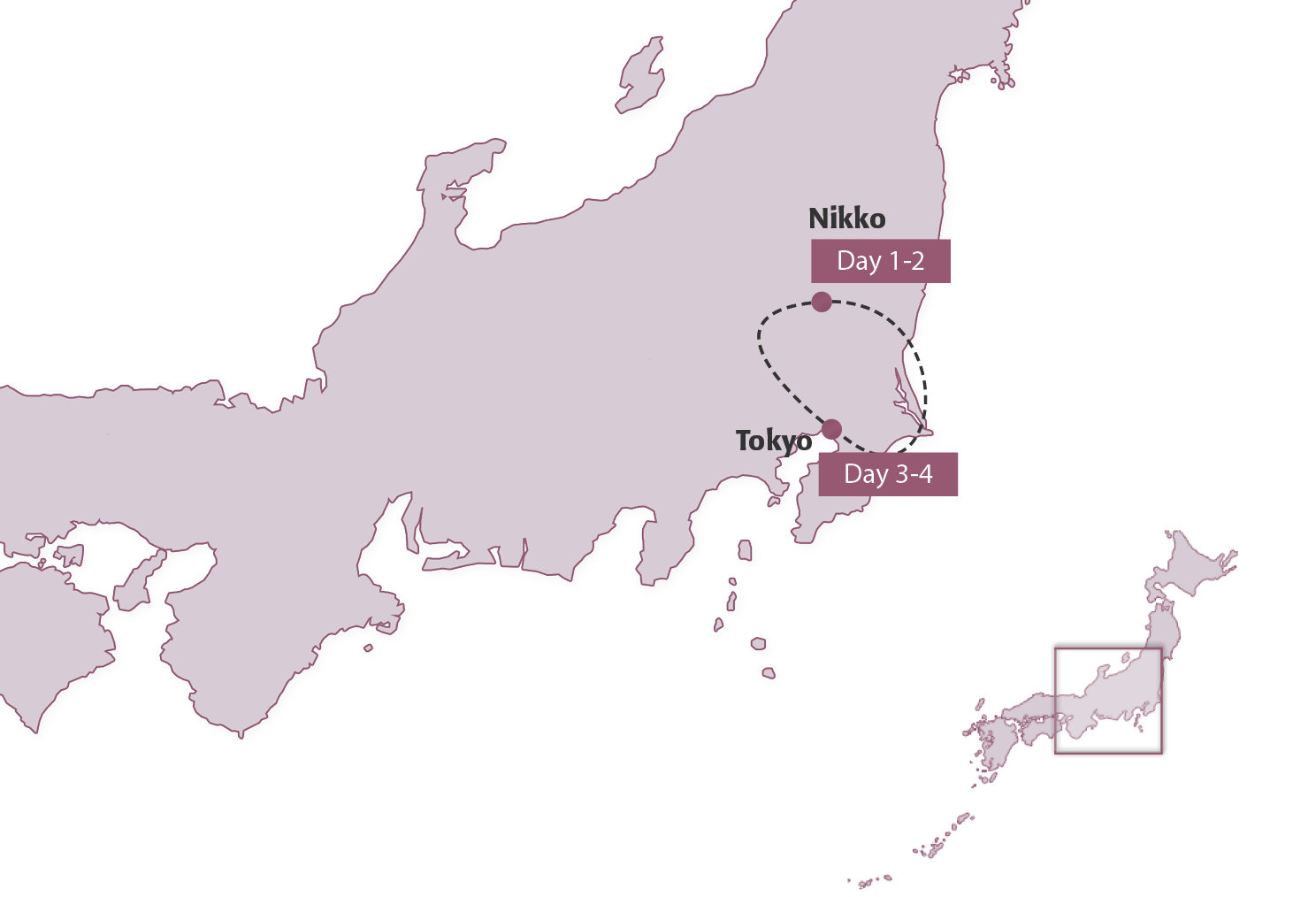 Destinations
Nikko Temple Splendour (Group Tour Add-On) - 4 Days - Day by Day
Nikko Temple Splendour (Group Tour Add-On) - 4 Days - Accommodation

Nikko Temple Splendour (Group Tour Add-On) - 4 Days - Experiences
Day 1-2

Trade high rises for history as you journey north for two nights in the splendour of Nikko. Visit the lavish mausoleum of Tokugawa Ieyasu, and spend a day venturing into the forests of Nikko National Park.

After bidding a fond farewell to your tour leader and group in Tokyo, you will make your way by train north to Nikko, and we'll provide full instructions for this journey. From the train window you can watch as the high rises of the city fall away and are replaced by the sight of rice fields and forests as you head deeper into Tochigi Prefecture on your two hour ride.
Senhime Monogatari, the modern Japanese-style inn where you will be staying, is only a 10 minute walk from Tosho-gu Shrine, making it the perfect base for your two day trip. You can spend the afternoon visiting the historic shrine and walking through the peaceful forests surrounding it. Tosho-gu is one of the most lavishly decorated shrines in Japan, so be sure to take your time to look closely at the myriad intricate embellishments on the dozen buildings of the shrine complex.
On the following day you can explore further afield in Nikko National Park. Kegon Falls is particularly impressive, and nearby Lake Chuzenji makes for a pleasant walk. If you fancy one last hot spring experience, you can spend a leisurely afternoon in the town of Yumoto Onsen where the hot water bubbles up from Yunodaira marsh.

Overnight: Senhime Monogatari

Day 3-4

Return to Tokyo for a final night in the Asakusa area, nestled between Tokyo's oldest temple Senso-ji and the iconic Sky Tree tower

Your two days in Nikko are over so it's time to retrace your steps to Tokyo, arriving in the Asakusa district where your hotel is conveniently located. You will have the afternoon at leisure to finish off any last shopping, perhaps in Asakusa for some traditional souvenirs or in glitzy Ginza, or tuck in to your favourite foods you discovered during the last two weeks.
On your final morning in Japan we've arranged a shared shuttle bus transfer from your hotel to Narita Airport. Of course if you would prefer to fly from Haneda Airport we can change the arrangements to suit your plans.

Overnight: Richmond Asakusa
View all days
Day 1-2

Trade high rises for history as you journey north for two nights in the splendour of Nikko. Visit the lavish mausoleum of Tokugawa Ieyasu, and spend a day venturing into the forests of Nikko National Park.

After bidding a fond farewell to your tour leader and group in Tokyo, you will make your way by train north to Nikko, and we'll provide full instructions for this journey. From the train window you can watch as the high rises of the city fall away and are replaced by the sight of rice fields and forests as you head deeper into Tochigi Prefecture on your two hour ride.
Senhime Monogatari, the modern Japanese-style inn where you will be staying, is only a 10 minute walk from Tosho-gu Shrine, making it the perfect base for your two day trip. You can spend the afternoon visiting the historic shrine and walking through the peaceful forests surrounding it. Tosho-gu is one of the most lavishly decorated shrines in Japan, so be sure to take your time to look closely at the myriad intricate embellishments on the dozen buildings of the shrine complex.
On the following day you can explore further afield in Nikko National Park. Kegon Falls is particularly impressive, and nearby Lake Chuzenji makes for a pleasant walk. If you fancy one last hot spring experience, you can spend a leisurely afternoon in the town of Yumoto Onsen where the hot water bubbles up from Yunodaira marsh.

Overnight: Senhime Monogatari

Day 3-4

Return to Tokyo for a final night in the Asakusa area, nestled between Tokyo's oldest temple Senso-ji and the iconic Sky Tree tower

Your two days in Nikko are over so it's time to retrace your steps to Tokyo, arriving in the Asakusa district where your hotel is conveniently located. You will have the afternoon at leisure to finish off any last shopping, perhaps in Asakusa for some traditional souvenirs or in glitzy Ginza, or tuck in to your favourite foods you discovered during the last two weeks.
On your final morning in Japan we've arranged a shared shuttle bus transfer from your hotel to Narita Airport. Of course if you would prefer to fly from Haneda Airport we can change the arrangements to suit your plans.

Overnight: Richmond Asakusa
Close all days
Other trips you may like
Takahara
Nonaka
Yunomine Onsen
Koguchi
Kii-Katsuura

A challenging five-night walking module introducing the ancient trails of the Kumano Kodo pilgrimage network.

5 nights: from US$1781 pp (twin share) Read more >

Tokyo
Hakone
Kyoto
Kinosaki Onsen
Osaka

Japan's hot spring bathing culture and scenic countryside make it a wonderfully romantic setting for a honeymoon.

11 nights: from US$6149 pp (twin share) Read more >

Tokyo
Matsumoto
Tsumago
Narai
Kyoto
Yunomine Onsen
Koguchi
Nachi
Osaka

From sacred pilgrimage trails to ancient samurai routes, this itinerary showcases some of the best multi-day hiking routes in Japan.

14 nights: from US$3458 pp (twin share) Read more >