Self-Guided Adventure
Hiroshima & Miyajima (Group Tour Add-On)
4 Nights: from US$936 per person (twin share)
Trip Code: AOHMC
Your adventure in Japan isn't over yet! Say a fond farewell to your Small Group Tour and head west to spend four nights in the modern city of Hiroshima, full of poignant history and delicious food, and the island of Miyajima with its floating vermillion torii shrine gate. Read more >
After your Small Group Tour Spring Elegance finishes in Tokyo, how about extending your stay in Japan with a Self-Guided Adventure to Hiroshima?

In this add-on trip you will travel independently from Tokyo to Hiroshima for a one night stay in the city. You will then take a ferry to Miyajima to stay two nights in a traditional ryokan inn before heading back up to Tokyo for your final night in Japan.

A stay in Hiroshima is not complete without a sobering visit to the Peace Memorial Park and Museum to remember the city's deeply tragic past. Yet in defiance of the events of 1945, Hiroshima has rebuilt itself as a lively modern city, and it is home to one of the most popular dishes in Japan: savoury okonomiyaki pancakes.

After a night in Hiroshima you'll head on a local train down to the port and take a ferry over to Miyajima Island to spend two nights there, passing the iconic Itsukushima Shrine orange torii gate on the way, which is considered to be one of the top three views of Japan. Miyajima is home to traditional temples, little shops, and some rather curious deer.

We've given you a final night back in Tokyo in the lively Shinjuku area. One of Shinjuku's top attractions is Golden Gai, a maze of little bars and tiny restaurants with a fun, vibrant atmosphere. How about a final look around the huge shops for some last-minute souvenirs? Have a look in your complimentary Info-Pack for some of our best recommendations of how to spend your final night in Tokyo. The following day you will take the Narita Express train from Shinjuku Station out to Narita Airport in plenty of time for your flight home.
Notes
This extension package is designed to be bolted on to one of our Small Group Tours. It works best when combined with Spring Elegance. Please note that the extension is Self-Guided. This means you will not be travelling in a group or with a tour leader, but full instructions including details of your journeys and directions to your accommodation will be included in your complimentary InsideJapan Tours' Info-Pack.

What's included
Four nights' accommodation

Breakfast every day and two evening meals

All transport between destinations using your Japan Rail Pass

Airport transfer to Narita Airport at the end of your trip

Your personalised InsideJapan Info-Pack
What's NOT included:
International flights

Local transport (buses, subways, taxis) at any destinations

Any entrance fees including those for shrines, temples and museums

Baggage handling - you will be expected to carry your own bags for the duration of the trip
Trip Highlights
Speed west on the bullet train between Tokyo and Hiroshima

Tuck in to okonomiyaki savoury pancakes, Hiroshima's most famous food

Explore the traditional temples and craft shops on Miyajima Island
Visit Hiroshima's deeply moving Peace Memorial Park and Museum

Take the ferry to Miyajima Island past the floating orange torii shrine gate
For more information email us: [email protected] or call: + 44 117 244 3380
What, where, when and how...
Hiroshima & Miyajima (Group Tour Add-On) - 5 Days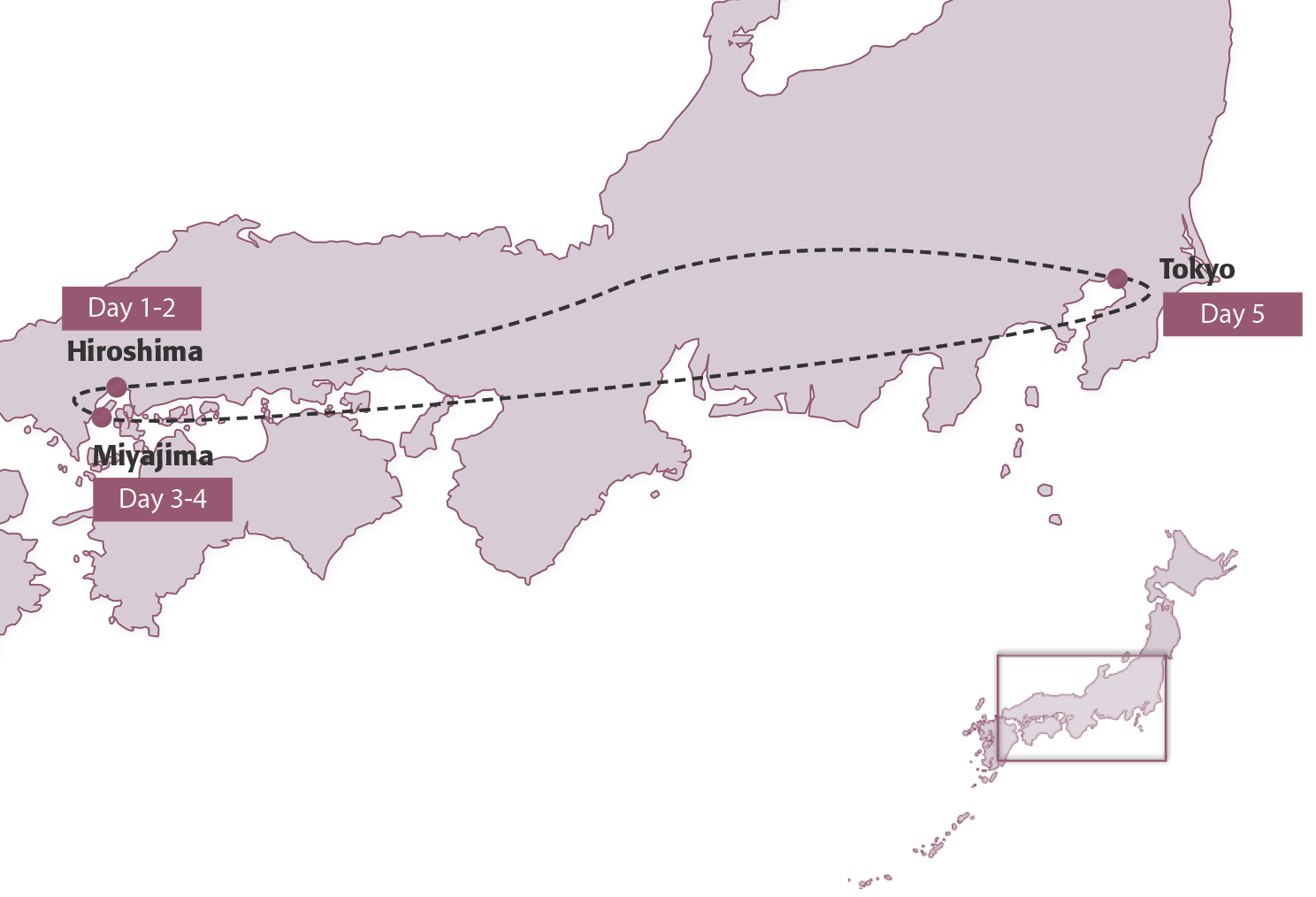 Destinations
Hiroshima & Miyajima (Group Tour Add-On) - 5 Days - Day by Day
Hiroshima & Miyajima (Group Tour Add-On) - 5 Days - Accommodation

Hiroshima & Miyajima (Group Tour Add-On) - 5 Days - Experiences
Day 1

Hop on the bullet train and head west for a day of history in Hiroshima

This morning you'll bid farewell to your tour leader and group in Tokyo and make your own way to the bullet train station. Although by now you will be quite familiar with using trains in Japan, we will provide full instructions for this journey, and we'll extend your Japan Rail Passes to cover the train costs. In case you missed it while in Hakone on the Small Group Tour, keep your eyes peeled for views of Mount Fuji from the right hand side of the train as you pass through Shizuoka Prefecture.
Your journey to Hiroshima will take around five hours and will require one easy change at Shin-Osaka Station. Your hotel is conveniently located in the centre of the city, a 10 minute taxi ride from Hiroshima Station and a 10 minute walk to the Peace Memorial Park and Museum. You will have the rest of the day to wander around Hiroshima and learn more about this fascinating city, and you can end your day with a delicious okonomiyaki savoury pancake in Okonomi Mura.

Overnight: Mitsui Garden Hotel Hiroshima

Day 2-3

Travel across Hiroshima Bay to the tranquil island of Miyajima, home to vermillion temples and friendly deer

The next day you will travel by train and ferry south to Miyajima Island where you will spend two nights at Yamaichi Bekkan, a traditional family-run Japanese-style inn located near the pier and some of Miyajima's most famous sites. The island has plenty to do and see over the next two days, and you can take your time exploring the quiet, winding streets and local shops selling sweet maple-shaped momiji manju buns. If the weather is on your side, you can hike up sacred Mount Misen for sweeping views of the Seto Inland Sea, or if you're feeling like a gentler pace you can always take the ropeway to the top.
We find that one of the best times of day on Miyajima is early evening when the bulk of the tourists take the ferry back to the mainland and you feel as if you have the whole island to yourself. We recommend heading down to the waterfront to see the orange Itsukushima Shrine and floating torii gate lit up at night.

Overnight: Yamaichi Bekkan

Day 4-5

Trade history and culture for the buzz and bright lights of Shinjuku for your last memorable night in Japan

On the fourth morning you will take your last bullet train journey back to Tokyo to stay at JR Kyushu Hotel Blossom Shinjuku. One of the best things to do in Shinjuku is to have a drink in one of the tiny bars of Golden Gai, or if you want some more recommendations, check out our Info-Pack for all the information about our favourite places to eat in the Shinjuku area - don't forget to pick up any last minute souvenirs in one of the multitude of shops there!
Sadly, it's time to fly home. You can relax on the Narita Express out to Narita Airport, ready for your flight home. If you would like to fly from Tokyo's Haneda Airport instead, please don't hesitate to ask us.

Overnight: JR Kyushu Blossom Shinjuku
View all days
Day 1

Hop on the bullet train and head west for a day of history in Hiroshima

This morning you'll bid farewell to your tour leader and group in Tokyo and make your own way to the bullet train station. Although by now you will be quite familiar with using trains in Japan, we will provide full instructions for this journey, and we'll extend your Japan Rail Passes to cover the train costs. In case you missed it while in Hakone on the Small Group Tour, keep your eyes peeled for views of Mount Fuji from the right hand side of the train as you pass through Shizuoka Prefecture.
Your journey to Hiroshima will take around five hours and will require one easy change at Shin-Osaka Station. Your hotel is conveniently located in the centre of the city, a 10 minute taxi ride from Hiroshima Station and a 10 minute walk to the Peace Memorial Park and Museum. You will have the rest of the day to wander around Hiroshima and learn more about this fascinating city, and you can end your day with a delicious okonomiyaki savoury pancake in Okonomi Mura.

Overnight: Mitsui Garden Hotel Hiroshima

Day 2-3

Travel across Hiroshima Bay to the tranquil island of Miyajima, home to vermillion temples and friendly deer

The next day you will travel by train and ferry south to Miyajima Island where you will spend two nights at Yamaichi Bekkan, a traditional family-run Japanese-style inn located near the pier and some of Miyajima's most famous sites. The island has plenty to do and see over the next two days, and you can take your time exploring the quiet, winding streets and local shops selling sweet maple-shaped momiji manju buns. If the weather is on your side, you can hike up sacred Mount Misen for sweeping views of the Seto Inland Sea, or if you're feeling like a gentler pace you can always take the ropeway to the top.
We find that one of the best times of day on Miyajima is early evening when the bulk of the tourists take the ferry back to the mainland and you feel as if you have the whole island to yourself. We recommend heading down to the waterfront to see the orange Itsukushima Shrine and floating torii gate lit up at night.

Overnight: Yamaichi Bekkan

Day 4-5

Trade history and culture for the buzz and bright lights of Shinjuku for your last memorable night in Japan

On the fourth morning you will take your last bullet train journey back to Tokyo to stay at JR Kyushu Hotel Blossom Shinjuku. One of the best things to do in Shinjuku is to have a drink in one of the tiny bars of Golden Gai, or if you want some more recommendations, check out our Info-Pack for all the information about our favourite places to eat in the Shinjuku area - don't forget to pick up any last minute souvenirs in one of the multitude of shops there!
Sadly, it's time to fly home. You can relax on the Narita Express out to Narita Airport, ready for your flight home. If you would like to fly from Tokyo's Haneda Airport instead, please don't hesitate to ask us.

Overnight: JR Kyushu Blossom Shinjuku
Close all days
Other trips you may like
Tokyo
Nikko
Sendai
Nyuto Onsen
Kakunodate
Mount Haguro
Tokyo

Journey through the lush rural landscapes in Tohoku, a land steeped in tradition and mystery, on this classic two-week itinerary.

13 nights: from US$3419 pp (twin share) Read more >

From ultra-modern Tokyo to the ancient capital of Kyoto via the hot springs of Hakone, this is a classic first-timer's trip to Japan.

9 nights: from US$2678 pp (twin share) Read more >

Iiyama
Togarinozawa Onsen

Combine days of intrepid hiking along the 70km-long Shin-Etsu with a relaxing day off at a family-run inn in a rural village.

4 nights: from US$1196 pp (twin share) Read more >