Self-Guided Adventure
Tokyo Nights (Group Tour Add-On)
3 Nights: from US$871 per person (twin share)
Trip Code: AOTNC
If your Small Group Tour finishes in Kyoto, you needn't head straight home. Why not hop on the bullet train to Tokyo and spend a couple of days exploring one of the world's greatest metropoles. Read more >
Do you fancy staying a little longer in Japan after your Hidden Japan or Rural Japan Explorer Small Group Tour? Both of these tours finish in Kyoto, but it would be a shame to miss out on Tokyo.
We can make additional arrangements post-tour for you to explore Tokyo on a Self-Guided Add-on. After saying goodbye to your tour leader and group, we'll provide tickets and detailed instructions so you can catch the bullet train to Tokyo.
We recommend staying in Tokyo's historic Asakusa district as there's a wealth of sights on your hotel's doorstep. Visit the capital's oldest temple, Senso-ji and walk through Kaminarimon gate. Shop for ceramics and vintage kimono, or head to nearby Kappabashi - the best place to buy bespoke kitchen knives.
After settling into the capital, we've included a morning with a private guide to help you get to grips with the city's transport system and the different characters of each neighbourhood. You'll also take an elevator up the 634m Skytree - the phenomenal landmark of Tokyo's skyline which dwarfs everything in sight. If you're lucky, on a clear day you can see as far as Mount Fuji.
This add-on package is fully tailorable, so if you have more time to spare, or fancy exploring further afield from the capital, just let us know and we'll come up with the perfect plan for you.
Notes
This extension package is designed to be added on to one of our Small Group Tours. It works best when combined with Hidden Japan or Japan Rural Explorer. Please note that the extension is Self-Guided. This means you will not be travelling in a group or with a tour leader, but full instructions including details of your journeys and directions to your accommodation will be included in your complimentary InsideJapan Tours' Info-Pack.
What's included
Three nights' accommodation

Breakfast every day

Bullet train tickets from Kyoto to Tokyo

Manaca transport card with 2,500 yen credit for Tokyo city transport

Airport transfer at the end of your trip

Four-hour private guide service in Tokyo

Your personalised InsideJapan Info-Pack
What's NOT included:
International flights

Local transport (buses, subways, taxis) at any destination unless otherwise specified

Any entrance fees including those for shrines, temples and museums

Baggage handling - you will be expected to carry your own bags for the duration of the trip
Trip Highlights
Hop on the bullet train from Kyoto to Tokyo

Get a bird's eye view of Tokyo from the top of the 634m Skytree
Discover Japan's frenetic capital with a private local guide

Stay in the historic Asakusa district and visit Senso-ji Temple
For more information email us: [email protected] or call: + 44 117 244 3380
What, where, when and how...
Tokyo Nights (Group Tour Add-On) - 4 Days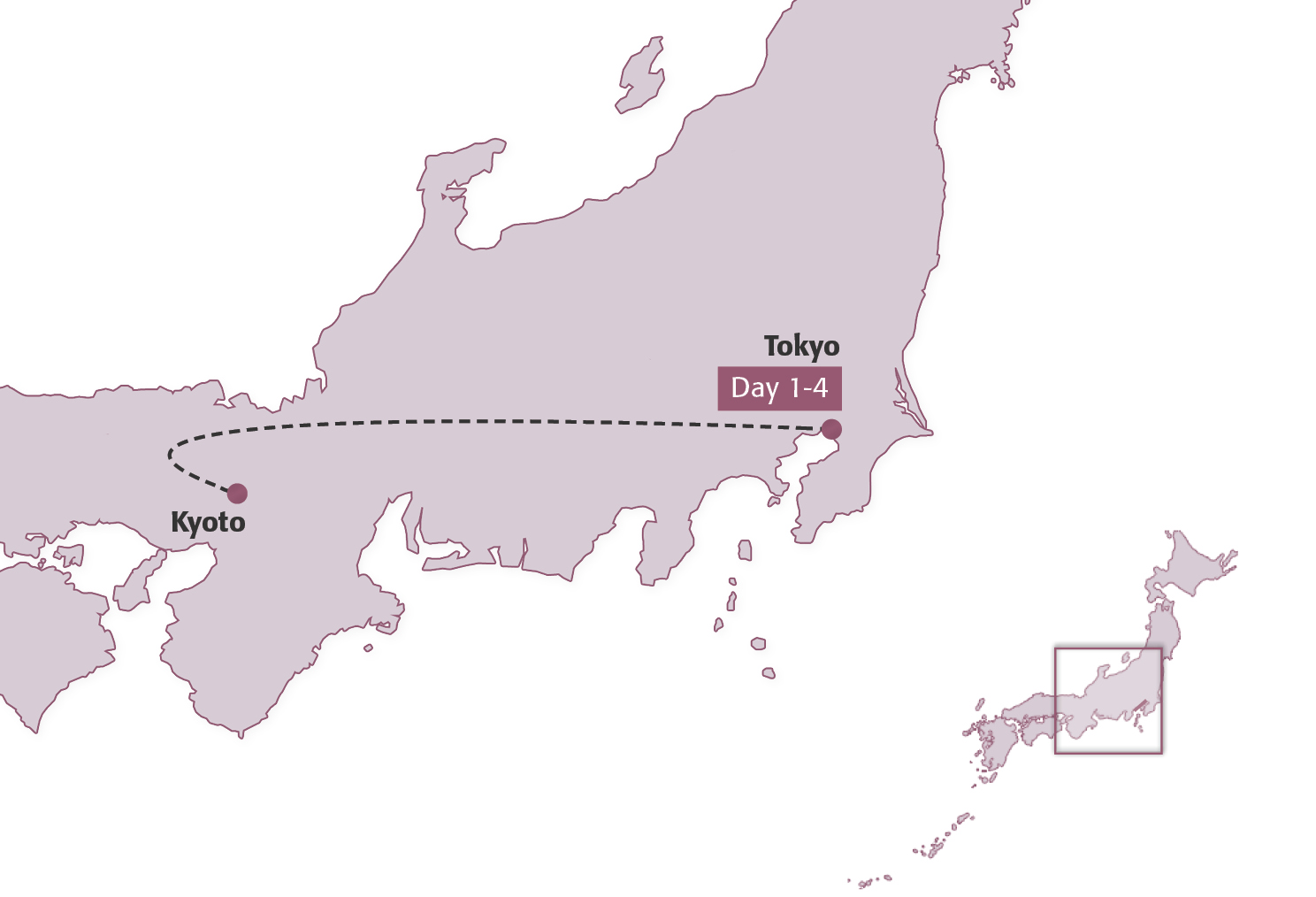 Tokyo Nights (Group Tour Add-On) - 4 Days - Day by Day
Tokyo Nights (Group Tour Add-On) - 4 Days - Accommodation

Tokyo Nights (Group Tour Add-On) - 4 Days - Experiences
Day 1-4

Get beneath the surface of Japan's fascinating capital city

Hop on the world famous bullet train from Kyoto and you'll be in Tokyo in just a couple of hours. For the next three nights you'll be staying right in the heart of Tokyo's Asakusa district. This is the oldest part of the capital and centres around Senso-ji Temple.
The beauty of Asakusa is that there's always lots going on, and it's all accessible for the non-Japanese speaker. Menus in English, souvenir stalls alongside vintage kimono shops, and a very helpful tourist centre. Yet wander down a backstreet and you'll see little old ladies going about their daily shopping, children walking to school and lines of locals outside the best ramen stalls proving that there is plenty of authentic people watching to be had here!
We've included half a day with a local private guide who can tailor a sightseeing itinerary exactly to suit you. Get lost in the Akihabara electronic district, take a walk through Meiji Shrine or explore one of Tokyo's little-known gardens – pockets of elegant tranquillity among the neon lights.
A trip to the top of the Toyko Skytree is a must to get a bird's eye view of the metropolis. We've included tickets for this so you can skip the queue. And then there's the food in Tokyo – with more Michelin stars than France, and fantastic soul food too from ramen to conveyor belt sushi to izakaya pubs beloved of salary men, this add-on will be a wonderful extension to your Japan adventure.
On your final morning we will arrange a shared shuttle bus to pick you up from your hotel and take you to Tokyo Narita or Haneda Airport in good time for your flight home.

Overnight: Richmond Asakusa
View all days
Day 1-4

Get beneath the surface of Japan's fascinating capital city

Hop on the world famous bullet train from Kyoto and you'll be in Tokyo in just a couple of hours. For the next three nights you'll be staying right in the heart of Tokyo's Asakusa district. This is the oldest part of the capital and centres around Senso-ji Temple.
The beauty of Asakusa is that there's always lots going on, and it's all accessible for the non-Japanese speaker. Menus in English, souvenir stalls alongside vintage kimono shops, and a very helpful tourist centre. Yet wander down a backstreet and you'll see little old ladies going about their daily shopping, children walking to school and lines of locals outside the best ramen stalls proving that there is plenty of authentic people watching to be had here!
We've included half a day with a local private guide who can tailor a sightseeing itinerary exactly to suit you. Get lost in the Akihabara electronic district, take a walk through Meiji Shrine or explore one of Tokyo's little-known gardens – pockets of elegant tranquillity among the neon lights.
A trip to the top of the Toyko Skytree is a must to get a bird's eye view of the metropolis. We've included tickets for this so you can skip the queue. And then there's the food in Tokyo – with more Michelin stars than France, and fantastic soul food too from ramen to conveyor belt sushi to izakaya pubs beloved of salary men, this add-on will be a wonderful extension to your Japan adventure.
On your final morning we will arrange a shared shuttle bus to pick you up from your hotel and take you to Tokyo Narita or Haneda Airport in good time for your flight home.

Overnight: Richmond Asakusa
Close all days
Other trips you may like
Tokyo
Kanazawa
Shirakawago
Takayama
Matsumoto
Tsumago
Kyoto
Tokyo

A classic 14-night adventure introducing the traditional side of Japan, from Japanese-style inns to time-honoured cuisine and ancient temples.

14 nights: from US$4303 pp (twin share) Read more >

Tokyo
Hakone
Kyoto
Kinosaki Onsen
Osaka

Japan's hot spring towns and vibrant cities make for a perfect setting for a romantic honeymoon

11 nights: from US$2938 pp (twin share) Read more >

Takahara
Nonaka
Yunomine Onsen
Koguchi
Kii-Katsuura

A challenging five-night walking module introducing the ancient trails of the Kumano Kodo pilgrimage network.

5 nights: from US$1781 pp (twin share) Read more >