Classic Japan
13 Nights: from US$5330
Trip Code: CJ
Discover some of the locations that have given Japan its reputation as a land of mysterious spirituality and exquisite aesthetics, as you ride cross-country on the world-famous bullet train and stay in some lovely traditional accommodations.
Your journey will be gastronomic too - sample local specialities from melt-in-the-mouth Hida beef in the alpine regions to super-fresh sushi in Tokyo, quick bites from street vendors in Osaka and multi-course kaiseki feasts in Takayama.
In each destination you'll enjoy an expertly planned range of experiences, from learning about the history of the magnificent Osaka Castle, to wandering through the thatched farmhouses of Takayama's Hida no Sato Folk Village.
Take a tour of Kyoto with an expert local guide, enjoy the exclusive audience with a trainee geisha, and stroll through the beautiful Hamarikyu Gardens, hidden in the heart of Tokyo's skyscraper district.
Along the way you'll visit two stunning national parks: Chubu Sangaku (Kamikochi) and Fuji-Hakone-Izu. The former is home to Japan's most magnificent mountain scenery and a thriving population of Japanese macaque monkeys, whilst the latter offers a pirate ship ride across Lake Ashi and the chance to boil eggs in volcanic hot springs.
If you choose to travel in July or August, you will also have the option to scale one of the most famous peaks in the world: Mount Fuji.
Accompanying you throughout will be your tour leader, who will introduce history and culture, guide you on excursions, demystify the local etiquette and generally make sure you get the best from your Classic Japan tour.
If this sounds good and makes you want to see even more, why not extend your tour in Japan!
The tour leader will be staying at the first hotel for two nights before the tour starts so they will be available for advice if you choose to book pre tour nights. We recommend booking at least one extra night to check in and relax before the tour begins.
Important Tour Information
Group Size: 4 - 14
Mount Fuji Climb: Our July and August departures offer an optional Mount Fuji climb. You will need to be fit and determined and have suitable wear and equipment for this fantastic experience. Please ask us for more details. The tour leader will lead the climb; those not climbing will have a guide at their service for their full day in Hakone.
Single Supplement: Single rooms are guaranteed at all night stops on this tour through payment of a mandatory single supplement.
Fitness: Even when not using public transport, sightseeing in Japan often involves walking between sights, climbing up steps in temples and being 'on the go' for much of the day. To enjoy any of our Small Group Tours you should be of moderate fitness, able to walk and climb stairs without difficulty and able to maintain a pace that is comfortable for the majority of the group.
Check-in: Upon arrival you will probably be tired after a long international flight. Please note that rooms at the Tokyo hotel are only available from 3pm.
Hotels in Japan operate strict check-in policies. If you have an early arrival you can either book an extra night for any-time check-in, or the hotel will be happy to securely store your luggage for you whilst you go for a drink or explore the local area.
The tour leader will be staying at the first hotel for two nights before the tour starts so they will be available for advice if you choose to book pre tour nights. We recommend booking at least one extra night to check in and relax before the tour begins.
Transport: Please note that most transfers are by public transport making use of Japan's first-rate transport network. This tour uses a mixture of trains, taxis, public buses, boats, as well as private coaches for some transfers and sightseeing.
Luggage: We highly recommend that to make your stay more enjoyable you pack reasonably light. Large suitcases will be an inconvenience to you. A small case or bag with wheels or a rucksack are most appropriate for this tour as you will have to carry your bags for short distances and some stations do not have escalators or elevators/lifts. You will also need a small overnight back-pack (for up to two nights) for use when we forward our main bags to the next location.

Accommodation: Culturally, communal bathing is common practice in Japan. Please note that in some traditional accommodations fully private en suite facilities may not be available. We will do our best to secure rooms on tour with private toilet and sink however some accommodations are not able to offer private bathing facilities. Shared facilities (when included) will always be separated by gender.
Please note that in Japan, twin rooms are very much the norm, and there are far fewer double rooms available. Please understand that we will not be able to offer a double in every hotel on this tour.
International Flights: This tour starts and finishes in Tokyo for arrivals and departures at Tokyo, Narita or Haneda. Please note that the included meet-and-greet and airport transfer to the first hotel is ONLY available from these two airports.
What's included
Full-time services of your InsideJapan tour leader

13 nights' accommodation

Breakfast every day and eight evening meals

Your InsideJapan Info-Pack

Seven-day Japan Rail Pass

IC transport card with 4,500 yen credit for city transport

Three-day Hakone Free Pass for transport in the Hakone region

Private coach from Takayama to Kamikochi; bus & trains from Kamikochi to Tokyo

Full day private guide in Kyoto with private bus

Afternoon tea with a maiko in Kyoto

Entrance to Kiyomizu Temple & Yasaka Shrine in Kyoto

Entrance to the Hida no Sato folk village in Takayama

Entrance to Osaka Castle

Tickets to Hakone Open-Air Museum

Sumida river bus ride and entrance to Hamarikyu Gardens in Tokyo

Luggage forwarding from Tokyo to Osaka & from Takayama to Tokyo

Shared portable Wi-Fi access throughout trip

Arrival and departure transfers by shared shuttle bus
What's NOT included:
International flights

Any local transport unless covered by the included transport passes

Any entrance fees (including temples, shrines and museums) unless otherwise specified

Baggage handling and luggage forwarding unless otherwise specified - you will be expected to carry your own luggage.
Tour Price Information
Tour Price:

From US$5330

Single Supplement:

From US$1170
Extra Nights
Pre-Tour:

Twin Share From US$130 pp

Single From US$208 pp

Post-Tour:

Twin Share From US$130 pp

Single From US$156 pp
Disclaimer Message: Please note: Prices displayed above are all "From" prices as individual prices vary depending on time of year travelling. For full pricing information on specific departures please speak to your Travel Consultant.
Tour Highlights
See Tokyo from the water on a Sumida River cruise

Stroll in the peace of Tokyo's Hamarikyu Gardens

Step inside samurai era history at Osaka Castle

Explore traditional houses at the Hida No Sato folk museum
Meet a trainee geisha in Kyoto's Gion district

Visit Kamikochi, one of Japan's most beautiful regions

Climb Mount Fuji (optional - July & August departures only)

If all this sounds great and makes you want to see even more, why not extend your stay in Japan!
For more information email us: [email protected]japantours.com or call: 303 952 0379
What, where, when and how...
Classic Japan - 14 Days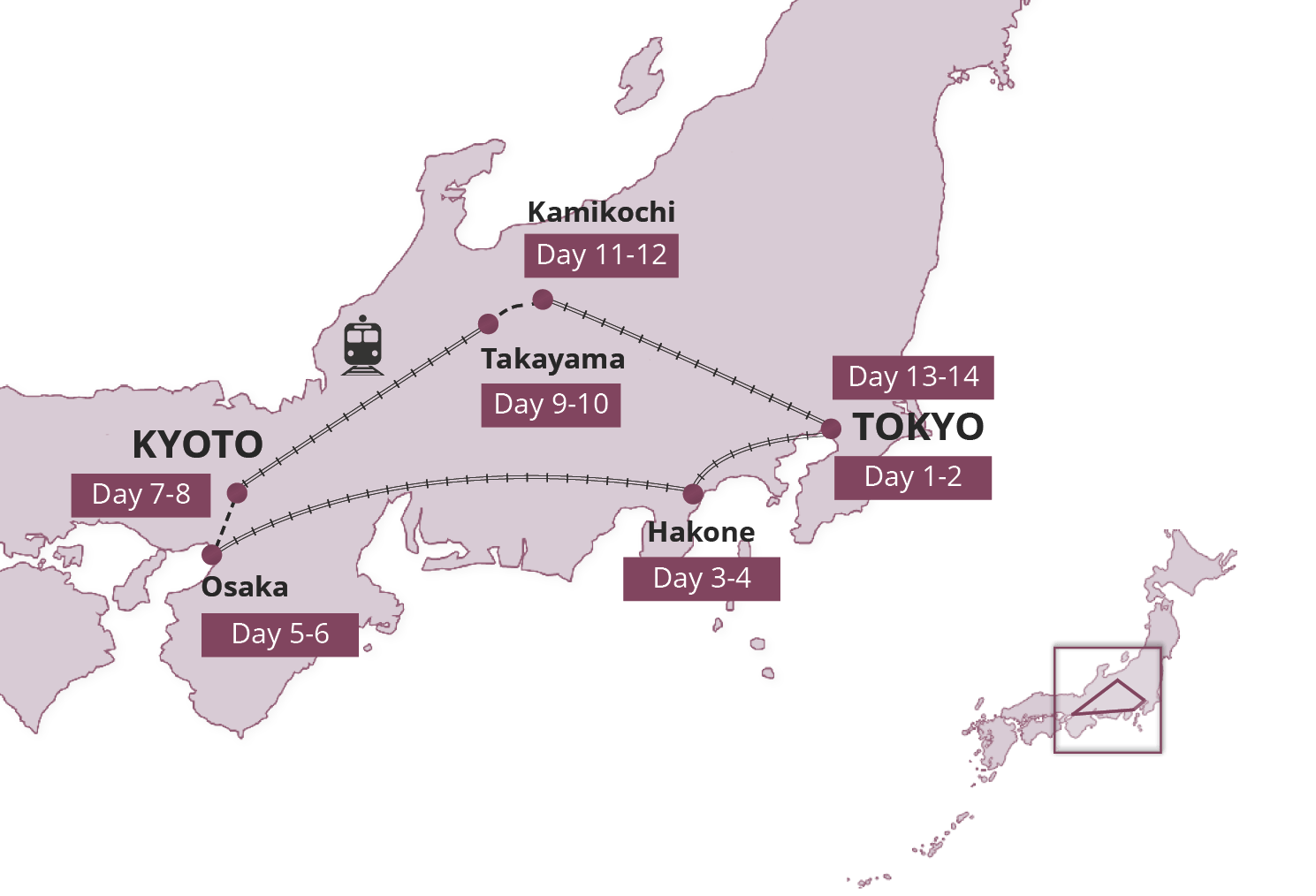 Classic Japan - 14 Days - Day by Day
Classic Japan - 14 Days - Accommodation
Classic Japan - 14 Days - Booking
Single supplement from US$1170
Day 1-2

Explore Japan's capital city, from the serenity of Hamarikyu Gardens to the high energy of the Shibuya district.

Today you will touch down in Tokyo, Japan's capital and the tenth most populous city in the world. On arrival you will be met at the airport by your driver and travel by shared shuttle bus to your hotel in the Asakusa district of the city, where your tour leader will be waiting to meet you in the lobby. This evening you will convene with your group for a welcome meeting before heading out to a local restaurant for an introductory meal – the perfect way to begin getting to know your group.
Tokyo is an international byword for hyper-modernity, so you may be surprised to find that there are still little pockets of history left for those who look. Asakusa is one of these pockets, where bustling low-rise market stalls line the approach to Senso-ji – Tokyo's oldest temple.
After exploring this area, on day two your tour leader will take you on a guided tour of some of the city's other famous sites – from the madness of Shibuya's scramble crossing to the towering neon arcades of Akihabara and plenty in between. The highlight of today is likely to be a ride on the Sumida River, concluding with a cup of green tea in the beautiful oasis of Hamarikyu Gardens.

Overnight: The B Asakusa

Day 3-4

Admire Mount Fuji and explore the open-air museum in Hakone, one of Japan's most popular national parks.

Just a short ride on the bullet train will bring you to Hakone, part of the Fuji-Hakone-Izu National Park and one of Japan's most popular hot spring towns. Here you'll be staying in a large Japanese-style hotel very close to the Hakone Open-Air Museum, which you'll be visiting with your group today. With works by Picasso, Miro, Rodin and Henry Moore set amid stunning mountain scenery, this is sure to be a real highlight for any art fans.
Besides art, Hakone has a wealth of attractions to offer. Quaint traditional buildings, a pirate ship cruise across Lake Ashi – not to mention spectacular views of Mount Fuji when the weather is clear! You'll have the chance to do all this and more on day four as your tour leader shows you some of the area's finest spots.
Dinner will be included on both nights of your stay in Hakone – a lovely kaiseki-style spread featuring a multitude of dishes made from local and seasonal ingredients. Don't forget to try out the hot spring baths, too – this is an integral and very enjoyable part of Japanese culture, and Hakone boasts some great bathhouses.

Overnight: Highland Hotel

Day 5-6

Sample superb street food in Osaka and make a day trip to one of the many fantastic destinations just a train ride away from the city.

Today you will make your way by local train and shinkansen bullet train to Osaka, an exciting, modern city known for its superb street food (takoyaki octopus balls and okonomiyaki savoury pancake are firm favourites – trust us!) and the down-to-earth attitude of its inhabitants.
This afternoon you will begin your exploration of the city by visiting Osaka Castle, a huge reconstruction of the original building, housing a great museum about the castle's origins. Later on you will be free to do your own thing, or to head out with your tour leader to explore the vibrant Dotonbori district (famous for the giant, neon "Glico running man" and huge animatronic crab) and sample a bit of the local street food.
On day six you will have a free day to do whatever you choose. Hiroshima and Miyajima, Himeji Castle, or the ancient imperial capital of Nara all make excellent day trips from Osaka – your tour leader will be heading to one of these great destinations, but will also be able to advise you should you decide to branch off somewhere else.
**Please note the torii gate at Itsukushima Shrine (on Miyajima) is currently undergoing renovation since June 2019 and will continue to for at least a year to repair salt water damage. The shrine may be partially covered with vinyl sheets during this work.**

Overnight: Cross Hotel Osaka

Day 7-8

Explore Kyoto, "City of Ten Thousand Temples" and capital of Japan for over a millennium.

Kyoto was the capital of Japan for over one thousand years between 794 and 1869, an illustrious history that has left it with an incredible collection of historical landmarks.
It's not for nothing that Kyoto is known as the "City of Ten Thousand Temples", as it boasts dozens of major attractions. The tour leader will be able to put together the best itinerary based on the season, weather conditions, and of course the group's interests.
In the evening of day seven you'll head to Gion, Kyoto's traditional wood-panelled geisha district, for a private afternoon tea with a maiko. Later on you will join your tour leader and group for an included meal at one of the city's many fantastic restaurants.
On day eight we will have a private coach available for today's sightseeing. You will be joined by an expert local guide in addition to your tour leader and will visit some of the temples and shrines mentioned above – as well as other highlights such as the bamboo groves of Arashiyama, Yasaka Shrine or the Golden Pavilion of Kinkaku-ji.

Overnight: Mitsui Garden Shinmachi Bettei

Day 9-10

Admire thatched-roof farmhouses, eat succulent Hida beef, wander traditional streets and pop into sake breweries in the alpine craft town of Takayama.

On day nine you will make the journey from Kyoto high into the Japanese Alps to the mountain town of Takayama, historically renowned for producing exceptional craftsmen. You will have the afternoon to begin exploring the area, perhaps making time to visit the craft shops and sake breweries of the old town district. Dinner this evening will be included at your Japanese-style inn.
Day ten offers a full day in Takayama, and there is plenty to see and do to keep you busy. Begin the day by visiting the riverside morning market, then we will head to the Hida no Sato folk village, an open-air museum showcasing the region's traditional thatched farmhouses.
Those looking for an unusual alternative to the traditional sights can also choose to visit the world headquarters of the Sukyo Mahikari cult, a vast shrine that dominates the Takayama skyline and features a giant fish tank at its altar!
Dinner is not included this evening, so we recommend heading out for a taste of Hida beef – just as tasty as its famous Kobe cousin!

Overnight: Tanabe Ryokan

Day 11-12

Hike along the Azusa River and marvel at the spectacular views in Kamikochi, one of Japan's most beautiful national parks.

Next you will continue your adventure through the Japanese Alps as you board a private coach to Kamikochi, in our opinion one of the most beautiful locations in the whole of Japan.
The Kamikochi plateau is about 1,500 m (4,920 ft) above sea level, so the weather here will be notably cooler than in other destinations in Japan – even in summer. On the afternoon of your arrival you'll drop your luggage at the ryokan and have the option of taking a hike along the Azusa River – which boasts clear water and stunning views. Later you will return to your inn to relax, take a soak in the onsen and enjoy a delicious Japanese-style dinner with your group.
On day twelve you will have the option of another walk, this time heading in the opposite direction along the river or perhaps up the Dakesawa route for beautiful views over the valley. Later on you will have more time to relax and enjoy one or two of the area's superb onsen baths before another included dinner at your ryokan.

Overnight: Gosenjaku Hotel

Day 13-14

Visit Matsumoto's "Black Crow" castle and toast the end of a great trip with a final night meal in Tokyo's vibrant Shinjuku district.

Today you will return to Tokyo by bus and train, stopping on the way to visit the impressive "Black Crow" samurai castle of Matsumoto – one of the best original castles in Japan.
You will arrive in Tokyo's buzzing Shinjuku skyscraper district in the afternoon, allowing a little time for some last-minute souvenir shopping or to fit in one last sightseeing stop. As your tour comes to an end join your tour leader and travel companions for the included farewell meal, for one last night of good food and drink before heading home.
On the morning of day 14 it's time to say goodbye to your travelling companions and take the shared shuttle bus service that is included, to get you to the airport in good time for your flight home.

Overnight: Sunroute Plaza Shinjuku
View all days
Day 1-2

Explore Japan's capital city, from the serenity of Hamarikyu Gardens to the high energy of the Shibuya district.

Today you will touch down in Tokyo, Japan's capital and the tenth most populous city in the world. On arrival you will be met at the airport by your driver and travel by shared shuttle bus to your hotel in the Asakusa district of the city, where your tour leader will be waiting to meet you in the lobby. This evening you will convene with your group for a welcome meeting before heading out to a local restaurant for an introductory meal – the perfect way to begin getting to know your group.
Tokyo is an international byword for hyper-modernity, so you may be surprised to find that there are still little pockets of history left for those who look. Asakusa is one of these pockets, where bustling low-rise market stalls line the approach to Senso-ji – Tokyo's oldest temple.
After exploring this area, on day two your tour leader will take you on a guided tour of some of the city's other famous sites – from the madness of Shibuya's scramble crossing to the towering neon arcades of Akihabara and plenty in between. The highlight of today is likely to be a ride on the Sumida River, concluding with a cup of green tea in the beautiful oasis of Hamarikyu Gardens.

Overnight: The B Asakusa

Day 3-4

Admire Mount Fuji and explore the open-air museum in Hakone, one of Japan's most popular national parks.

Just a short ride on the bullet train will bring you to Hakone, part of the Fuji-Hakone-Izu National Park and one of Japan's most popular hot spring towns. Here you'll be staying in a large Japanese-style hotel very close to the Hakone Open-Air Museum, which you'll be visiting with your group today. With works by Picasso, Miro, Rodin and Henry Moore set amid stunning mountain scenery, this is sure to be a real highlight for any art fans.
Besides art, Hakone has a wealth of attractions to offer. Quaint traditional buildings, a pirate ship cruise across Lake Ashi – not to mention spectacular views of Mount Fuji when the weather is clear! You'll have the chance to do all this and more on day four as your tour leader shows you some of the area's finest spots.
Dinner will be included on both nights of your stay in Hakone – a lovely kaiseki-style spread featuring a multitude of dishes made from local and seasonal ingredients. Don't forget to try out the hot spring baths, too – this is an integral and very enjoyable part of Japanese culture, and Hakone boasts some great bathhouses.

Overnight: Highland Hotel

Day 5-6

Sample superb street food in Osaka and make a day trip to one of the many fantastic destinations just a train ride away from the city.

Today you will make your way by local train and shinkansen bullet train to Osaka, an exciting, modern city known for its superb street food (takoyaki octopus balls and okonomiyaki savoury pancake are firm favourites – trust us!) and the down-to-earth attitude of its inhabitants.
This afternoon you will begin your exploration of the city by visiting Osaka Castle, a huge reconstruction of the original building, housing a great museum about the castle's origins. Later on you will be free to do your own thing, or to head out with your tour leader to explore the vibrant Dotonbori district (famous for the giant, neon "Glico running man" and huge animatronic crab) and sample a bit of the local street food.
On day six you will have a free day to do whatever you choose. Hiroshima and Miyajima, Himeji Castle, or the ancient imperial capital of Nara all make excellent day trips from Osaka – your tour leader will be heading to one of these great destinations, but will also be able to advise you should you decide to branch off somewhere else.
**Please note the torii gate at Itsukushima Shrine (on Miyajima) is currently undergoing renovation since June 2019 and will continue to for at least a year to repair salt water damage. The shrine may be partially covered with vinyl sheets during this work.**

Overnight: Cross Hotel Osaka

Day 7-8

Explore Kyoto, "City of Ten Thousand Temples" and capital of Japan for over a millennium.

Kyoto was the capital of Japan for over one thousand years between 794 and 1869, an illustrious history that has left it with an incredible collection of historical landmarks.
It's not for nothing that Kyoto is known as the "City of Ten Thousand Temples", as it boasts dozens of major attractions. The tour leader will be able to put together the best itinerary based on the season, weather conditions, and of course the group's interests.
In the evening of day seven you'll head to Gion, Kyoto's traditional wood-panelled geisha district, for a private afternoon tea with a maiko. Later on you will join your tour leader and group for an included meal at one of the city's many fantastic restaurants.
On day eight we will have a private coach available for today's sightseeing. You will be joined by an expert local guide in addition to your tour leader and will visit some of the temples and shrines mentioned above – as well as other highlights such as the bamboo groves of Arashiyama, Yasaka Shrine or the Golden Pavilion of Kinkaku-ji.

Overnight: Mitsui Garden Shinmachi Bettei

Day 9-10

Admire thatched-roof farmhouses, eat succulent Hida beef, wander traditional streets and pop into sake breweries in the alpine craft town of Takayama.

On day nine you will make the journey from Kyoto high into the Japanese Alps to the mountain town of Takayama, historically renowned for producing exceptional craftsmen. You will have the afternoon to begin exploring the area, perhaps making time to visit the craft shops and sake breweries of the old town district. Dinner this evening will be included at your Japanese-style inn.
Day ten offers a full day in Takayama, and there is plenty to see and do to keep you busy. Begin the day by visiting the riverside morning market, then we will head to the Hida no Sato folk village, an open-air museum showcasing the region's traditional thatched farmhouses.
Those looking for an unusual alternative to the traditional sights can also choose to visit the world headquarters of the Sukyo Mahikari cult, a vast shrine that dominates the Takayama skyline and features a giant fish tank at its altar!
Dinner is not included this evening, so we recommend heading out for a taste of Hida beef – just as tasty as its famous Kobe cousin!

Overnight: Tanabe Ryokan

Day 11-12

Hike along the Azusa River and marvel at the spectacular views in Kamikochi, one of Japan's most beautiful national parks.

Next you will continue your adventure through the Japanese Alps as you board a private coach to Kamikochi, in our opinion one of the most beautiful locations in the whole of Japan.
The Kamikochi plateau is about 1,500 m (4,920 ft) above sea level, so the weather here will be notably cooler than in other destinations in Japan – even in summer. On the afternoon of your arrival you'll drop your luggage at the ryokan and have the option of taking a hike along the Azusa River – which boasts clear water and stunning views. Later you will return to your inn to relax, take a soak in the onsen and enjoy a delicious Japanese-style dinner with your group.
On day twelve you will have the option of another walk, this time heading in the opposite direction along the river or perhaps up the Dakesawa route for beautiful views over the valley. Later on you will have more time to relax and enjoy one or two of the area's superb onsen baths before another included dinner at your ryokan.

Overnight: Gosenjaku Hotel

Day 13-14

Visit Matsumoto's "Black Crow" castle and toast the end of a great trip with a final night meal in Tokyo's vibrant Shinjuku district.

Today you will return to Tokyo by bus and train, stopping on the way to visit the impressive "Black Crow" samurai castle of Matsumoto – one of the best original castles in Japan.
You will arrive in Tokyo's buzzing Shinjuku skyscraper district in the afternoon, allowing a little time for some last-minute souvenir shopping or to fit in one last sightseeing stop. As your tour comes to an end join your tour leader and travel companions for the included farewell meal, for one last night of good food and drink before heading home.
On the morning of day 14 it's time to say goodbye to your travelling companions and take the shared shuttle bus service that is included, to get you to the airport in good time for your flight home.

Overnight: Sunroute Plaza Shinjuku
Close all days
Tour Reviews
Small Group Tour Classic Japan

This review is for KYUSHU ELEMENTS . THE SELECTION OF TOUR NAME DOES NOT INCLUDE KYUSHU ELEMENTS.The whole process from booking, through to the tour itself was well organised.…

Read more >

Small Group Tour Classic Japan

Service was everything we could have expected (even under extraordinary circumstances with Typhoon Haigia). The territory covered as a taster for Japan was appropriate…

Read more >
Tokyo
Tsurui
Rausu
Abashiri
Sapporo
Kyoto
Yudanaka
Tokyo

Japan in the winter is a magical destination, blanketed in snow and free from the crowds that throng the cultural hotspots in summer.

14 nights: US$5850 Read more >

Tokyo
Matsumoto
Takayama
Kanazawa
Kyoto
Hakone
Tokyo

From neon cityscapes to towering mountains and back, Spring Elegance provides an excellent balance of superb experiences and value for money.

13 nights: US$6110 Read more >

Tokyo
Nikko
Hiraizumi
Naruko Onsen
Ishinomaki
Sendai
Niigata
Sado Island
Tokyo

Discover the beautiful yet little-visited region of Tohoku, home to rugged national parks, historic cities, and enchanting hot spring towns.

14 nights: US$6305 Read more >