Pre-Match Social Event with Wallabies Fans
Warm up for the main event by joining fellow Wallabies fans for pre-game drinks and food – you're going to need all the energy you can get.
One of our local experts will be on hand to bring you together with other passionate Australia fans for some sociable pre-match drinks and nibbles in a suitable location near the stadium in Tokyo. This will also be a chance to rub elbows with some of the Japanese fans - we think you will find them to be enthusiastic and friendly hosts, eager to share their love of this increasingly popular sport
When to go: The pre-match event will take place before the Wallabies vs Brave Blossoms match on Saturday 4th November 2017 in Tokyo.
Make an Enquiry
For more information email us: [email protected] or call: + 44 117 244 3380
Important notice: We are pleased to be able to offer so many amazing experiences in Japan. However, we are sorry that we can only include these as a part of a full Japan holiday package which includes your accommodation and transport alongside the experiences presented in this section of the web site.

Pre-Match Social Event with Wallabies Fans
located in Tokyo
Read more >
Interested in this Experience? It is included in this tour:
Explore the best of Japan's classic sights as autumn unfolds, then cheer on the Wallabies in their first ever test match in Japan

It's rugby, but not as you know it! This November the Wallabies play their first ever test match in Japan, on their way to Europe for the end-of-year internationals. This trip introduces you to Japan's classic sights and ends up in Tokyo for the match itself. The perfect way to whet your appetite for a certain world-famous rugby event heading to Japan in 2019.
The chance to experience all the excitement and ritual of Japan's oldest sport, sumo wrestling.

Try this modern martial art drawing on traditional Japanese swordsmanship techniques.

Learn to wave a katana sword in the style of the samurai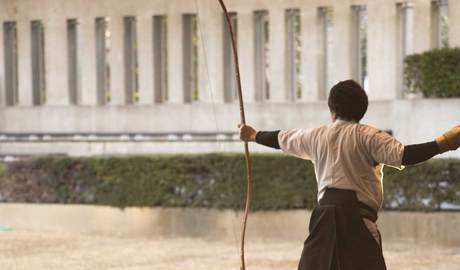 Try your hand at Japanese archery in Kyoto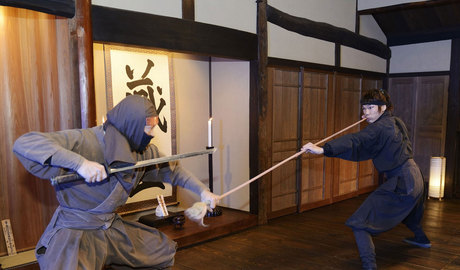 Join an hour long lesson in the art of ninja espionage in a Kyoto dojo