Like this post? Help us by sharing it!
As one of our league of excellent tour leaders, Mike leads our customers on tours up and down Japan – but he's based in the brilliant, buzzing city of Tokyo. Here he explains why our pop-culture-tastic HYPERJAPAN J-Pop & Go! tour is one of his favourite itineraries to lead…

The J-POP & GO! Tour is a whirlwind of a tour. Five cities, eleven days, and a lifetime of memories. One of the things I carry on me every day is my camera (among many other things), and even though I lead tours all around the country and have visited the destinations on tour countless times, I'm always taking pictures. I'd like to share with you some of the pictures I've taken on the most recent J-Pop & Go! tour.
Odaiba
Odaiba is a man-made island only 25 minutes from Shinjuku. Filled with unlimited shopping potential, a large Ferris wheel for scenic views of Tokyo Bay, and a massive Gundam Wing statue (see above), what's not to love? We stop by Odaiba during the day on tour, but if you have some free time at night I'd highly suggest returning. Seeing the nearby Rainbow Bridge lit up at night is quite a sight, and getting away from the hustle and bustle of downtown Tokyo is always a nice treat. Grab some drinks and have a picnic on the beach to unwind after a long day of walking.
Lake Ashi & Mount Fuji
I'll admit, this picture is not from my most recent tour. Catching a glimpse of Mount Fuji is difficult. It's cloudy more often than not (or at least it is whenever I'm there…) so this picture is from February. Absolutely freezing taking the boat across the lake, but it's much easier to see the elusive Mount Fuji in the winter. As you make your way into Moto-Hakone, stop by a café and grab a seat to take in the views.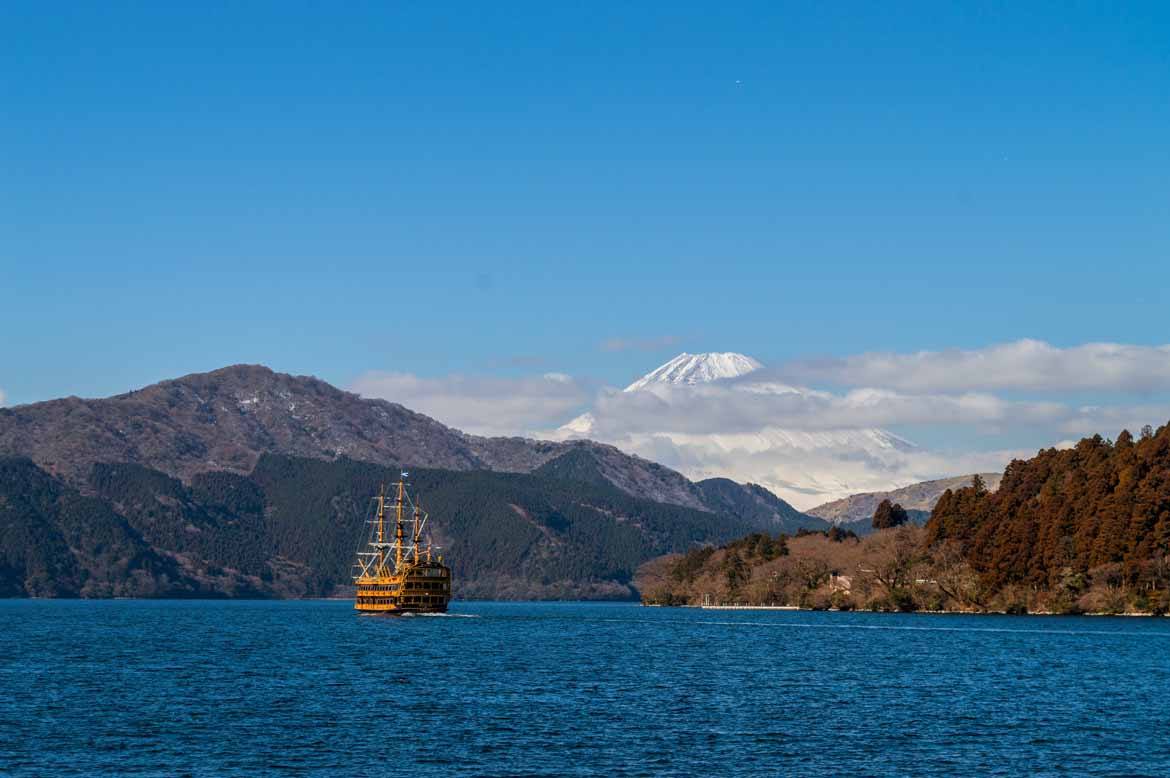 Itsukushima Shrine

Shortly after arriving in Hiroshima, you'll make your way to Miyajima, an island known for the World Heritage Itsukushima Shrine and its "floating" gate: one of the three most scenic spots in Japan. When the tide is high, the torii gate appears to be floating in the water as you view it from the nearby pier. If you manage to make it there during low tide, you can walk right up to it for a shot like this.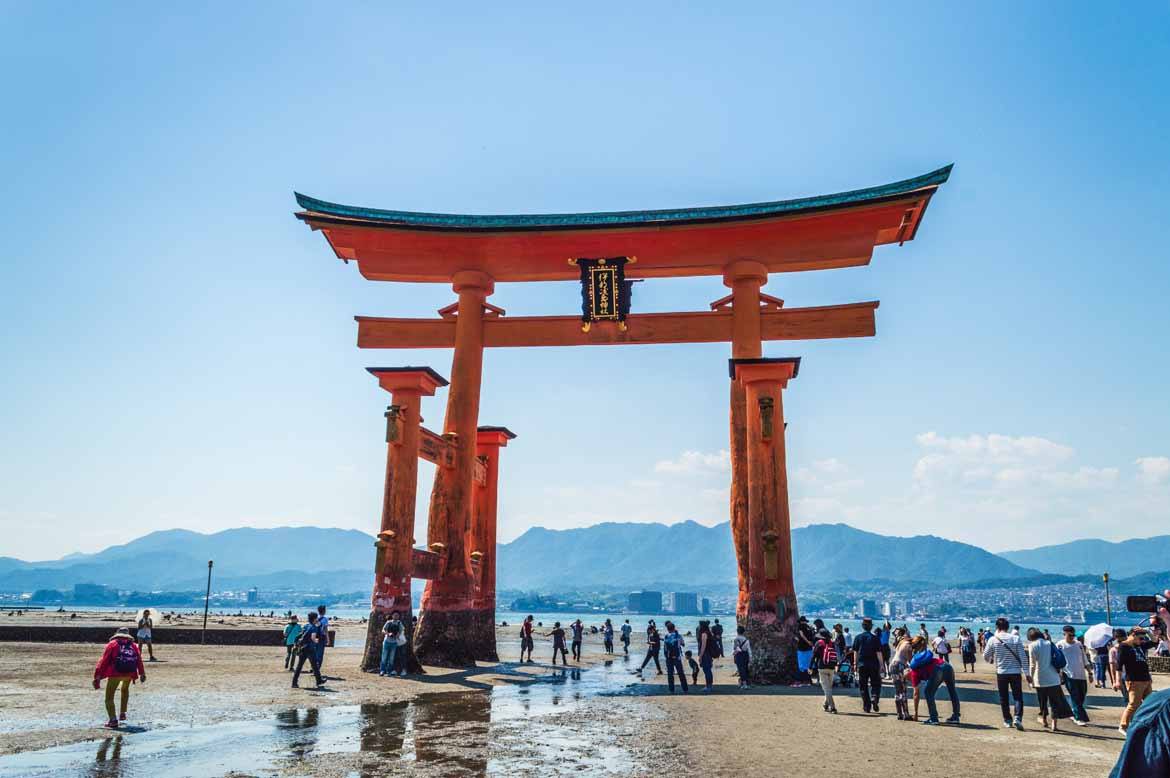 Dotonbori
Osaka is another lively stop on the tour, with a stay at an authentic capsule hotel included. Located right in the heart of the Amerikamura ("American Village") district, nightlife and partying options are endless. If you enjoyed going for a stroll down Takeshita Street in Harajuku, you'll absolutely love this area, as fashion and music flow into the streets with a much more sociable crowd compared to Tokyoites.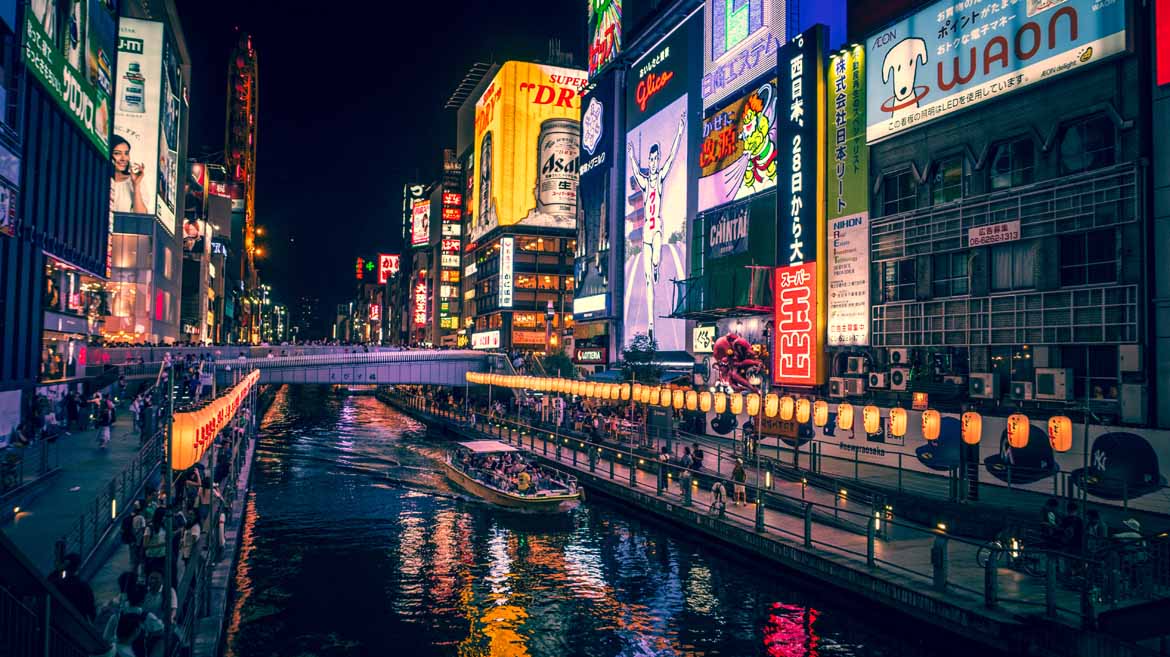 Robot Restaurant
Included on the final night of the tour is the well-known but impossible-to-describe Robot Restaurant. Having been several times, I still cannot find a way to describe it – in English or in Japanese! It's just something else altogether. This is definitely one of the tour highlights, followed by one last hurrah in Shinjuku before calling it a night.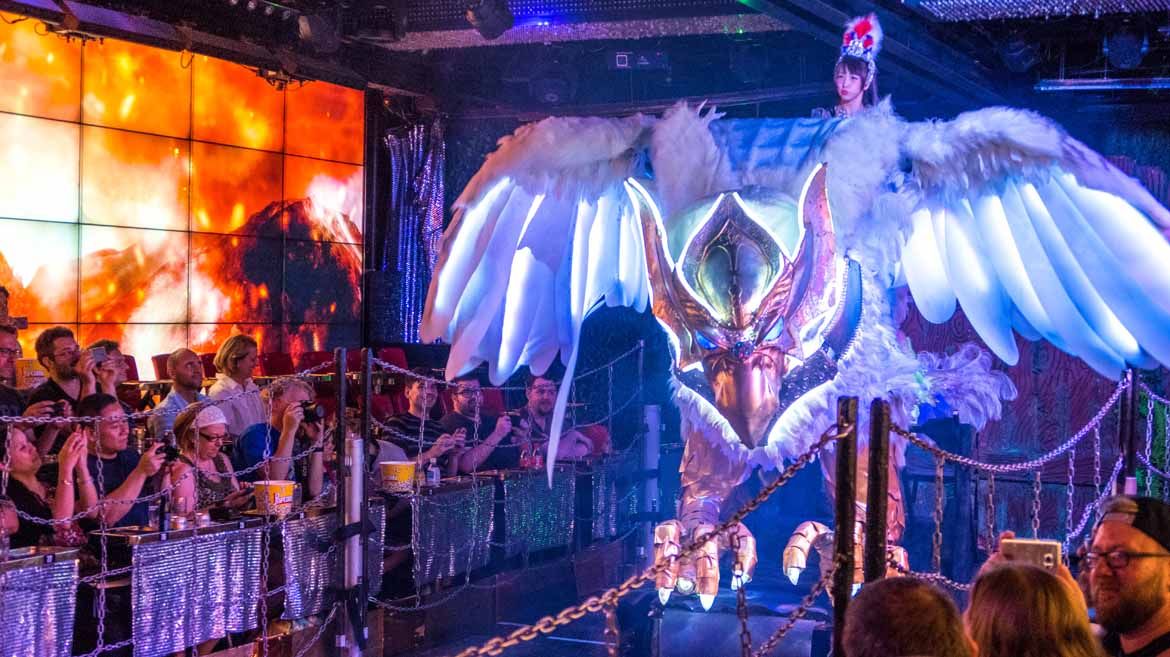 All of the images in this blog piece were taken by Tour Leader, Mike Reddy.
If you're interested in our J-Pop & Go! group tour, you can find out more about it – and our other tours – on our website. If you'd rather visit the destinations mentioned here on an independent trip, why not get in touch with one of our travel consultants to start planning your dream trip?
Like this post? Help us by sharing it!