Iriomote
Sparsely populated, thickly forested Iriomote Island is an idyllic base for a diving adventure in the Yaeyama Islands.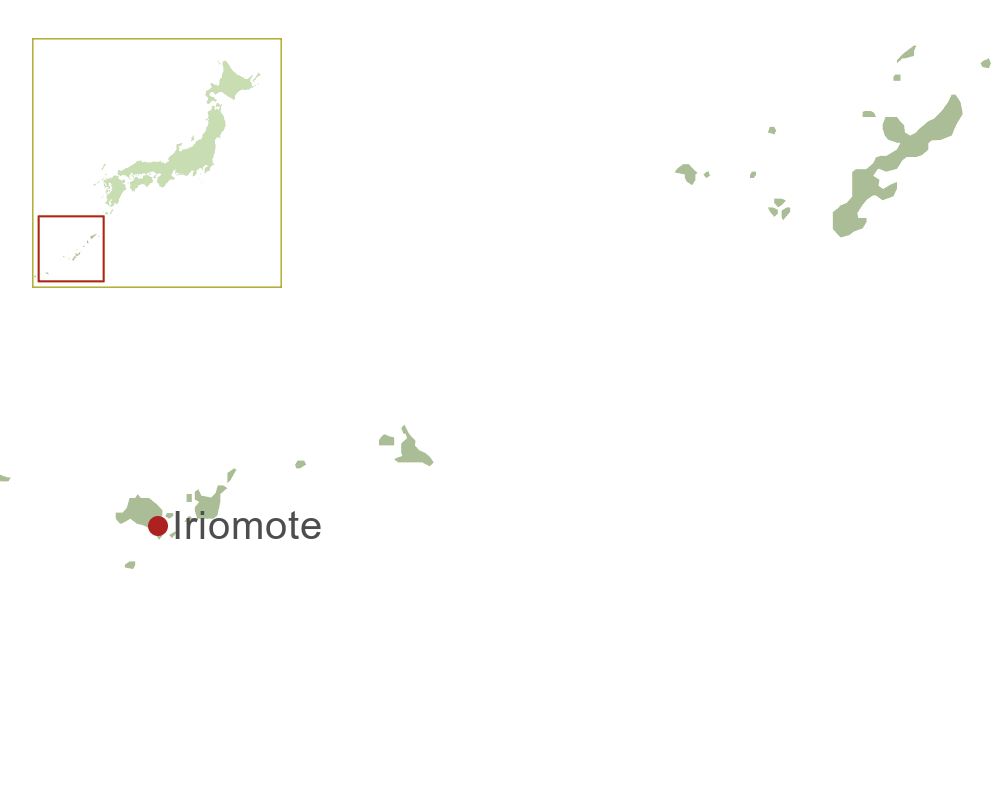 "Being on Iriomote feels like you are in unchartered jungle and much of it is. Kayaking up from the clear blue sea, cutting through the mangrove rivers or trekking through the jungle you feel as though you are in one of the last frontiers of Japan"
James Mundy, PR Manager
Iriomote was largely unpopulated up until World War Two due to the dense jungle and malaria. During the war residents of the nearby islands such as Ishigaki took refuge on the island and since US forces eradicated malaria the population has grown. Even with the small population, the jungles are still dominant on the island with an array of rare flora and fauna that is mostly protected.
Perhaps the most famous resident of Iriomote is the extremely rare Iriomote Neko. This wild cat, only discovered in 1965, is considered a primitive subspecies to the leopard cat but is similar looking to the domestic cat. The chances are that you will not see this shy beast as it is thought that there are fewer than a 100 animals in existence. You could, however, visit the Yamaneko museum where you may be lucky to see rescued specimens. You could also buy chocolate 'Yamaneko Poo' sweets which are a popular gift from the area.
As well as the dense jungle, there are empty golden beaches and some beautiful coral around the island with rich marine life making it a great place for snorkelling. The island does have a growing eco-tourism industry based on the jungle and the life within it. One of the best ways to see the island is by joining a group which will take you kayaking through sea and up the mangrove rivers deep into the heart of the island. Here you can trek to untainted waterfalls that seem to appear from nowhere and witness all sorts of strange jungle wildlife on the way.
Eco-tourism is the growing industry in Iriomote but along with fishing, the islands main produce is pineapple which are very refreshing after a day's trekking in the jungle. An alternative form of relaxation is the traditional Japanese pastime of hot spring bathing. There is one hot spring in Iriomote which is thought to be the most southerly hot spring in all of Japan.
In short, Iriomote is a true subtropical adventure.
Recommended Accommodation in Iriomote
The following are our favourites from among the western-style hotels and Japanese-style inns of Iriomote.

Experiences in Iriomote
Iriomote offers a wealth of exciting experiences that will help you get beneath the surface of Japan's fascinating culture. See below for a few of our favourites
Weather in Iriomote
The Climate Guide for Iriomote, Japan is perfect for planning your holiday. Monthly weather averages give the best indication of what the weather is usually like for every month of the year including figures for temperature, rainfall and sunshine.
Jan
Feb
Mar
Apr
May
Jun
Jul
Aug
Sep
Oct
Nov
Dec
Max Daytime Temperature (°C)
20
20
22
25
27
29
31
31
30
28
24
22
Min Night-time Temperature (°C)
15
15
16
19
22
25
26
26
24
22
19
16
Hours of Sunshine (Daily)
2
2
3
4
5
6
8
7
6
5
3
2
Hours of Daylight (Daily)
11
11
12
13
13
14
14
13
12
12
11
11
Heat and Humidity Discomfort
None
None
None
Low
Moderate
High
Very High
High
High
Moderate
Low
None
Days with some Rainfall
18
16
17
15
18
18
16
18
17
16
17
18
Monthly Rainfall (mm)
124
130
138
136
212
209
176
261
219
165
143
120
UV Index (Maximum)
7
9
11
11+
11+
11+
11+
11+
11
9
7
6
Featured trips including Iriomote
Tokyo
Ishigaki
Taketomi
Iriomote
Tokyo

This 10-night superior island-hopping itinerary introduces Japan's subtropical side in style, with superb accommodation and fine dining included.

10 nights: from US$6617 pp (twin share) Read more >