Self-Guided Adventure
Japanese Hotsprings Honeymoon
11 Nights: from US$2938 per person (twin share)
Trip Code: EHON
This itinerary proves that a Japanese honeymoon doesn't have to break the bank. We've kept the accommodation and route fairly simple so that you can spend more on the fun things: eating out, sightseeing and enjoying the best that urban and rural, modern and traditional Japan has to offer. Read more >
This romantic itinerary weaves relaxing countryside hot spring stays with city breaks, allowing you get the best of both sides of Japan.
The highlight of this honeymoon is a stay in the picture-perfect hot spring town of Kinosaki Onsen. With streets lined with traditional buildings and sakura trees flanking the canals filled with koi carp, Kinosaki is home to seven bathhouses, all of which are fed by area's natural thermal springs. Our favourite thing to do is to don yukata robes and geta sandals and clip-clop between bathhouses, a wonderful way to absorb traditional Japanese culture!
Although your Kinosaki ryokan room doesn't have its own private hot spring bath (we can upgrade you to a different accommodation if this is something you'd like!), the inn does have its own private baths which you can enjoy as a couple.
On the other side of the country in Hakone, you will be staying in a ryokan inn with baths in your room - a real treat. As the gateway to the Fuji-Hakone National Park, Hakone offers views of Mount Fuji, fantastic museums, and plenty of chances to sit back, relax, and enjoy your honeymoon.
Alongside these traditional retreats we've included stays in the must-visit cities of Tokyo. Kyoto, and Osaka. In Tokyo we've included a day with a guide who can help you get the lay of the land and you'll feel confident about exploring on your own in no time. In Kyoto you'll both have the chance to wear a beautiful kimono will taking a private tea ceremony in an elegant teahouse. Rather than staying in a standard hotel, we love choosing a traditional machiya townhouse as your accommodation instead, where you can live like a local Kyoto couple!
As with all our trips, this itinerary is completely tailorable. Fancy splashing out on your ryokan inn in Hakone, or treating yourself to a night in a boutique hotel in Kyoto? How about an unforgettable dinner at a Michelin-starred restaurant, or a cocktail and sake-themed food tour? Do you prefer the great outdoors and love the idea of a memorable hike through the Alps instead of city stays? We can do all these and more, so do get in touch and we can start planning your ideal honeymoon together.
What's included
11 nights' accommodation (three nights Japanese-style)

Eight breakfasts, two lunches, and three dinners

All transport between destinations

Airport transfers

Hakone Free Pass for transport in the Hakone region

Manaca transport card with 2,500 yen credit for city transport

Cooking class in Tokyo

Private Kyoto tea ceremony with kimono rental

Evening guided walk of Gion district in Kyoto

Mobile WiFi device

Your personalised InsideJapan Info-Pack
What's NOT included:
International flights

Local transport (buses, subways, taxis) at any destination unless otherwise specified

Any entrance fees including those for shrines, temples and museums

Baggage handling and luggage forwarding
Trip Highlights
Take a cooking class in Tokyo

Try on an exquisite traditional kimono at a tea ceremony

Stroll through charming Kinosaki Onsen
Try an outdoor onsen hot spring bath in Hakone

Stay in your own townhouse in Kyoto

Eat Osakan street food
For more information email us: [email protected] or call: + 44 117 244 3380
What, where, when and how...
Japanese Hotsprings Honeymoon - 12 Days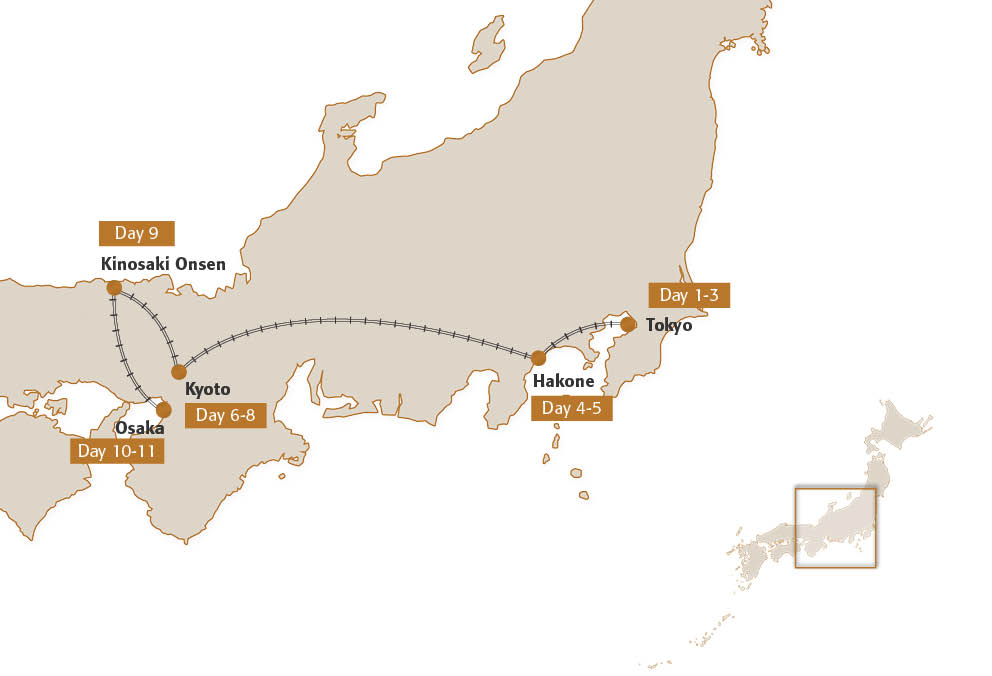 Japanese Hotsprings Honeymoon - 12 Days - Day by Day
Japanese Hotsprings Honeymoon - 12 Days - Accommodation
Japanese Hotsprings Honeymoon - 12 Days - Experiences
Day 1-3

Welcome to Japan! Your honeymoon begins in the traditional Asakusa district of Tokyo.

Upon arrival you'll be met by a shared shuttle bus to take you to your hotel in Tokyo's Asakusa district, which is known for being a blend of modern and traditional Japan. For your first afternoon we recommend exploring Senso-ji Temple and its surrounding markets.
After a night to adjust to life in Japan you will have two full days to explore Tokyo. On the first morning you'll be met by a private guide to give you a half-day tour and help you get to grips with the city, and receive some tips on how to spend the next two days. There is a huge amount to see, from Akihabara's "electric town" to the karaoke bars of Ikebukuro and the neon-spangled skyscrapers of Shinjuku. If you want to escape the busy city streets, head for the calm of Ueno Park or the gardens around Meiji Shrine. For a romantic turn, hop on a boat for a trip down the Sumida River.
On your second full day we'll arrange for you take a cooking class where you can learn how to make a classic Japanese dish: you can choose from sushi rolls, tempura, katsu curry, and wagyu beef hotpot among numerous others. You'll be able to take the recipe card back home to try out on your friends and family – it'll be a lovely souvenir of your honeymoon.
On your final evening in Tokyo, you might like to treat yourselves to a drink in one of the skyscraper hotels – the Park Hyatt Tokyo's bar is always a favourite, and the lesser-known bar at the Prince Gallery Kioicho offers some of the best views of the city.

Overnight: Richmond Asakusa

Day 4-5

Journey on cable cars and mountain trains before relaxing in hot spring baths.

We've included Hakone Free Passes so you can explore the national park by ropeway, funicular train, mountain switchback railway and even a pirate boat across Lake Ashi - all with iconic Mount Fuji in the background (weather permitting!) Tonight you'll stay at a traditional, Japanese-style inn with your own hot spring bath.
After a restful night at your ryokan you'll have another day in Hakone to visit one of the national park's fantastic museums. The outdoor sculpture park is superb, offering a huge Picasso collection and magnificent sculptures set against the lush valleys and mountains of the national park.

Overnight: Ichinoyu Susukinohara

Day 6-8

Explore Kyoto, Japan's cultural – and romantic – cultural heartland.

After riding the Shinkansen bullet train west to Kyoto, in the early evening we'll arrange a private guided walk through Gion, where with a bit of luck you'll spot a geisha hurrying between teahouse appointments.
There's so much to see in Kyoto that it can be hard to know where to start! You will have a private guide to help you get the lay of the land, then you'll have time to branch out on your own. Our advice is to choose some classic sights like Nijo Castle, the strolling garden around Heian Shrine and the thousand Buddha statues at Sanjusangendo, then allow time to seek out some of the lesser-known sights.
In the afternoon we'll organize a private tea ceremony in a traditional tea house, where you'll have the chance to wear a gorgeous kimono; the photos will be a wonderful memento of your honeymoon.
The following day will be at leisure, either to continue exploring the city, like the famous bamboo groves of Arashiyama, or to go on a day trip to nearby Nara.

Overnight: Machiya Residence

Day 9

Wander the atmospheric streets of Kinosaki Onsen in your yukata robe.

After three days of sightseeing in Kyoto, you'll probably be ready to put up your feet and relax! A two-hour train ride will take you north to Kinosaki Onsen on the Japan Sea Coast.
The town is famous for its hot spring baths, and there are seven public baths dotted around the town for anyone to try. Our top tip is to pull on your cotton yukata robe and slip into your wooden geta sandals, and wander around town to the baths, stopping in a café along the way. If you're travelling during the spring, rows of cherry blossom trees line the central canal, offering the perfect setting for some honeymoon photos.
Your ryokan inn has its own hot spring baths for guests, both communal and private, and dinner will be a full kaiseki course meal featuring local and seasonal ingredients.

Overnight: Mikuniya Ryokan

Day 10-12

Tuck into Osaka's famous food culture.

To round off your trip, you'll spend the final two nights in Osaka, one of the most relaxed cities in the country. Osaka is known for its food; armed with your complimentary Info-Pack you'll have tons of recommendations of where to find the best dishes. But if you want a bit more guidance, we can arrange a private street food tour with one of our favourite local guides, or you can join a convivial group gastronomic tour with fellow travellers, and share stories of your favourite moments of your trip.
On your final day, you'll hop on the train out to the airport. Have a safe journey home!

Overnight: Royal Park Canvas Osaka Kitahama
View all days
Day 1-3

Welcome to Japan! Your honeymoon begins in the traditional Asakusa district of Tokyo.

Upon arrival you'll be met by a shared shuttle bus to take you to your hotel in Tokyo's Asakusa district, which is known for being a blend of modern and traditional Japan. For your first afternoon we recommend exploring Senso-ji Temple and its surrounding markets.
After a night to adjust to life in Japan you will have two full days to explore Tokyo. On the first morning you'll be met by a private guide to give you a half-day tour and help you get to grips with the city, and receive some tips on how to spend the next two days. There is a huge amount to see, from Akihabara's "electric town" to the karaoke bars of Ikebukuro and the neon-spangled skyscrapers of Shinjuku. If you want to escape the busy city streets, head for the calm of Ueno Park or the gardens around Meiji Shrine. For a romantic turn, hop on a boat for a trip down the Sumida River.
On your second full day we'll arrange for you take a cooking class where you can learn how to make a classic Japanese dish: you can choose from sushi rolls, tempura, katsu curry, and wagyu beef hotpot among numerous others. You'll be able to take the recipe card back home to try out on your friends and family – it'll be a lovely souvenir of your honeymoon.
On your final evening in Tokyo, you might like to treat yourselves to a drink in one of the skyscraper hotels – the Park Hyatt Tokyo's bar is always a favourite, and the lesser-known bar at the Prince Gallery Kioicho offers some of the best views of the city.

Overnight: Richmond Asakusa

Day 4-5

Journey on cable cars and mountain trains before relaxing in hot spring baths.

We've included Hakone Free Passes so you can explore the national park by ropeway, funicular train, mountain switchback railway and even a pirate boat across Lake Ashi - all with iconic Mount Fuji in the background (weather permitting!) Tonight you'll stay at a traditional, Japanese-style inn with your own hot spring bath.
After a restful night at your ryokan you'll have another day in Hakone to visit one of the national park's fantastic museums. The outdoor sculpture park is superb, offering a huge Picasso collection and magnificent sculptures set against the lush valleys and mountains of the national park.

Overnight: Ichinoyu Susukinohara

Day 6-8

Explore Kyoto, Japan's cultural – and romantic – cultural heartland.

After riding the Shinkansen bullet train west to Kyoto, in the early evening we'll arrange a private guided walk through Gion, where with a bit of luck you'll spot a geisha hurrying between teahouse appointments.
There's so much to see in Kyoto that it can be hard to know where to start! You will have a private guide to help you get the lay of the land, then you'll have time to branch out on your own. Our advice is to choose some classic sights like Nijo Castle, the strolling garden around Heian Shrine and the thousand Buddha statues at Sanjusangendo, then allow time to seek out some of the lesser-known sights.
In the afternoon we'll organize a private tea ceremony in a traditional tea house, where you'll have the chance to wear a gorgeous kimono; the photos will be a wonderful memento of your honeymoon.
The following day will be at leisure, either to continue exploring the city, like the famous bamboo groves of Arashiyama, or to go on a day trip to nearby Nara.

Overnight: Machiya Residence

Day 9

Wander the atmospheric streets of Kinosaki Onsen in your yukata robe.

After three days of sightseeing in Kyoto, you'll probably be ready to put up your feet and relax! A two-hour train ride will take you north to Kinosaki Onsen on the Japan Sea Coast.
The town is famous for its hot spring baths, and there are seven public baths dotted around the town for anyone to try. Our top tip is to pull on your cotton yukata robe and slip into your wooden geta sandals, and wander around town to the baths, stopping in a café along the way. If you're travelling during the spring, rows of cherry blossom trees line the central canal, offering the perfect setting for some honeymoon photos.
Your ryokan inn has its own hot spring baths for guests, both communal and private, and dinner will be a full kaiseki course meal featuring local and seasonal ingredients.

Overnight: Mikuniya Ryokan

Day 10-12

Tuck into Osaka's famous food culture.

To round off your trip, you'll spend the final two nights in Osaka, one of the most relaxed cities in the country. Osaka is known for its food; armed with your complimentary Info-Pack you'll have tons of recommendations of where to find the best dishes. But if you want a bit more guidance, we can arrange a private street food tour with one of our favourite local guides, or you can join a convivial group gastronomic tour with fellow travellers, and share stories of your favourite moments of your trip.
On your final day, you'll hop on the train out to the airport. Have a safe journey home!

Overnight: Royal Park Canvas Osaka Kitahama
Close all days
Other Honeymoons trips you may like
Explore Tokyo in the finest possible style, with an expert guide, world-class accommodation, and a range of exclusive encounters and experiences.

4 nights: Read more >

Tokyo
Hakone
Kyoto
Kinosaki Onsen
Osaka

Japan's hot spring bathing culture and scenic countryside make it a wonderfully romantic setting for a honeymoon.

11 nights: from US$6149 pp (twin share) Read more >

Kanazawa
Shirakawago
Kaga Onsen

Take Japan's newest bullet train to a beautiful region of gardens, farmhouses, mountains and hot springs.

4 nights: Read more >