Self-Guided Adventure
Essential Honeymoon
12 Nights: from US$2296 per person (twin share)
Trip Code: EHON
This itinerary proves that a Japanese honeymoon doesn't have to break the bank. We've kept the accommodation and route fairly simple so that you can spend more on the fun things: eating out, sightseeing and enjoying the best that urban and rural, modern and traditional Japan has to offer. Read more >
The holiday starts in futuristic Tokyo and ends in the city of Osaka, a great place for shopping, bar hopping and sampling the street food. On the way you'll visit rural areas like Hakone National Park - known for its hot springs, world-class art museums and fabulous views of Mount Fuji - and romantic Tsumago: a beautifully preserved old post town best accessed on foot by walking the ancient Nakasendo Highway from nearby Magome.
A night at sacred Mount Koya will be an enchanting experience. Here you'll have the chance to explore the atmospheric Okunoin Cemetery and join the monks' morning meditation service to add an element of spirituality to your very special holiday.
Finally, no trip to Japan would be complete without some time in Kyoto, the country's cultural heart. We recommend a trip to Kiyomizu-dera where you can test your love by walking blindfolded towards each other between the famous love stones!
To free up the funds to allow you to see and do as much as possible whilst you're in Japan, some of the hotels we've included on this trip will be fairly basic. In the big cities you'll be so busy sightseeing that the accommodation is really just a place to sleep, but you can rest assured that all the hotels will be clean, comfortable and well-located. In addition to more basic accommodations we've squeezed in a gorgeous family-run minshuku inn in Tsumago and a night in Buddhist temple lodgings on Mount Koya, whilst your Hakone inn has a great outdoor hot spring bath that can be reserved for just the two of you.
By starting the trip at Tokyo Narita Airport and flying out of Osaka Kansai Airport, you'll also save money on transport. Please let us know if you need help finding "open jaw" flight tickets or if you'd prefer to fly out of Tokyo instead of Osaka.
What's included
Twelve nights accommodation

Breakfast every day and two evening meals

All transport between destinations

Airport transfers

Hakone Free Pass and Kansai Thru Pass

Manaca transport card with 2,500 yen credit for city transport

Voucher for sushi breakfast at Tsukiji fish market

Kyoto tea ceremony

Your personalised InsideJapan Info-Pack
What's NOT included:
International flights

Local transport (buses, subways, taxis) at any destination unless otherwise specified

Any entrance fees including those for shrines, temples and museums

Baggage handling and luggage forwarding
Trip Highlights
Have a sushi breakfast at Tokyo's Tsukiji Fish Market

Try an outdoor onsen hot spring bath in Hakone

Overnight in a traditional inn in Tsumago

Stay in Buddhist temple lodgings on Mount Koya
See stunning views of Mount Fuji

Walk the Nakasendo Way to the village of Tsumago

Take part in a Kyoto tea ceremony

Eat Osakan street food
For more information email us: [email protected] or call: + 44 117 244 3380
What, where, when and how...
Essential Honeymoon - 13 Days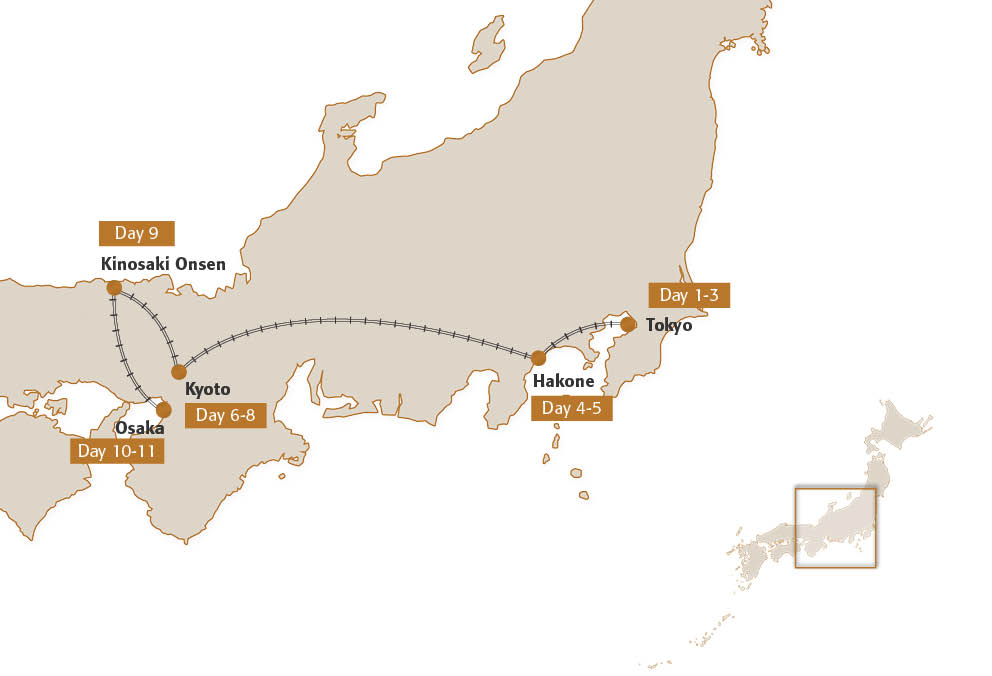 Essential Honeymoon - 13 Days - Day by Day
Essential Honeymoon - 13 Days - Accommodation
Essential Honeymoon - 13 Days - Experiences
Day 1-3

Discover the many faces of Tokyo, from the traditional Asakusa district to super high-rise Shinjuku.

Welcome to Japan! Upon arrival you'll catch the train from Narita Airport to your hotel in Tokyo's Asakusa district, which is known for being a unique blend of modern and traditional Japan. For your first afternoon we recommend exploring Senso-ji Temple and its surrounding markets. If you need help finding your bearings then the towering Tokyo Skytree and unique Asahi buildings will help keep you on track.
After a night to adjust to life in Japan you will have two full days to explore Tokyo at your leisure. There is a huge amount to see, from Akihabara's "electric town" to the karaoke bars of Ikebukuro and the neon-spangled skyscrapers of Shinjuku. If you want to escape the busy city streets, head for the calm of Ueno Park or the gardens around Meiji Shrine.
On your second full day in Tokyo we suggest that you visit Tsukiji Fish Market to redeem the sushi breakfast included in your trip. While the Tuna auctions have been moved to the newer Toyosu fish market, many of the vendors have chosen to remain and keep the vibrant atmosphere alive, helping everyday visitors taste some of the freshest sushi in the world!

Overnight: Richmond Asakusa

Day 4-5

A new phase of your honeymoon starts today as you take a highway bus from Tokyo to Hakone National Park.

We've included Hakone Free Passes so you can explore the national park by ropeway, funicular train, mountain switchback railway and even a pirate boat across Lake Ashi - all with iconic Mount Fuji in the background (weather permitting!) Tonight you'll stay at a traditional, Japanese-style guesthouse with an outdoor hot spring bath that you can reserve for just the two of you.
After a restful night at your ryokan you'll have another day in Hakone to visit one of the national park's fantastic museums. The outdoor sculpture park is superb, offering a huge Picasso collection and magnificent sculptures set against the lush valleys and mountains of the national park.

Overnight: Fuji Hakone Guest House

Day 6

You'll hop on the world-famous Shinkansen bullet train today to travel from Hakone National Park to Nagoya before catching a limited express train to the Kiso Valley.

Rather than taking the bus to your traditional inn at Tsumago, we highly recommend the scenic walk along the Nakasendo Highway from the nearby town of Magome. The Nakasendo Highway was once one of the five routes used by samurai to travel between Tokyo and Kyoto during the Edo Period, and today it offers a wonderful glimpse of rural Japan. Dinner will be included at your family-run Tsumago minshuku tonight.

Overnight: Daikichi Minshuku

Day 7-9

Today you will take a limited express train to Nagoya and the bullet train on to Kyoto, Japan's cultural heartland.

You'll be staying in the downtown area of the city near all the cafes, restaurants, bars and shops. For a romantic evening walk, head straight for the pedestrian street of Pontocho where you'll find endless traditional restaurants and perhaps even a geisha scurrying between teahouses.
There's so much to see in Kyoto that it can be hard to know where to start! Our advice is to choose some classic sights like Nijo Castle, the strolling garden around Heian Shrine and the thousand Buddha statues at Sanjusangendo, then allow time to seek out some of the lesser-known sights. The twin shrines of Shimogamo and Kamigamo, for example, are usually quiet and only visited by the Japanese, but both are very picturesque.
On your second full day in Kyoto we've included a traditional tea ceremony experience to be held in an authentic teahouse just a stone's throw from the Gion geisha district. An English-speaking Kyotoite, dressed in a kimono, will show you the basics of the time-honoured ceremony from preparing the tea to the ritualised movements that guests must perform to appreciate the tea in a contemplative meditation. The rest of the day will be free for you to continue exploring the many charms of Kyoto.

Overnight: Daiwa Roynet Kyoto Shijo Karasuma

Day 10

Today you'll travel deep into the Kii Mountains to reach sacred Mount Koya, the birthplace of the Shingon sect of Buddhism.

Tonight you'll be staying in a shukubo, or Buddhist temple lodgings, where rooms are traditional Japanese-style with futon mattresses placed on the tatami mat floors and communal bathing facilities. An elaborate dinner of shojin ryori, vegetarian Buddhist cuisine, will be included at your accommodation this evening.

Overnight: Eko-in Shukubo

Day 11-13

After a morning exploring the temple architecture and vast cemetery atop Mount Koya you'll catch the train back down to Osaka, where the urban jungle will certainly provide a striking contrast to your peaceful stay in the mountains!

Although it doesn't have a huge number of tourist sites in the conventional sense, Osaka is renowned throughout Japan for its fun-loving atmosphere, down-to-earth inhabitants and top-notch cuisine.
Osaka is the perfect place to spend your last full day in Japan, and we recommend heading out to the port, home of Osaka's world-class aquarium, or visiting Osaka Castle. In the evening there's no better place for a big final night out than the Dotonbori district, packed with fantastic restaurants, trendy bars, larger-than-life models and bright neon signage!
Sadly your honeymoon in Japan must come to an end, and on your final morning you'll hop on the train to Osaka Kansai Airport for your flight home.

Overnight: The Royal Park Canvas Osaka Kitahama
View all days
Day 1-3

Discover the many faces of Tokyo, from the traditional Asakusa district to super high-rise Shinjuku.

Welcome to Japan! Upon arrival you'll catch the train from Narita Airport to your hotel in Tokyo's Asakusa district, which is known for being a unique blend of modern and traditional Japan. For your first afternoon we recommend exploring Senso-ji Temple and its surrounding markets. If you need help finding your bearings then the towering Tokyo Skytree and unique Asahi buildings will help keep you on track.
After a night to adjust to life in Japan you will have two full days to explore Tokyo at your leisure. There is a huge amount to see, from Akihabara's "electric town" to the karaoke bars of Ikebukuro and the neon-spangled skyscrapers of Shinjuku. If you want to escape the busy city streets, head for the calm of Ueno Park or the gardens around Meiji Shrine.
On your second full day in Tokyo we suggest that you visit Tsukiji Fish Market to redeem the sushi breakfast included in your trip. While the Tuna auctions have been moved to the newer Toyosu fish market, many of the vendors have chosen to remain and keep the vibrant atmosphere alive, helping everyday visitors taste some of the freshest sushi in the world!

Overnight: Richmond Asakusa

Day 4-5

A new phase of your honeymoon starts today as you take a highway bus from Tokyo to Hakone National Park.

We've included Hakone Free Passes so you can explore the national park by ropeway, funicular train, mountain switchback railway and even a pirate boat across Lake Ashi - all with iconic Mount Fuji in the background (weather permitting!) Tonight you'll stay at a traditional, Japanese-style guesthouse with an outdoor hot spring bath that you can reserve for just the two of you.
After a restful night at your ryokan you'll have another day in Hakone to visit one of the national park's fantastic museums. The outdoor sculpture park is superb, offering a huge Picasso collection and magnificent sculptures set against the lush valleys and mountains of the national park.

Overnight: Fuji Hakone Guest House

Day 6

You'll hop on the world-famous Shinkansen bullet train today to travel from Hakone National Park to Nagoya before catching a limited express train to the Kiso Valley.

Rather than taking the bus to your traditional inn at Tsumago, we highly recommend the scenic walk along the Nakasendo Highway from the nearby town of Magome. The Nakasendo Highway was once one of the five routes used by samurai to travel between Tokyo and Kyoto during the Edo Period, and today it offers a wonderful glimpse of rural Japan. Dinner will be included at your family-run Tsumago minshuku tonight.

Overnight: Daikichi Minshuku

Day 7-9

Today you will take a limited express train to Nagoya and the bullet train on to Kyoto, Japan's cultural heartland.

You'll be staying in the downtown area of the city near all the cafes, restaurants, bars and shops. For a romantic evening walk, head straight for the pedestrian street of Pontocho where you'll find endless traditional restaurants and perhaps even a geisha scurrying between teahouses.
There's so much to see in Kyoto that it can be hard to know where to start! Our advice is to choose some classic sights like Nijo Castle, the strolling garden around Heian Shrine and the thousand Buddha statues at Sanjusangendo, then allow time to seek out some of the lesser-known sights. The twin shrines of Shimogamo and Kamigamo, for example, are usually quiet and only visited by the Japanese, but both are very picturesque.
On your second full day in Kyoto we've included a traditional tea ceremony experience to be held in an authentic teahouse just a stone's throw from the Gion geisha district. An English-speaking Kyotoite, dressed in a kimono, will show you the basics of the time-honoured ceremony from preparing the tea to the ritualised movements that guests must perform to appreciate the tea in a contemplative meditation. The rest of the day will be free for you to continue exploring the many charms of Kyoto.

Overnight: Daiwa Roynet Kyoto Shijo Karasuma

Day 10

Today you'll travel deep into the Kii Mountains to reach sacred Mount Koya, the birthplace of the Shingon sect of Buddhism.

Tonight you'll be staying in a shukubo, or Buddhist temple lodgings, where rooms are traditional Japanese-style with futon mattresses placed on the tatami mat floors and communal bathing facilities. An elaborate dinner of shojin ryori, vegetarian Buddhist cuisine, will be included at your accommodation this evening.

Overnight: Eko-in Shukubo

Day 11-13

After a morning exploring the temple architecture and vast cemetery atop Mount Koya you'll catch the train back down to Osaka, where the urban jungle will certainly provide a striking contrast to your peaceful stay in the mountains!

Although it doesn't have a huge number of tourist sites in the conventional sense, Osaka is renowned throughout Japan for its fun-loving atmosphere, down-to-earth inhabitants and top-notch cuisine.
Osaka is the perfect place to spend your last full day in Japan, and we recommend heading out to the port, home of Osaka's world-class aquarium, or visiting Osaka Castle. In the evening there's no better place for a big final night out than the Dotonbori district, packed with fantastic restaurants, trendy bars, larger-than-life models and bright neon signage!
Sadly your honeymoon in Japan must come to an end, and on your final morning you'll hop on the train to Osaka Kansai Airport for your flight home.

Overnight: The Royal Park Canvas Osaka Kitahama
Close all days
Other Honeymoons trips you may like
Nagano
Obuse
Yudanaka
Matsumoto

History, art and monkeys meet on this exclusive adventure among the peaks of the Japanese Alps.

3 nights: Read more >

Kanazawa
Shirakawago
Kaga Onsen

Take Japan's newest bullet train to a beautiful region of gardens, farmhouses, mountains and hot springs.

4 nights: Read more >

Matsuyama
Kotohira
Iya Valley
Takamatsu
Naoshima

An exclusive journey through rural Shikoku that will introduce you to Japan's best architects, artists, writers and landscape designers.

6 nights: Read more >