Self-Guided Adventure
Winter Sports & Culture
13 Nights: from US$3991 per person (twin share)
Trip Code: WSC
Japan boasts great powder snow, modern resorts and a unique culture. Our Winter Sports & Culture package combines time in the fantastic resort of Hakuba, a chance to see Yudanaka's famous snow monkeys, time in the exciting capital city of Tokyo and Kyoto, Japan's cultural and historic heart. Read more >
Fantastic snow and amazing culture; not many countries can boast such a combination! Our Winter Sports & Culture package includes five days in Hakuba, Honshu's premier ski resort, as well as stays in the must-see destinations of Tokyo, Kyoto and Hakone National Park - plus the option to make a day trip to the see the wonderful snow monkeys of Yudanaka Onsen.
Hakuba is undoubtedly the most famous ski resort on Japan's main island. In 1998 it played host to the Winter Olympics, and boasts a wide range of runs suitable for everyone from beginners to experts. We will provide you with an all-valley lift pass so you can really make the most of all that Hakuba has to offer. You'll find that people in and around Hakuba have a good level of English, and there are some great restaurants, bars and hot spring baths for après ski Japanese-style!

Bookending the trip are two stays in Tokyo, whilst in between you'll also visit Kyoto, a city brimming with culture. Kyoto was the capital of Japan for more than 1,000 years before the honour was conferred upon Tokyo. In both cities we've included a full day with a private guide to help you explore the gardens, markets, temples and shrines.
Hakone National Park is a beautiful rural region in the foothills of Mount Fuji. Sacred Fuji hides behind a haze for much of the summer, but in the winter, cool, crisp skies should reward you with great Fuji views (fingers crossed!)

The final highlight of this trip is a night in Buddhist temple lodgings by Nagano's wonderful Zenko-ji Temple. From Nagano it's also easy to make a side trip to Yudanaka Onsen to see the adorable snow monkeys. The monkeys love to escape the cold by bathing in the natural hot springs and it's easy to spend hours watching them as they enjoy a warm bath.
Snow season in Japan: We highly recommend travelling between December 25th and March 15th to be sure to get the best ski and 'boarding conditions - the snow is amazing! We are happy to arrange travel outside of these dates but cannot guarantee snow conditions.
What's included
13 nights accommodation

Breakfast every day and two evening meals

Airport transfers

All transport between destinations

14 day Japan Rail Pass (ordinary) and Hakone Free Pass for local transport in the Hakone region

Manaca transport card with 2,500 yen credit for city transport

Eight hours private guide service in Tokyo and Kyoto

Hakuba all-valley ski lift pass

Pocket WiFi device

Your personalised InsideJapan Info-Pack
What's NOT included:
International flights

Local transport (buses, subways, taxis) at any destination unless otherwise specified

Any entrance fees including those for shrines, temples and museums

Baggage handling or luggage forwarding

Ski equipment hire
Trip Highlights
Ski or snowboard in Hakuba

Take an optional day trip to Hiroshima or Nara

Stay in Buddhist temple lodgings in Nagano
Explore Tokyo & Kyoto with a private guide

See Mount Fuji from Hakone

Visit the lovely snow monkeys!
For more information email us: [email protected] or call: + 44 117 244 3380
What, where, when and how...
Winter Sports & Culture - 14 Days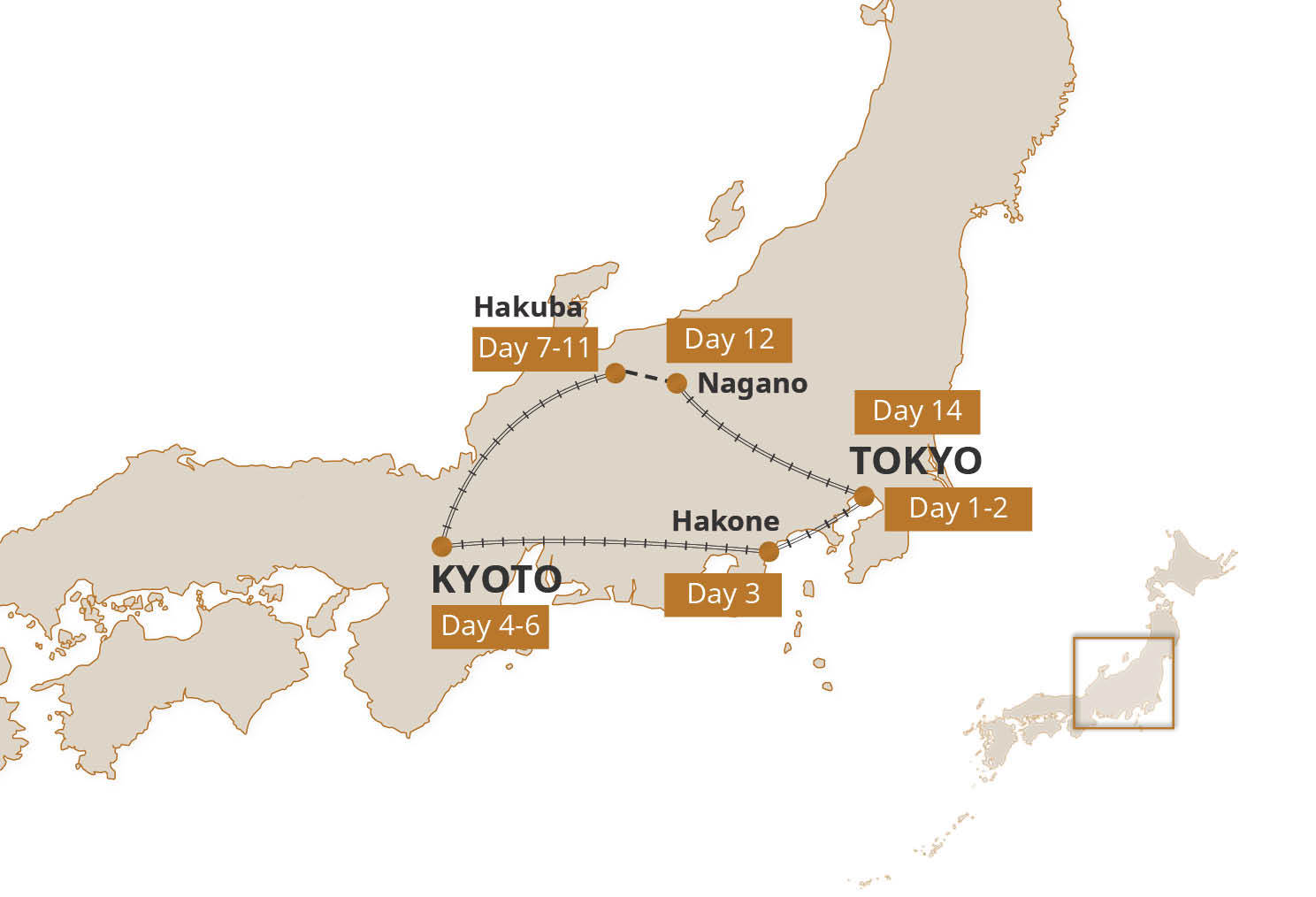 Destinations
Winter Sports & Culture - 14 Days - Day by Day
Winter Sports & Culture - 14 Days - Accommodation
Winter Sports & Culture - 14 Days - Experiences
Day 1-2

Take a tour of Tokyo, Japan's electric capital city.

Welcome to Japan! You'll be met on arrival at the airport and taken by shared shuttle bus transfer to your first hotel in Tokyo's historic Asakusa district. There's a lot to see in the immediate area around your hotel including Senoji Temple so you won't lack for things to do on your first afternoon in the country.
With just one full day in Tokyo, we have arranged for a private local guide to take you on a full-day tour of the city and help you to make the most of your time. We can plan your sightseeing itinerary in advance or leave things flexible so that you can see what you feel like on the day. Your hotel is a close to the riverfront, so we recommend catching a boat from the traditional Asakusa quarter down the Sumida River to Hamarikyu Gardens - a great way to start your day!

Overnight: Gracery Asakusa Hotel

Day 3

Catch the bullet train to Hakone National Park, home of the iconic Mount Fuji.

Time to swap the urban sprawl of Tokyo for Hakone National Park in the foothills of Mount Fuji, just an hour away from the city on the Shinkansen bullet train but worlds away in all other respects. Here you can explore the national park via a series of mountain switchback train, funicular railway, a cable car and even a pirate ship across Lake Ashi!
Tonight you'll stay in a traditional ryokan inn, where you'll be treated to a delicious kaiseki dinner and relaxed in wonderful hot spring baths.

Overnight: Ichinoyu Susukinohara

Day 4-6

Explore Kyoto, Japan's cultural and historical heart.

Today you'll hop aboard the Shinkansen once more and speed to Kyoto, the cultural heart of Japan. Your hotel is in the centre of the city, so this evening why not explore the Gion geisha district? At dusk you may even spot a geisha scurrying along the pretty backstreets to her next appointment!
On your next day you will have the services of a private guide for a full-day tour of the city. The day's itinerary is flexible but a great combination of sights would be to start at Kinkaku-ji (the golden temple), take in the Zen rock garden at Ryoan-ji, head to Nijo Castle and finish by admiring the views across the city from the Kiyomizu-dera Temple.
With another full day in Kyoto at your leisure, you can continue to explore the city's inexhaustible charms or opt to venture further afield on a day trip. Nara, another of Japan's ancient capital cities, is just 40 minutes away and home to the famous giant Buddha statue at Todai-ji Temple. Thanks to the bullet train, it's even possible to get as far as Hiroshima (approx. two hours journey time) to pay homage at the Peace Park and Museum.

Overnight: Intergate Kyoto Shijo Shinmachi

Day 7-11

Hit the slopes in Hakuba, erstwhile home of the 1998 Winter Olympics and some of the world's finest powder snow.

And now for the snow! It's four hours by train from Kyoto to Hakuba, but you can start skiing or snowboarding as soon as you arrive on the afternoon of day seven. We've included a lift pass that covers all seven areas within Hakuba; a staggering range of pistes to suit all levels. Arranging ski equipment for yourself on arrival is easy, but do let us know if you'd like us to include this in your package. We can also book ski or snowboard lessons, and fun activities like snowmobiling or snowshoeing!

Overnight: Hakuba Springs

Day 12

Visit the alpine city of Nagano to spend the night in some atmospheric temple lodgings and perhaps pay a visit to Yudanaka's snow monkeys.

Next up is the city of Nagano. Your accommodation this evening will be a temple. A very unique stay indeed! Tomorrow morning, before heading back to Tokyo, you may want to make a quick trip up to Yudanaka to see the monkeys bathing in the onsen. Particularly picturesque when it's snowing!

Overnight: Zenkoji Fuchinobo

Day 13-14

Witness morning prayers at Zenko-ji Temple, one of the most important religious sites in Japan, before returning to Tokyo for a final night in the capital.

It'll be an early start at the temple lodgings this morning but all guests are invited to join the Buddhist morning meditation service at Zenko-ji. This is a really unique experience and the main attraction of staying at a shukubo temple lodgings. After observing the morning prayers, you are invited to descend beneath the temple into a pitch-black passage, where you must search for a key hidden somewhere on the wall. If you find the key, it is said that you will be able to enter Buddhist paradise.
After morning prayers you'll board the Shinkansen bullet train for the final time and return to the capital, where you'll have an almost infinite number of options for your final night in Japan! Check your Info-Pack for some great food, drink and entertainment suggestions to help you toast your trip in style.
Sadly it's time to say sayonara to Japan. On your final morning you'll use your Japan Rail Pass to return to Narita Airport in time for your flight home.

Overnight: Sunroute Plaza Shinjuku
View all days
Day 1-2

Take a tour of Tokyo, Japan's electric capital city.

Welcome to Japan! You'll be met on arrival at the airport and taken by shared shuttle bus transfer to your first hotel in Tokyo's historic Asakusa district. There's a lot to see in the immediate area around your hotel including Senoji Temple so you won't lack for things to do on your first afternoon in the country.
With just one full day in Tokyo, we have arranged for a private local guide to take you on a full-day tour of the city and help you to make the most of your time. We can plan your sightseeing itinerary in advance or leave things flexible so that you can see what you feel like on the day. Your hotel is a close to the riverfront, so we recommend catching a boat from the traditional Asakusa quarter down the Sumida River to Hamarikyu Gardens - a great way to start your day!

Overnight: Gracery Asakusa Hotel

Day 3

Catch the bullet train to Hakone National Park, home of the iconic Mount Fuji.

Time to swap the urban sprawl of Tokyo for Hakone National Park in the foothills of Mount Fuji, just an hour away from the city on the Shinkansen bullet train but worlds away in all other respects. Here you can explore the national park via a series of mountain switchback train, funicular railway, a cable car and even a pirate ship across Lake Ashi!
Tonight you'll stay in a traditional ryokan inn, where you'll be treated to a delicious kaiseki dinner and relaxed in wonderful hot spring baths.

Overnight: Ichinoyu Susukinohara

Day 4-6

Explore Kyoto, Japan's cultural and historical heart.

Today you'll hop aboard the Shinkansen once more and speed to Kyoto, the cultural heart of Japan. Your hotel is in the centre of the city, so this evening why not explore the Gion geisha district? At dusk you may even spot a geisha scurrying along the pretty backstreets to her next appointment!
On your next day you will have the services of a private guide for a full-day tour of the city. The day's itinerary is flexible but a great combination of sights would be to start at Kinkaku-ji (the golden temple), take in the Zen rock garden at Ryoan-ji, head to Nijo Castle and finish by admiring the views across the city from the Kiyomizu-dera Temple.
With another full day in Kyoto at your leisure, you can continue to explore the city's inexhaustible charms or opt to venture further afield on a day trip. Nara, another of Japan's ancient capital cities, is just 40 minutes away and home to the famous giant Buddha statue at Todai-ji Temple. Thanks to the bullet train, it's even possible to get as far as Hiroshima (approx. two hours journey time) to pay homage at the Peace Park and Museum.

Overnight: Intergate Kyoto Shijo Shinmachi

Day 7-11

Hit the slopes in Hakuba, erstwhile home of the 1998 Winter Olympics and some of the world's finest powder snow.

And now for the snow! It's four hours by train from Kyoto to Hakuba, but you can start skiing or snowboarding as soon as you arrive on the afternoon of day seven. We've included a lift pass that covers all seven areas within Hakuba; a staggering range of pistes to suit all levels. Arranging ski equipment for yourself on arrival is easy, but do let us know if you'd like us to include this in your package. We can also book ski or snowboard lessons, and fun activities like snowmobiling or snowshoeing!

Overnight: Hakuba Springs

Day 12

Visit the alpine city of Nagano to spend the night in some atmospheric temple lodgings and perhaps pay a visit to Yudanaka's snow monkeys.

Next up is the city of Nagano. Your accommodation this evening will be a temple. A very unique stay indeed! Tomorrow morning, before heading back to Tokyo, you may want to make a quick trip up to Yudanaka to see the monkeys bathing in the onsen. Particularly picturesque when it's snowing!

Overnight: Zenkoji Fuchinobo

Day 13-14

Witness morning prayers at Zenko-ji Temple, one of the most important religious sites in Japan, before returning to Tokyo for a final night in the capital.

It'll be an early start at the temple lodgings this morning but all guests are invited to join the Buddhist morning meditation service at Zenko-ji. This is a really unique experience and the main attraction of staying at a shukubo temple lodgings. After observing the morning prayers, you are invited to descend beneath the temple into a pitch-black passage, where you must search for a key hidden somewhere on the wall. If you find the key, it is said that you will be able to enter Buddhist paradise.
After morning prayers you'll board the Shinkansen bullet train for the final time and return to the capital, where you'll have an almost infinite number of options for your final night in Japan! Check your Info-Pack for some great food, drink and entertainment suggestions to help you toast your trip in style.
Sadly it's time to say sayonara to Japan. On your final morning you'll use your Japan Rail Pass to return to Narita Airport in time for your flight home.

Overnight: Sunroute Plaza Shinjuku
Close all days
Other trips you may like
Tokyo
Kyoto
Hiroshima
Miyajima
Osaka
Tokyo

Travelling by yourself to Japan? Look no further than our Japan Solo itinerary to take all the guesswork and stress out of your holiday planning.

11 nights: from US$3575 pp Read more >

Tokyo
Hakone
Kyoto
Kinosaki Onsen
Osaka

Japan's hot spring towns and vibrant cities make for a perfect setting for a romantic honeymoon

11 nights: from US$2938 pp (twin share) Read more >

Tokyo
Hakone
Kyoto
Miyajima
Osaka
Takayama
Tokyo

A superior two-week itinerary taking in Japan's most iconic sights, with four-star accommodation and a programme of cultural experiences included.

14 nights: from US$6916 pp (twin share) Read more >