Self-Guided Adventure
Summer Games 2021: Medals & Mountains
13 Nights: from US$7488 per person (twin share)
Trip Code: SGMM
Welcome to Japan in the summer of 2021 as Tokyo plays host to the world's most spectacular sporting event. As well as catching all the sporting drama in the capital, extend your trip to scale the dizzy heights of the Japanese Alps. Read more >
Fly into Osaka Kansai Airport, then wind your way by train to the garden city of Kanazawa. Spend a day with a private guide to uncover Kanazawa's samurai legacy, meet some of Japan's finest craftsmen, see contemporary art at the fantastic 21st Century Art Museum, before rounding of your day in the beautiful landscape garden of Kenrokuen.

Then it's into the mountains proper where you can swap Japan's sticky summer humidity for cool alpine air. The Tateyama Kurobe Alpine Route is a feat of engineering which will take you from sea level to the Murodo plateau at 2,450m via a series of trains, cable cars, trolley buses, ropeways and tunnels. Spend the night at Murodo, a great base for hikes higher into the mountains, or simply enjoy the phenomenal star gazing.

Next stop is Zenko-ji Temple, a must-see in Nagano City. Founded in the 7th century, the fascinating temple complex is a good place to wish for your team's success in the upcoming games!

Your accommodation in the mountains of Minakami will be somewhere to savour. Mixing modern architecture with traditional Japanese hospitality, the 18 tatami-mat guest rooms all have private outdoor hot spring baths and views of Mount Tanigawa. If you can tear yourself away from all that tranquillity, the rivers are beckoning you for adventure. A full day of canyoning and river rafting awaits - a great way to get the adrenaline pumping ahead of your arrival in Tokyo.

Then finally, the bullet train will see you arrive in style in Japan's capital. You will need to obtain your own event tickets, but we'll take care of the accommodation (which is no mean feat given the demand is so high!) Enjoy the pinnacle of all sport in one of the world's most dazzling cities.

Please note: This itinerary is fully tailorable and can be amended to fit around any sporting event tickets you may have obtained for the summer games in 2021.

Due to high demand, hotel rooms will be in short supply in and around Tokyo from late July to mid-August 2021. However, we are delighted to have secured room allocations at the stated hotel in Tokyo (subject to availability).

Disclaimer: None of the trips or tours we offer contain tickets for any Olympic or Paralympic events. We are offering trips that work around the Summer Games in 2021 so that those who have managed to obtain event tickets from other sources can take advantage of our expertise as a Japan travel specialist. InsideJapan Tours are in no way affiliated or associated with the IOC, the Tokyo Organizing Committee of the Olympic Games, the Tokyo 2020 Olympic or Paralympic Games or the Olympics or Paralympics more generally.

What's included
13 nights' accommodation in Japan

Breakfast every day and three evening meals

Airport transfers

All transport between destinations (except Tateyama Kurobe Alpine Route)

Seven-day Japan Rail Pass

Manaca transport card with 2,500 yen credit for city transport

Eight-hour private guide services in Kanazawa

Canyoning & rafting experience in Minakami

Pocket WiFi device

Your personalised InsideJapan Info-Pack
What's NOT included:
Tickets to sporting events

International flights

Local transport (e.g. taxis, subways, buses) at any destination unless otherwise specified

Any entrance fees including those for shrines, temples and museums

Tateyama Kurobe Alpine Route pass (this is payable on the day)

Baggage handling - you will be expected to carry your own bags for the duration of the trip
Trip Highlights
Experience canyoning & river rafting in Minakami

Explore Kenrokuen, one of Japan's most beautiful gardens

Relax in a luxury hot springs ryokan
Traverse the Japanese Alps by cable car & funicular train

Wish for sporting success at Nagano's Zenko-ji Temple

** Sporting event tickets are NOT included **
For more information email us: [email protected] or call: + 44 117 244 3380
What, where, when and how...
Summer Games 2021: Medals & Mountains - 14 Days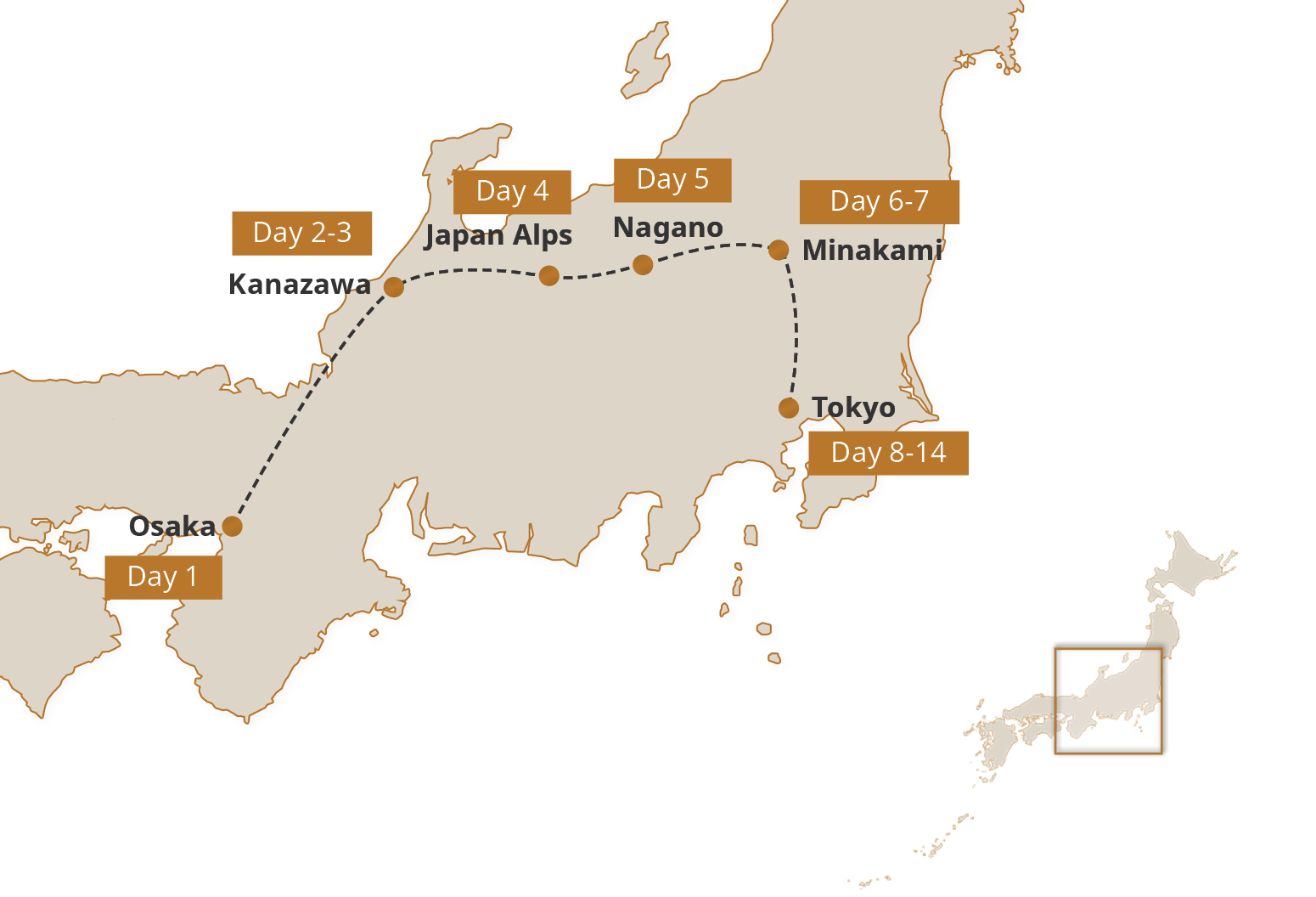 Summer Games 2021: Medals & Mountains - 14 Days - Day by Day
Summer Games 2021: Medals & Mountains - 14 Days - Accommodation
Summer Games 2021: Medals & Mountains - 14 Days - Experiences
Day 1

First stop on your special summer 2020 itinerary is Osaka, Japan's kitchen.

Fly into Osaka Kansai Airport and spend the first night of your trip in Osaka, Japan's second largest city. It's also known as Japan's kitchen and is a great place to try street food. Tonight, you'll stay in a hotel at the top of 300m Abeno Harukas skyscraper.

Overnight: Osaka Marriott Miyako

Day 2-3

Get to grips with Japanese culture and history in the garden city of Kanazawa.

An easy train journey will take you from Osaka north to Kanazawa, home of Kenrokuen Garden. You'll have the services of a local, professional guide to show you around the city. There are many well-preserved areas of historical importance including the former geisha tea district and the samurai era buildings of Nagamachi. In 2009, Kanazawa was recognised as a city of crafts and folk art by UNESCO. Kutani pottery, kaga-yuzen silk dyeing, lacquer ware and gold leaf are still practiced in small workshops across the city. We also recommend a visit to Omicho Market for the very best seafood, while the 21st Century Museum of Contemporary Art is well worth a look.

Overnight: Kanazawa Tokyu

Day 4

Follow the Tateyama Kurobe Alpine Route across the mountains via funicular train, trolley bus and cable car.

Beginning at sea level in Toyama, you'll tackle the first half of the route which climbs to Murodo at 2,450m. After travelling by train, funicular railway and bus you'll be rewarded with glorious Alpine vistas with Mount Tateyama towering above. After spending the night at Murodo, a great base for hiking, the next morning's journey will take you downwards into Nagano Prefecture. The first leg of the journey is by tunnel trolley bus through the mountain's core. The next section is perhaps the most spectacular, a 488m descent by cable car. Then a short funicular train through the mountainside will bring you to Kurobe Dam, Japan's tallest at 186m. Finally, a tunnel trolley bus will take to you on to Nagano. Please note: You will need to pay on the day for a Tateyama Kurobe Alpine Route Pass which costs 9,000 yen per person (4,500 yen for children under 12). You will need to show your passport at the time of buying as this discount ticket is only available for overseas visitors.

Overnight: Hotel Tateyama

Day 5

Visit Zenko-ji, one of Japan's most important temples founded in the 7th century.

Most visitors remember Nagano as the home of the 1998 Winter Olympics. The games left a legacy of efficient public transport, great English tourist information, some wonderful Olympic buildings and a cosmopolitan atmosphere.

Overnight: Metropolitan Hotel

Day 6-7

Next stop is the hot spring resort town of Minakami, one of Japan's top adventure destinations.

In winter the steep mountain slopes attract serious skiers and snowboarders and cross-country skiing and snowshoeing are available here. In spring all that snow melts in to the Tone River creating ideal conditions for white water rafting, kayaking and canyoning. The dramatic mountain scenery is also a great location for hiking and mountain biking, and it's even possible to go bungee jumping or paragliding here. We've included a full day of canyoning and river rafting in Minakami today, but let us know if another activity takes your fancy – we're always delighted to tailor the trip to suit your interests.

Overnight: Bettei Senjuan

Day 8-14

Last stop, the capital - in time for all the action of the summer games.

An easy journey by bullet train will bring you to Tokyo where we've arranged six nights' accommodation for you. It's up to you to get your tickets for any sporting events (we are not official providers), but let us know when and where you need to be and we'll plan your itinerary around that. Aside from the sport, there's a ton of things to see and do in Tokyo, from taking in the view at the top of the 634m Skytree, to slurping noodles under the railway tracks with salary men, or taking a tea ceremony in Hamarikyu Garden. Our Info-Pack is full of ideas to help you get the most out of your time in the capital.

Overnight: Asakusa View
View all days
Day 1

First stop on your special summer 2020 itinerary is Osaka, Japan's kitchen.

Fly into Osaka Kansai Airport and spend the first night of your trip in Osaka, Japan's second largest city. It's also known as Japan's kitchen and is a great place to try street food. Tonight, you'll stay in a hotel at the top of 300m Abeno Harukas skyscraper.

Overnight: Osaka Marriott Miyako

Day 2-3

Get to grips with Japanese culture and history in the garden city of Kanazawa.

An easy train journey will take you from Osaka north to Kanazawa, home of Kenrokuen Garden. You'll have the services of a local, professional guide to show you around the city. There are many well-preserved areas of historical importance including the former geisha tea district and the samurai era buildings of Nagamachi. In 2009, Kanazawa was recognised as a city of crafts and folk art by UNESCO. Kutani pottery, kaga-yuzen silk dyeing, lacquer ware and gold leaf are still practiced in small workshops across the city. We also recommend a visit to Omicho Market for the very best seafood, while the 21st Century Museum of Contemporary Art is well worth a look.

Overnight: Kanazawa Tokyu

Day 4

Follow the Tateyama Kurobe Alpine Route across the mountains via funicular train, trolley bus and cable car.

Beginning at sea level in Toyama, you'll tackle the first half of the route which climbs to Murodo at 2,450m. After travelling by train, funicular railway and bus you'll be rewarded with glorious Alpine vistas with Mount Tateyama towering above. After spending the night at Murodo, a great base for hiking, the next morning's journey will take you downwards into Nagano Prefecture. The first leg of the journey is by tunnel trolley bus through the mountain's core. The next section is perhaps the most spectacular, a 488m descent by cable car. Then a short funicular train through the mountainside will bring you to Kurobe Dam, Japan's tallest at 186m. Finally, a tunnel trolley bus will take to you on to Nagano. Please note: You will need to pay on the day for a Tateyama Kurobe Alpine Route Pass which costs 9,000 yen per person (4,500 yen for children under 12). You will need to show your passport at the time of buying as this discount ticket is only available for overseas visitors.

Overnight: Hotel Tateyama

Day 5

Visit Zenko-ji, one of Japan's most important temples founded in the 7th century.

Most visitors remember Nagano as the home of the 1998 Winter Olympics. The games left a legacy of efficient public transport, great English tourist information, some wonderful Olympic buildings and a cosmopolitan atmosphere.

Overnight: Metropolitan Hotel

Day 6-7

Next stop is the hot spring resort town of Minakami, one of Japan's top adventure destinations.

In winter the steep mountain slopes attract serious skiers and snowboarders and cross-country skiing and snowshoeing are available here. In spring all that snow melts in to the Tone River creating ideal conditions for white water rafting, kayaking and canyoning. The dramatic mountain scenery is also a great location for hiking and mountain biking, and it's even possible to go bungee jumping or paragliding here. We've included a full day of canyoning and river rafting in Minakami today, but let us know if another activity takes your fancy – we're always delighted to tailor the trip to suit your interests.

Overnight: Bettei Senjuan

Day 8-14

Last stop, the capital - in time for all the action of the summer games.

An easy journey by bullet train will bring you to Tokyo where we've arranged six nights' accommodation for you. It's up to you to get your tickets for any sporting events (we are not official providers), but let us know when and where you need to be and we'll plan your itinerary around that. Aside from the sport, there's a ton of things to see and do in Tokyo, from taking in the view at the top of the 634m Skytree, to slurping noodles under the railway tracks with salary men, or taking a tea ceremony in Hamarikyu Garden. Our Info-Pack is full of ideas to help you get the most out of your time in the capital.

Overnight: Asakusa View
Close all days
Other trips you may like
Tokyo
Kyoto
Mount Koya
Kawayu Onsen
Yunomine Onsen
Nachi
Ise
Tokyo

Join the ranks of the junreisha, or pilgrims, as you explore Ise, Mount Koya and the ancient paths of the Kumano Kodo on this classic trip.

14 nights: from US$4628 pp (twin share) Read more >

Tokyo
Kanazawa
Shirakawago
Takayama
Matsumoto
Tsumago
Kyoto
Tokyo

A classic 14-night adventure introducing the traditional side of Japan, from Japanese-style inns to time-honoured cuisine and ancient temples.

14 nights: from US$4056 pp (twin share) Read more >

Tokyo
Kyoto
Mount Koya
Kawayu Onsen
Yunomine Onsen
Kii-Katsuura
Ise
Tokyo

Follow in the footsteps of Japanese royalty as you tread the pilgrimage paths of the Kumano Kodo, with superior accommodation and cuisine included.

14 nights: from US$8424 pp (twin share) Read more >