Self-Guided Adventure
Summer Games 2021: Golden Route
12 Nights: from US$5135 per person (twin share)
Trip Code: SGGRC
On this special Summer 2021 itinerary you'll discover the contrasting cities of Tokyo and Kyoto, and relax in the idyllic hot spring town of Hakone near Mount Fuji. First secure your own sports tickets, then leave the Japan planning to our experts. Read more >
Our 12-night itinerary starts in the harbour city of Yokohama, Tokyo's cosmopolitan younger sibling. As one of the first ports to open to foreign trade in the mid-19th century, Yokohama has long been a thriving international hub, and nowadays you can find one of the largest Chinatowns in the world tucked in between sleek high-rises, traditional Japanese gardens, and an attractive waterfront called 'the harbour of the future'. Yokohama has excellent transport links with Tokyo and the various sports venues there, allowing you to hop between cities in less than 40 minutes; an ideal base for all the excitement of Summer 2021.
A short train journey from Yokohama will bring you to the hot springs resort of Hakone, spread across a scenic valley in the foothills of Mount Fuji. A quirky array of transport criss-crosses the area, including cable cars, mountain trains, and a pirate ship cruise across Lake Ashi. The elevation of Hakone brings a pleasant respite from the summer heat of Yokohama; it's also a great opportunity to try out Japanese hot spring bathing - wonderfully relaxing even in the height of summer.
After speeding west on the Shinkansen bullet train you'll spend four days in Kyoto, the cultural heart of Japan. Almost two thousand temples and shrines lie scattered across the city, from the striking Golden Temple with flocks of visitors to tiny neighbourhood shrines with nary a tourist in sight. While in Kyoto you'll have the opportunity to take a day trip using your included Japan Rail Pass, allowing you to visit the foodie haven of Osaka, historic Nara, or even Hiroshima, at no extra cost.
Then it's back east, this time to the capital itself. Whether you want to explore the traditional district of Asakusa, have a cold beer in the dinky bars beneath the train tracks of Yurakucho, or explore the high-tech island of Odaiba, Tokyo offers the perfect end to your Japan adventure.
Please note: This itinerary is fully tailorable and can be amended to fit around any sporting event tickets you may have obtained for the summer games in 2021.
Due to high demand, hotel rooms will be in short supply in and around Tokyo from late July to mid-August 2021. However, we are pleased to say we have secured room allocations at the stated hotels in Tokyo and Yokohama (subject to availability).
Disclaimer: None of the trips or tours we offer contain tickets for any Olympic or Paralympic events. We are offering trips that work around the summer games in 2021 so that those who have managed to obtain event tickets from other sources can take advantage of our expertise as a Japan travel specialist. InsideJapan Tours are in no way affiliated or associated with the IOC, the Tokyo Organizing Committee of the Olympic Games, the Tokyo 2020 Olympic or Paralympic Games or the Olympics or Paralympics more generally.
What's included
12 nights' accommodation in Japan

Breakfast every day and two evening meals

Airport transfers

All transport between destinations

Seven-day Japan Rail Pass

Manaca transport card with 2,500 yen credit for city transport

Hakone Free Pass for local transport in the Hakone region

Group food tour of Shinjuku with an Insider expert

Eight-hour private guide services in Tokyo and Kyoto

Group walking tour of Kyoto's geisha district

Tickets to digital art museum

Pocket WiFi device

Your personalised InsideJapan Info-Pack
What's NOT included:
Tickets to sporting events

International flights

Local transport (e.g. taxis, subways, buses) at any destination unless otherwise specified

Any entrance fees including those for shrines, temples and museums

Baggage handling - you will be expected to carry your own bags for the duration of the trip
Trip Highlights
Explore Tokyo and Kyoto with an expert guide

Relax in hot springs at a traditional ryokan inn

Wander the atmospheric streets of the Gion geisha district
Speed across Japan on the Shinkansen bullet train

Tuck into Tokyo's food scene on a sociable evening tour

** Sporting event tickets are NOT included **
For more information email us: [email protected] or call: + 44 117 244 3380
What, where, when and how...
Summer Games 2021: Golden Route - 13 Days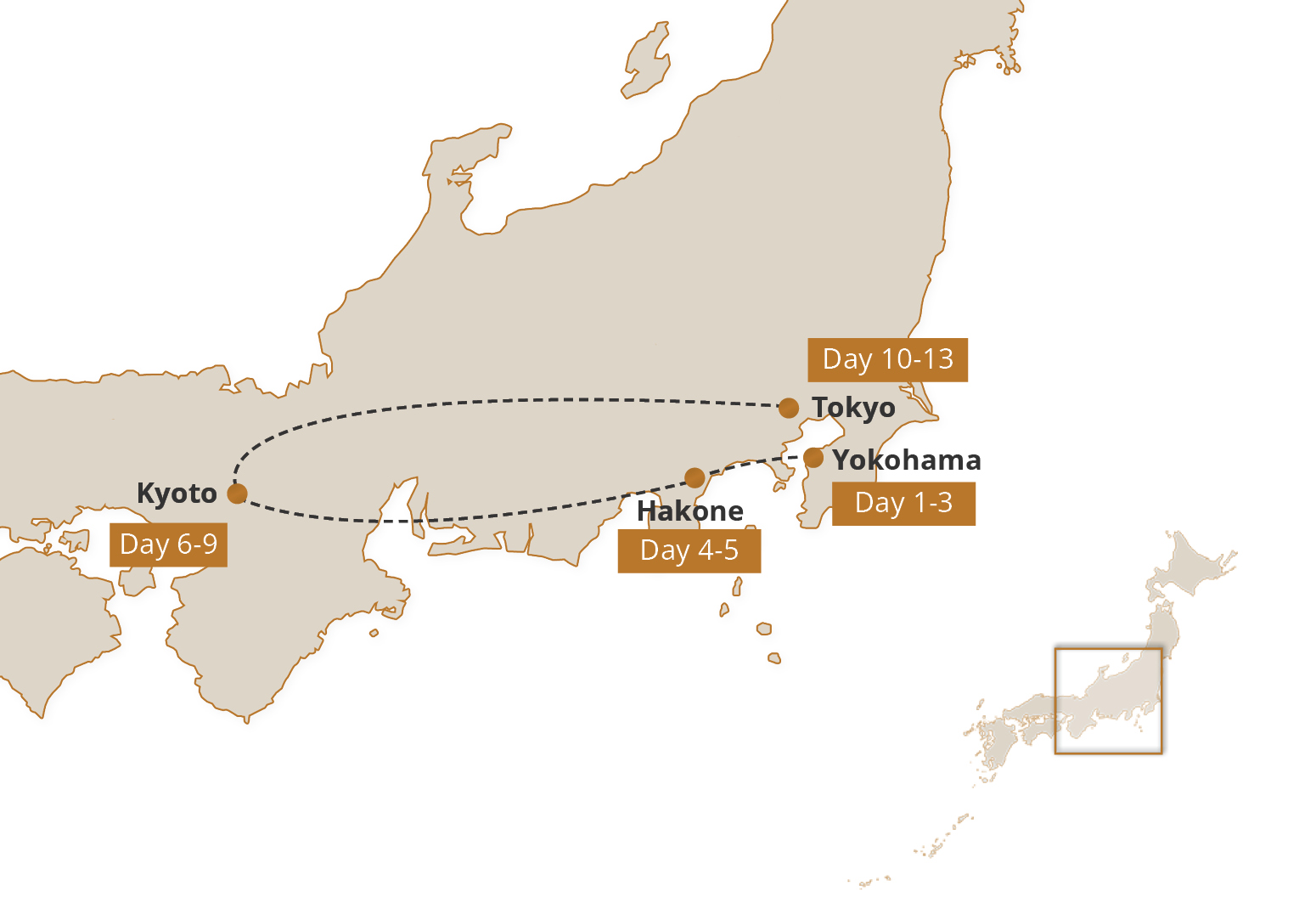 Destinations
Summer Games 2021: Golden Route - 13 Days - Day by Day
Summer Games 2021: Golden Route - 13 Days - Accommodation
Summer Games 2021: Golden Route - 13 Days - Experiences
Day 1-3

Use the harbour city of Yokohama as your base for a day trip into Tokyo with an expert guide

Welcome to Japan! A private car will be waiting to whisk you in comfort from Tokyo Narita or Haneda Airport to your hotel in downtown Yokohama, overlooking the bay. After spending the rest of the day at leisure you'll be refreshed and ready on the following day for a trip to Tokyo, just 40-minutes away by public transport. There you can tick off the main sites, explore the backstreet neighbourhoods, and get to grips with the vast (yet impressively prompt) transportation network with the help of a local English-speaking guide.
The next day will be at leisure and your included Info-Pack will have plenty of suggestions on how to spend the day, from delving into Yokohama's international past in the Motomachi merchant district or making your own ramen at the Cup Noodle Museum.
Of course, if you have any sporting event tickets for the Summer Games, we can make time in your itinerary to accommodate this. The National Stadium and other sporting venues in Tokyo are just 40 minutes away by public transport making it an affordable and easy day trip.

Overnight: Vista Premio Yokohama Minato Mirai

Day 4-5

See Mount Fuji views in Hakone National Park

A 40-minute express train will take you out of the city and into the lush scenery of Hakone National Park in the foothills of Mount Fuji. Armed with your Hakone Freepass you'll have unlimited access to the smorgasbord of transport that links the dispersed areas of Hakone, allowing you to hop between first-rate museums and sightseeing spots with ease. The quirky pirate ship cruise across Lake Ashi offers the best chance of seeing Mount Fuji, but don't be too disappointed if you don't catch a glimpse through the summery haze – she's a notoriously shy mountain!
In Hakone you'll be staying a traditional ryokan inn, where you'll sleep on futon mattresses spread on fragrant tatami mat flooring, and dinner will be a delicious kaiseki multi-course meal. Hakone is famous for its bubbling hot springs, and your accommodation has private baths in each room; even in the height of summer the pools are incredibly therapeutic.

Overnight: Ichinoyu Susukinohara

Day 6-9

Discover Japan's ancient capital, the 'City of Ten Thousand Temples'

The sleek Shinkansen bullet train will transport you down the coast and then inland to Kyoto, which served as the imperial capital from the 8th to 19th centuries. As with all Japanese cities, Kyoto is an intriguing mix of tradition and modernity, with centuries' old wooden temples tucked between contemporary shops and apartment blocks; you never know what awaits around each street corner.
We'll arrange for a local private guide to show you the best that Kyoto has to offer, from the must-see vermillion torii gates of Fushimi Inari shrine wending their way through the cool forest, or the shady bamboo grove of Arashiyama, to lesser-known spots known only by the locals. In between temple hopping you can drop into tiny cafes for a refreshing iced matcha drink, or shaved ice doused with syrup and topped with green tea or rice cakes – perfect for beating the heat.
While in Kyoto you'll have the chance to use your included Japan Rail Pass to take a day trip to a nearby city. The foodie hub of Osaka, known as 'Japan's Kitchen', is a popular choice especially for its street food; or you might like a more laidback day in harbourside Kobe, famous for its beef. Nearby Nara with its historic temples and cheeky deer makes for a pleasant day trip too.
The following day will be at leisure, allowing you to explore Kyoto at your own pace. In the evening you'll join one of our guides for small group tour of the atmospheric Gion district where exquisitely dressed geisha dart between teahouses.

Overnight: The Royal Park Hotel Kyoto Sanjo

Day 10-13

Bring your trip to a close with a final stay in Tokyo, complete with night food tour of Shinjuku

Your last journey on the bullet train will bring you back east, this time to the capital city itself. You'll be staying in the historic Asakusa district where you can enjoy the fascinating juxtaposition of Senso-ji Temple with the 634-metre high Sky Tree looming behind it. On your first evening back in Tokyo we've included our Neon Night Food Tour, a sociable foodie tour led by one of our own Insider experts. Tuck in to some tasty dishes at various secret eateries tucked down hidden alleyways and finish off at the cosy bars of Golden Gai.
The next two days are at leisure, ideal if you have sporting event tickets. If not, there's plenty of sights to see and you might like to head over to the manmade island of Odaiba, home to shopping complexes, a hot spring complex, amusement parks, and our personal favourite: teamLab Borderless, an immersive, interactive digital art museum (museum tickets are included). The night views of the capital back across Tokyo Bay are incredible.
Sadly, all good things have to come to an end, and on your final morning you'll be picked up by a shared shuttle bus to take you out to the airport. We hope you have a good onward journey.

Overnight: Asakusa View
View all days
Day 1-3

Use the harbour city of Yokohama as your base for a day trip into Tokyo with an expert guide

Welcome to Japan! A private car will be waiting to whisk you in comfort from Tokyo Narita or Haneda Airport to your hotel in downtown Yokohama, overlooking the bay. After spending the rest of the day at leisure you'll be refreshed and ready on the following day for a trip to Tokyo, just 40-minutes away by public transport. There you can tick off the main sites, explore the backstreet neighbourhoods, and get to grips with the vast (yet impressively prompt) transportation network with the help of a local English-speaking guide.
The next day will be at leisure and your included Info-Pack will have plenty of suggestions on how to spend the day, from delving into Yokohama's international past in the Motomachi merchant district or making your own ramen at the Cup Noodle Museum.
Of course, if you have any sporting event tickets for the Summer Games, we can make time in your itinerary to accommodate this. The National Stadium and other sporting venues in Tokyo are just 40 minutes away by public transport making it an affordable and easy day trip.

Overnight: Vista Premio Yokohama Minato Mirai

Day 4-5

See Mount Fuji views in Hakone National Park

A 40-minute express train will take you out of the city and into the lush scenery of Hakone National Park in the foothills of Mount Fuji. Armed with your Hakone Freepass you'll have unlimited access to the smorgasbord of transport that links the dispersed areas of Hakone, allowing you to hop between first-rate museums and sightseeing spots with ease. The quirky pirate ship cruise across Lake Ashi offers the best chance of seeing Mount Fuji, but don't be too disappointed if you don't catch a glimpse through the summery haze – she's a notoriously shy mountain!
In Hakone you'll be staying a traditional ryokan inn, where you'll sleep on futon mattresses spread on fragrant tatami mat flooring, and dinner will be a delicious kaiseki multi-course meal. Hakone is famous for its bubbling hot springs, and your accommodation has private baths in each room; even in the height of summer the pools are incredibly therapeutic.

Overnight: Ichinoyu Susukinohara

Day 6-9

Discover Japan's ancient capital, the 'City of Ten Thousand Temples'

The sleek Shinkansen bullet train will transport you down the coast and then inland to Kyoto, which served as the imperial capital from the 8th to 19th centuries. As with all Japanese cities, Kyoto is an intriguing mix of tradition and modernity, with centuries' old wooden temples tucked between contemporary shops and apartment blocks; you never know what awaits around each street corner.
We'll arrange for a local private guide to show you the best that Kyoto has to offer, from the must-see vermillion torii gates of Fushimi Inari shrine wending their way through the cool forest, or the shady bamboo grove of Arashiyama, to lesser-known spots known only by the locals. In between temple hopping you can drop into tiny cafes for a refreshing iced matcha drink, or shaved ice doused with syrup and topped with green tea or rice cakes – perfect for beating the heat.
While in Kyoto you'll have the chance to use your included Japan Rail Pass to take a day trip to a nearby city. The foodie hub of Osaka, known as 'Japan's Kitchen', is a popular choice especially for its street food; or you might like a more laidback day in harbourside Kobe, famous for its beef. Nearby Nara with its historic temples and cheeky deer makes for a pleasant day trip too.
The following day will be at leisure, allowing you to explore Kyoto at your own pace. In the evening you'll join one of our guides for small group tour of the atmospheric Gion district where exquisitely dressed geisha dart between teahouses.

Overnight: The Royal Park Hotel Kyoto Sanjo

Day 10-13

Bring your trip to a close with a final stay in Tokyo, complete with night food tour of Shinjuku

Your last journey on the bullet train will bring you back east, this time to the capital city itself. You'll be staying in the historic Asakusa district where you can enjoy the fascinating juxtaposition of Senso-ji Temple with the 634-metre high Sky Tree looming behind it. On your first evening back in Tokyo we've included our Neon Night Food Tour, a sociable foodie tour led by one of our own Insider experts. Tuck in to some tasty dishes at various secret eateries tucked down hidden alleyways and finish off at the cosy bars of Golden Gai.
The next two days are at leisure, ideal if you have sporting event tickets. If not, there's plenty of sights to see and you might like to head over to the manmade island of Odaiba, home to shopping complexes, a hot spring complex, amusement parks, and our personal favourite: teamLab Borderless, an immersive, interactive digital art museum (museum tickets are included). The night views of the capital back across Tokyo Bay are incredible.
Sadly, all good things have to come to an end, and on your final morning you'll be picked up by a shared shuttle bus to take you out to the airport. We hope you have a good onward journey.

Overnight: Asakusa View
Close all days
Other trips you may like
Tokyo
Kyoto
Mount Koya
Kawayu Onsen
Yunomine Onsen
Kii-Katsuura
Ise
Tokyo

Follow in the footsteps of Japanese royalty as you tread the pilgrimage paths of the Kumano Kodo, with superior accommodation and cuisine included.

14 nights: from US$8424 pp (twin share) Read more >

Fukuoka
Nagasaki
Unzen
Kumamoto
Kurokawa Onsen
Kagoshima
Yakushima
Fukuoka

If you're an adventurous traveller who wants to discover a side of Japan rarely seen by outsiders, this itinerary could be the one for you.

14 nights: from US$4264 pp (twin share) Read more >

Tokyo
Hakone
Nagoya
Kyoto
Matsue
Naoshima
Tokyo

A superior 15-night itinerary for culture vultures who want to discover Japan's exciting arts scene in comfort and style.

15 nights: from US$7319 pp (twin share) Read more >