Self Guided Adventure
Family Summer Beach Holiday
13 Nights: from US$27339 (per family)
Trip Code: SBH
A deluxe family holiday taking you to the must-see cities of Tokyo and Kyoto, via the beautiful Hakone National Park for a traditional ryokan stay, before finally finishing off with four nights in a luxurious beach hotel in Kashikojima on the coast of the Ise-Shima National Park. Read more >
All the way from the windswept shores of Hokkaido to the sunnier climes of southern Okinawa, the Japanese archipelago boasts some excellent beaches. Although the Japanese love to play by the rules and only go to the beach during the designated beach season (July and August), the country's warm summer climate means a beach break is a fantastic holiday option from May to September.
Your beach accommodation in Kashikojima is a 60 square metre suite with two Western-style beds for Mum and Dad and a tatami mat area with futons for the kids. The highlight here is an outdoor onsen hot spring bath on a private balcony overlooking the sea - a very Japanese twist on a beach break!
There is a lot to see near Kashikojima besides the beach, including the Ise Shrine (Shinto's most sacred site), the famous Meoto Iwa wedded rocks, Toba aquarium and Edo Wonderland, a samurai theme park.
This itinerary also takes in Japan's classic sights, from the neon skyscrapers of Tokyo's Shinjuku district at the beginning of the holiday to the ancient shrines, temples and gardens of Kyoto later on. We've included private guides for full days in both cities and hands-on activities to help you learn about Japanese culture. All the family can get stuck into a home cooking course in Tokyo, and learn the art of traditional indigo dyeing in Kyoto.
As you journey between these iconic cities you'll travel with a private car and driver to Mount Fuji's fifth station, through the scenic Fuji Five Lakes and finally on to Hakone National Park. Here you'll spend two nights in a quintessential traditional ryokan, where all the family can don yukata dressing gowns and enjoy a fabulous kaiseki dinner served in the privacy of your room.
Pricing: This trip costs from £21,030 for a family of four (based on two adults, one teenager and one child aged 6-11).
What's included
13 nights' accommodation

Breakfast every day, six evening meals and one lunch

Airport transfers by private car on arrival and departure

Eight-hour private guide service in Tokyo and Kyoto

Private car and guide service in Hakone via Fuji Five Lakes

Two-day Hakone Free Pass for transport in the Hakone region

Manaca transport card with 2,500 yen credit for city transport

Private car and driver from Hakone to Odawara

All transport between destinations in Japan

Roketsu cloth dyeing experience in Kyoto

Japanese home cooking experience in Tokyo
What's NOT included:
International flights

Any extra local transport (buses, taxis, subways) unless covered by the included passes

Baggage handling & luggage forwarding

Entrance fees (including those for temples, shrines and museums) unless otherwise specified
Trip Highlights
Learn how to dye cloth using the roketsu method in Kyoto

Enjoy the use of your own private beach on Kashikojima Island

Discover Tokyo with the help of a private guide
Soak in a hot spring bath overlooking the Pacific Ocean

Explore Kyoto's ancient temples and shrines

Stay in a beautiful ryokan inn in Hakone
For more information email us: [email protected] or call: 303 952 0379
What, where, when and how...
Family Summer Beach Holiday - 14 Days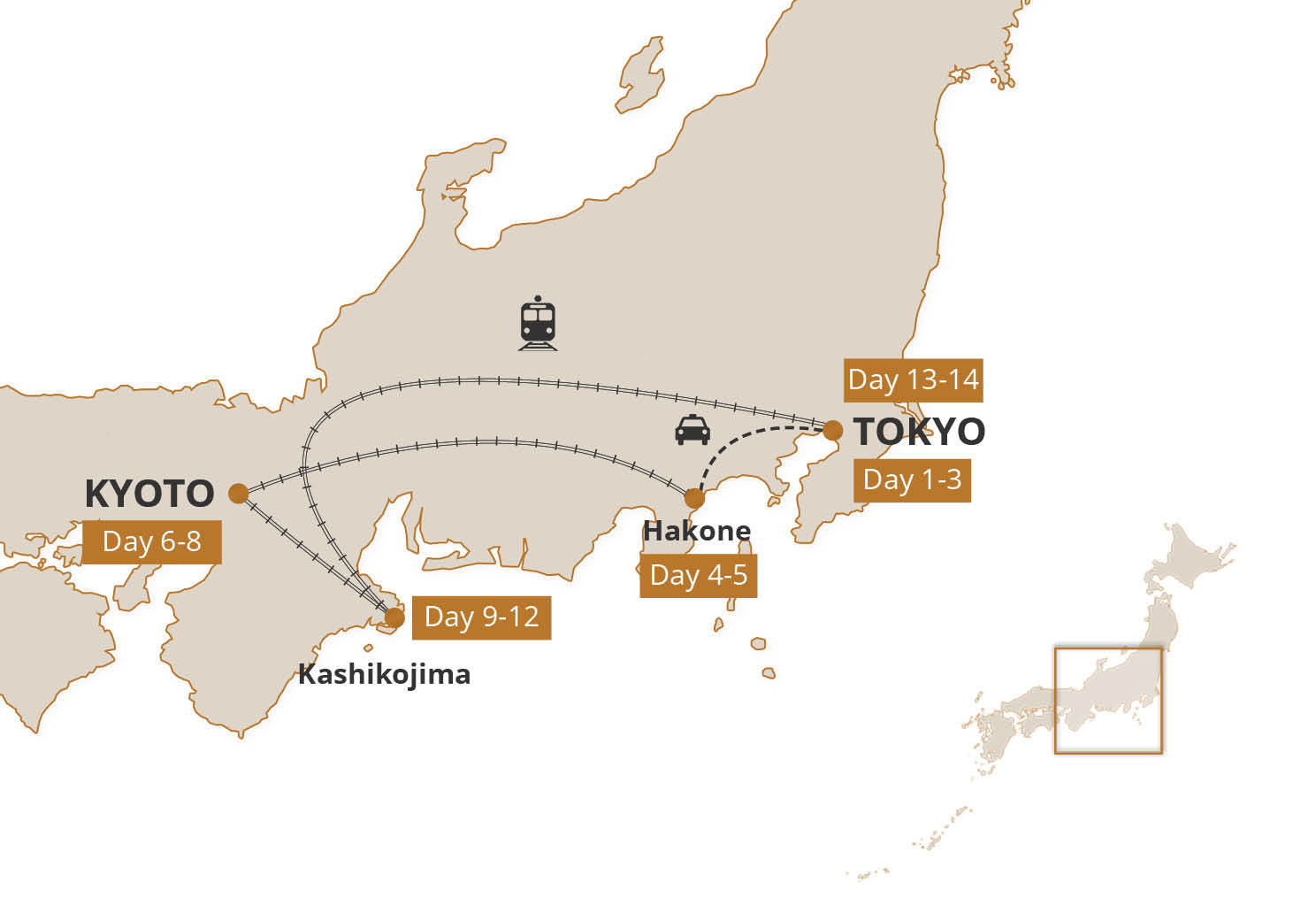 Destinations
Family Summer Beach Holiday - 14 Days - Day by Day
Family Summer Beach Holiday - 14 Days - Accommodation
Day 1-3

Welcome to Japan! Your first hotel is located in Tokyo's Shinjuku district, known for its fantastic neon cityscape heaving with shops, restaurants and the odd cat café!

You're also close to Shinjuku Park, a lovely cherry blossom spot, and the ideal place if you'd like to relax somewhere a little quieter.
What better way to explore Tokyo than in the company of an expert private guide? On day two, you will have the benefit of a knowledgeable local to help you navigate the local transport system and visit the city's most famous sites. From the hustle and bustle of Tsukiji Fish Market, to the calm of Hamarikyu gardens and the views from the top of the Skytree - there's an awful lot to see and do today.
Day three will offer you a rare invitation to see behind closed doors and visit a real Tokyo home. Your host will take you shopping for ingredients in a local market and then show you how to prepare simple Japanese dishes, including sushi, tempura and miso soup, in her kitchen. Everyone can get involved and kids are great at rolling sushi, which makes the lunch you'll prepare all the more satisfying!

Overnight: Keio Plaza Tokyo

Day 4-5

Explore Hakone National Park, visit Mount Fuji and stay in a beautiful, traditional Japanese-style inn.

Although geographically not a million miles from Tokyo, it can take a long time to reach Mount Fuji by public transport. That's why we've included a private guide and driver to accompany you by car to Mount Fuji fifth station, where you can really appreciate the majesty of Japan's tallest and most sacred mountain. From here it's on to Hakone National Park where you'll stay in a quintessential, traditional ryokan (Japanese inn). A wonderful kaiseki meal is served in the privacy of your guest room this evening.
After a relaxing night enjoying the hot spring baths at your ryokan you will have a free day to explore Hakone at your own pace. We have included a Hakone Free Pass, which will allow you to use all the transport in the national park - from funicular trains, cables cars and switchback mountain railways to a pirate boat across Lake Ashi! There's a fantastic adventure playground at the outdoor sculpture museum that is always a big hit with children under 12.
Another dinner is included at your ryokan tonight. This kind of dining involves dozens of beautifully prepared little dishes, which means there's plenty to taste and enjoy even if you don't like every single thing!

Overnight: Mikawaya

Day 6-8

The world famous Shinkansen bullet train will whisk you down the eastern seaboard to the imperial city of Kyoto today.

Accommodation here will be at the fantastic Granvia Hotel, located within the futuristic Kyoto Station building itself. The hotel has great transport links to the rest of the city and this afternoon you could hop on a local train to see the bamboo groves and monkey park in the gorgeous Arashiyama district.
On day seven of your journey you'll have another day with a private guide to show you the major sights and hidden gems of the city. There's so much to see in Kyoto that it can be hard to know where to start, but we love Nijo Castle - full of samurai legends. Children can try out the "nightingale floors" that whistle as you step on them, warning the castle's inhabitants of intruders! Another idea is to follow the Philosopher's Path from the Ginkaku-ji Silver Temple to the great Sanmon Gate at Nanzen-ji Temple. Many more sightseeing ideas will be in the InsideJapan Info-Pack.
With another full day in Kyoto, you'll have a chance to get your hands dirty and indulge your artistic side with a lesson in roketsu indigo dyeing. In a traditional Kyoto workshop, you'll learn the basic dyeing techniques and make your own bandana, scarf or handkerchief. Instructors will show you how to apply wax to the clothes in patterns. A great souvenir of your time in Japan!

Overnight: Granvia

Day 9-12

After an action-packed stay in Kyoto it's time to head for the beach!

A limited express train will take you to Kashikojima in less than three hours from Kyoto. Here you'll stay right on a private beach in Ise-Shima National Park. Your hotel is a real deluxe treat with a massive suite room and a private onsen hot spring bath overlooking the Pacific Ocean. This is a beach break, Japanese-style!
Dinners are included at your hotel every evening, so all you have to do is decide whether to relax by the hotel pool, on the private beach or at the spa. You could also go sightseeing to the nearby shrines of Ise, the aquarium and pearl diving shows at Toba, or the Iga-Ueno ninja theme park.

Overnight: Premier Resort Yuga Iseshima

Day 13-14

Return to Tokyo for an exciting final night in Shinjuku, the capital's business and entertainment hub.

Today you'll make your way back to the capital, first by limited express train and then on the Shinkansen bullet train - a total journey time of four hours. You'll return to the same Shinjuku hotel tonight, so you'll be in the perfect location for a great final meal out in Tokyo. Sadly it's time to say sayonara to Japan, and on your final morning a private car will take you back to Tokyo Narita Airport in time to catch your flight home.

Overnight: Keio Plaza Tokyo
View all days
Day 1-3

Welcome to Japan! Your first hotel is located in Tokyo's Shinjuku district, known for its fantastic neon cityscape heaving with shops, restaurants and the odd cat café!

You're also close to Shinjuku Park, a lovely cherry blossom spot, and the ideal place if you'd like to relax somewhere a little quieter.
What better way to explore Tokyo than in the company of an expert private guide? On day two, you will have the benefit of a knowledgeable local to help you navigate the local transport system and visit the city's most famous sites. From the hustle and bustle of Tsukiji Fish Market, to the calm of Hamarikyu gardens and the views from the top of the Skytree - there's an awful lot to see and do today.
Day three will offer you a rare invitation to see behind closed doors and visit a real Tokyo home. Your host will take you shopping for ingredients in a local market and then show you how to prepare simple Japanese dishes, including sushi, tempura and miso soup, in her kitchen. Everyone can get involved and kids are great at rolling sushi, which makes the lunch you'll prepare all the more satisfying!

Overnight: Keio Plaza Tokyo

Day 4-5

Explore Hakone National Park, visit Mount Fuji and stay in a beautiful, traditional Japanese-style inn.

Although geographically not a million miles from Tokyo, it can take a long time to reach Mount Fuji by public transport. That's why we've included a private guide and driver to accompany you by car to Mount Fuji fifth station, where you can really appreciate the majesty of Japan's tallest and most sacred mountain. From here it's on to Hakone National Park where you'll stay in a quintessential, traditional ryokan (Japanese inn). A wonderful kaiseki meal is served in the privacy of your guest room this evening.
After a relaxing night enjoying the hot spring baths at your ryokan you will have a free day to explore Hakone at your own pace. We have included a Hakone Free Pass, which will allow you to use all the transport in the national park - from funicular trains, cables cars and switchback mountain railways to a pirate boat across Lake Ashi! There's a fantastic adventure playground at the outdoor sculpture museum that is always a big hit with children under 12.
Another dinner is included at your ryokan tonight. This kind of dining involves dozens of beautifully prepared little dishes, which means there's plenty to taste and enjoy even if you don't like every single thing!

Overnight: Mikawaya

Day 6-8

The world famous Shinkansen bullet train will whisk you down the eastern seaboard to the imperial city of Kyoto today.

Accommodation here will be at the fantastic Granvia Hotel, located within the futuristic Kyoto Station building itself. The hotel has great transport links to the rest of the city and this afternoon you could hop on a local train to see the bamboo groves and monkey park in the gorgeous Arashiyama district.
On day seven of your journey you'll have another day with a private guide to show you the major sights and hidden gems of the city. There's so much to see in Kyoto that it can be hard to know where to start, but we love Nijo Castle - full of samurai legends. Children can try out the "nightingale floors" that whistle as you step on them, warning the castle's inhabitants of intruders! Another idea is to follow the Philosopher's Path from the Ginkaku-ji Silver Temple to the great Sanmon Gate at Nanzen-ji Temple. Many more sightseeing ideas will be in the InsideJapan Info-Pack.
With another full day in Kyoto, you'll have a chance to get your hands dirty and indulge your artistic side with a lesson in roketsu indigo dyeing. In a traditional Kyoto workshop, you'll learn the basic dyeing techniques and make your own bandana, scarf or handkerchief. Instructors will show you how to apply wax to the clothes in patterns. A great souvenir of your time in Japan!

Overnight: Granvia

Day 9-12

After an action-packed stay in Kyoto it's time to head for the beach!

A limited express train will take you to Kashikojima in less than three hours from Kyoto. Here you'll stay right on a private beach in Ise-Shima National Park. Your hotel is a real deluxe treat with a massive suite room and a private onsen hot spring bath overlooking the Pacific Ocean. This is a beach break, Japanese-style!
Dinners are included at your hotel every evening, so all you have to do is decide whether to relax by the hotel pool, on the private beach or at the spa. You could also go sightseeing to the nearby shrines of Ise, the aquarium and pearl diving shows at Toba, or the Iga-Ueno ninja theme park.

Overnight: Premier Resort Yuga Iseshima

Day 13-14

Return to Tokyo for an exciting final night in Shinjuku, the capital's business and entertainment hub.

Today you'll make your way back to the capital, first by limited express train and then on the Shinkansen bullet train - a total journey time of four hours. You'll return to the same Shinjuku hotel tonight, so you'll be in the perfect location for a great final meal out in Tokyo. Sadly it's time to say sayonara to Japan, and on your final morning a private car will take you back to Tokyo Narita Airport in time to catch your flight home.

Overnight: Keio Plaza Tokyo
Close all days
Other trips you may like
This is a simple little package that proves it needn't break the bank to go on a winter sports holiday in Japan.

7 nights: from US$1560 pp (twin share) Read more >

Tokyo
Kanazawa
Shirakawago
Takayama
Matsumoto
Tsumago
Kyoto
Tokyo

A classic 14-night adventure introducing the traditional side of Japan, from Japanese-style inns to time-honoured cuisine and ancient temples.

14 nights: from US$3120 pp (twin share) Read more >

This superior 9 night itinerary introduces the best of Japan's iconic sights - from the skyscrapers of Tokyo to the ancient temples of Kyoto.

9 nights: from US$4225 pp (twin share) Read more >