Self Guided Adventure
Kumano Kodo Two-Night Module (Gentle Walking)
2 Nights: from US$715 per person (twin share)
Trip Code: KK004
This short, gently paced walking module aims to provide a brief introduction to this amazing and important area, with one night in a top-quality, traditional ryokan inn and another in a fabulous Japanese-style hotel on a secluded island. It is designed to be incorporated into a longer trip. Read more >
The Kumano Kodo is a network of ancient pilgrimage routes tracing their way back and forth across the Kii Peninsula, a mountinous area to the south of Osaka and Kyoto. Encompassing areas of Wakayama, Nara and Mie Prefectures, this is a region with outstanding natural beauty and some of the most important religious sites in Japan.
As you make your way from Kawayu Onsen to Kii-Katsuura, you'll have the chance to walk in the footsteps of pilgrims on routes that have been in constant use for over a millennium, across high mountain passes, through beautiful valleys, past picturesque terraced fields and through ancient forests of bamboo groves and massive cryptomeria trees.
You'll have a chance to soak away the day's efforts in some of Japan's top hot springs, including an onsen dug into the bed of a steaming river and a bath looking out across Katsuura Bay, and to visit two of the Kumano Kodo's three great shrines: Hongu Taisha and Nachi Taisha.
Finally, you'll visit the tallest waterfall in Japan, Nachi-no-Otaki - an amazing 133 m tall and 13 m wide.
The Kumano Kodo is one of the most beautiful and atmospheric corners of Japan, with great historical and religious importance as well as outstanding natural beauty.
What's included
Two nights fully en suite Japanese-style accommodation

Breakfast every day, two dinners and one bento lunchbox

Trains from Kyoto to Kii-Tanabe and from Kii-Katsuura to Shin-Osaka

Kumano Kodo orientation and guidebook

Same-day luggage shuttle service from Kawayu Onsen to Kii-Katsuura

Personalised InsideJapan Info-Pack
What's NOT included:
Lunch in Kii-Katsuura on day three

Any entrance fees, including those for temples, shrines and onsen

Local transportation between destinations, including all buses
Trip Highlights
Soak in a riverbed onsen and a hot spring overlooking Katsuura Bay
Sample kaiseki cuisine

Spend the night on a private island in Katsuura Bay

Walk through ancient forests amid stunning mountain scenery
Visit two of the three sacred shrines of the Kumano Kodo

Stay in a traditional Japanese ryokan inn

Admire the tallest waterfall in Japan
For more information email us: [email protected] or call: 303 952 0379
What, where, when and how...
Kumano Kodo Two-Night Module (Gentle Walking) - 3 Days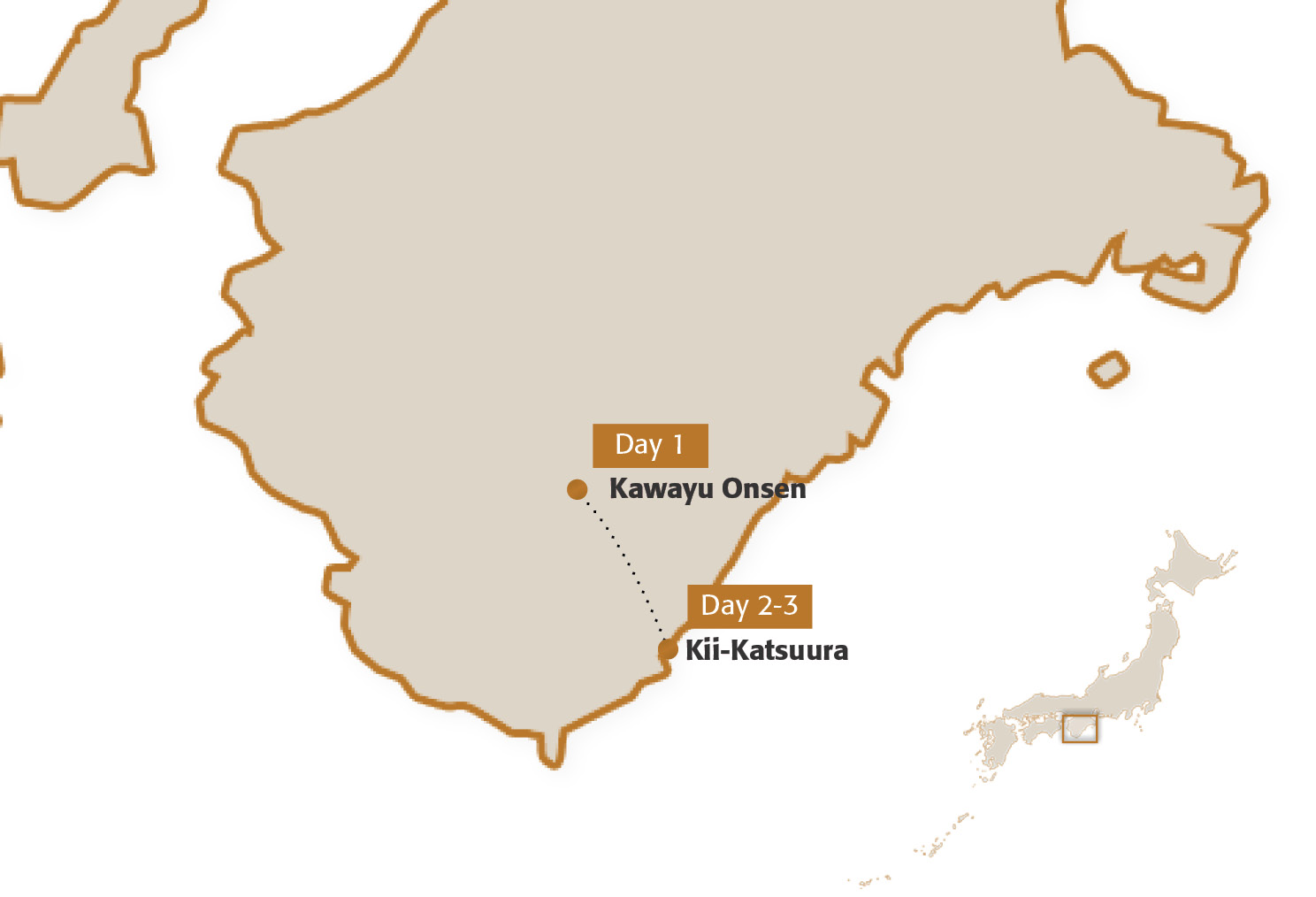 Destinations
Kumano Kodo Two-Night Module (Gentle Walking) - 3 Days - Day by Day
Kumano Kodo Two-Night Module (Gentle Walking) - 3 Days - Accommodation

Kumano Kodo Two-Night Module (Gentle Walking) - 3 Days - Experiences
Day 1

Today you will make the scenic journey by limited express train from Kyoto to Kii-Tanabe, a small city on the coast of the Kii Peninsula.

Here you will have a short orientation session, grab a bite to eat in the Ajikoji district and hop on the bus to Kawayu Onsen, a small but popular hot spring village in the heart of the Kumano Kodo.

The Japanese-style ryokan you'll be staying at tonight on the banks of the Oto River is one of the best in the area, and should provide a relaxing start to your walking adventures.

In summer you can grab a yukata bathrobe and a shovel and dig your own onsen bath in the riverbed, whilst in winter you can relax in a huge outdoor Senninburo bath lit by candles. A delicious kaiseki dinner will be included at the ryokan this evening.

Overnight: Fujiya Ryokan

Day 2-3

Your first stop on day two will be Hosshinmon-Oji, the outer entrance of Hongu Taisha and one of the most important landmarks on the Kumano Kodo.

From here you'll walk the 7 km from the gate to the shrine, the most important of the three great shrines and the point at which all the area's pilgrimage routes converge.

Along the way you'll pass through stunning mountain scenery, sleepy traditional villages and ancient forests filled with towering cryptomeria trees, and have a chance to tuck in to the bento lunchbox provided by your ryokan. After exploring the shrine and its vicinity you'll catch the bus to Kii-Katsuura, another coastal city where you'll be staying at a fabulous Japanese-style hotel on a secluded and densely forested island in the bay. After another delicious kaiseki dinner of fresh local seafood, the highlight of your stay is sure to be a soak in the hot spring bath overlooking Katsuura Bay.

On day three you'll undertake another gentle walk from Daimonzaka Chushajo to Nachi Taisha, another of the sacred Kumano Sanzan Shrines and the culmination of one of the traditional Kumano Kodo pilgrimage routes.

The walk will take around an hour and take you part of the way along the Daimonzaka, a 600 m cobblestone staircase with 267 steps that snakes through a misty forest of Japanese cedar trees and bamboo groves. Nachi Taisha lies at the end of this route, impressively situated in front of Nachi-no-Otaki: the tallest waterfall in Japan.

After admiring the shrine you'll catch a bus back to Kii-Katsuura where you'll have time to grab a bite to eat before taking the four-hour limited express train onwards to Osaka and the rest of your trip.

Overnight: Nakanoshima Hotel
View all days
Day 1

Today you will make the scenic journey by limited express train from Kyoto to Kii-Tanabe, a small city on the coast of the Kii Peninsula.

Here you will have a short orientation session, grab a bite to eat in the Ajikoji district and hop on the bus to Kawayu Onsen, a small but popular hot spring village in the heart of the Kumano Kodo.

The Japanese-style ryokan you'll be staying at tonight on the banks of the Oto River is one of the best in the area, and should provide a relaxing start to your walking adventures.

In summer you can grab a yukata bathrobe and a shovel and dig your own onsen bath in the riverbed, whilst in winter you can relax in a huge outdoor Senninburo bath lit by candles. A delicious kaiseki dinner will be included at the ryokan this evening.

Overnight: Fujiya Ryokan

Day 2-3

Your first stop on day two will be Hosshinmon-Oji, the outer entrance of Hongu Taisha and one of the most important landmarks on the Kumano Kodo.

From here you'll walk the 7 km from the gate to the shrine, the most important of the three great shrines and the point at which all the area's pilgrimage routes converge.

Along the way you'll pass through stunning mountain scenery, sleepy traditional villages and ancient forests filled with towering cryptomeria trees, and have a chance to tuck in to the bento lunchbox provided by your ryokan. After exploring the shrine and its vicinity you'll catch the bus to Kii-Katsuura, another coastal city where you'll be staying at a fabulous Japanese-style hotel on a secluded and densely forested island in the bay. After another delicious kaiseki dinner of fresh local seafood, the highlight of your stay is sure to be a soak in the hot spring bath overlooking Katsuura Bay.

On day three you'll undertake another gentle walk from Daimonzaka Chushajo to Nachi Taisha, another of the sacred Kumano Sanzan Shrines and the culmination of one of the traditional Kumano Kodo pilgrimage routes.

The walk will take around an hour and take you part of the way along the Daimonzaka, a 600 m cobblestone staircase with 267 steps that snakes through a misty forest of Japanese cedar trees and bamboo groves. Nachi Taisha lies at the end of this route, impressively situated in front of Nachi-no-Otaki: the tallest waterfall in Japan.

After admiring the shrine you'll catch a bus back to Kii-Katsuura where you'll have time to grab a bite to eat before taking the four-hour limited express train onwards to Osaka and the rest of your trip.

Overnight: Nakanoshima Hotel
Close all days
Other trips you may like
Tokyo
Niseko
Sapporo
Kyoto
Yudanaka
Tokyo

Mix culture with snow sports on this deluxe trip, taking in several exciting destinations across Honshu and Hokkaido.

15 nights: from US$10030 pp (twin share) Read more >

Tokyo
Nikko
Sendai
Nyuto Onsen
Kakunodate
Mount Haguro
Sado Island
Tokyo

Journey through the lush rural landscapes of Tohoku, the region that stretches 500 miles north from Tokyo, on this superior two-week itinerary.

14 nights: from US$5305 pp (twin share) Read more >

From ultra-modern Tokyo to the ancient capital of Kyoto via the hot springs of Hakone, this is a classic first-timer's trip to Japan.

9 nights: from US$2281 pp (twin share) Read more >