Self Guided Adventure
Japan Island-Hopping
12 Nights: from US$3172 per person (twin share)
Trip Code: JIHC
Fly over 1,500 miles from Tokyo to the Okinawa Islands, Japan's southernmost prefecture with its own distinctive culture. This is your chance to get away from it all – discover beautiful white beaches, swim in warm translucent waters, spot rare wildlife and trek through undisturbed jungle. Read more >
Our Island Hopping itinerary begins and ends in Tokyo, which should provide a striking contrast to the rest of your Japanese island adventure!
Flying three and a half hours south of the capital, you will arrive on Ishigaki Island, in the Yaeyama island chain. With some of Japan's most beautiful beaches to relax on, a forested and mountainous interior to discover, and spectacularly diverse coral and marine life including huge Manta rays - Ishigaki is a world away from the distant capital city.
Just 20 minutes on a ferry will transport you back in time as you visit the tiny island of Taketomi, where the main form of transport is water buffalo-drawn cart. Traditional Ryukyu buildings with their distinctive red-tiled roofs have been preserved throughout the island. See if you can spot the lionesque shisa guardian statues protecting the houses from evil spirits: a ubiquitous sight across the Okinawa region.
The largest but least developed island in the Yaeyama chain is Iriomote, covered in wild jungle and mangrove forests. Kayaking up the rivers into the dense jungle and trekking to the top of waterfalls for views across this stunning national park are the perfect ways to appreciate this subtropical gem.
A night in Naha, the capital of Okinawa's main island, will bring you back to the modern world. Formerly the centre of the ancient Ryukyu Kingdom, Naha is now a city of 70 thousand people and has everything that comes with it - thronged markets, a proliferation of restaurants, an exuberant nightlife scene and a booming line in fabulously tacky souvenirs.
The Kerama Islands, the final stop on your island-hopping adventure, offer some of the best snorkelling in the world. You will be amazed by the sheer variety of marine life, the untouched coral and the incredible visibility - often exceeding 30 metres!
If you visit between January and April you may even be lucky enough to catch a glimpse of migrating Humpback Whales. With a cold glass of Okinawa's awamori in hand and a plate of fresh sashimi, you couldn't ask for a better end to your trip.
What's included
12 nights' accommodation

Breakfast every day, one dinner and one lunch

All transport between destinations

Airport transfers on arrival and departure

Eight-hour private guide service in Tokyo

Full day of kayaking and trekking on Iriomote Island

Manaca transport card with 2,500 yen credit for local transport in Tokyo

Your personalised InsideJapan Tours Info-Pack
What's NOT included:
International flights

Local transport (buses, subways, taxis) at any destination unless otherwise specified

Any entrance fees including those for shrines, temples and museums

Baggage handling - you will be expected to carry your own bags for the duration of the trip
Trip Highlights
Kayak and trek through the jungle of Iriomote Island

Visit Shuri Castle, a UNESCO World Heritage Site

Snorkel or dive on Ishigaki Island
Ride on a cart drawn by water buffalo

Relax on white sandy beaches

Learn about the distinctive Ryukyu culture
For more information email us: [email protected] or call: 303 952 0379
What, where, when and how...
Japan Island-Hopping - 13 Days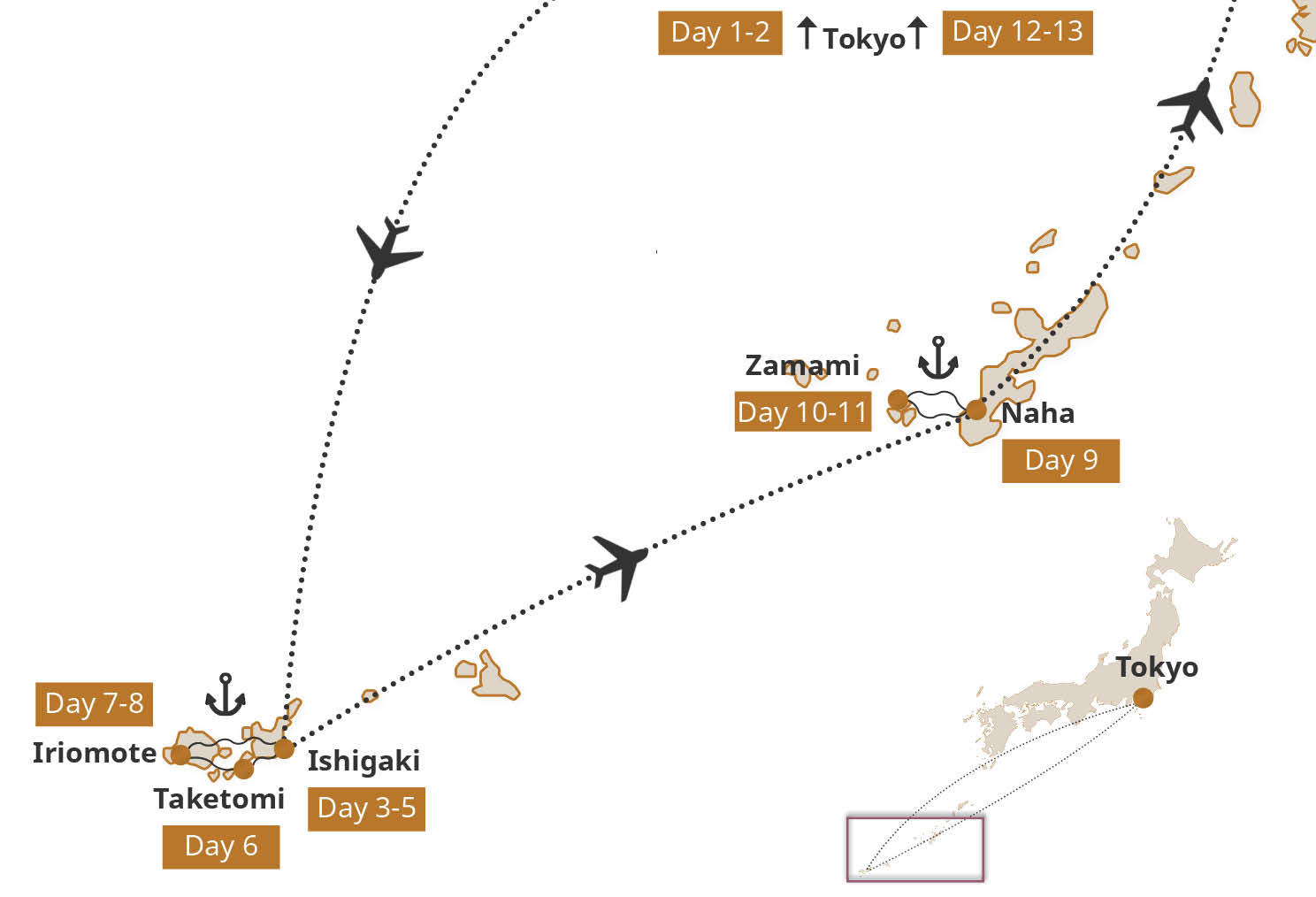 Japan Island-Hopping - 13 Days - Day by Day
Japan Island-Hopping - 13 Days - Accommodation
Japan Island-Hopping - 13 Days - Experiences
Day 1-2

Begin your adventures in Tokyo, where you'll have the services of an expert local guide to show you all the local hotspots.

Arriving in Tokyo you will take a shared shuttle bus to your hotel in the old Asakusa district of the city, known for Senso-ji Temple and its busy shopping street packed with street vendors and souvenir stores.

The rest of today will be free for you to explore this area, or perhaps head across Tokyo to discover the skyscraper district of Shinjuku and Akihabara's "electric town." Your personalised Info-Pack will be full of fantastic ideas on how to spend your day.

Tokyo is one of the world's most vibrant cities and on your first full day here you will have the opportunity to explore its many faces with a private local guide.

Tokyo is made up of various districts, each with their own distinctive flavour and atmosphere, and your guide will have lots of excellent suggestions as to how to spend your day.

Ginza, at the very centre of the city, is a shoppers' paradise with some of the city's finest restaurants and European-style cafes; Shibuya is Tokyo at its most fun and youthful, packed with bars, restaurants, manga shops and all-night clubs.

Overnight: Richmond Asakusa

Day 3-5

Fly south to Ishigaki Island, where limpid waters and kaleidoscopic marine life provide spectacular diving and snorkelling opportunities.

Today you will head to Haneda Airport for your flight to Ishigaki Island – gateway to the Yaeyama island chain. On arrival you will jump in a taxi to be whisked away to your beach cottage on the island's stunning coast.

This is a great place to relax and soak up the atmosphere and serves as the perfect base from which to explore the rest of the island, with its mountainous interior, limestone caves and spectacular underwater topography.

Your next two days on Ishigaki you will be free to either relax on the beach or explore the island. You may wish to hire a car to explore a little further afield – just let us know if you would like us to arrange this.

The limpid waters of Shiraho and the coral reefs at Kabira Bay play host to a spectacular array of colourful marine life, so we highly recommend snorkelling or diving to make the most of this opportunity.

The island also has some great walking and bird-watching options around Mount Omoto-Dake and in the inland jungle.

Overnight: Pension Papaya

Day 6

Take the ferry to Taketomi, where you'll experience traditional Ryukyu island life and walk on beaches with star-shaped sand.

Today you will make the 20-minute ferry ride from Ishigaki port to nearby Taketomi Island. The island is a mere five miles across, and will transport you back to traditional Ryukyu island life with its preserved village and carts drawn by water buffalo.

Take this opportunity to wander amongst the red-tiled houses with their garden walls made of coral and their typical Okinawan shisa guardians. What's more, look closely at the sand on the beaches here and you'll notice that each grain is a perfectly-formed star!

As evening falls admire the uninterrupted starlight as you tuck into some delicious local cuisine for dinner, which is included as part of your trip. This is island life at its most relaxed.

Overnight: Villa Taketomi

Day 7-8

Kayak along mangrove-lined rivers and trek to the top of a waterfall on jungle-clad Iriomote Island.

After peaceful Taketomi you will make your way by ferry via Ishigaki Island to Iriomote, the largest and least populated island in the Yaeyama chain. Iriomote is covered in dense jungle interspersed with rivers and waterfalls and circumnavigated by a single road. It is also the last home of a species of wildcat that was thought to be extinct until 1967.

Although you'll be lucky to spot one of these cats, the jungle is covered in rare flora and fauna protected by its national park status so there will be plenty of nature to admire on your first day on the island.

On your next day, you will be met by a local guide who will take you on a gentle kayaking trip through mangrove-lined rivers into Iriomote's thickly forested interior.

A pleasant trek will lead you from the river up to a spectacular waterfall, and your guide will point out some of the "local inhabitants" along the way.

Your stay on Iriomote will be an unforgettable introduction to the wild nature of Japan's southernmost group of islands.

Overnight: Iriomote Eco Village

Day 9

Experience the idiosyncratic mix of ice cream stores, American diners, traditional Okinawan restaurants and outrageously tacky souvenirs in Naha, Okinawa's capital city.

Today you will take the ferry back to Ishigaki and make your way to the airport for the one-hour flight to Okinawa's main island. This is the most populated island in the Okinawa archipelago and home of the prefecture's capital city: Naha.

For hundreds of years this city was the centre of the thriving independent Ryukyu Kingdom, and the faithfully reconstructed Shuri Castle – a UNESCO World Heritage Site – is a superb reminder of this heritage.

You will be staying at the centre of the city near the lively Kokusai Dori area, with its idiosyncratic mix of ice cream stores, American diners, traditional Okinawan restaurants and outrageously tacky souvenir shops.

Overnight: Daiwa Roynet Hotel Naha Kokusaidori

Day 10-11

Relax on brilliant white beaches and explore primeval forests on stunning Zamami Island.

After a night in Naha you will be heading to the stunningly beautiful Zamami Island just a short ferry ride from the port. Here you will be staying in a small, family-run, Japanese-style Pension and will have two days to enjoy the laid-back atmosphere and natural wonders of the Kerama Islands.

Take this chance to relax on brilliant white beaches or do some more snorkelling, as the conditions here are more or less the best there are! Another option is to jump in a water taxi to nearby Aka Island and the Geruma Islands, only 15 minutes away and filled with beaches and primeval forests just waiting to be explored on foot or by bike.

January to April is also prime time for spotting migrating Humpback Whales! If you choose the upgrade package then you will stay at a beachside hotel on nearby Toshiki Island instead of Zamami.

Overnight: Yado Natura

Day 12-13

Conclude your trip with a grand finale amongst the karaoke booths, buzzing bars and top-quality restaurants in Shinjuku.

Today it's time to head back to mainland Okinawa and catch a flight back to the Tokyo. Nothing could be more different from the peace and quiet of Zamami!

Your Japan finale will be spent in the exciting district of Shinjuku, the beating heart of Tokyo with its bright neon signage, top-quality restaurants, buzzing bars and karaoke booths. This is the perfect place to be based for your final night in Japan.

Finally it is time to say goodbye to Japan, and on your final morning you will journey by shuttle bus to Narita Airport in plenty of time for your departure flight. Have a safe journey home.

Overnight: Citadines Shinjuku
View all days
Day 1-2

Begin your adventures in Tokyo, where you'll have the services of an expert local guide to show you all the local hotspots.

Arriving in Tokyo you will take a shared shuttle bus to your hotel in the old Asakusa district of the city, known for Senso-ji Temple and its busy shopping street packed with street vendors and souvenir stores.

The rest of today will be free for you to explore this area, or perhaps head across Tokyo to discover the skyscraper district of Shinjuku and Akihabara's "electric town." Your personalised Info-Pack will be full of fantastic ideas on how to spend your day.

Tokyo is one of the world's most vibrant cities and on your first full day here you will have the opportunity to explore its many faces with a private local guide.

Tokyo is made up of various districts, each with their own distinctive flavour and atmosphere, and your guide will have lots of excellent suggestions as to how to spend your day.

Ginza, at the very centre of the city, is a shoppers' paradise with some of the city's finest restaurants and European-style cafes; Shibuya is Tokyo at its most fun and youthful, packed with bars, restaurants, manga shops and all-night clubs.

Overnight: Richmond Asakusa

Day 3-5

Fly south to Ishigaki Island, where limpid waters and kaleidoscopic marine life provide spectacular diving and snorkelling opportunities.

Today you will head to Haneda Airport for your flight to Ishigaki Island – gateway to the Yaeyama island chain. On arrival you will jump in a taxi to be whisked away to your beach cottage on the island's stunning coast.

This is a great place to relax and soak up the atmosphere and serves as the perfect base from which to explore the rest of the island, with its mountainous interior, limestone caves and spectacular underwater topography.

Your next two days on Ishigaki you will be free to either relax on the beach or explore the island. You may wish to hire a car to explore a little further afield – just let us know if you would like us to arrange this.

The limpid waters of Shiraho and the coral reefs at Kabira Bay play host to a spectacular array of colourful marine life, so we highly recommend snorkelling or diving to make the most of this opportunity.

The island also has some great walking and bird-watching options around Mount Omoto-Dake and in the inland jungle.

Overnight: Pension Papaya

Day 6

Take the ferry to Taketomi, where you'll experience traditional Ryukyu island life and walk on beaches with star-shaped sand.

Today you will make the 20-minute ferry ride from Ishigaki port to nearby Taketomi Island. The island is a mere five miles across, and will transport you back to traditional Ryukyu island life with its preserved village and carts drawn by water buffalo.

Take this opportunity to wander amongst the red-tiled houses with their garden walls made of coral and their typical Okinawan shisa guardians. What's more, look closely at the sand on the beaches here and you'll notice that each grain is a perfectly-formed star!

As evening falls admire the uninterrupted starlight as you tuck into some delicious local cuisine for dinner, which is included as part of your trip. This is island life at its most relaxed.

Overnight: Villa Taketomi

Day 7-8

Kayak along mangrove-lined rivers and trek to the top of a waterfall on jungle-clad Iriomote Island.

After peaceful Taketomi you will make your way by ferry via Ishigaki Island to Iriomote, the largest and least populated island in the Yaeyama chain. Iriomote is covered in dense jungle interspersed with rivers and waterfalls and circumnavigated by a single road. It is also the last home of a species of wildcat that was thought to be extinct until 1967.

Although you'll be lucky to spot one of these cats, the jungle is covered in rare flora and fauna protected by its national park status so there will be plenty of nature to admire on your first day on the island.

On your next day, you will be met by a local guide who will take you on a gentle kayaking trip through mangrove-lined rivers into Iriomote's thickly forested interior.

A pleasant trek will lead you from the river up to a spectacular waterfall, and your guide will point out some of the "local inhabitants" along the way.

Your stay on Iriomote will be an unforgettable introduction to the wild nature of Japan's southernmost group of islands.

Overnight: Iriomote Eco Village

Day 9

Experience the idiosyncratic mix of ice cream stores, American diners, traditional Okinawan restaurants and outrageously tacky souvenirs in Naha, Okinawa's capital city.

Today you will take the ferry back to Ishigaki and make your way to the airport for the one-hour flight to Okinawa's main island. This is the most populated island in the Okinawa archipelago and home of the prefecture's capital city: Naha.

For hundreds of years this city was the centre of the thriving independent Ryukyu Kingdom, and the faithfully reconstructed Shuri Castle – a UNESCO World Heritage Site – is a superb reminder of this heritage.

You will be staying at the centre of the city near the lively Kokusai Dori area, with its idiosyncratic mix of ice cream stores, American diners, traditional Okinawan restaurants and outrageously tacky souvenir shops.

Overnight: Daiwa Roynet Hotel Naha Kokusaidori

Day 10-11

Relax on brilliant white beaches and explore primeval forests on stunning Zamami Island.

After a night in Naha you will be heading to the stunningly beautiful Zamami Island just a short ferry ride from the port. Here you will be staying in a small, family-run, Japanese-style Pension and will have two days to enjoy the laid-back atmosphere and natural wonders of the Kerama Islands.

Take this chance to relax on brilliant white beaches or do some more snorkelling, as the conditions here are more or less the best there are! Another option is to jump in a water taxi to nearby Aka Island and the Geruma Islands, only 15 minutes away and filled with beaches and primeval forests just waiting to be explored on foot or by bike.

January to April is also prime time for spotting migrating Humpback Whales! If you choose the upgrade package then you will stay at a beachside hotel on nearby Toshiki Island instead of Zamami.

Overnight: Yado Natura

Day 12-13

Conclude your trip with a grand finale amongst the karaoke booths, buzzing bars and top-quality restaurants in Shinjuku.

Today it's time to head back to mainland Okinawa and catch a flight back to the Tokyo. Nothing could be more different from the peace and quiet of Zamami!

Your Japan finale will be spent in the exciting district of Shinjuku, the beating heart of Tokyo with its bright neon signage, top-quality restaurants, buzzing bars and karaoke booths. This is the perfect place to be based for your final night in Japan.

Finally it is time to say goodbye to Japan, and on your final morning you will journey by shuttle bus to Narita Airport in plenty of time for your departure flight. Have a safe journey home.

Overnight: Citadines Shinjuku
Close all days
Other trips you may like
Tokyo
Nikko
Sendai
Nyuto Onsen
Kakunodate
Mount Haguro
Sado Island
Tokyo

Journey through the lush rural landscapes of Tohoku, the region that stretches 500 miles north from Tokyo, on this superior two-week itinerary.

14 nights: from US$5408 pp (twin share) Read more >

Tokyo
Nikko
Kyoto
Mount Koya
Himeji
Hiroshima
Kanazawa
Shirakawago
Tokyo

Discover Japan's most important monuments on this superior 17-night trip, including the temples of Nikko, Hiroshima's Peace Park, and Himeji Castle.

17 nights: from US$6461 pp (twin share) Read more >

Tokyo
Nikko
Kyoto
Mount Koya
Himeji
Hiroshima
Kanazawa
Shirakawago
Tokyo

With a wide range of incredible World Heritage Sites, Japan is the perfect destination for this classic 17-night cultural and historical adventure.

17 nights: from US$4043 pp (twin share) Read more >