Self-Guided Adventure
Japan Deluxe Railway Adventure
13 Nights: from US$18226 per person (twin share)
Trip Code: JDRA
Mix traditional elegance and modern style, vast cities and sweeping countryside, world-famous highlights and little-visited gems - all while making the most of one of the world's most fantastic rail systems on this luxurious journey through Japan. Read more >
Beginning with three nights in Tokyo, you'll get a taste of Japan's futuristic neon capital before exchanging it all for the stunning Japanese countryside as you fly south to board the Kyushu Seven Stars train service.
With three nights on the service, you'll be privy to an expertly curated programme of activities, introducing areas of this lush and rural island that are very rarely seen by international visitors. You'll soak in open-air hot spring baths, spend the night on tatami at an exclusive ryokan inn, enjoy exquisite included cuisine made with seasonal ingredients, and have plenty of time to relax in the luxurious surroundings of the train itself.
After the conclusion of your Kyushu rail adventure, you'll make your way back toward Tokyo by means of a very different train - the iconic bullet train, or Shinkansen. Along the way you'll stop for stays in the cities of Hiroshima and Kyoto, before concluding with a final night at the Andaz in Tokyo - one of our favourite luxury hotels in Japan.
Throughout your trip you'll receive the highest level of support from our partners on the ground, with expert local guides and private drivers who'll do their best to make your trip as smooth and comfortable as possible. You'll also enjoy a range of exclusive experiences - including an evening of sake tasting with a French expert, and an unforgettable private audience with a trainee geisha.
All in all, this itinerary provides the perfect combination of rural exploration and big-city excitement, all while staying in only the very best luxury hotels and inns.
What's included
10 nights' accommodation in Japan

Breakfast every day, five lunches and four evening meals

Eight hours' private guide service in Tokyo and Kyoto, including entrance fees

An evening of sake tasting with expert Sebastien Lemoine

A private audience with a trainee geisha in Kyoto

All transport between destinations, including airport transfers and domestic flights

Four days on board the luxurious Kyushu Seven Stars train service

Pocket WiFi device

Your personalised InsideJapan Tours Info-Pack
What's NOT included:
Local transport (buses, subways, taxis) at any destination unless otherwise specified

Any entrance fees including those for temples, shrines and museums unless otherwise specified
Trip Highlights
Spend the night at a traditional ryokan inn

Shoot across Japan on the bullet train

Have an exclusive private audience with a trainee geisha
Enjoy four days of luxury on the Kyushu Seven Stars train service

Attend sake tasting and dinner with sake expert Sebastien Lemoine

Take a private guided tour of Tokyo & Kyoto
For more information email us: [email protected] or call: + 44 117 244 3380
What, where, when and how...
Japan Deluxe Railway Adventure - 14 Days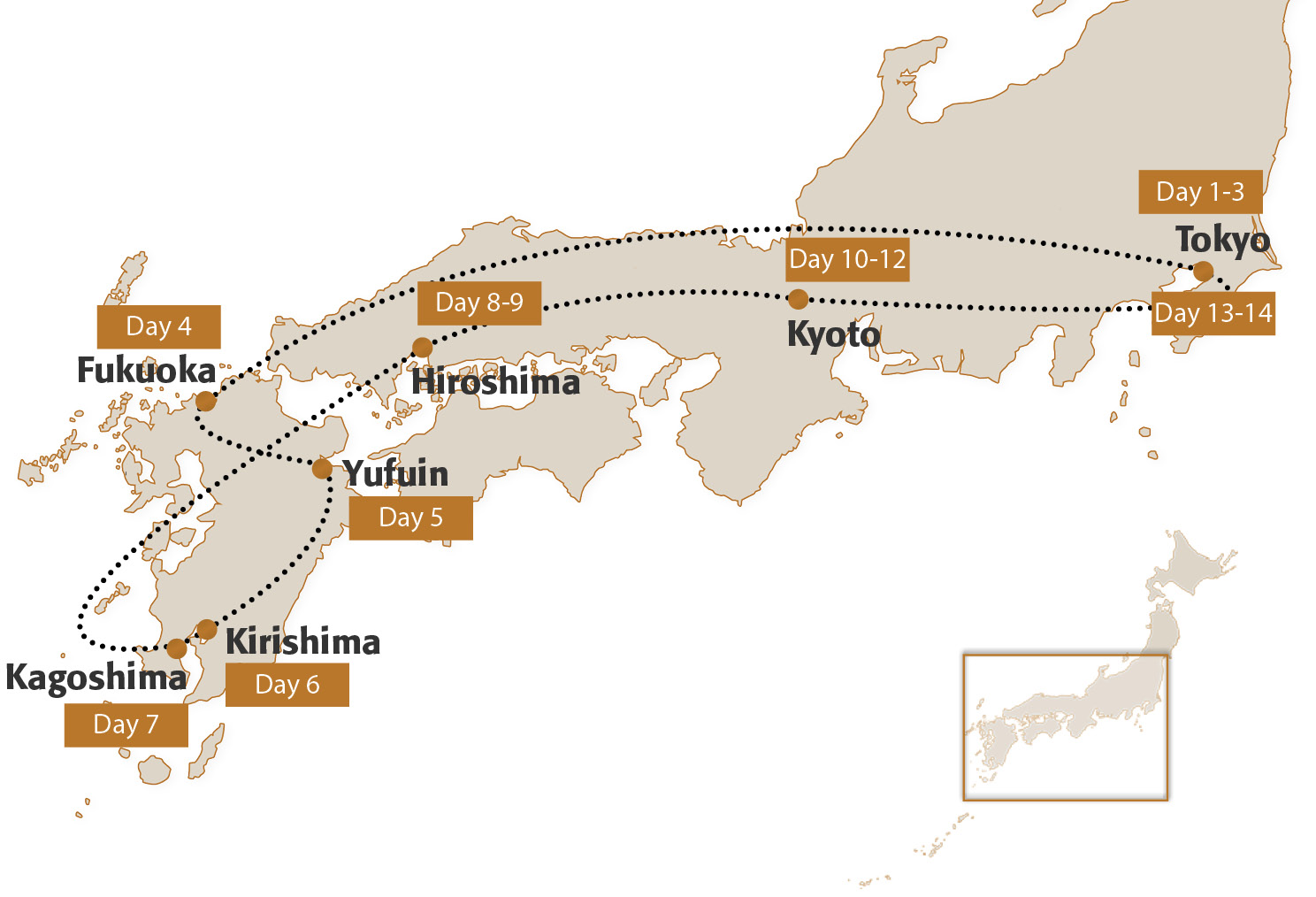 Japan Deluxe Railway Adventure - 14 Days - Day by Day
Japan Deluxe Railway Adventure - 14 Days - Accommodation
Japan Deluxe Railway Adventure - 14 Days - Experiences
Day 1-3

Your journey begins in Tokyo, Japan's capital and one of the greatest cities in the world.

On arrival at Tokyo's Narita Airport, you will be collected by your private driver and transfer to your first hotel: the luxurious Palace Hotel. Overlooking the lakes and gardens of the Imperial Palace in the centre of the city, you'll be in prime position to explore the delights of Tokyo's many fascinating districts – and you'll have some of the best views around. We recommend toasting the beginning of your trip with a cocktail in the hotel's top-floor bar!

On day two you'll hopefully wake up suitably refreshed and ready for a full day of sightseeing in Japan's manic capital. This is ordered chaos at its finest, and you'll have the services of a knowledgeable local and a private driver to help you make the most of your time. Amongst the day's highlights might be the traditional district of Asakusa, the serene Meiji Shrine, the crazy street fashions of Harajuku, and the buzzing electronics district of Akihabara – but the day's itinerary is ultimately up to you.

On day three you will have a day at leisure to continue exploring Tokyo. Your guide will have given you some excellent ideas as to how to spend your day – but we recommend a having a cup of green tea at the beautiful Hamarikyu Gardens, or heading to the top of the towering Skytree for a delicious lunch.

This evening you will head out for an included dinner and exclusive sake-tasting experience with the French sake expert Sebastien Lemoine. Connoisseurs of sake (or nihonshu as it is more properly known) suggest that it has a subtlety of character similar to that of wine, and Sebastien is perfectly placed to introduce you to the history, production, drinking traditions and varieties of this beloved national drink.

Overnight: Palace Tokyo

Day 4

Hopefully not suffering too much from last night's sake-fuelled fun, today you'll hop on a domestic flight south to Kyushu: The third-largest of Japan's four main islands.

The vibrant southwestern hub of Fukuoka is one of Japan's most cosmopolitan cities, and its position close to the Asian mainland means it has a distinctly international flavour. It's thought that this is where tea and Buddhism – those quintessential facets of Japanese culture – first made their way to the country! Today, Fukuoka is known for its energetic atmosphere, great nightlife, friendly yatai food stalls and mouth-wateringly delicious hakata ramen noodles.

Your plane will land at Fukuoka Airport in the early afternoon, from where it is just a very short journey by private car to your hotel. Tonight you'll be staying at the Grand Hyatt, right in the thick of the city's Hakata district. On arrival, you'll have the evening free to explore – which should be easy in such a central location!

Overnight: Grand Hyatt Fukuoka

Day 5

All aboard the Kyushu Seven Stars, Japan's most luxurious train service!

Today you will be collected from your hotel and driven to Hakata Station, where you will board the beautiful Kyushu Seven Stars train before lunch. This luxurious locomotive has 12 suites and two deluxe suites, with a total maximum occupancy of 30. Along with your fellow passengers, you'll have free range to use the spacious lounge car, with its expansive windows and 'Blue Moon' bar, and the dining car – which has its own traditional tea ceremony area. It is Japan after all.

Please note that there is a dress code in the shared spaces of the Kyushu Seven Stars: gentlemen must wear a collared shirt and jacket for dinner (no jacket is required in summer); ladies may either wear a one-piece dress or a collared shirt and jacket.

After a welcome lunch and orientation aboard the train, today's itinerary will take you to Yufuin, in the southwest of Oita Prefecture. Located in a river basin at the foot of Mount Yufu, this peaceful area is known for its health-giving hot springs and beautiful surroundings. Don't miss the lovely Lake Kinriko, and be sure to try out a few of the local baths! Dinner will be served on board the train this evening, cooked with ingredients from the local area. You will spend the night in your beautiful cabin tonight as the train travels south from Yufuin to Mimitsu.

Overnight: Kyushu Seven Stars

Day 6

Explore the beautiful scenery and charming towns of Miyazaki Prefecture, with a night at a ryokan in Kirishima National Park.

Today you'll awake to find yourself in Mimitsu, a small town on the eastern coast of Kyushu. Mimitsu's tranquil atmosphere belies its history as a bustling port town, commanding trade with the great cities of Kyoto, Osaka and Kobe. It was not until the early 20th century and the rise of rail that Mimitsu faded into obscurity, leaving the pretty, traditional wood-panelled streets that you see today.

After a breakfast made with fresh produce from nearby Tsuno town, you'll have time to wander around Mimitsu and appreciate its historical charm before re-boarding your train for the scenic journey to Miyazaki City – the prefectural capital. Here you'll have the opportunity to stretch your legs with an optional sightseeing tour of the city.

After leaving the city behind, you'll travel through the beautiful countryside of the Kirishima National Park to the Wasurenosato Gajoen, a traditional-style ryokan inn at the southernmost tip of Kyushu. The inn has just a few guest rooms housed in traditional thatched cottages, all of them beautifully designed. Some of the rooms have private hot-spring baths, while others have access to the shared baths by the banks of the Amorigawa River. Dinner will be included at the inn this evening.

Please note that if the ryokan is unable to accommodate all Kyushu Seven Stars guests, you will be accommodated at a nearby inn of comparable quality.

Overnight: Wasurenosato Gajoen

Day 7

Continue your journey via one of the most scenic routes in Kyushu, the Hisatsu Orange Railway Line.

After an elaborate breakfast at your ryokan, you'll be invited to explore the nearby Tenku no Mori Resort – a luxury hotel and spa with beautiful grounds and absolutely gorgeous views over the forested Kirishima National Park. You'll have the chance to plant a memorial tree and enjoy your surroundings before sitting down to an exquisite lunch onsite.

This afternoon you will have time to relax in the teak and rosewood surroundings of the train as you watch the stunning Kyushu countryside drift past on one side and the East China Sea on the other. As the sun sets over the glittering water, you'll sit down to your final evening meal onboard the train – a delicious spread of top-quality French cuisine. Tonight you'll sleep in your luxurious cabin, awaking as you arrive in Kumamoto Prefecture early the next morning.

Overnight: Kyushu Seven Stars

Day 8-9

Wave goodbye to the luxury of Kyushu and return to mainland Japan to begin the next leg of your adventure.

Your train will pull into Omuta Station this morning and from here you will make a visit to Yanagawa. Known as Kyushu's Venice, Yanagawa is a lovely town of canals as the Chikugo River empties into the Sea of Ariake. A moat surrounds Yanagawa Castle and you can also see red brick warehouses from the early 20th century. Please note that for August and September departures, passengers will have the opportunity to take an Amakusa sea cruise ferry from Misumi to Matsushima.

You'll then re-board the train and relax as you travel back to Hakata Station in Fukuoka, the final stop on your rail adventure. A lunch of specially selected local cuisine will be served along the way, before a farewell event to toast the end of a fantastic trip.

On disembarking in Fukuoka at around 5.30 pm, you will jump onboard a very different sort of train – the Shinkansen bullet train, which will whisk you at top speed to Hiroshima on Japan's Honshu main island. The journey will take just over an hour. On arrival you'll check into your hotel, the excellent Sheraton, and have the remainder of the evening at leisure. After the peace and quiet of the Kyushu countryside, it'll certainly make an exciting change to find yourself in such a large and vibrant city for the evening!

On day nine you'll have a full day at leisure in Hiroshima. You might like to spend it at the excellent Peace Park and Museum, commemorating the devastating events of the atomic bomb of 1945, or you might like to take the ferry across Hiroshima Bay to Miyajima – a beautiful little island with a traditional town, World Heritage Shrine, and one of the most famous views in Japan.

Overnight: Sheraton Hiroshima

Day 10-12

Speed across the country by bullet train to arrive in Kyoto: Japan's capital of culture and history.

As the imperial capital of Japan for over a thousand years (until the Meiji Restoration of 1868), Kyoto has more historical buildings, cherished local traditions and beautiful temples than any other city in Japan. Its heritage is so considerable, in fact, that it was deemed too important to be bombed during the Second World War – meaning that many of its historical treasures remain intact to this day.

If you spent yesterday on Miyajima Island, you might like to pay a visit to the Peace Park and Museum in central Hiroshima this morning before boarding the Shinkansen for Kyoto. On arrival, the rest of the day will be at leisure for you to begin exploring the hidden temples, gardens and traditional districts of this fantastic city.

On day 11 you'll have the services of an expert local guide and private driver for a full day's tour of Kyoto. The day's itinerary is ultimately up to you, but your guide will have lots of excellent suggestions as to how to spend your time. Highlights may include the Golden Pavilion at Kinkaku-ji, the famous Zen garden at Ryoan-ji, the ten thousand red gates of Kinkaku-ji Shrine or the "nightingale floors" of Nijo Castle.

On day 12 you will be free to explore Kyoto under your own steam. Hopefully your guide will have given you plenty of excellent ideas – we recommend the lovely Arashiyama district in the Kyoto suburbs, famed for its pretty bamboo groves. In the afternoon you'll have the immense privilege of enjoying a private audience with one of Kyoto's trainee geisha, which will provide a window into the "flower and willow world" of these elegant and mysterious traditional artists.

Overnight: Four Seasons

Day 13-14

Return to Tokyo for a final night in Japan's glittering, neon capital city.

On day 13 you'll catch the bullet train from Kyoto to Tokyo, at a time to suit your plans. You might choose to spend a little more time in the ancient capital this morning, or head straight off to give yourself plenty of time in the capital. Whichever you choose, you can be sure of ample opportunities for sightseeing and last-minute souvenir shopping today!

On arrival in Tokyo you'll be picked up by private car and driven to the marvellous Andaz Hotel to check in for your final night in Japan. Now, we certainly wouldn't blame you for opting to stay in the exquisite luxury of the Andaz for the remainder of the day – but we recommend heading out for a final-night blowout in the hectic, neon-drenched Shinjuku district, home of countless fantastic restaurants and glitzy bars. And if you're after a real only-in-Japan experience, check out the narrow alleys of the Golden Gai quarter before singing the night away in a private karaoke box!

On day 14 your adventure comes to a close, and we're sure you'll be sad to be bidding goodbye to Japan. A private car and driver will collect you from your hotel and drive you to Narita Airport in time for your onward flight. We hope to see you again soon!

Overnight: Andaz Tokyo
View all days
Day 1-3

Your journey begins in Tokyo, Japan's capital and one of the greatest cities in the world.

On arrival at Tokyo's Narita Airport, you will be collected by your private driver and transfer to your first hotel: the luxurious Palace Hotel. Overlooking the lakes and gardens of the Imperial Palace in the centre of the city, you'll be in prime position to explore the delights of Tokyo's many fascinating districts – and you'll have some of the best views around. We recommend toasting the beginning of your trip with a cocktail in the hotel's top-floor bar!

On day two you'll hopefully wake up suitably refreshed and ready for a full day of sightseeing in Japan's manic capital. This is ordered chaos at its finest, and you'll have the services of a knowledgeable local and a private driver to help you make the most of your time. Amongst the day's highlights might be the traditional district of Asakusa, the serene Meiji Shrine, the crazy street fashions of Harajuku, and the buzzing electronics district of Akihabara – but the day's itinerary is ultimately up to you.

On day three you will have a day at leisure to continue exploring Tokyo. Your guide will have given you some excellent ideas as to how to spend your day – but we recommend a having a cup of green tea at the beautiful Hamarikyu Gardens, or heading to the top of the towering Skytree for a delicious lunch.

This evening you will head out for an included dinner and exclusive sake-tasting experience with the French sake expert Sebastien Lemoine. Connoisseurs of sake (or nihonshu as it is more properly known) suggest that it has a subtlety of character similar to that of wine, and Sebastien is perfectly placed to introduce you to the history, production, drinking traditions and varieties of this beloved national drink.

Overnight: Palace Tokyo

Day 4

Hopefully not suffering too much from last night's sake-fuelled fun, today you'll hop on a domestic flight south to Kyushu: The third-largest of Japan's four main islands.

The vibrant southwestern hub of Fukuoka is one of Japan's most cosmopolitan cities, and its position close to the Asian mainland means it has a distinctly international flavour. It's thought that this is where tea and Buddhism – those quintessential facets of Japanese culture – first made their way to the country! Today, Fukuoka is known for its energetic atmosphere, great nightlife, friendly yatai food stalls and mouth-wateringly delicious hakata ramen noodles.

Your plane will land at Fukuoka Airport in the early afternoon, from where it is just a very short journey by private car to your hotel. Tonight you'll be staying at the Grand Hyatt, right in the thick of the city's Hakata district. On arrival, you'll have the evening free to explore – which should be easy in such a central location!

Overnight: Grand Hyatt Fukuoka

Day 5

All aboard the Kyushu Seven Stars, Japan's most luxurious train service!

Today you will be collected from your hotel and driven to Hakata Station, where you will board the beautiful Kyushu Seven Stars train before lunch. This luxurious locomotive has 12 suites and two deluxe suites, with a total maximum occupancy of 30. Along with your fellow passengers, you'll have free range to use the spacious lounge car, with its expansive windows and 'Blue Moon' bar, and the dining car – which has its own traditional tea ceremony area. It is Japan after all.

Please note that there is a dress code in the shared spaces of the Kyushu Seven Stars: gentlemen must wear a collared shirt and jacket for dinner (no jacket is required in summer); ladies may either wear a one-piece dress or a collared shirt and jacket.

After a welcome lunch and orientation aboard the train, today's itinerary will take you to Yufuin, in the southwest of Oita Prefecture. Located in a river basin at the foot of Mount Yufu, this peaceful area is known for its health-giving hot springs and beautiful surroundings. Don't miss the lovely Lake Kinriko, and be sure to try out a few of the local baths! Dinner will be served on board the train this evening, cooked with ingredients from the local area. You will spend the night in your beautiful cabin tonight as the train travels south from Yufuin to Mimitsu.

Overnight: Kyushu Seven Stars

Day 6

Explore the beautiful scenery and charming towns of Miyazaki Prefecture, with a night at a ryokan in Kirishima National Park.

Today you'll awake to find yourself in Mimitsu, a small town on the eastern coast of Kyushu. Mimitsu's tranquil atmosphere belies its history as a bustling port town, commanding trade with the great cities of Kyoto, Osaka and Kobe. It was not until the early 20th century and the rise of rail that Mimitsu faded into obscurity, leaving the pretty, traditional wood-panelled streets that you see today.

After a breakfast made with fresh produce from nearby Tsuno town, you'll have time to wander around Mimitsu and appreciate its historical charm before re-boarding your train for the scenic journey to Miyazaki City – the prefectural capital. Here you'll have the opportunity to stretch your legs with an optional sightseeing tour of the city.

After leaving the city behind, you'll travel through the beautiful countryside of the Kirishima National Park to the Wasurenosato Gajoen, a traditional-style ryokan inn at the southernmost tip of Kyushu. The inn has just a few guest rooms housed in traditional thatched cottages, all of them beautifully designed. Some of the rooms have private hot-spring baths, while others have access to the shared baths by the banks of the Amorigawa River. Dinner will be included at the inn this evening.

Please note that if the ryokan is unable to accommodate all Kyushu Seven Stars guests, you will be accommodated at a nearby inn of comparable quality.

Overnight: Wasurenosato Gajoen

Day 7

Continue your journey via one of the most scenic routes in Kyushu, the Hisatsu Orange Railway Line.

After an elaborate breakfast at your ryokan, you'll be invited to explore the nearby Tenku no Mori Resort – a luxury hotel and spa with beautiful grounds and absolutely gorgeous views over the forested Kirishima National Park. You'll have the chance to plant a memorial tree and enjoy your surroundings before sitting down to an exquisite lunch onsite.

This afternoon you will have time to relax in the teak and rosewood surroundings of the train as you watch the stunning Kyushu countryside drift past on one side and the East China Sea on the other. As the sun sets over the glittering water, you'll sit down to your final evening meal onboard the train – a delicious spread of top-quality French cuisine. Tonight you'll sleep in your luxurious cabin, awaking as you arrive in Kumamoto Prefecture early the next morning.

Overnight: Kyushu Seven Stars

Day 8-9

Wave goodbye to the luxury of Kyushu and return to mainland Japan to begin the next leg of your adventure.

Your train will pull into Omuta Station this morning and from here you will make a visit to Yanagawa. Known as Kyushu's Venice, Yanagawa is a lovely town of canals as the Chikugo River empties into the Sea of Ariake. A moat surrounds Yanagawa Castle and you can also see red brick warehouses from the early 20th century. Please note that for August and September departures, passengers will have the opportunity to take an Amakusa sea cruise ferry from Misumi to Matsushima.

You'll then re-board the train and relax as you travel back to Hakata Station in Fukuoka, the final stop on your rail adventure. A lunch of specially selected local cuisine will be served along the way, before a farewell event to toast the end of a fantastic trip.

On disembarking in Fukuoka at around 5.30 pm, you will jump onboard a very different sort of train – the Shinkansen bullet train, which will whisk you at top speed to Hiroshima on Japan's Honshu main island. The journey will take just over an hour. On arrival you'll check into your hotel, the excellent Sheraton, and have the remainder of the evening at leisure. After the peace and quiet of the Kyushu countryside, it'll certainly make an exciting change to find yourself in such a large and vibrant city for the evening!

On day nine you'll have a full day at leisure in Hiroshima. You might like to spend it at the excellent Peace Park and Museum, commemorating the devastating events of the atomic bomb of 1945, or you might like to take the ferry across Hiroshima Bay to Miyajima – a beautiful little island with a traditional town, World Heritage Shrine, and one of the most famous views in Japan.

Overnight: Sheraton Hiroshima

Day 10-12

Speed across the country by bullet train to arrive in Kyoto: Japan's capital of culture and history.

As the imperial capital of Japan for over a thousand years (until the Meiji Restoration of 1868), Kyoto has more historical buildings, cherished local traditions and beautiful temples than any other city in Japan. Its heritage is so considerable, in fact, that it was deemed too important to be bombed during the Second World War – meaning that many of its historical treasures remain intact to this day.

If you spent yesterday on Miyajima Island, you might like to pay a visit to the Peace Park and Museum in central Hiroshima this morning before boarding the Shinkansen for Kyoto. On arrival, the rest of the day will be at leisure for you to begin exploring the hidden temples, gardens and traditional districts of this fantastic city.

On day 11 you'll have the services of an expert local guide and private driver for a full day's tour of Kyoto. The day's itinerary is ultimately up to you, but your guide will have lots of excellent suggestions as to how to spend your time. Highlights may include the Golden Pavilion at Kinkaku-ji, the famous Zen garden at Ryoan-ji, the ten thousand red gates of Kinkaku-ji Shrine or the "nightingale floors" of Nijo Castle.

On day 12 you will be free to explore Kyoto under your own steam. Hopefully your guide will have given you plenty of excellent ideas – we recommend the lovely Arashiyama district in the Kyoto suburbs, famed for its pretty bamboo groves. In the afternoon you'll have the immense privilege of enjoying a private audience with one of Kyoto's trainee geisha, which will provide a window into the "flower and willow world" of these elegant and mysterious traditional artists.

Overnight: Four Seasons

Day 13-14

Return to Tokyo for a final night in Japan's glittering, neon capital city.

On day 13 you'll catch the bullet train from Kyoto to Tokyo, at a time to suit your plans. You might choose to spend a little more time in the ancient capital this morning, or head straight off to give yourself plenty of time in the capital. Whichever you choose, you can be sure of ample opportunities for sightseeing and last-minute souvenir shopping today!

On arrival in Tokyo you'll be picked up by private car and driven to the marvellous Andaz Hotel to check in for your final night in Japan. Now, we certainly wouldn't blame you for opting to stay in the exquisite luxury of the Andaz for the remainder of the day – but we recommend heading out for a final-night blowout in the hectic, neon-drenched Shinjuku district, home of countless fantastic restaurants and glitzy bars. And if you're after a real only-in-Japan experience, check out the narrow alleys of the Golden Gai quarter before singing the night away in a private karaoke box!

On day 14 your adventure comes to a close, and we're sure you'll be sad to be bidding goodbye to Japan. A private car and driver will collect you from your hotel and drive you to Narita Airport in time for your onward flight. We hope to see you again soon!

Overnight: Andaz Tokyo
Close all days
Other trips you may like
Iiyama
Togarinozawa Onsen

Lace up your hiking boots for a three-day hike along the Sekida Mountain's Shin-Etsu Trail.

3 nights: from US$1040 pp (twin share) Read more >

Experience a world-class music festival with great bands, DJs and all manner of outlandish entertainments in a stunning mountain setting.

7 nights: from US$1599 pp (twin share) Read more >

Tokyo
Kawaguchiko
Matsumoto
Kyoto
Matsue
Naoshima
Tokyo

A superior 14-night itinerary for those who want to discover Japan's exciting arts scene in comfort and style.

14 nights: from US$6240 pp (twin share) Read more >